New York, February 26, 2018 | Read on Web | Please Visit Daily News Horoscope Area
Today is Monday, Feb. 26, 2018
Hebrew date is 11 Adar 5778
Islamic date is 10 Jumada-II 1439
Mayan Tzolk'in Day is 12 B'en
Mayan Long Count is 13.0.5.4.13
Julian Day is 2458176
Today's Birthdays: Christopher Marlowe (1564-1593), Victor Hugo (1802-1885), Levi Strauss (1829-1902), Camille Flammarion (1842-1925), Émile Coué (1857-1926), Tex Avery (1908-1980), Jackie Gleason (1916-1987), Tony Randall (1920-2004), Margaret Leighton (1922-1976), Fats Domino (1928), Mohammed Lakhdar-Hamina (1930), Johnny Cash (1932-2003), Priscilla Lopez (1948), Elizabeth George (1949), Emma Kirkby (1949), Michael Bolton (1953), Susan Helms (1958), Erykah Badu (1971), Nalini Anantharaman (1976), Corinne Bailey Raye (1979).
"When the imagination and will power are in conflict, are antagonistic, it is always the imagination which wins, without any exception."
-- Émile Coué
---
The Virgo Full Moon and the Fierce Feminine

This week's astrology peaks with the Virgo Full Moon on Thursday. This is the first Full Moon after the Aquarius New Moon eclipse, and therefore carries that event's signature in some way -- although it does so with a slightly different flavor, thanks to the Sun and Moon being in new signs.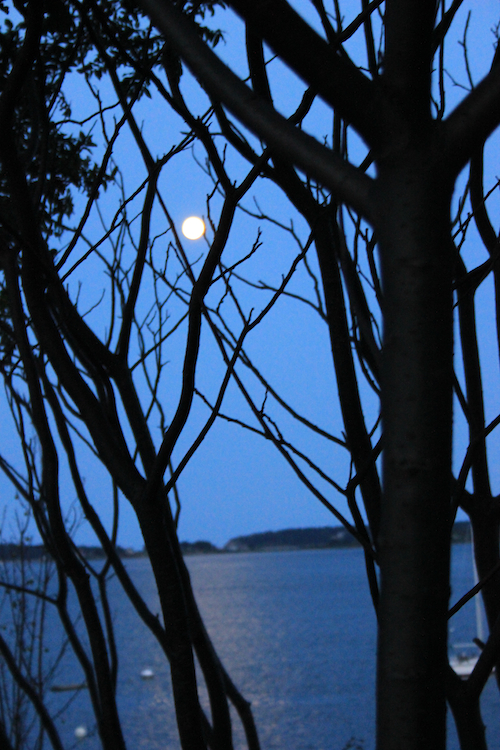 Photo by Amanda Painter.

As with all Full Moons, you may experience the sense of energy or emotions building, or an interpersonal situation that seems to be at a standoff. With the Sun and Moon in mutable signs, however, you might feel like there's more wiggle room or flexibility available to you.

This could be especially worth tracking in terms of the youth outcry against the lack of gun control in the U.S. With the eclipse, a real seed seems to have been sown to change a cultural pattern of inaction on this issue.

By no means will the gun control problem come to its only peak or resolution within a month; it is far too complex for that. But I am curious to see what shape the current standoff takes this week. I suspect it's highly likely that there will be further escalation of emotion and energy among the youth who are now fed up and demanding change.

This Full Moon has the Moon in Virgo opposite the Sun in Pisces (exact at 7:51 pm EST Thursday / 00:51 UTC Friday). You can think of this as the axis of manifestation: Pisces offers the vision and passion, and Virgo offers the way to make that vision tangible via intellect and method. Yet the Sun and Moon are also making aspects to some interesting supporting cast members in this chart.

For one, the Sun is flanked by Nessus and Neptune in Pisces. Neptune's presence could increase the emotionality of this event, along with psychic sensitivity and a reminder to be honest with yourself -- about how you feel, as well as about things like motives and who you are. Nessus heightens the 'stop the buck' quality of this Full Moon; noticing what is being reflected back to you by others could help you to get oriented if your sense what needs 'stopping' gets foggy. You'll just want to remember the 'reflective' quality of a Full Moon: is it something about the other person or actually something within yourself that needs to be addressed?

Read more...
---
Moon Phase: Moon is in First Quarter phase and enters Waxing Gibbous phase today at 9:17 am PST / 12:17 pm EST (17:17:16 UTC).
Next Full Moon is in Virgo on March 1-2 at 4:51 pm PST / 7:51 pm EST (00:51:15 UTC).
Corresponding New Moon in Pisces is on March 17 at 5:11 am PST / 8:11 am EST (13:11:29 UTC).
Moon Sign: Moon is in Cancer and enters Leo today at 8:42 pm PST / 11:42 pm EST (04:41:36 Feb. 27 UTC).
Sun Degree: 8-9 Pisces.
Planetary Stations and Sign Changes
Moon enters Leo at 8:42 pm PST / 11:42 pm EST (04:41:36 Feb. 27 UTC).
Interesting Selected Aspects | Data by Serennu
-- Sun sextile Lempo at 11:09 pm Feb. 25 PST / 2:09 am EST (07:09:07 UTC).
-- Chiron square Galactic Center at 5:09 am PST / 8:09 am EST (13:09:03 UTC).
-- Venus trine Deucalion at 9:38 am PST / 12:38 pm EST (17:37:50 UTC)
-- Sun sextile Orius at 3:36 pm PST / 6:36 pm EST (23:35:41 UTC).
Subscribe to Planet Waves -- sign up here | Visit Our Website at this link
If Your Birthday is Feb. 26
(The Day of Arousal) | Pisces Birthday Reading | All Other Signs
Work through any feelings of anger you may have, and get to your real desires and needs that lurk beneath them. Notice any tension you may feel in your mind or emotions, and burn it for fuel. The mind runs on energy, which often manifests as 'negative feelings'. You can flip those into positive motivation and the drive for self-knowledge.
Current Pisces Weekly Horoscope

It's your birthday season, and many planets have joined the party. Among others, Venus and Mercury are in your sign, which bestow a natural charm and ease of communication. You can say less rather than say more.

Read more...
Current Pisces Monthly Horoscope

You're probably getting the message to up your game on the financial front, though the first thing to remember about finances is that they're connected to everything. In astrology there are two houses connected to the money that you earn.

Read more...
Written in the Planets
Today's aspects by the Moon would seem to be a reminder that love and compassion are not a zero-sum game. The best solution to any problem is one that takes into account everyone's wellbeing; the best sort of creed is likewise inclusive. Wherever you have the opportunity today, do your best to make sure that no-one is left out in the cold; even if that just means offering one kind word, or a smile.

You can now get instant access to ten signs of the 2018 Planet Waves annual, The Art of Becoming. Order all 12 signs here to read your Sun, Moon and rising sign and those of loved ones, or choose your individual signs here.

Aries (March 20-April 19) -- Devote yourself to the single most important thing you need to do. This may require setting aside some other goals, or other seemingly important priorities. Most of those, you can afford to set aside for a few days without any problems, and take care of what truly matters the most. Taurus (April 19-May 20) -- If you run into challenges with a project, or trying to make a purchase, stop and ask yourself why that thing needs to work out as planned. You have another option, which may take a few hours to manifest, though one thing is for sure: it will be a lot easier, and probably just as effective. Gemini (May 20-June 21) -- Though it's difficult to remember, people respect you. It's true that the whole concept of respect has, itself, fallen into tough times. So, you may have to take the subtle expressions as being more valuable than they seem. Be open to those who are open to you. Value their trust dearly. Cancer (June 21-July 22) -- Keep the flow going, even if you hit a little bump. Collect yourself before you get ruffled, and carry on. You're being carried by a strong current, and getting a heck of a lot done. This will keep you in a positive frame of mind. That's all you really need, and your coworkers will appreciate it. Leo (July 22-Aug. 23) -- Today's emotional bumps and grinds may shake some fantastic ideas out of your mind. Music producer Brian Eno advises his clients to "honor thy error as hidden intent." That would work beautifully for you today. Even when you're wrong, you'll be right. There's an idea in everything. Virgo (Aug. 23-Sep. 22) -- You might think you want a good reputation, though that might not be the right idea. If you don't care what people think, you'll conduct yourself with more freedom. That will make you happier, and you'll have more fun, and have better ideas. Being uptight isn't as great as it's made out to be. Libra (Sep. 22-Oct. 23) -- You have a rare opportunity to redefine your idea of wellbeing. You know there are certain bottom lines you cannot violate, which include having a positive work environment. That includes the people who surround you, and also having things like clean floors, live plants and actual sunlight. Scorpio (Oct. 23-Nov. 22) -- Are you familiar with the theory that the main problem Americans have is pleasure anxiety? They tend to freak out when they feel good, and then typically use religion or work as an excuse to validate their reaction. Do we need to have a debate over how ridiculous this is? I doubt it. Sagittarius (Nov. 22-Dec. 22) -- Focus on your most challenging work-related goals and you're likely to crush them one by one. Currently you're an even more unstoppable force than usual, which is connected to your sense of mission. Set aside whatever can be set aside, and make the most necessary things happen. Capricorn (Dec. 22-Jan. 20) -- You may feel like you're pushing against something that doesn't want to move. Then when you encounter something (or someone) softer, you might take your frustration out on them. Be gentle with the people who care about you. Be persistent in facing your challenges. Slow, steady progress is your friend. Aquarius (Jan. 20-Feb. 19) -- You may have some exciting opportunities to connect your talent to extra income this week, though you'll have to see them, and develop them consciously. This is not exactly your ship coming in. It's more like being given access to a boat that you can sail to some interesting places.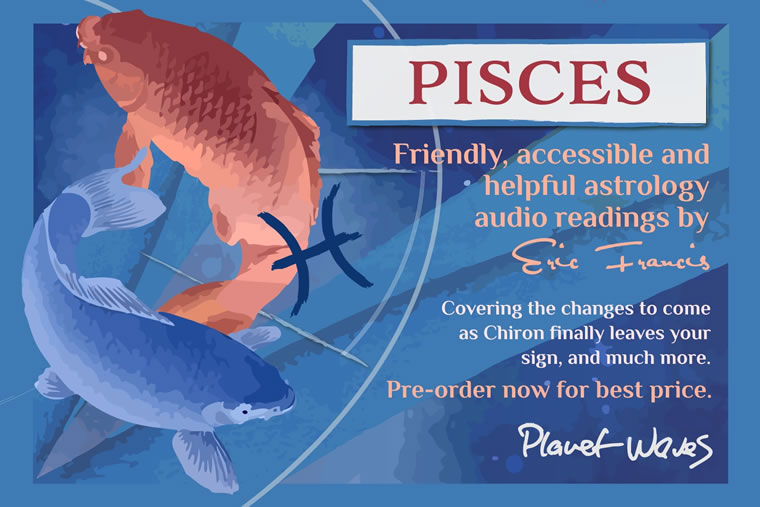 Pisces Birthdays 2018
Saying Goodbye to Chiron, Saying Hello to Yourself
"I have just listened to your Part 1 and Part 2 readings and I am amazed at how accurate it has been. Like you have a telescope watching me shed a skin and transform into a totally changed person in the last 10 years."
-- P.J.
Dear Pisces Friend and Reader:

With planets gathering in your sign, chances are you feel less like a fish out of water and more in the flow of things than you might have recently. Yet this year holds some interesting developments for you -- many of which Eric will cover in your 2018 Pisces Birthday Reading.

This is a separate project from the annual edition, different in every way -- they make excellent companions. While the annual readings are written chapters of an interconnected set, your birthday reading is a stand-alone audio meditation. It's something you can listen to over and over, whether you take notes or take a bath as you listen.

Eric's audio readings are some of the most unusual astrology you'll encounter. They go deeper than the work most professional astrologers do, reaching the spiritual essence of the chart's message, though without the need for a natal chart.

For roughly seven years, you've benefitted from Chiron's focusing power in your sign.

This year, Chiron begins the process of entering Aries -- leaving other slow-moving planets in Pisces. If you've learned the lessons of Chiron, you'll be better able to embody that focusing power yourself -- and you'll be in a prime position to navigate everything else the next 12 months will bring.

"Eric, as a Pisces I really appreciate all your readings, as they have truly helped me push past the insecurities and become a truly wonderful person with greater strength to become ME. Thanks so much!"
-- Susan Andrews
You can pre-order your 2018 Pisces Birthday Reading here, for just $33. We offer the lowest price first; the price will increase as we near the recording and publication of the reading.

You'll get two segments of audio astrology, at least 30 minutes each. A little while after those portions publish, Eric will record your tarot reading for the year (included in the price).

Wishing you a beautiful birthday season,



Amanda Painter

P.S. If you love a Pisces, make their day: give the Pisces reading as a gift.


---
Pisces (Feb. 19-March 20) -- Life is good when there are planets in Pisces, and at the moment you have the Sun, Mercury, Venus, Neptune and Chiron -- the perfect set. Make sure you balance work with play every single day. You're getting a lot done; but, as a Fish, your life has to be about pleasure and play as much as work.

Monthly Horoscopes and Publishing Schedule Notes



We published your extended monthly horoscopes for March on Thursday, Feb. 22. Your extended monthly horoscopes for February were published on Thursday, Jan. 25. Please note: we normally publish the extended monthly horoscope on the first Friday after the Sun has entered a new sign.


---
---