New York, February 25, 2018 | Read on Web | Please Visit Daily News Horoscope Area
Today is Sunday, Feb. 25, 2018
Hebrew date is 10 Adar 5778
Islamic date is 9 Jumada-II 1439
Mayan Tzolk'in Day is 11 Eb'
Mayan Long Count is 13.0.5.4.12
Julian Day is 2458175
Today's Birthdays: Maria Margarethe Kirch (1670-1720), Pierre-Auguste Renoir (1841-1919), Enrico Caruso (1873-1921), Meher Baba (1894-1969), Zeppo Marx (1901-1979), Mary Coyle Chase (1906-1981), Jim Backus (1913-1989), Anthony Burgess (1917-1993), David Puttnam (1941), George Harrison (1943-2001), Elkie Brooks (1945), Jane Ackroyd (1957), Foster Sylvers (1962), Tea Leoni (1966), Oumou Sangaré (1968), Sean Astin (1971), Divya Bharti (1974-1993), Tunde Adebimpe (1975), Rashida Jones (1976), James and Oliver Phelps (1986).
"Even if it's being a Beatle for the rest of my life, it's still only a temporary thing."
-- George Harrison
Moon Phase: Moon is in First Quarter phase and enters Waxing Gibbous phase on Feb. 26 at 9:17 am PST / 12:17 pm EST (17:17:16 UTC).
Next Full Moon is in Virgo on March 1-2 at 4:51 pm PST / 7:51 pm EST (00:51:15 UTC).
Corresponding New Moon in Pisces is on March 17 at 5:11 am PST / 8:11 am EST (13:11:29 UTC).
Moon Sign: Moon is in Cancer and enters Leo on Feb. 26 at 8:42 pm PST / 11:42 pm EST (04:41:36 Feb. 27 UTC).
Sun Degree: 7-8 Pisces.
Planetary Stations and Sign Changes
No changes today.
Interesting Selected Aspects | Data by Serennu
-- Venus square Mars at 4:01 am PST / 7:01 am EST (12:01:24 UTC).
-- Mercury conjunct Neptune at 4:26 am PST / 7:26 EST (12:25:31 UTC).
-- Venus square Vesta at 5:00 am PST / 8:00 am EST (13:00:43 UTC).
-- Sun conjunct Nessus at 6:00 am PST / 9:00 am EST (13:58:46 UTC).
-- Mercury square Asbolus at 6:14 am PST 9:14 am EST (14:13:45 UTC).
-- Mars conjunct Vesta at 8:13 am PST / 11:13 am EST (16:13:20 UTC).
-- Mercury square Great Attractor at 11:16 am PST / 2:16 pm EST (19:15:43 UTC).
Subscribe to Planet Waves -- sign up here | Visit Our Website at this link
If Your Birthday is Feb. 25
(The Day of the Higher Cause) | Pisces Birthday Reading | All Other Signs
Aspiring to one's professional goals is often an exchange; you must give up some things to have others, if only due to the limits of time and the demands of success. Make sure, therefore, that you select your ambitions based on your most cherished goals, and that if you must give something up, you do so willingly -- and make sure you can claim it back in the future.
Current Pisces Weekly Horoscope

In astrology, the 12th house is the one that is usually said to correspond with yours, the 12th sign. This is the most mysterious house, which is about all things invisible, and not available to the normal senses. How have your dreams been?

Read more...
Current Pisces Monthly Horoscope

You're probably getting the message to up your game on the financial front, though the first thing to remember about finances is that they're connected to everything. In astrology there are two houses connected to the money that you earn.

Read more...
Written in the Planets
There's a lot going on in the sky today with all the planets in Pisces, plus Mars conjunct Vesta in Sagittarius. What these two signs have in common (along with classical ruler Jupiter) is the theme of spirituality and belief. Mars-Vesta is calling you to a particular spiritual cause; the activity in Pisces suggests that this must be something healing (as opposed to filled with hate or negativity) and which you can get behind with your whole heart and conscience.

You can now get instant access to ten signs of the 2018 Planet Waves annual, The Art of Becoming. Order all 12 signs here to read your Sun, Moon and rising sign and those of loved ones, or choose your individual signs here.

Aries (March 20-April 19) -- This is the week to put your values into action. Do only what you think is right. Be true to your deepest feelings, and if you find yourself contradicting yourself, stop and ask why. We live in the age of hypocrisy, which verges on being an Olympic sport. You are not made for that. Taurus (April 19-May 20) -- Evaluate people based on how honest they are. If you find that someone you know has been any less than truthful, or if they tried to deceive you outright, you might consider parting ways. It's one thing if our glorious leaders don't think the truth exists. You and I know better. Gemini (May 20-June 21) -- This is a good week to enact a financial plan connected to your business. This might be about negotiating a raise, reaching new clients, or taking someone up on an offer to help you. Let any such decision be founded on human warmth and our deep need to take care of one another. Cancer (June 21-July 22) -- You may need to work extra-hard at something today, though it will be worth it. You have the right idea, and you know how important it is to do the right thing. So take the time, make the effort, and bring your full awareness to the tasks at hand. Being selfless is not popular, but it's satisfying. Leo (July 22-Aug. 23) -- When you do something meaningful, whether it's a creative project, or the choice to be in a relationship with your whole heart, there's an element of setting your 'self' aside, and living in harmony with a deeper purpose. Or, you could say, setting aside self-concept and finding the real thing. Virgo (Aug. 23-Sep. 22) -- You seem to be struggling with not getting certain emotional needs met in a relationship. You might feel as if someone needs all the attention. However, if you focus a little more on them, you might notice they're focusing more on you. Increase rather than decrease your participation. Libra (Sep. 22-Oct. 23) -- Take a positive attitude toward work this week, and be grateful that you have something meaningful to do. If you feel that aspect is lacking, then you're the one who needs to stoke your own interest in what you do. Resolve never to waste your time. Strive to make the world a better place.. Scorpio (Oct. 23-Nov. 22) -- You have many lavish options open to you this week, whether we're talking about your romantic and erotic endeavors, your creative passions, or having some other form of fun. However, you'll need to make the call, send the text, or step out and visit someone. Get things moving. Sagittarius (Nov. 22-Dec. 22) -- You may feel a need to detach yourself from your feelings and your desires, but what fun is that? You might think you'll be overwhelmed with emotion the moment you relax a little, though this is unlikely. The chances are you'll feel better for being open to the people you care about. Capricorn (Dec. 22-Jan. 20) -- Make sure you balance out your efforts this week, distributing them evenly between work-related tasks and honoring personal priorities. These days it's way too easy to feel like you don't have time for yourself; though in truth, you don't have time for anyone else -- if your life is indeed yours. Aquarius (Jan. 20-Feb. 19) -- Whenever you find yourself in a situation where group dynamics become an issue, consider your family. That's the original group, and you may notice that the cast of characters keeps repeating itself. Once you know someone is playing the role of your mother, they will be easier to deal with.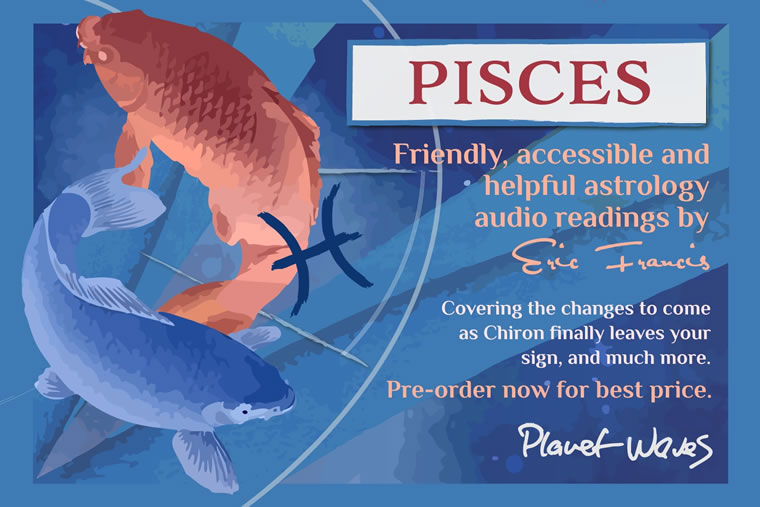 Pisces Birthdays 2018
Saying Goodbye to Chiron, Saying Hello to Yourself
"I have just listened to your Part 1 and Part 2 readings and I am amazed at how accurate it has been. Like you have a telescope watching me shed a skin and transform into a totally changed person in the last 10 years."
-- P.J.
Dear Pisces Friend and Reader:

With planets gathering in your sign, chances are you feel less like a fish out of water and more in the flow of things than you might have recently. Yet this year holds some interesting developments for you -- many of which Eric will cover in your 2018 Pisces Birthday Reading.

This is a separate project from the annual edition, different in every way -- they make excellent companions. While the annual readings are written chapters of an interconnected set, your birthday reading is a stand-alone audio meditation. It's something you can listen to over and over, whether you take notes or take a bath as you listen.

Eric's audio readings are some of the most unusual astrology you'll encounter. They go deeper than the work most professional astrologers do, reaching the spiritual essence of the chart's message, though without the need for a natal chart.

For roughly seven years, you've benefitted from Chiron's focusing power in your sign.

This year, Chiron begins the process of entering Aries -- leaving other slow-moving planets in Pisces. If you've learned the lessons of Chiron, you'll be better able to embody that focusing power yourself -- and you'll be in a prime position to navigate everything else the next 12 months will bring.

"Eric, as a Pisces I really appreciate all your readings, as they have truly helped me push past the insecurities and become a truly wonderful person with greater strength to become ME. Thanks so much!"
-- Susan Andrews
You can pre-order your 2018 Pisces Birthday Reading here, for just $33. We offer the lowest price first; the price will increase as we near the recording and publication of the reading.

You'll get two segments of audio astrology, at least 30 minutes each. A little while after those portions publish, Eric will record your tarot reading for the year (included in the price).

Wishing you a beautiful birthday season,



Amanda Painter

P.S. If you love a Pisces, make their day: give the Pisces reading as a gift.


---
Pisces (Feb. 19-March 20) -- You have some excellent traction going: the Sun's meeting with Saturn is the perfect combination of factors to help you get things done. So make your task list each day, and don't be surprised if you exceed it. However, eventually, it will be time to cool off your engines and relax.

Monthly Horoscopes and Publishing Schedule Notes



We published your extended monthly horoscopes for March on Thursday, Feb. 22. Your extended monthly horoscopes for February were published on Thursday, Jan. 25. Please note: we normally publish the extended monthly horoscope on the first Friday after the Sun has entered a new sign.


---
---