New York, February 24, 2018 | Read on Web | Please Visit Daily News Horoscope Area
Today is Saturday, Feb. 24, 2018
Hebrew date is 9 Adar 5778
Islamic date is 8 Jumada-II 1439
Mayan Tzolk'in Day is 10 Chuwen
Mayan Long Count is 13.0.5.4.11
Julian Day is 2458174
Today's Birthdays: Giovanni Pico della Mirandola (1463-1494), Wilhelm Grimm (1786-1859), Daniel Payne (1811-1893), Winslow Homer (1836-1910), Mary Ellen Chase (1887-1973), Abe Vigoda (1921-2016), Emmanuelle Riva (1927-2017), Michael Harrington (1928-1989), Pablo Milanes (1943), Barry Bostwick (1945), Edward James Olmos (1947), Steve Jobs (1955-2011), Judith Butler (1956), Paula Zahn (1956), Michelle Shocked (1962), Kristin Davis (1965), Billy Zane (1966), Brian Schmidt (1967), Chad Hugo (1974), Bonnie Somerville (1974), Earl Sweatshirt (1994).
"I learned to discipline myself to do things I didn't want to do. Now I also discipline myself to do things I love to do when I don't want to do them."
-- Edward James Olmos
Moon Phase: Moon is in First Quarter phase and enters Waxing Gibbous phase on Feb. 26 at 9:17 am PST / 12:17 pm EST (17:17:16 UTC).
Next Full Moon is in Virgo on March 1-2 at 4:51 pm PST / 7:51 pm EST (00:51:15 UTC).
Corresponding New Moon in Pisces is on March 17 at 5:11 am PST / 8:11 am EST (13:11:29 UTC).
Moon Sign: Moon is in Gemini and enters Cancer today at 7:06 pm PST / 10:06 pm EST (03:05:55 Feb. 25 UTC).
Sun Degree: 6-7 Pisces.
Planetary Stations and Sign Changes
Moon enters Cancer at 7:06 pm PST / 10:06 pm EST (03:05:55 Feb. 25 UTC).
Interesting Selected Aspects | Data by Serennu
-- Mercury sextile Mors-Somnus at 8:53 am PST / 11:53 am EST (16:52:59 UTC).
-- Sun opposite Rhiphonos at 4:33 pm PST / 7:33 pm EST (00:32:41 Feb. 25 UTC).
-- Mercury sextile Echeclus at 6:42 pm PST / 9:42 pm EST (02:42:22 Feb. 25 UTC).
-- Venus sextile Chariklo at 7:56 pm PST / 10:56 pm EST (03:55:59 Feb. 25 UTC).
Subscribe to Planet Waves -- sign up here | Visit Our Website at this link
If Your Birthday is Feb. 24
(The Day of Sacrifice) | Pisces Birthday Reading | All Other Signs
You understand that your actions have consequences. Embrace that fact willingly, and use your power to create the results that you want. This calls for being unusually honest with yourself -- more so than those who set a negative example when you were younger. You can do it, and you must, so that you can guide your life with strength and clarity.
Current Pisces Weekly Horoscope

In astrology, the 12th house is the one that is usually said to correspond with yours, the 12th sign. This is the most mysterious house, which is about all things invisible, and not available to the normal senses. How have your dreams been?

Read more...
Current Pisces Monthly Horoscope

You're probably getting the message to up your game on the financial front, though the first thing to remember about finances is that they're connected to everything. In astrology there are two houses connected to the money that you earn.

Read more...
Written in the Planets
Have you ever noticed how your beliefs about what 'change' means tend to be more of an obstacle than actually changing something (at least, on the personal level)? We human beings are famous for giving ourselves convoluted head-trips about this. Yet making a decision, taking a step toward it, and then evaluating the outcome and next steps arguably can take way less energy than it does to fret over all the 'what ifs'. Even clinging to the status quo, because it is the 'devil you know', eats up more psychic and emotional energy than it's worth. Pluto -- the lord of change -- is in Capricorn, making a sextile to Borasisi in Pisces. If this consideration of your 'beliefs about change' versus 'just making a change' resonates for you, today's astrology suggests you could get a little traction. Pay attention to where the ease of movement comes, and how it makes you feel.

You can now get instant access to ten signs of the 2018 Planet Waves annual, The Art of Becoming. Order all 12 signs here to read your Sun, Moon and rising sign and those of loved ones, or choose your individual signs here.

Aries (March 20-April 19) -- You may feel like you're over-sharing, or saying too much about your own problems, though if you listen to yourself, you'll get the message and shift strategies. Once you're convinced of what you're saying, you'll have much less need to share it with anyone else. So keep your ears on. Taurus (April 19-May 20) -- The world is a harsh place right now. Consider how much negativity is spread through various social platforms, how easy it is to complain, and the nearly constant push to feel guilty. You're especially vulnerable to these influences right now. Take some time out and do something natural. Gemini (May 20-June 21) -- You'll have many interesting conversations today. You could sit down with a group of people you don't know and get on with them like old friends. If you have phone calls to make, today would be a great day to catch up -- start with business needs, and work your way to the social ones. Cancer (June 21-July 22) -- Any seeming conflict between sex and religion is just not something you need to worry yourself with. You have no need for innocence or forgiveness; you just need a positive view on yourself and your desires. The all-knowing, all-seeing lord of the universe loves you even when you have fun. Leo (July 22-Aug. 23) -- You must be impeccable about your politics, particularly at work, though also in all other facets of life. By this, I mean that you need to understand the lines of influence and how power flows, and stay on the right side of things. Right doesn't mean might -- it means ethical, true and correct. Virgo (Aug. 23-Sep. 22) -- It's important that you accept the people in your life for who they are, which is different from being permanently bonded to them. Rather, it means making space within yourself for their reality, whatever it might be, without any need to change them. This is one of the most daring aspects of commitment. Libra (Sep. 22-Oct. 23) -- You may fear that your current situation is so bogged down that it's compromising your future plans. Neither is true. While you're into some deep healing territory, if you focus on taking care of yourself, you will soon discover that you're free to do anything, and to roam far and wide. Scorpio (Oct. 23-Nov. 22) -- Scorpios are supposed to be famous for their jealousy; though if that applies to you, you might try a different approach to life. Jealousy is rooted in two things: one is control, and the other is fear of change. Nobody controls another person. Change is inevitable. There are much better philosophies. Sagittarius (Nov. 22-Dec. 22) -- If you're feeling like your life is missing something, then you must do that Sagittarian thing and search for what it is. However, this quest will take you within yourself rather than out into the world. Your sign is not famous for its love of vulnerability, though it's time to kiss and make up. Capricorn (Dec. 22-Jan. 20) -- If you're feeling lost, check with yourself and see where your motivation went. Do you feel like you had to give up an important goal or desire? Are you investing too much effort into work-related projects and not your personal priorities? Take some time, sort this out, and make adjustments. Aquarius (Jan. 20-Feb. 19) -- It's obvious that what you're doing is both well-intentioned and actually succeeding at helping people. You can afford to feel good about it, and rally the support of others who might take an interest. Many people are taking an active concern about the state of the world, so tap into that.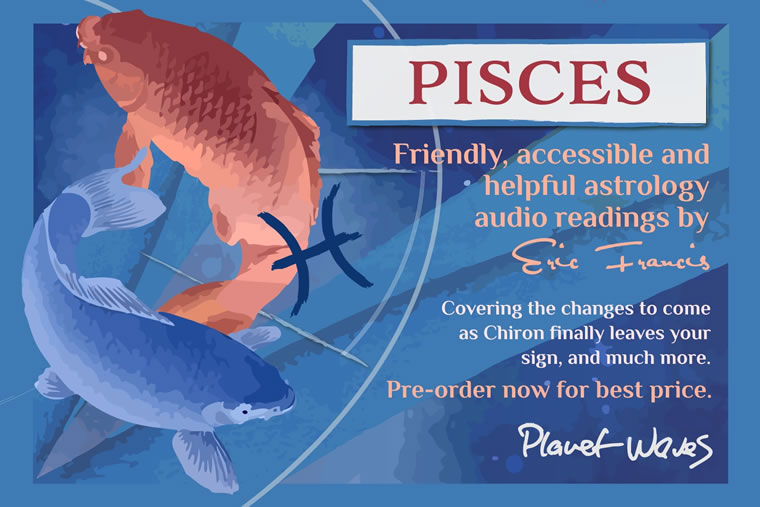 Pisces Birthdays 2018
Saying Goodbye to Chiron, Saying Hello to Yourself
"I have just listened to your Part 1 and Part 2 readings and I am amazed at how accurate it has been. Like you have a telescope watching me shed a skin and transform into a totally changed person in the last 10 years."
-- P.J.
Dear Pisces Friend and Reader:

With planets gathering in your sign, chances are you feel less like a fish out of water and more in the flow of things than you might have recently. Yet this year holds some interesting developments for you -- many of which Eric will cover in your 2018 Pisces Birthday Reading.

This is a separate project from the annual edition, different in every way -- they make excellent companions. While the annual readings are written chapters of an interconnected set, your birthday reading is a stand-alone audio meditation. It's something you can listen to over and over, whether you take notes or take a bath as you listen.

Eric's audio readings are some of the most unusual astrology you'll encounter. They go deeper than the work most professional astrologers do, reaching the spiritual essence of the chart's message, though without the need for a natal chart.

For roughly seven years, you've benefitted from Chiron's focusing power in your sign.

This year, Chiron begins the process of entering Aries -- leaving other slow-moving planets in Pisces. If you've learned the lessons of Chiron, you'll be better able to embody that focusing power yourself -- and you'll be in a prime position to navigate everything else the next 12 months will bring.

"Eric, as a Pisces I really appreciate all your readings, as they have truly helped me push past the insecurities and become a truly wonderful person with greater strength to become ME. Thanks so much!"
-- Susan Andrews
You can pre-order your 2018 Pisces Birthday Reading here, for just $33. We offer the lowest price first; the price will increase as we near the recording and publication of the reading.

You'll get two segments of audio astrology, at least 30 minutes each. A little while after those portions publish, Eric will record your tarot reading for the year (included in the price).

Wishing you a beautiful birthday season,



Amanda Painter

P.S. If you love a Pisces, make their day: give the Pisces reading as a gift.


---
Pisces (Feb. 19-March 20) -- The beauty of your life is that you get to take responsibility for what you've accomplished, and for what problems you've solved. You're living by the policy that the buck stops with you, and that's the correct approach in a world where anarchy is taking over. It's good to be an adult.

Monthly Horoscopes and Publishing Schedule Notes



We published your extended monthly horoscopes for March on Thursday, Feb. 22. Your extended monthly horoscopes for February were published on Thursday, Jan. 25. Please note: we normally publish the extended monthly horoscope on the first Friday after the Sun has entered a new sign.


---
---