New York, Jan. 2, 2017 | View as Webpage | Pre-order Your 2017 Reading




Star of the Sea: Venus Enters Pisces



Dear Friend and Reader:

Happy New Year! As 2017 begins to take its first tentative steps, Venus is about to move into Pisces for an extended stay, tomorrow morning at 2:46 (07:46:30 UTC).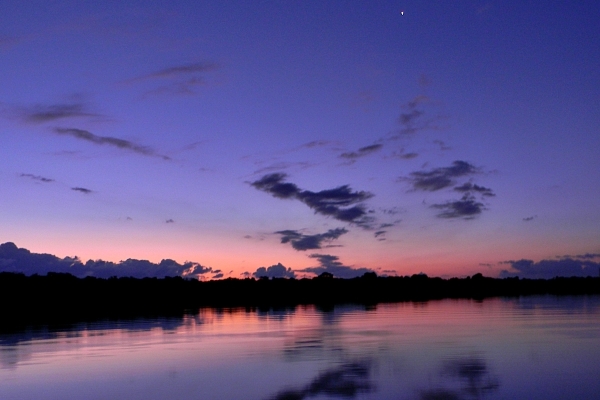 Venus is visible near the top of this dawn photo by Bob Peterson.

In Pisces, Venus is what's traditionally known as 'exalted' -- which is another way of saying 'very much at home'. Since the mythological goddess of love supposedly emerged from the sea foam, this is hardly surprising. The astrological territory is also familiar and comfortable: Pisces is romantic, gentle and feminine.

Here Venus takes on that dreamy quality that's woven into classic fairytales and love stories. This is pretty much archetypal in nature; hence why these tales have lasted so many generations. There can be a feeling of magic in the air. This may be particularly the case as Venus will be in mutual reception with Jupiter, Pisces' classical ruler, which is currently in Libra.

More substantially, Venus' lengthy tenure in this sign will involve a long conjunction with Chiron. This could be incredibly beneficial in terms of healing, especially if you've felt rather buffeted in the past year. There's a pleasant feeling to this placement akin to soaking in a relaxing bath: it can soothe all sorts of aches and troubles -- if you allow it to, that is.

As peacemaker, Venus in this sign should also be invaluable for mending rifts between people. This could be accentuated by the sextile to Mercury in early Capricorn. It does require actively working with the flow, and allowing common ground, where it sincerely exists, to be a valid reasoning point.

If you need this energy to work for you, note that its operation usually depends on a certain amount of faith. Trying to force the issue will often result in it slipping out of your grasp. Trust in the power of the goddess; move with her when you are able, and allow her to mould your ideas and imagination with characteristic gentleness. You will probably find fresh seeds planted and waiting to grow.

Peace out.

With best wishes,



Amy Elliott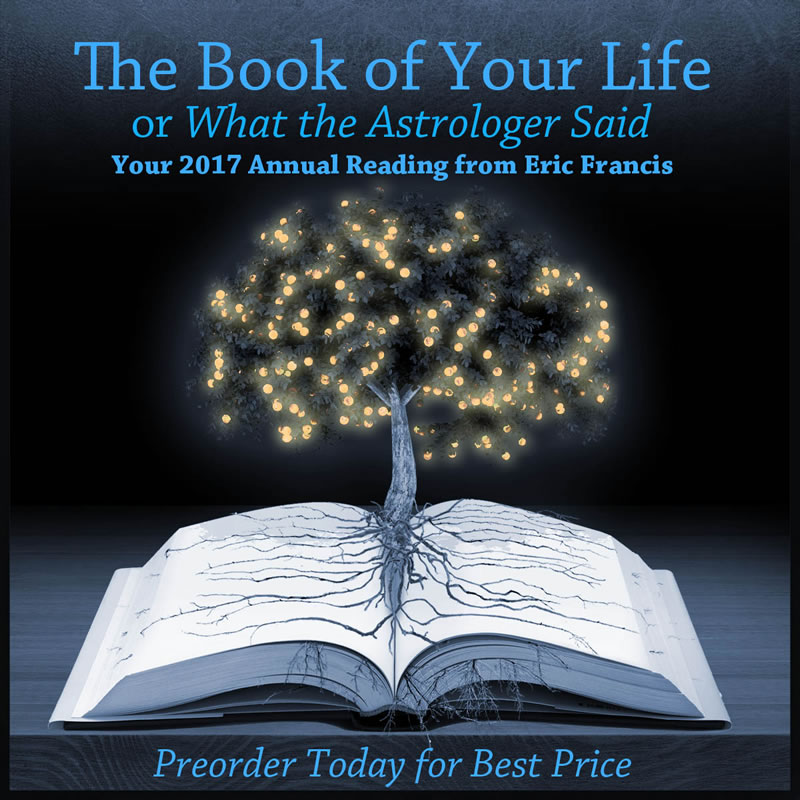 Pre-order 2017 Reading: All 12 Signs | Individual Signs


The Book of Your Life -- 2017 Annual

Letter from a Planet Waves Member



Dear Friend and Reader:

While Eric is continuing to work on your 2017 annual edition, The Book of Your Life, I wanted to share with you this letter from longtime member Zlatka, which describes how she has benefited from Eric's writing, and the Planet Waves annual in particular.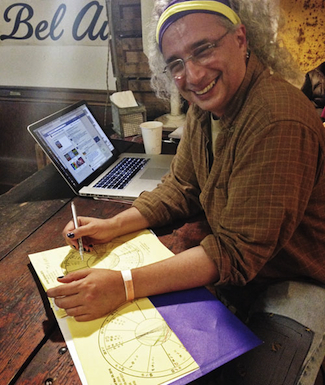 Eric working on last year's annual, Vision Quest.
I am often able to find words to adequately describe the scope of my feelings but for the colony of dedicated souls who came together in these dark times to make Planet Waves a beacon of sanity and steadfast love, my words are only shadowy echoes of the gratitude I feel.

Over two decades, I have benefited from your commitment to highly developed standards of investigative research across multiple platforms for an analysis that transcends the mundane. Every year Planet Waves embarks on a pilgrimage of integrated excellence with the annual edition. It is a panoramic resource, I believe structured in trust to empower us all through multi-dimensional vistas of the most influential and important prevailing cosmic currents of the year.

Thank you, Planet Waves. Eric, thank you for your unshakeable faith in the high road, for the constancy of your sensitivity and curiosity, for cultivating the art of kindness, your delightfully wicked sense of humor and so much more.
Read more...





Your Monthly Horoscopes -- and our Publishing Schedule Notes



Your extended monthly horoscope for January was published on Thursday, Dec. 22. We published your extended monthly horoscope for December on Wednesday, Nov. 23. We published the Moonshine horoscope for the Capricorn New Moon, by Len Wallick, on Thursday, Dec. 29. Your Moonshine horoscope for the Gemini Full Moon was published Thursday, Dec. 15. Please note: we normally publish the extended monthly horoscope on the first Friday after the Sun has entered a new sign.





Aries (March 20-April 19) -- Your profession is about what you have to offer the world. It's your way of nurturing the community. Yes, there's the achievement aspect; yet ultimately you accomplish great things based on the gifts you give. That includes your time, your productivity and your ideas. Focus on that rather than on the power aspect and you will come across to potential employers as a genuine asset to them.

Taurus (April 19-May 20) -- The meeting of the Sun and Pluto in your house of aspirations says it's essential that you take the long-term view. Even if you must get yourself set up with something immediately, consider the way in which it fits the much longer story-arc of your life. You thrive with proper structure, yet we live in an era when many of the most dependable ones are crumbling. You must provide this for yourself. Work from your highest vision, and plot the steps that will get you there.

Gemini (May 20-June 21) -- Mercury has been moving backwards in your house of contracts and negotiations, and will station direct on the 8th. Until then you may feel like you're experiencing more alterations than a tailor's shop before prom week. Be patient with the process. Take things one step at a time, and evaluate everything on its own merits. It's essential that you make no promises you cannot fulfill, or offer anything that you cannot absolutely deliver in impeccable form.

Cancer (June 21-July 22) -- It may seem that others have most of the influence and advantages, though that's an illusion. When you meet someone, look them in the eye, say hello and remember that you're both human. This will keep the interaction on level ground. We all have our strengths and weaknesses; we all have our needs and our assets. Remind yourself that you're a solid, competent person who can rise to any challenge, and proceed with calm self-assurance.

Leo (July 22-Aug. 23) -- There are two aspects to any career: the outer play of prestige and achievement, and the actual work that you do in the course of the week. Right now the planets are emphasizing the second. Potent activity in your 6th house of day-to-day business is saying you must attend to the details of whatever you're doing, and get it right the first time. Get the proofreaders, the fact-checkers and the BS detectors into your game. Run every document past people with 10 years more experience than you have.

Virgo (Aug. 23-Sep. 22) -- Creativity sometimes looks like a fantastic painting or stage presentation, and sometimes it looks like connecting the right idea to the right problem. In your solar chart, art is expressed mostly in practical ways, and you want to emphasize that right now. Keep your mind and your pencil sharp, and look for clever, small adjustments that help you make the connection or get the job done. Do not repeat what others have said to you without verifying it first.

Libra (Sep. 22-Oct. 23) -- Someone who may seem a little strange or eccentric will offer you an idea worth its weight in pure platinum. Let people provoke you, listen to their arguments, and evaluate their ideas, no matter what you think of them. As one born under the sign Libra, you have a talent for presenting radical ideas in perfectly eloquent terms. One of these seeming oddballs could become a valuable partner in business, enterprise or career.

Scorpio (Oct. 23-Nov. 22) -- Your words have impact. This is especially true now. Measure them carefully and deliver them gently. It would be wise to have someone you know you can trust go over your ideas on an important task and refine your presentation. Keep your ego out of it. Sand down any barbs, and make sure that what you're saying comes across clearly. Stick to the basics, and use writing as a practical craft to get the job done.

Sagittarius (Nov. 22-Dec. 22) -- Mercury will move to forward motion in your sign on the 8th, and it would be wise to delay the signing of any contracts till then -- later if you can. It will be easy to delay things because everyone is feeling the effects of the current retrograde. Anyone who pressures you into making a commitment before that time, or before you're ready in any form, is not someone you want to work with. Better opportunities are in the offing.

Capricorn (Dec. 22-Jan. 20) -- You may be hesitating about making a decision about what you want to do with your life. Hesitate away! With Mercury moving backwards through your sign, you're on the path to making a discovery, and with the Sun approaching Pluto, it's going to be a big one. You might start the month with one goal, and then as the days unfold discover that you're ready for an entirely different career. True, you don't like to lurch or leap, but you do seem to be onto something brilliant.

Aquarius (Jan. 20-Feb. 19) -- You must watch the financial aspects of any professional arrangements that you make, and watch them carefully. With so much activity in Pisces, your sign of money and resources, you have a lot to offer -- and also a tendency to sacrifice your own interests. Therefore, pay attention to this aspect of the discussion. Career is about a lot more than what you get paid, however, and that's a reminder to make your next job one that really, truly matters to you.

Pisces (Feb. 19-March 20) -- When presenting your talents, focus on what matters to the person you're speaking to. You have many assets; you have many skills; you can do nearly anything. Yet in an interview situation, or when designing your portfolio, what matters the most is what matters to the person who is taking an interest in you. Tailor what you offer specifically to the situation involved. You'll soon have plenty of opportunities to be the multifaceted person you are.