New York, June 14, 2016 | View as Webpage | Visit Our Boutique


This Week on Planet Waves FM

Identity and Violence in the Global Village



Dear Friend and Reader:

The Global Village is where we live. It's the "space" where the whole world has been drawn together by instantaneous electronic communication. When a violent event happens, the shockwaves go through the village, magnified by hundreds of millions of people who are impacted and thereby become involved.

Violence seems to be a given in our society, which seems perpetually at war; where hundreds of people are shot to death every week; and where carnage is the most compelling thing on TV (whether in 'fiction' or 'nonfiction' form).

The question is, what function does violence serve? People complain about violence, and then blockbuster films based on death and destruction succeed wildly. The vast majority of people -- Republicans and Democrats -- favor stricter (as in actual) background checks and a ban on military-grade weapons for civilians. Yet they keep re-electing politicians who do nothing.

Violence serves a purpose, which is to help people forge identity. It's not the only way, but it's the one most often chosen. In this case, most of what we have is virtual violence, since I doubt anyone reading this was at the scene. It's all a media event, transmitted digitally.

What is the impact of this?

In tonight's edition of Planet Waves FM [play episode here], I look at these issues carefully. I investigate at the astrology of the purported shooter, and of the event, and where the two meet. [See charts here.]

My musical guest is Jimmy Be Free of Portland, Oregon, a gifted musician who plays electric six-string violin.

Planet Waves FM is sponsored by our subscribers and members, and by the generosity of personal contributors to our project. Thank you if you're one of them, and if you're not, please consider signing up now. Your options are here.

Lovingly,



PS -- I am aware that reports that this incident was staged or false flag are circulating widely, and are being given credence. The video of apparent crisis actors is disturbing, as are obvious problems with how the crime scene is being described. For our purposes, whether this event happened as described, or some other way, the effect is the same. If you're one of those people who is asking questions, I encourage you to keep going. Plenty is being posted to my personal Facebook page by other readers.




Planet Waves (ISSN 1933-9135) is published each Monday morning, and Tuesday and Thursday evening, in Kingston, New York, by Planet Waves, Inc. Core community membership: $197/year. Editor and Publisher: Eric Francis Coppolino. Web Developer: Anatoly Ryzhenko. Designer: Lizanne Webb. Finance: Victoria Pomante. Astrology Editor: Amanda Painter. Astrology Fact Checker: Len Wallick. Copy Editor and Fact Checker: Jessica Keet. Eric's Assistant: Cortney Britton. Client Services: Amy Elliott. Media Consultant: Andrew Marshall McLuhan. Research, Writing and Editing: In addition to those listed above, Planet Waves is produced by a team consisting of Fe Bongolan, Judith Gayle, Kelly Janes, Rob Moore, Amanda Moreno and Carol van Strum.



---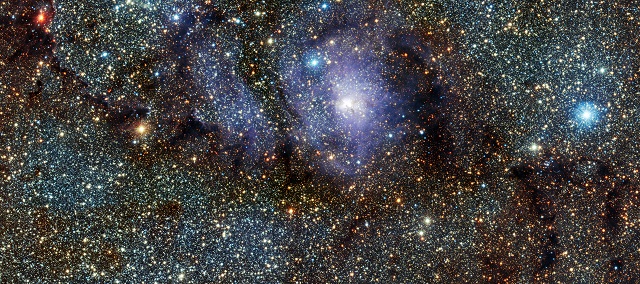 Lagoon Nebula, captured by the VISTA telescope at ESO's Paranal Observatory.
Astrology of Now Class This Saturday!
This brand-new three-hour session with Eric Francis will not be your average astrology class.
The Astrology of Now
is an experiment, as cool as any 1960s seminar. Taking the edge of astrological knowledge as the starting line, you'll journey with your Psychedelic Professor of Ephemeris into new and exciting realms.
Sign up here
to get a place on the rocket bound for a fresh astrological universe.
Eric's friendly and fun approach to teaching means this event is suitable for beginners and more advanced students alike. If you're a first-time student we'll even give you a discount -- please write to
office@planetwaves.net
to take advantage of that.
---
Your Cancer Illumination Kit: A Reading for Your Real Life
"What an amazing reading! I do believe that Eric upped the ante on his reading skills for this year's Cancer birthday reading. It is insightful, intuitive, spiritual and practical. I re-listened a few times for the deeper nuance and messaging -- a good thing because I discovered so many 'hidden gems' throughout the reading! This was definitely a worthwhile investment in money and time. Thanks again!"
-- Dee McCrorey
Dear Cancer Sun, Moon or Rising:

You care fiercely. You feel deeply. You are utterly devoted to what you love; nourishing, nurturing and comforting others are second nature to you.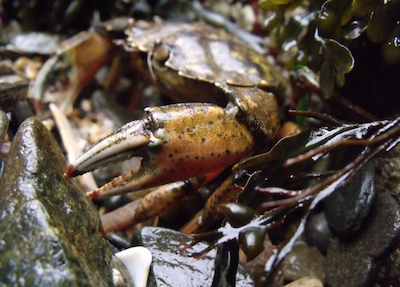 Get a grip on your life and shine some light under those rocks, Cancer! Your 2016-17 Cancer Illumination Kit is

available for pre-order here

. Photo by Amanda Painter.

Yet right now and for the foreseeable future, these traits you are so known for are getting supercharged into a special form of leadership.

Eric had this to say about it in your Vision Quest Cancer reading for the year:

"The astrology that's now brewing is charged with initiative, with a rebellious spirit and a fearlessness about change. Yet you must remind yourself that you're up to the task."

Eric continues: "Remember all the time that while a job begun is halfway done, the other half is necessary: driving things to completion, to closure and toward a focused set of goals. You have the drive; the focus is what you must bring to the table. Thankfully you have help, in the form of both astrology and what it symbolizes."

In two audio files of at least 30 minutes each Eric will deepen your story, offering you a focused look at where you are in that process and projecting it out into your next 12 months. In a video tarot reading using the Voyager tarot by James Wanless, he'll offer a visually based, intuitive layer to your 2016-17 Cancer Birthday Reading.

The tone for your solar year gets set when the Sun ingresses Cancer on June 20 -- the Cancer solstice. That's less than a week away.

"It's so spot on, it felt like a detailed description of my year so far. In a way, I'm used to you doing that, it sounds so natural. And then I have these moments of 'wow, this is such good work, good research, beautifully said!'"
-- Maria Jawan

Orient yourself now on the cycles of astrology influencing your relationships, home life, career, creativity, spiritual healing, core identity and community roles. Pre-order your Cancer Illumination Kit for 2016-17 today, and you'll secure the lowest price Planet Waves offers before the reading publishes.

Yours & truly,



Amanda Painter
Planet Waves Astrology Editor


---
Astrology of Mass Shooting at Gay Club in Orlando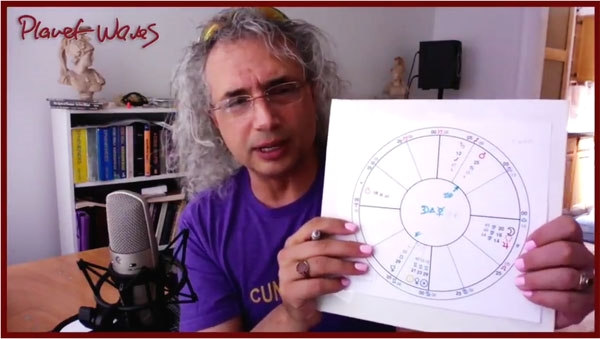 In
this week's Planet Waves TV
[
play video here
], I look at the charts for Sunday morning's mass shooting at a gay club in Orlando. These shooting incidents would be meaningless if they did not comment on us and our society. Mars in Scorpio factors prominently into the event chart. It also factors into Omar, the presumed shooter, who had his natal Sun right underneath Mars where it is now. This takes us back to the earliest discussions of this Mars retrograde -- it's about the intersection of religion and sex.

Detail from photo by Jeff Kubina.
This Week on Planet Waves
It probably goes without saying that we are all horrified by Sunday's mass shooting at Pulse nightclub in Orlando. Our thoughts are with the victims, their loved ones and the LGBT community.
-- With love from the Planet Waves editors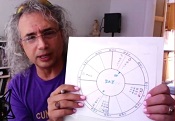 Astrology of Mass Shooting at Gay Club in Orlando

Eric looks at the charts for Sunday morning's mass shooting at a gay club in Orlando. These incidents would be meaningless if they did not comment on our society. Mars in Scorpio factors prominently into this chart, which invokes earlier discussions of this Mars retrograde -- it's about the intersection of religion and sex.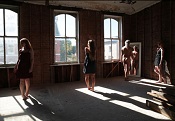 Less Than Shocking, No Less Horrid

This week, Eric considers the horrific mass shooting that took place in Orlando, Florida, on Sunday. He examines the intense current astrology and its contacts to the chart of the presumed shooter, and asks some tough (and incredibly important) questions about sexual repression and violence.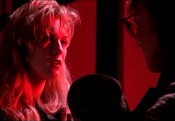 Uranus-Eris: Of God, Country and Internet

On Thursday, Uranus aligned in a conjunction with Eris for the first time since 1928. Because Uranus goes retrograde and then direct, there will be three conjunctions in close proximity, just like with any Uranus event. In this week's edition, Eric discusses the implications for humanity, our identity and how technology is shaping us.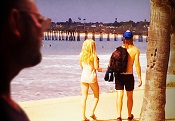 Our Changing Intimacy Needs

Tapping into an introspective Mars retrograde now in Scorpio, Rob Moore reflects upon being on the receiving end of unwanted advances as a young adult. But he found there was something valuable to take from it. From youth to midlife transition years, Rob considers how our priorities can notably change.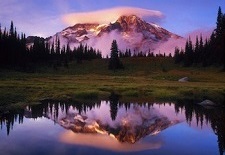 Wicked Little Witnesses

Recently, Amanda Moreno found herself caught in a war of ideas with a friend. Since then, she has been thinking about how one person's version of realism can be another's idealism, ultimately echoing this question: How do we keep from being distracted by these seeming standoffs and instead be the change?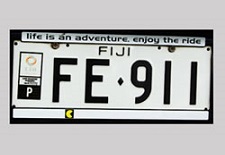 Calling Emily Doe

What is it to lose your body? The statement by Emily Doe, the Stanford rape victim, went viral as Uranus and Eris approached their conjunction in Aries. Fe Bongolan examines the broken justice system for rape cases, and the political, social and legal machinery determined to keep women silent.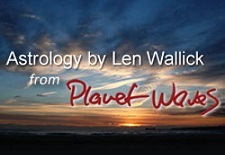 There Is A Way

Any difference to be made in the wake of the fear and grief felt by so many since last week will not be made by nations, corporations or cultural institutions. Rather, it will be you. Len Wallick reflects on the events in Orlando, offering that the astrology supports us to empower ourselves with compassion for others.






To unsubscribe,

click here

. To unsubscribe from all future Planet Waves emails,

please write to

cs@planetwaves.net Copyright © 2016 by Planet Waves, Inc. All Rights Reserved. Other copyrights may apply. >>
Some images used under Fair Use or Creative Commons attribution.