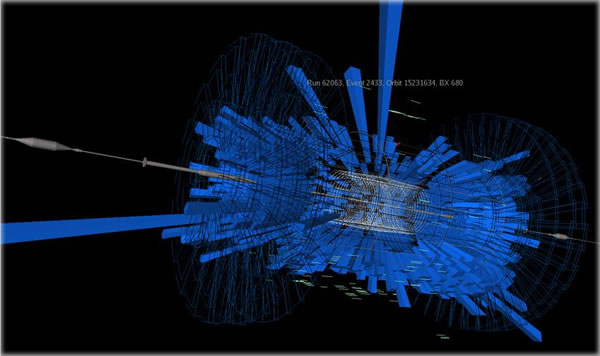 Some of the first protons to be accelerated inside the Large Hadron Collider smashed into an absorbing device called a collimator at near light speed, producing a shower of particle debris recorded in this image. About an hour later the beam completed a full circuit of the 27km tunnel, to cheers from physicists (Image: CERN). Link to original. Prior cover: A dog's eye view.
On This Fateful Day
| By Rachel Asher
Inner Space Horoscope
| By Eric Francis
The Tuesday edition of Planet Waves Astrology News is now available to subscribers. Inner Space is one of three horoscopes issued monthly to subscribers, available through Planet Waves Astrology News, our weekly publication, and Small World Stories, our annual. Most come to this page because they're looking for more from astrology than they can get on the rest of the web. You've come to the right place. Here's what Eric wrote to Capricorn:



You seem to be standing between two worlds: the one that tells you anything is possible, and another that is quietly informing you to be realistic and not take so many risks. I'm here to tell you that the biggest risk you can take is having faith in yourself. You may not see the ways you cut off your potential with the subtle belief in what is and is not possible. I suggest you move this question to the top of the list of your self-inquiry. If you come on a task, goal or project and you inquire about this one quality, ask yourself the basis of your determination. I'm not suggesting that everything is possible (though it may well be); just that you know your criteria.


Subscribe to Planet Waves Astrology News for three months, six months, or one year. Or subscribe to Small World Stories.
Astrological Consultations with Eric

Eric is now providing personal astrology readings two days a week from his home in Kingston, NY. The waiting list is getting longer, so click here to find out more and connect with a gifted astrologer with over 20 years of experience.
Published by Planet Waves, Inc. All rights reserved.