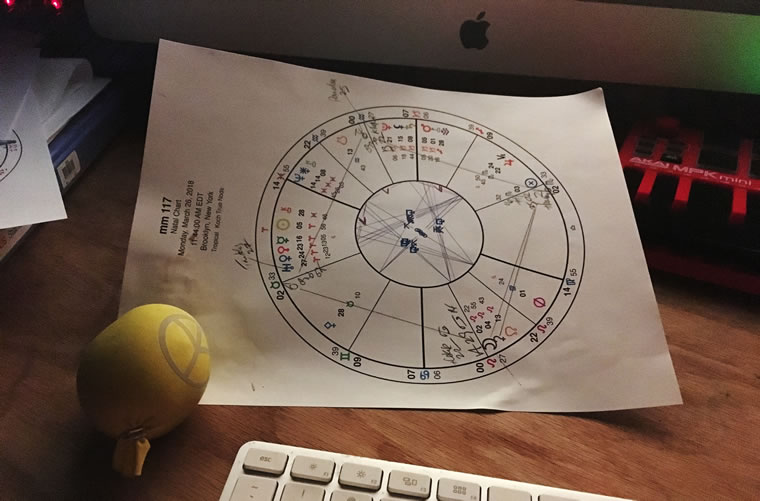 This is the chart from Monday Morning 117, my weekly horoscope, from a few weeks back. This is a typical chart for a weekly, with extra planets added in. I use this technique as a weekly ritual to check in with the minor planets (asteroids, centaurs, TNOs mainly). This is how I position the chart when writing a column (on this desk, anyway; I also use a music stand).

Planet Waves AM/FM Program Resources



Welcome to the resources page for Planet Waves AM/FM. We broadcast live each Sunday night at 10 pm EST / 7 pm PST on Radio Kingston [live stream]. All programs are archived at Planet Waves FM [on demand].

This link contains resources for Planet Waves AM/FM programs, as announced on the air. You'll find astrology charts, articles referenced, source material and other stuff. It's organized in reverse chronological order, most recent show on top, oldest show on the bottom. 

We are supported by your contributions to Planet Waves FM and your subscriptions and memberships to Planet Waves.




NOTE: MOST RESOURCES WILL TAKE YOU TO A DIFFERENT WEBSITE AND OPEN IN A NEW WINDOW. YOU FOUND THIS PAGE ON PLANETWAVES.NET.



Resources for June 10, 2018 Program
Suicide Charts
Resources for May 20, 2018 Program
Bono Natal Chart
180521-mm-125 Chart
Minor aspects, Week 125

Resources for April 8, 2018 Program
Debora Silverman -- The Signs Acted Out (YouTube playlist)


Resources for March 18, 2018 Program -- Get Ready for Stormy Daniels
An Open Letter to Kingston High School Principal Kirk Reinhardt, from Eric Francis Coppolino
A Letter to Dr. Paul J. Padalino, District Superintendent, from Eric Francis Coppolino
McCabe just made life tough for Comey and the special counsel
President Donald Trump Meets His Match in Stormy Daniels
Firing McCabe Is Just the Start
Charts for March 18 Program
Resources for March 4, 2018 Program -- Generational Astrology
Wikipedia on Generational Theory
Charts for March 4 Program
Resources for Feb 25, 2018 Program -- Interview with Gerald Casale of DEVO
Speech by Gerald Casale on 40th Anniversary of Kent State
Wikipedia article on Kent State Massacre
Resources for Feb. 18, 2018 Program -- The 2nd Amendment and Russia Affair
The Hidden History of the 2nd Amendment PDF of article by Prof. Carl Bogus

Another Battle in the War on the People by Eric Francis Coppolino

The Mother of All Freedoms by Eric Francis Coppolino

Chart of Feb. 14 shooting in Parkland, FL

Chart of Mueller Investigation 

Chart of Robert Mueller



---
To unsubscribe, click here. To unsubscribe from all future Planet Waves emails, please write to cs@planetwaves.net
Copyright © 2017 by Chiron Return, Inc. All Rights Reserved. Other copyrights may apply.
Some images used under Fair Use or Creative Commons attribution.