The World in a Grain of Pholus
So leave me now the Moon is up
But remember all the tales I tell
The memories that you have dredged up
Are on letters forwarded from hell -- Joe Strummer / "Something About England"
Dear Friend and Reader:
Every now and then, a significant global event affirms the theme of one of the recently discovered planets. By recently, I mean since the late '70s starting with the discovery of Chiron -- and I mean bodies within our solar system. Many people wonder how astrologers come up with the meanings of these things, these ice cubes and hunks of iron orbiting our Sun in odd patterns. We have many ways. Wide-scale public events where a particular planet appears prominently in the charts help confirm what we know, expand our understanding and create new dimensions of knowledge. I call these things 'provings', after a homeopathic term that basically means to test and experiment.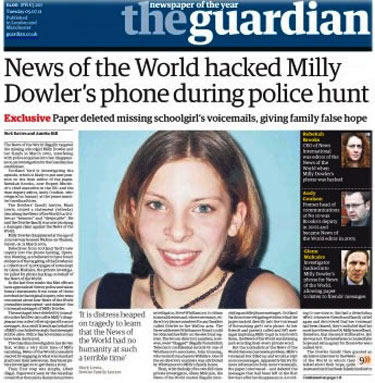 Cover of The Guardian, one of Britain's left-leaning actual newspapers, from earlier in the month, breaking the story of how News of the World writers hacked the phone of slain teenager Milly Dowler. After publishing her parents' anguished voicemails in the newspaper, they deleted the messages, leading her parents and police to believe she was still alive. This outraged England and sent the news across the Atlantic, forced the closure of the newspaper and has resulted in nine arrests.
One such event is developing right now, involving the second centaur planet Pholus: the unraveling of the Rupert Murdoch media empire, particularly the criminal conspiracy within his News International division that owns many newspapers in the U.K. This is the phone hacking scandal you may have read about elsewhere. It's a complex story and it's a bit exotic for our U.S. readers, so I will offer a summary before I get into the charts.
Just this week there have been nine arrests of current and former News Corp staff, including someone who had just served as the communications director to the current prime minister (the equivalent of our president). Hearing about the conduct of News Corp reporters, this week members of Congress from both parties called for a criminal investigation in the U.S., and as of Thursday the FBI was involved. News Corp, Murdoch's company, is a Delaware corporation. Rupert Murdoch and his son, James, both hold U.S. passports.
The scandal takes place within England's tabloid newspaper world, an environment so competitive and so vicious that it defies comprehension. An interesting element here is that newspapers still exist, for the moment: this issue will make many of them less profitable and speed their demise -- though notably, it was a British newspaper, the
The Guardian
, that cracked the whole affair open. There is no equivalent market or environment in the U.S. In London you can walk up to a newsagent and have your choice of a dozen different papers with headlines screaming about the private business of nearly anyone, adorned with photos of naked or bikini-clad women, inciting controversy and harvesting human agony on an industrial scale.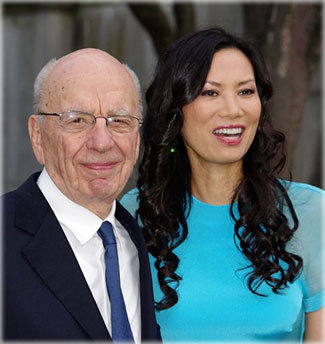 Rupert Murdoch with his third wife, Wendi, in 2011. Murdoch has a prominent Vesta in his chart, which suggests that he is surrounded by young women. Photo credit: David Shankbone/Wikimedia Commons.
To visualize the product, imagine what would happen if
The New York Post
dropped acid with
TMZ
and
The National Enquirer
, aided by hackers, lawyers and corrupt private investigators, with unlimited resources, spurred and enabled by pure greed and the luxury of having no ethics at all. Then you might come close. We do have related problems here in the states, particularly Murdoch's FOX News. More on that in a bit.
I have long maintained that the media, in particular what we call the news media, is one of the biggest spiritual problems of our times. By that I mean an existential problem on all levels, from consciousness to politics, influencing every thought we think and why we believe we're alive. If we want to understand why society's problems seem so intractable, imagine if there were more newspapers that told the truth about them, rather than covering up the issues. If we want to understand why so many people are so poorly informed, have bizarre opinions, absurd worldviews and believe in the politicians and policies that hurt them the most, we have the media to thank, all of it, including movies, TV and most books. We've all seen this over and over: a problem surfaces in mainstream news coverage, and then it disappears. We all know about issues that get no press at all. And we figure there must be a reason -- such as the newspapers are protecting their friends in public office, or are somehow involved in what they're making disappear.
If we want to understand why people are so caught in shame, blame, guilt and fear, we can attribute a lot of that to what we inject into our minds. True, people make the choice to watch, but it's also true that television is pervasive and addictive, and that it feeds off of well-known human weaknesses, including the need for escape. The same is true of gossip journalism; if you're emotionally injured, you might find a temporary palliative in watching others get shamed. Most of what we think of as news is so toxic and so contrary to any agenda that would help living things, it's a small wonder that anyone gives it any credence -- but we do. And typically we do because we're trying to fill a gaping spiritual hole.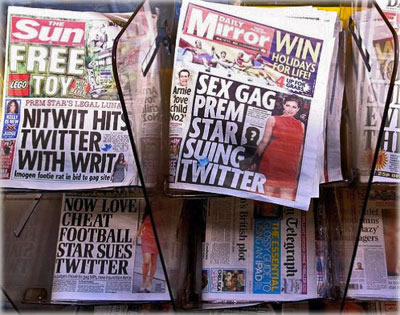 British tabloids exist in an environment like no other, where anything is 'fair' play. Photo: Creative Commons, via IB Times.
There has always been yellow journalism, but the digital age has expanded the possibilities for spreading carcinogenic ideas to something as dependably repugnant as a hazardous waste incinerator built next to a school. Most 'news' propagates an obsession with negativity, which comes in the form of fear, paranoia and divisive ideas that pit communities, regions and the generations against one another. At the dark soul of this industry is Rupert Murdoch, whose media holdings (the second largest globally, with reported revenue of $33 billion in 2010) have made him one of the most influential men in the world.
As he controlled the media market, working relentlessly toward a monopoly, Murdoch in many ways has seemed to have a stranglehold on ideology, doing his best to exploit the pre-existing pain in the human psyche and choke off any hope of progress. He has not entirely succeeded, but he's done damage on a global scale, and direct damage to the political systems of the U.S. and the U.K. the extent of which we have yet to determine. Part of his game involves having a little something (as in a dirt file) on anyone who is anyone. If you challenged him, you could find yourself in the newspaper the next day. Right below the surface of what we're seeing reported in the news is a vast criminal enterprise, a kind of blackmail and extortion racket, designed to amass power not just over a market but power over people and institutions.
Now it's starting to unravel, with another series of stunning revelations every day.
Since 2005, the British public has been learning, mainly through press reports in
The Guardian
, that a Murdoch Sunday scandal sheet,
News of the World
, was hacking into cell phones of royals, sports figures and entertainers, and spreading gossip found in their voicemail boxes. The first incident that came to light involves a story published in December '05, when news of Prince William's knee injury made it onto the pages of the tabloid. Prince William is heir to the throne of the United Kingdom, and his injury had only been known to his family and staff. Buckingham Palace suspected hacking of William's voicemail and those of his staff, and called in Scotland Yard, which began an investigation. Not surprisingly, the investigation turned into a cover-up.
The Guardian from earlier in the year, stating that the hacking investigation was being reopened. On the cover is Murdoch and his henchwoman, Rebekah Brooks. She was the editor of News of the World through many of he newspaper's worst ethical violations. Murdoch tried to protect her, but she resigned Friday facing a summons to testify before Parliament and a call for her resignation from a Saudi shareholder of News International.
About eight months later, in mid-2006, the author of the story and a (previously convicted) private investigator who worked for
News of the World
were arrested. Police seized computer files, recordings and other documents. In 2007, a special commission determined that there was no further evidence of wrongdoing.
At the time, a guy named Andy Coulson was editor of
News of the World.
Coulson resigned from his post when the case came to light and not long after, he became the communications director for Conservative (Tory) leader David Cameron, a member of Parliament. Two years later, the then-Prime Minister Gordon Brown learned that Murdoch and News International were dropping their support for him and the Labour Party, whom they had backed via Murdoch's
The Sun
tabloid since 1997, in favour of Cameron and the Conservatives. Brown was ousted and Cameron became prime minister -- giving a hint about Murdoch's political influence.
The Sun
is the bestselling daily newspaper in the U.K., and Cameron has had their support right through his candidacy, to his becoming prime minister and beyond. So this goes right to the top of the British government.
The story lay quiet for two years, and was re-opened in July 2009 when
The Guardian
revealed that Murdoch's organization had paid £1 million to settle a variety of lawsuits that would have named other phone hacking journalists it employed. A News Corp statement responding to
The Guardian's
story said, "all of these irresponsible and unsubstantiated allegations against
News of the World
and other News International titles and its journalists are false." A top police official said, "This case has been the subject of the most careful investigation by the most experienced detectives… No additional evidence has come to light. I therefore consider no further investigation is required."
But the story would not go away. It turned out that more than 4,800 people had their phones, voicemail and email hacked. Police had been regularly bribed for phone numbers of public figures, and even the schedule of Queen Elizabeth. Imagine envelopes of cash changing hands between so-called journalists and police on the queue at drive-through fast food restaurants. There were ongoing denials of wrongdoing from News Corp and various government officials. Yet in early 2010, the truth began to surface again, with a parliamentary investigation concluding that there must be a wider scandal than was originally indicated.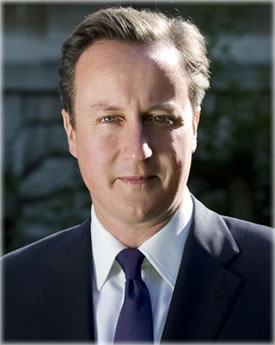 Current British Prime Minister David Cameron, who hired the former editor of News of the World, Andy Coulson, as his communications director. Coulson resigned in January and Cameron's administration, with its ties to Murdoch, is now threatened. Official photo.
Along the way, it was revealed that among the many thousands of people who had their phones hacked were the victims and survivors of terrorism, including the 7/7 attacks that had devastated England in the summer of 2005.
The Guardian's
investigation revealed that, "phone hacking and other illegal reporting techniques were rife at the tabloid." Through 2010 and 2011 there have been many developments behind the scenes, including former
News of the World
editor Andy Coulson's resignation as communications director for the prime minister this past January.
Then suddenly the story made it across the Atlantic on July 4 when
The Guardian
reported that
News of the World
had hacked into voicemails left for murdered schoolgirl Milly Dowler, who disappeared and was killed in 2002. During the six months she was missing, reporters working on the story had listened to, published and then deleted voicemails in Dowler's cell phone. The deletions led her family and the police to believe she was still alive, and made more room for anguished pleas from her parents that were published in the newspaper.
Notably, the editor at the time this happened was Rebekah Brooks, who on Friday resigned as the head of News International, Murdoch's U.K. newspaper division. The high-publicity trial of Milly Dowler's killer had evoked tremendous sympathy from the British public, and this revelation broke the dam of outrage at Murdoch and his newspapers.
In the same burst of news, swirling around the solar eclipse two weeks ago, we also learned that
News of the World
had hacked into the medical records and bank accounts of then-Prime Minister Gordon Brown, sensationalizing the illness of his infant son in the pages of the newspaper. It was clear that any boundary between public and private, between what is truly intimate and what is made into political fodder, was nonexistent.
Then on Friday, July 8, Coulson -- just six months after he resigned as communications director for the current prime minister David Cameron -- was arrested for his involvement in the phone hacking scandal. His former boss, the very head of the British government, denied that he had any knowledge of what Coulson had been up to as editor of
News of the World
, though he was warned about it many times. This damages Cameron's administration and he is viewed by many as a pawn of Murdoch.
Rupert Murdoch at the World Economic Forum Annual Meeting, Davos. 2007. Photo: Wikimedia Commons.
On Sunday, Murdoch closed
News of the World
after 168 years in print, hoping that would work as a kind of sacrificial offering. The man who would never back down gave up significant ground;
News of the World
was one of his few profitable newspapers. Then on Wednesday, Murdoch gave up his $12 billion bid to purchase the remaining shares of a satellite broadcasting system called British Sky Broadcasting (BSkyB) that he did not already own. Labour, Liberals and Conservatives in Parliament joined together and demanded that he back off of that deal. Later that day, the chief lawyer for News International resigned after 26 years with the company, the first senior executive to quit in the scandal. The lawyer, Tom Crone, is believed to have signed off on many of the more controversial articles that appeared in
News of the World
.
Then on Friday, July 15, Rebekah Brooks
resigned as chief of News International
, the British newspaper division, for her conduct while editor of
News of the World
. Murdoch had succeeded at protecting her through the scandal, but demands from the public, the Dowler family and one of News International's biggest investors pushed her out. It's unclear whether she will testify before Parliament next week, where she has been subpoenaed.
One last. A New York City police officer recently said he was approached by reporters for
News of the World
who were trying to get the contact information for Sept. 11 victims and their families. Immediately, several congressional representatives, including Sen. Frank Lautenberg (D-NJ), Sen. Barbara Boxer (D-CA) and Sen. Jay Rockefeller (D-WV) have called for investigations into whether the privacy of Sept. 11 families was violated.
"The limited information already reported in this case raises serious questions about the legality of the conduct of News Corporation and its subsidiaries under the [Foreign Corrupt Practices Act]," Lautenberg wrote. "Further investigation may reveal that current reports only scratch the surface of the problem at News Corporation." Lautenberg, as senator from New Jersey, represents many of the families of Sept. 11 victims.
So there you have it: a vast criminal enterprise, scavenging on the suffering of parents missing their child, survivors of the most notorious acts of terrorism in the past decades, and a private company with deep tentacles into government and the police; both are already implicated in the cover-up.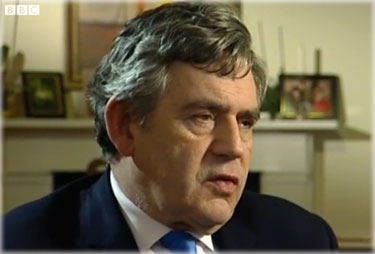 Former British Prime Minister Gordon Brown, whose phone and medical records were hacked to exploit a medical condition of his infant child. Murdoch then turned against him and the Labour Party. Photo: Screen shot from BBC.
All of this was done for profit and power, with the end result being the parading of pain and suffering before the public and multiplying it by many orders of magnitude. When anyone would try to stop it, they could be thrown to the sharks; most said nothing out of fear that they would be assassinated in the newspapers.
Remember that the product of all this activity was supposed news. The public has gazed into this oracle for some orientation on what is important in life, such as: should we bomb and invade Iraq? Is a public option for health insurance a good idea? Should we kill Social Security? Are we safe from environmental toxins and radioactive fallout? In the United States alone, 100 million households have access to FOX News, nearly total saturation. Many people -- including educated people who should know better -- take its paranoid, delusional pronouncements as gospel. And we are now getting a glimpse of what has been going on behind the scenes.
The one thing that all commentators say about this story is, there's no telling when, where or with whom it will end. The once seemingly invincible Murdoch organization is cutting off appendages to stem the damage. The allegations have spread to other titles in his News International group, including
The Sun
tabloid and far to the other end of the journalistic spectrum, the prestigious
Sunday Times
. Everyone involved in the British press knows that crimes were committed at many newspapers beyond Murdoch's group, but he is the Godfather.
You may be familiar with Chiron, a small planet discovered in 1977 orbiting in a path that weaves it between Saturn and Uranus. In 1992, a similar planet was discovered, and the centaur group was designated by astronomers. The new planet was called Pholus, one of the other wise centaurs (and possibly a direct branch off of the Chiron cycle of myths).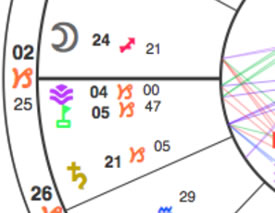 Pholus in the natal chart of Rupert Murdoch. It is the small florescent green planet close to the horizontal line, with the large number 5 next to it. Murdoch has Pholus rising in Capricorn -- the sign of business and government. The nearby planet is Vesta, suggesting devotion to the cause of profiting on human suffering (and an obsession with young women). View chart.
The energy of Pholus feels like something leaking out of a pressurized vessel. It could be anything; in the myth, it's a cask of wine, the scent of which draws a mob of rogue centaurs, who get involved in a war with Heracles. Many disasters ensue; it's one of the most horrendous scenes in Greek mythology. The most important thing about the wine is that it's
collective property.
That stuff that comes out -- it belongs to everyone. And once the process is started, the genie doesn't go back into the bottle. The wine, of course, is a symbol; it could be anything that causes a reaction.
Pholus represents processes of rapid transformation that can be provoked by seemingly minor things. Robert von Heeren, one of the first astrologers to delineate Pholus, gave it the key phrase, "small cause, big effect." Its energy is highly reactive, unpredictable and can be grossly irresponsible. There is a connection to alcohol, including conduct inspired by being drunk.
In the chart of Rupert Murdoch, Pholus is rising; that is, it's in the ascendant, right on the eastern horizon, arguably the most powerful spot in a chart. That makes it a primary factor in his personality. It's placed in the sign Capricorn, which covers corporations and government. What better way to describe the sense of unleashed scandalous information, springing from a source that cannot be stopped, spreading war, havoc and a weird kind of intoxication? Think of FOX News going around the clock, spouting its seemingly endless stream of lies, laced with a toxic agenda. That's how Murdoch manifests his Pholus in Capricorn. He also has Vesta nearby, illustrating his total devotion to the cause. That's a property of Vesta -- devotion. But it has several other noteworthy factors. One is a connection to sexuality,
particularly the shame/guilt aspect
(this is especially true in Capricorn).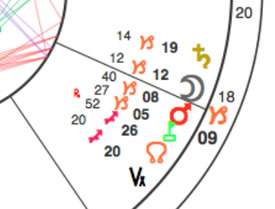 Pholus in the chart of News of the World's first edition, in October 1843, long before Lincoln was president. Pholus in this chart aligns directly with that in the chart of Rupert Murdoch, above. See full chart here.
In 1969, Murdoch purchased
News of the World
. It had been in print continuously since Oct. 1, 1843. Wikipedia's editors sum up the newspaper's mission: "It quickly established itself as a purveyor of titillation, shock and criminal news. Much of the source material came from coverage of vice prosecutions, including transcripts of police descriptions of alleged brothels, streetwalkers and 'immoral' women." By 1950 it had become the biggest-selling newspaper in the world, with circulation of about nine million. This is astonishing given that the population of England was just over 40 million at that time. That is saturation on the level of FOX News in the U.S. -- nearly every household.
On the day that
News of the World
first published, Pholus was in Capricorn; in fact it was sitting in the
very same degree of Capricorn as Rupert Murdoch's Pholus
, though he would not be born for another 92 years. That happens to be one Pholus cycle, pretty much to the day. You could say there is an element of destiny at work here, or at least an alignment of purpose.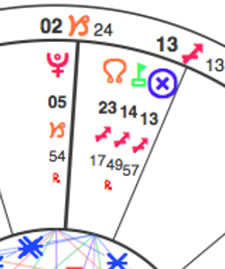 Pluto in the chart for the last edition of News of the World, on Sunday, July 10. Notice that Pluto (red guy) is in the same degree Pholus occupies in both the charts of Murdoch and News of the World. Full chart here.
Now for the current moment. Remember that the story developing so rapidly now first surfaced in 2005, nearly six years ago -- but it didn't go out of control until the past two weeks. On the day that
News of the World
published its last issue, Pluto in Capricorn was (and still is) exactly conjunct Pholus in the natal charts of Murdoch and the fated newspaper. You could say that Pluto is activating natal Pholus in both of these charts -- and we are getting the full Pholus effect, rippling through the world of Capricorn: business and politics. There are many planets making aspects to Pluto -- we keep describing this as the cardinal cross, plus Chiron in Pisces and Jupiter in Taurus. All those planets are fueling the fire ignited by Pholus in the charts for Murdoch and
News of the World
, and they will be for a while.
Notice how something new seems to be escaping from a structure in a way that can never be reversed: the truth of what went on behind the scenes. With Pluto in Capricorn we have the energy of the unstoppable force, combining with Pholus in Capricorn (in the natal charts of Murdoch and
News of the World
) to wreak havoc on one of the world's biggest companies and oldest, most established governments. This is not a scandal in any conventional sense of the word; it's the revelation of a massive criminal and political conspiracy, which has largely been fostered by something called the corporate veil. That's an aspect of a corporation that protects individuals from liability created by the people who run the company. With the prosecution of 11 individuals so far (two in 2006 and nine in the past week), the corporate veil has finally been breached.
When other journalists commenting on this story say they have no idea where it's going to end up, or who will become involved, they are describing the astrology perfectly.
Pluto in Capricorn has certainly ushered in an age of change to the institutions of our society. The financial crisis that started in 2008, with the worst recession by far since the Great Depression of the 1930s, is illustrated by Pluto in Capricorn. We all have this sense that there are bigger changes in the works than the ones we've already seen.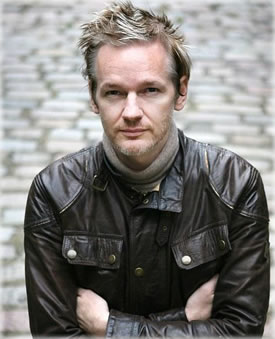 Julian Assange, creator of WikiLeaks, is involved in releasing information that is damaging to corporations and government. He exists in what seems like a parallel universe to News Corp and Rupert Murdoch. Coincidentally, both are from Australia. Photo: Assange's personal ad.
Through this era, we've witnessed the emergence of
WikiLeaks
, which has cracked the vessel of government and begun to get out the truth, in particular about the Afghanistan and Iraq wars. There are striking parallels between the WikiLeaks and News Corp situations. Both involve corporations, governments and the unsuppressed release of information that is damaging to them. Both are stunning commentaries on the gross abuse of political and corporate power. Yet one of the releases is being done to those institutions (WikiLeaks) and one is coming from inside the system. Both are revealing crimes against the people at large and doing severe damage to the reputations of those in power.
What is interesting is that, at least in the short run, an external assault on the system (WikiLeaks) seems less effective than when the system starts to self-destruct from within (News Corp imploding, though spurred by
The Guardian
newspaper). Yet both methods will have effects that are going on in a kind of living laboratory, and the results will take years to understand.
You can think of Julian Assange, the founder of WikiLeaks, as a kind of anti-Murdoch. Both are in the business of revealing hidden information, but Murdoch reveals what damages individual people, and Assange reveals what is damaging to big institutions, calling them to task for damaging people. (Notably, the chart for WikiLeaks has a powerful Pholus, exactly squared by the Moon.)
As Pluto makes its way through Capricorn, we will be seeing more of these damaging revelations, from many sources. Once Pluto gets going, it's nearly impossible to reverse the process. Pluto in Capricorn is not just going to be about economic collapses. There is a restructuring of society taking place, we're all watching it happen and many will be called to participate. If you have a copy of your natal chart, look at what's in the early to mid cardinal signs for a clue as to how you will be taking part. (Murdoch has Pholus there; he's unwittingly become part of the solution to the problems he helped create.)
There is a major crux point in that process, which is in June 2012, when Uranus in Aries makes its first exact square to Pluto for this cycle. This is the first axial alignment of Uranus and Pluto since the 1965-1966 conjunction that shook the world for more than a decade (what we think of as the Sixties). It's a moment when personal consciousness (Uranus in Aries) meets up with the restructuring of society (Pluto in Capricorn.)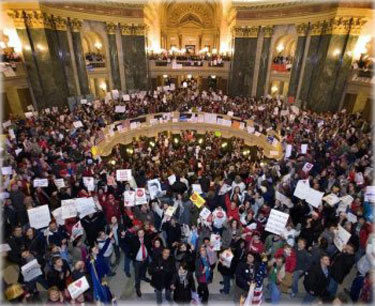 Protests in Wisconsin this year were the perfect image of the Uranus-Pluto square. Photo: UAFF.
The Uranus-Pluto square is close right now: as of today it's less than two degrees apart, meaning that we are seeing some of the more interesting effects of the aspect start to manifest. We've been witnessing them all year, from Arab Spring to the protests in Wisconsin. One implication of this is that not only is Pluto conjunct the natal Pholus of
News of the World
and Murdoch himself, Uranus is making a square to that position. Uranus influences
the speed of events and also the sense of a surprise.
So when that first square makes exact contact next spring -- pay attention because events will progress at a blinding rate.
Anything or anyone with important points (planets, the ascendant, etc.) aligned with the Uranus-Pluto square is set up for big transformations over the next few years. As we watch what happens to Murdoch, News Corp and its various actors, we will get a clue how big. Just a few months ago it would have seemed impossible that things could come this far, that so much would be revealed. Of course, we weren't expecting the wave of revolutions across the Middle East and North Africa either, massive, rolling protests being another manifestation of Uranus-Pluto.
Yet what anyone looking to improve the world is looking for is structural change, and while we have yet to see much of that, it is inevitable. Awareness is the first step in the process, and right now that means being aware just how much influence Rupert Murdoch has amassed in the governments of the United States and England. His truth incinerator known as FOX News has helped create many wars, relentlessly exploited terrorism for profit, and built up the hate-inspired Teabag movement in the United States, a fundamentalist religious movement which is currently holding the government hostage over the debt ceiling issue. And women are being taken hostage. This year alone, 81 laws have been passed that in some way restrict access to abortion thanks to Teabag movement politicians getting into office.
FOX News involves itself directly in the U.S. political process. It is a breeding ground for potential presidential candidates, all of whom display a bitter resentment for humanity. Not surprisingly, the same sentiment emerges from what is revealed in the WikiLeaks files. Conservatism is not about conserving anything; it's about fear.
When we think of the structural change associated with the current astrology, it might help to think on multiple levels of reality. Astrology itself is multidimensional. Do we really think that an undiscovered hunk of iron (Pholus in Capricorn, in charts many decades old) is physically influencing our reality? Or is there some kind of energetic influence?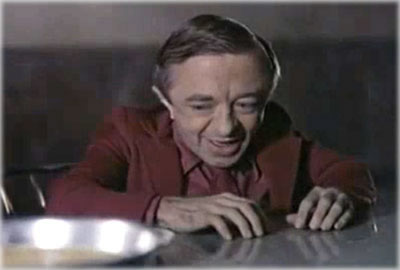 "Bob, I want my Garmonbozia." Michael J. Anderson as 'The Man from Another Place', a resident of the Black Lodge in David Lynch's film "Twin Peaks: Fire Walk With Me." Garmonbozia is human pain and sorrow, collected and consumed by demonic beings who manipulate events to cause, and thus feed on, even more pain. Such is the nature of News Corp and much of the mainstream media.
The concept of multiple levels of reality also hints at a relationship with the unseen world, what some call the spirit world. An illustration of this comes from one of the most reviled films in 20th century cinema --
Twin Peaks: Fire Walk With Me
. The film, considered by most to be as incomprehensible as reality itself, explores the relationship between the Black Lodge (a kind of nonphysical organization) and events in the town of Twin Peaks, which surround a series of murders. People in the town became possessed by the spirits of the Black Lodge, which harvested their pain and sorrow and created it into a kind of food they consume, which they call
garmonbozia
.
We think of enterprises like News Corp as spreading pain, warfare, shame and hatred, and then collecting money, which is true on the physical level. But rarely do we consider the spiritual damage these things perpetuate. There are factors at work on the energetic level, and one of them is the harvesting of that sorrow, converting it into the ability to cause more of it, and harvesting that. I cannot tell you exactly what entities are behind News Corp and Mr. Murdoch on the invisible planes of reality, but I know they're there, thriving on what he seems to create, and I know who they work for.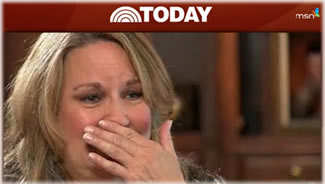 Television, newspapers and plenty of Internet sites spew out human pain and then profit from it, but the results collect on another level as well. In this image, a woman who lost her son in a car accident is covering her mouth, suggesting that she is both grieving and ashamed. The story verges on pointless, but millions of people will relive her agony through video. Image: NBC TV.
As individuals, we feed the process as we focus our attention on the pain of others in a way that is unrelated to their healing or our own. We might think we're being entertained or informed, when in truth we're multiplying the negativity like an infected body multiplies a pathogen. Then we get drawn in and addicted to (which means controlled by) the multiplication and transfer of energy. There is a reason people watch FOX News or listen to Rush Limbaugh hour after hour. It creates the very psychic void it pretends to fill, much like the combination of excess sugar and salt in fast food makes it impossible to satisfy one's hunger.
There really is no systemic way to address this deeply personal aspect of the problem. Each person has to make a choice to divest his or her energy and invest it in something else. This does not mean turning away from the whole situation; it's precisely the lack of awareness, what you could call 'unconsciousness', or what some call 'ignorance' (the conscious choice to ignore something) that enables and invites the problem to begin with. Most of us from time to time notice how much we look away from something simply because we don't want to deal with it -- even though we know that looking away perpetuates the problem.
The very thing that we believe is designed to spread awareness and tell the truth -- the news -- has been taken over to spread disinformation and then benefit from the resulting chaos. It's true, as the House of Murdoch is flushed of its demons, we are getting a dark look inside the media, and also a dark look inside our collective psyche.
Our job now is to raise awareness and make a decision. We are seeing the cost of letting other people do our thinking for us, and stated as simply as can be stated, it's high time we think for ourselves.
Lovingly,

Additional Research: Fe Bongolan, Tracey Delaney, Hazel Ferguson and Carol van Strum. Photo research by Sarah Bissonette-Adler. Additional editing: Jessica Keet, Amanda Painter.

Discuss this article here.
They say immigrants steal the hubcaps
Of the respected gentlemen
They say it would be wine an' roses
If England were for Englishmen again
Well I saw a dirty overcoat
At the foot of the pillar of the road
Propped inside was an old man
Whom time would not erode
When the night was snapped by sirens
Those blue lights circled fast
The dancehall called for an ambulance
The bars all closed up fast
My silence gazing at the ceiling
While roaming the single room
I thought the old man could help me
If he could explain the gloom
You really think it's all new
You really think about it too
The old man scoffed as he spoke to me
I'll tell you a thing or two
I missed the fourteen-eighteen war
But not the sorrow afterwards
With my father dead and my mother ran off
My brothers took the pay of hoods
The twenties turned the north was dead
The hunger strike came marching south
At the garden party not a word was said
The ladies lifted cake to their mouths
The next war began and my ship sailed
With battle orders writ in bed
In five long years of bullets and shells
We left ten million dead
The few returned to old Piccadily
We limped around Leicester Square
The world was busy rebuilding itself
The architects could not care
But how could we know when I was young
All the changes that were to come?
All the photos in the wallets on the battlefield
And now the terror of the scientific sun
There was masters an' servants an' servants an' dogs
They taught you how to touch your cap
But through strikes an' famine an' war an' peace
England never closed this gap
So leave me now the moon is up
But remember all the tales I tell
The memories that you have dredged up
Are on letters forwarded from hell
The streets were by now deserted
The gangs had trudged off home
The lights clicked off in the bedsits
An' old England was all alone
Planet Waves FM: Capricorn Full Moon, Rupert Murdoch, News Corp, U.S. Government Psychosis -- and PHOLUS.
Today's edition of Planet Waves FM
looks up close and personal at the Capricorn Full Moon, which takes place Friday. (Don't forget -- you can receive our special edition on that event free by sending an email to
thunder@planetwaves.net
.)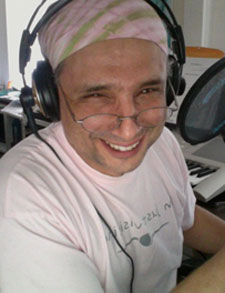 Eric Francis, at the podcasting mill.
This has been a very, very interesting Full Moon. Just look around and notice for yourself.
The Sun and Moon align exactly with a slow-moving aspect we've been talking about -- Varuna square Eris. The thing about your Varuna square Eris kind of aspect is 1) you can't look it up in a book and 2) no matter how significant these newly-discovered outer planets are, the aspect is going to seem like it's in the background right up until it's lit up in the blazing light of the Full Moon -- and that's what's happening right now. (Note, our readers recently took a throw at delineating this aspect in a special edition
that you can read here
.)
In today's podcast, I look at the Rupert Murdoch / News Corp scandal, and the utter insanity going on in Washington DC in the form of the Tea Baggers (far right wing Republicans) pushing the United States government to the brink of financial default, which if it happens could set off a lot of problems. In the second half of the program, I look at how Murdoch's chart lines up with that of
News of the World
, the weekly that he shut down Sunday.
Our musical guest this week is the acclaimed
Emma's Revolution
, described by our friends at Z Magazine as, "Beyond progressive commentary, Emma's Revolution examines issues of our time the way the media should." Pete Seeger once said, "This record is part of the worldwide revolution which will save this planet... these songs you'll find yourself singing for the rest of your life." Gee whiz! Anyway you can hear them on Planet Waves FM.
For the old player and the full archive of my programs, visit the
Planet Waves FM homepage
. Our theme music, in case you were ever wondering, is called "Earth Calling," composed and performed by Tino Izzo, represented by
Chacra Music
.

Weekly Horoscope for Friday, July 15, 2011, #867 -
BY ERIC FRANCIS
Revised and Updated! Click for Eric's Zodiac Sign Descriptions
Aries (March 20-April 19) -- Certain events may seem to be pivoting around you, or your influence -- and you may be wondering how things have gone so far. I suggest you ask another question, which is: how far can you go making use of this circumstance? You are likely to be learning something about the kind of impact you can have, saying or doing very little. I would persist in a policy of saying less rather than more, but choosing what you say well. Consult with others and work from a strategy. You may think you're in a situation where you have to choose sides. How do you do that? Well, know your own agenda, and subject it to some scrutiny. Then see where your intentions align with those of the people in your professional environment. You may think you're ahead of yourself; you may think that you're into something too advanced for what you're capable of. Remember your ethics at all times and you will do beautifully.


Taurus (April 19-May 20) -- The world around you seems to be moving at full thrust, and you're in one of your more sensitive moods at the moment. You're in an amazing position to observe and express empathy for what's going on around you. Yet the Full Moon in your fellow earth sign Capricorn is an invitation to take a step up in the world. It's also an occasion to step out of the psychological box that you've inherited from your mother, who understood the world more in terms of the past than as something you can experience in the present or the future. You seem to be accustomed to going through this psychological material with a spoon, or with a garden spade on a good day. Now you can feel the experience for what it is, and that feeling can propel you to make decisions about what you want and how to be that will surprise you with how simple they feel, and in fact, how simple they are.


Gemini (May 20-June 21) -- Remember that there is such a thing as right and wrong. I know that certain members of fundamentalist faiths blast the notion of moral relativism, or what you might think of as situational ethics. In truth, most of what we think of as right and wrong are indeed relative (such as it's wrong to harm a dog, but you can eat lamb if you want). By right and wrong, I mean aligned or not aligned with your personal constitution. The problem you have is the same problem that everyone else has: it's difficult to distinguish guilt from an ethical impulse. Maybe this will help you: Guilt judges you wrong before the trial. An ethical impulse asks a question, and then you get to answer the question based on your values. Listen to yourself; listen to the values you're referencing when you make your assessment. This is a step-by-step process. It should take longer than a Gemini minute; more like a Taurus hour.


Cancer (June 21-July 22) -- We're in the midst of a Full Moon in your opposite sign Capricorn. The Sun in your birth sign suggests that this is time to experiment with role reversal. If you tend to be the passive type, it's time to take action. If you tend to be more like a child, it's time to be an adult. If you tend to be the kind of person who seeks security, it's time to take a chance. The kind of astrology you're experiencing is the kind that rewards action, conscious decisions and knowing continuously what crossroads you're standing at. You are indeed standing at a significant intersection of possibilities, of potentials, and of influences. You may seem so overwhelmed that the only logical thing to do is stand back and watch. Yes, I do suggest you watch -- but not while you're standing back. Life is calling you to participate right now; don't worry that you feel like you're in over your head. That's how it usually is, whenever something actually relevant is happening.



Hello Cancerians! I am doing your birthday report today. We will send a special mailing when it's ready -- and post it to the main PW blog.



Leo (July 22-Aug. 23) -- Sometimes it's meaningful to think of success as a mountain that you climb, though there are times that what once seemed high up descends to a place where you can reach it. People you may have thought were inaccessible or superior to you are now more obviously your peers. What seemed like it might be a great achievement is now seen as a practical matter. What you thought of as success you can now think of as doing things well. All of these changes are an attribute of what you might call a maturing process, though really what you're discovering is that you have a place in the world. A bit of grace and poise are called for in stepping into that place; faced by so much to be angry about, you are the one capable of looking at the world with some peace of mind. When you communicate anything, remember that you're relating from all of these points of progress, and are often speaking to those who struggle to have any faith in themselves.



To order Light Bridge, your full-length 2011 reading including written and audio segments for Leo, please go to this link.

Virgo (Aug. 23-Sep. 22) -- You're not the type of person for whom the ends justify the means. Your whole life is a story of process; you could certainly use being a little more goal-oriented, and this is a time when you can experiment with that boldly. Goals require action to be meaningful. It's true, they can reside in your mind as an abstract concept for many years, though I suggest you think of a true goal as something you're experimenting with and want to go further with. More than being an idea, it's something that's already in progress. You may have to be what feels like ruthless in moving obstacles out of the way, so that you have the space and energy to do what you want. It's more your style to involve yourself in what is the most meaningful to you and gradually allow it to take over your life. And remember this: it's unlikely that you have two goals. You really have one agenda that expresses itself many ways. Keep coming back to that and you will stay in alignment with your purpose.



To order Light Bridge, your full-length 2011 reading including written and audio segments for Virgo, please go to this link.

Libra (Sep. 22-Oct. 23) -- There is a limit to how far purity will get you. Striving for impeccability is another thing. There is a limit to the value of being sentimental; there is no limit to the value of caring deeply, and that certainly describes you well. Now for the tricky part: accomplishing most goals requires a little detachment. Sure, it's possible to froth at the mouth like a stock trader, or to lust after power and glory -- those things work, but they don't usually work when the actual objective, when the purpose involved, is an authentic or nourishing one. So focus on your authenticity, and on the process of cultivating nourishment. You have something that others benefit from, and it would be helpful if you made peace with that. In a sense, you're being used for a purpose larger than yourself, and as long as you love that purpose, it's one of the most exalted states that a person can attain. I suggest your mantra for these days be, 'the greatest good for all concerned'.



To order Light Bridge, your full-length 2011 reading including written and audio segments for Libra, please go to this link.

Scorpio (Oct. 23-Nov. 22) -- Remember that every work relationship is indeed a relationship. Each is a unique experience, and in truth one human contact is not 'bigger' or 'more important' than another -- or at least that is the wise assumption now. Remember that none of these situations is an ornament for show; be especially mindful here if you have a partner whose position somehow reflects on your status or credibility. Maintain your integrity and stand on your own merits. The sky is volatile right now, but it's rich with potential. You are obviously feeling some pressure with the Full Moon, and you may have a sense that if you make a mistake, you won't be able to undo it. This is not really true. While you want to make your decisions consciously and carefully, August presents a kind of review phase wherein you can reassess certain elements of your situation and make useful corrections. The key is to stay in contact with your motives, and be honest with yourself about what they are.



To order Light Bridge, your full-length 2011 reading including written and audio segments for Scorpio, please go to this link.

Sagittarius (Nov. 22-Dec. 22) -- You may be feeling provoked; you may even be feeling outraged about something. This may be enough to spur you into some kind of unusual action, and that could be a truly positive thing. I suggest that while you're experiencing the sensation of feeling pushed or compelled to notice something, think back and ask yourself how many times you've noticed the same thing; how many times you've had the same sentiment, but less passionately. Who or what is spurring you to action now? The planets in your solar chart are in a dependable alignment that is designed to get results, with the one caveat being that you must stay in close alignment with your motives, your ideals and what you actually want to create. I strongly suggest you think in pictures, rather than just in words. Visualize what you intend; notice what is in the picture and what you want to add to the picture. Then notice when it takes on a life of its own.



To order Light Bridge, your full-length 2011 reading including written and audio segments for Sagittarius, please go to this link.

Capricorn (Dec. 22-Jan. 20) -- How much happier would the world be if we lived among sexually satisfied people? Think about it. Think of all the subverted energy that would be going to where it really matters; think of all the toxic aggression that would fizzle out and be replaced by fresh passion. Consider all the pain that would be replaced by the direct experience of healing. Imagine all of that hungry ghost yearning that is really sexual starvation, replaced by the desire to generously nourish oneself and others. Then imagine this multiplied by all of the people experiencing it, you among them. What would society feel like? What would your world feel like? What would it feel like to exist? You have many opportunities to open up, which means to relax and flourish. Whatever dark emotions, fears or inhibitions that may have bound you in the past are too weak to hold you back now. Your desire and passion are stronger than they are.



To order Light Bridge, your full-length 2011 reading including written and audio segments for Capricorn, please go to this link.

Aquarius (Jan. 20-Feb. 19) -- Among my pet names for the zodiac signs, I have two for yours: one is Acurious, and the other is Aqueerius. They are related. These days, it's weird to be curious. Part of why it's weird is because the things that others think about doing, you tend to dive in and experiment with. I reckon that often, you do so knowing there are no guarantees -- that's very helpful. Experimenting, exploring, endeavoring to give your curiosity an actual place in the world are best left open ended, free from expectation. Who knows, the results might be a mixed bag; they might be a huge breakthrough; you might decide it wasn't worth it, and move onto the next thing. The beauty is that you actually dared to find out. You stopped living in your head and took up a process of understanding the world through first-hand experience. Your charts are especially encouraging of this at the moment; can you feel it?



To order Light Bridge, your full-length 2011 reading including written and audio segments for Aquarius, please go to this link.

Pisces (Feb. 19-March 20) -- This is the weekend to be as visible and social as you can be. Your relationship to the world is changing, as is the world itself. All of this is happening at a pace so fast, we feel it about as palpably as we feel the Earth moving beneath our feet -- that is, not so much. One way to experiment with change is to get out into a social environment. The big Capricorn Full Moon is shining bright in your 11th house right now, which represents your circle of friends. Yet it's also one of the houses that represents your vision for your life, and this house is the scene of many unusual changes these days. Looked at one way, the soil is being turned over for new planting. Looked at another way, there is an archeological dig going on, where you're able to retrieve long-lost desires, ambitions, and a quest for freedom that has over many years been buried by the shifting sands of time. You have strong intuitive guidance right now, and many other factors working in your favor. Pay attention to who you meet, and notice how the world has evolved around you even from the place you remember it being just a few months or years ago. Be aware; get in sync. These are unusual days.



To order Light Bridge, your full-length 2011 reading including written and audio segments for Pisces, please go to this link.