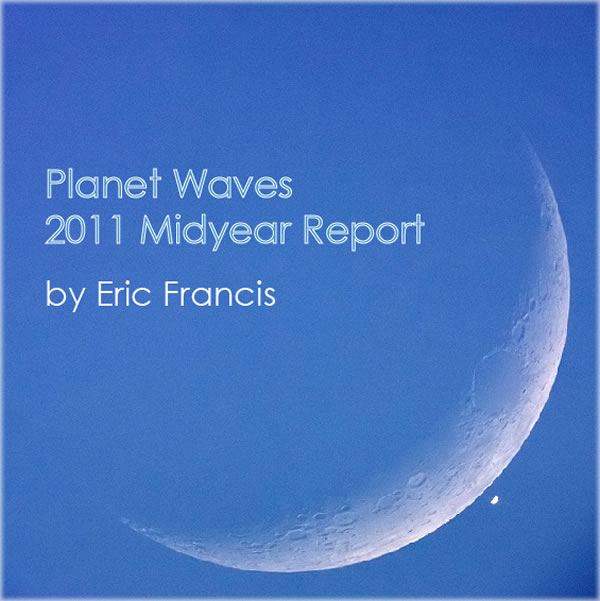 Lunar occultation (exact conjunction) of Venus. This aspect occurs again next week. Photo by Anthony Ayiomamitis.
2011 Midyear Report by Eric Francis
Dear Friend and Reader:
I've just finished the
2011 Planet Waves Midyear Report
. This offers you 12 signs of astrology, which you can listen to for your own Sun sign, plus your rising sign and your Moon. You can also peer into the astrology of your loved ones. All 12 signs are included for one low price of just $19.95. The report is based on the chart for the partial lunar eclipse of Friday, July 1. The readings are about 30+ minutes each; there are two introductory audio segments to open up the material. They presentation is an evolution beyond what you may have heard in Light Bridge, looking at other aspects and giving new interpretations of ones you may be following.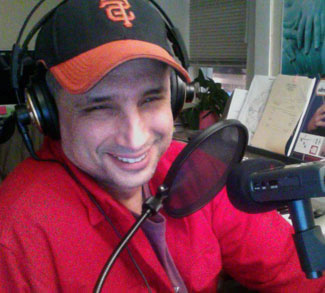 We have all been through a heck of a year. Our current moment is a turning point, and a moment of reflection. And there is a lot of potential in the planets right now, as Jupiter, the God of Fortune, makes aspects to many different planets -- especially Chiron and Pluto. I've created these readings to have both depth and practical use, speaking directly to you like a close friend who happens to know about astrology and how it plays out in the human world.
I recently published three reports in the birthday series, and we got some feedback that I would like to share with you.
Vicky in Brooklyn wrote:
"I just want to pass along a huge thank you to Eric. My reading was just transformational. It has given me so much hope -- and clarity. I have never experienced a reading that was so truthful, compassionate and exciting. AMAZING. One more reason to love Planet Waves."
Maria in Australia declared her reading as
"very well rounded,"
adding that it was
"perfect timing really; it all fell gently into place for me."
Holly, a practicing Buddhist in Washington State, wrote:
"Hey Eric -- Man in My Head, Heartfelt thanks for a great and soulful reading. At my age, to still derive benefit and confidence from your insight is, if I do say so myself, a high complement and deserving of acknowledgement."
You can purchase this product for yourself, or as a gift for someone you care about. Planet Waves products are guaranteed, so buying one is risk-free and high on the scale of benefits.
To purchase the 2011 Midyear Report from Planet Waves,
please go to this link
. If you have questions or prefer to order by phone, you can contact Chelsea at (877) 453-8265 during East Coast business hours.
Thanks for doing your metaphysical shopping at Planet Waves.
Lovingly,