Beyond Astrology
Dear Friend and Reader:
Next week, Planet Waves plans to provide continuous coverage of the United Astrology Conference (
UAC
) in New Orleans. Most of what we offer will be on our audio channel,
Planet Waves FM
. I will be interviewing the most interesting people I can round up and put on the air, in one-on-one conversations and roundtable-type discussions. If you would like to visit a version of the audio page with descriptions,
you may find that here
.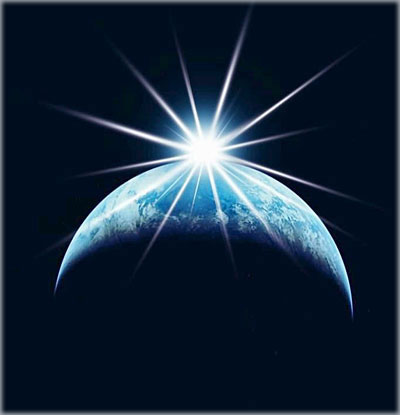 We're trying to figure out where this photo comes from. It's all over the Internet as free wallpaper. It's the crescent Earth from space, with the Sun angular behind it -- though it may be a composite.
I will send out a series of mailings to remind you of what we're doing. I anticipate conference coverage to begin Wednesday evening.
UAC is a collaborative venture between four different organizations:
AFAN
(Association for Astrological Networking),
ISAR
(International Society for Astrological Research),
NCGR
(National Council for Geocosmic Research, Inc.) and
CVA
(the Council of Vedic Astrology). It's not an annual conference -- it's a big-number production that happens about once every four years. I'm guessing that this year's conference will be attended by about 1,500 people. That's more than enough to get some energy moving. The event seems to have started as the United Astrology Congress
in the mid-1980s
.
If you're planning to be at the conference, don't forget to stop by and visit our table. We'll figure out a way to make it visible (we have Planet Waves FM banners). Note that we've been writing about aspects of the conference for weeks, which you can review on our
UAC page
.
Astrology conferences can be fun and educational, even if they are a bit overwhelming for some people at times. I know many astrologers who have learned a lot traveling the conference circuit, attending those 75-minute lectures and panels. There is a seemingly endless diversity of subject matter. What we don't see is what's missing, including topics and teaching modalities.
Read More at This Link

Planet Waves will be providing pre-coverage and on-scene coverage of the United Astrology Conference, which takes place in New Orleans from May 24-29, 2012. Before I get into what that conference is, if you already know about it, be aware of the
registration fee increase on Jan. 15
. Here is a
link to the conference's website
.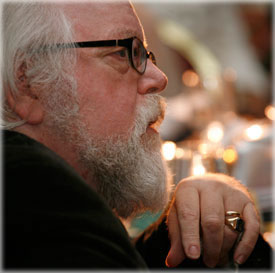 Rob Hand and his left hand at UAC 2008. Photo by Eric Francis.
So, what is UAC? Well, it's the Burning Man of astrology, only it happens every four years or so. Looks like there will be about 2,000 people at this event, which its organizers describe as follows: "This global conference will be the largest gathering of astrologers, and astrology-lovers, in the world. From China, Nepal, Russia, India, Serbia, Argentina, Brazil, Bali, Germany, Australia, France, Great Britain, Mexico -- from everywhere -- we will gather to commune and share."
Conferences are one useful way to learn astrology; many of your favorite astrology writers will be there. It's a great opportunity to meet the people you've been reading or studying for years, and even participate in a class with them. I am appearing as faculty in two presentations -- collaborating on a daylong
marketing your astrology business
seminar for professional astrologers (which will be good for holistic practitioners in any field). I will also be on the media panel, helping astrologers handle public and press relations. To see these presentations you will need to arrive a day or two early -- please check the schedule!
Planet Waves is serving as 'official conference press', a function which I will be handling mostly by creating a channel on
Planet Waves FM
that will feature interviews, reports and panel discussions from the conference. (Lots of coverage of prior conferences is on our
FM
site.) During the few months between now and UAC, I will be providing pre-coverage in this space, including short items and interviews with conference faculty and organizers. If you are on the faculty and would like to be one of the people we interview, please write to me at
dreams@planetwaves.net
.


Beginners Will Get Lucky at UAC
Have you been reading our notices about the UAC conference, finding yourself interested but a little intimidated? Among the many, many workshop offerings, there is a track devoted to novice astrologers called the Beginner's Sun-Sign Track.
Described as a one-day-only, full-day program, it allows astrological beginners to hear lectures from some of astrology's leading speakers on entry-level topics. It offers four workshops. Susie's Sun Signs, presented by Susie Cox, offers a "modern, positive, fresh approach to the basics." Birthing Venus Within: A Mythological and Elemental Perspective, presented by Barbara Schermer, begins with Botticelli's
Birth of Venus
, since the painting marks the moment the goddess "takes on the mantle of the zodiac," and traces the myth "to understand her manifestation in your own chart."
Understanding the Planets: From Moon to Pluto by Rick Levine covers the ten traditional planets and how they bring the signs to life. Aspects and Major Configurations by Erin Sullivan breaks down various combinations of planets in a 'grand' formation: grand cross; T-square; grand trines; yod; kite configurations, and their relationships. Registration for the rest of the conference includes access to the Sun-Sign track, however this track also has its own separate registration for those who prefer not to attend the rest of UAC.


Planet Waves Readers Attending UAC -- Phone Home
Would Planet Waves readers who plan to attend the United Astrology Conference next month in New Orleans please get in touch? You're invited to email me at
dreams@planetwaves.net
.
Planet Waves has a number of plans for the conference. We will be running an Internet radio station and hosting panels and interviews with both faculty and participants. I will be doing two presentations: a half-day pre-conference workshop on astrology writing, and I will be on the media panel alongside other astrologers who have a public angle on their work.

This year's UAC conference features
a media panel
to discuss how astrologers can better use available media and improve astrology's mainstream reputation from 'woo-woo' party game to useful, valid tool. One member of the panel is Art Harris, an award-winning journalist. Harris is a rare critter: a big-league reporter who isn't afraid to speak about how astrology has enriched his life. He will be offering his take on how astrologers can bridge the gap with mainstream media -- incidentally, suggesting the very style of news astro-journalism done at Planet Waves, in a recent interview on the
Astrology News Service (ASN) website
: "The more the community is able to attach its message to breaking news the better... Being transparent and not taking yourself too seriously can work wonders. But the biggest sin in the media is to be wrong and boring, not necessarily in that order." Harris is appearing alongside Eric Francis and other prominent astrologers with a media angle on their work.

Astrology in the Media and Public Relations: UAC Panel
Astrology is known for its notoriously poor handling of its media opportunities, and being subjected to repeated insults in the press. And to think that horoscope columns sell a heck of a lot of newspapers. In response to this problem, the United Astrology Conference (UAC) is sponsoring a Community Issues Workshop called "Working with the Media and Public Relations." This takes place at 2:30 pm on Thursday, May 24, the day before the conference officially opens. The panel features Art Harris, who spent 13 years with CNN and is a two-time Emmy Award-winning investigative correspondent. He joins astrologers Eric Francis, David Railey, Donna Woodwell, Gloria Star, Chris Turner, Roy Gillett, and Jack Fertig along with Astrology News Service founder and media consultant Ed Snow. Learn about astrology's relationship with the media. Having relied upon astrological counsel in his own life, Art challenges those that negate astrology without first investigating it.

You Can Spend an Entire Day with Melanie Reinhart!
One pre-conference intensive worth attending at the United Astrology Conference is being taught by Melanie Reinhart. It's called "The Four Angles: Structure, Purpose, and Container of Incarnation." The class addresses how to use what are called the mundane angles -- the ascendant, the descendant, the MC and the IC. Melanie writes, "The four angles anchor the mandala of our life and describe our orientation in time and space, providing the symbolic material with which to approach the significant life-questions: 'Who am I?', 'Where do I come from?', 'Who am I in relation to you?', and 'What does the world ask of me?' We consider the meaning of each angle by sign, aspect and the transit process initiated by the outer planets including Chiron." Melanie is an accessible teacher who gently blends the practical with the spiritual. This class is being held on May 24 and is an all-day program. All of the pre- and post-conference intensives
are listed here
.

Buddy Up at UAC With Planet Waves Readers
If you're planning to be at UAC and are looking for a roomie, we may be able to help, by connecting people who are interested in sharing a hotel room. Drop a note to
info@planetwaves.net
and we will put you in contact with other people who reply.
Featured Class of the Week: Donna Woodwell, my co-presenter for the astrology marketing intensive, May 23 (extra fee, very good information,
more info here
):
Using the Internet to attract clients and build your astrology business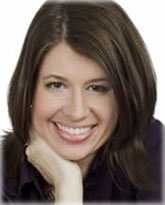 That's Donna!
Not only is the Internet a great place to meet new clients, it's getting easier (and cheaper!) to use successfully. Astrologer and Internet entrepreneur Donna Woodwell will demonstrate free and low-cost ideas to use social media and other online tools to increase traffic to your website and convert those visitors into clients.
During this three-hour workshop, you'll learn techniques and tools you can go home and implement immediately, including how to:
• Discover your authentic voice and use it to build your unique marketing niche
• Build remarkable websites with enticing content that attracts readers
• Engage clients in social media including Facebook, Twitter, LinkedIn and more
• Add sizzle to your content with audio and video media
• Harness free Internet advertising resources such as Yelp, Google Places and Amazon
• Spread the love with your email marketing newsletter
• Measure your marketing success with Google Analytics and other tools
Whether you're just starting your astrology business and looking for clients, or are a seasoned pro who wants to learn more about the web, this workshop contains something for you.

Still Time to Apply to be a UAC Room Monitor
Until March 10, UAC is accepting positions for room monitors. Being a room monitor is a wonderful way to attend the conference, save money, and be eligible for a number of benefits.
Room Monitors can:
-- Attend the UAC conference for only $150
-- Apply for free tickets for the banquet and other entertainment through the Fortunate Ones Fund
-- Enjoy lectures presented on many tracks throughout the conference
-- Receive a gift of 18 MP3s
Don't miss out on this fabulous opportunity to attend the conference at a minimal fee and get the maximum benefit!
Please email
Charlotte Benson
for more details and to apply as a UAC 2012 Room Monitor. Applications must be received by March 10, 2012. Charlotte will be happy to email additional, detailed information regarding your obligations and benefits, and to answer any questions you may have.

A Few Highlights from UAC 2012
Each Friday we're highlighting something from the forthcoming
United Astrology Conference
in New Orleans. This is NOT an annual conference; the last one was four years ago. Planet Waves will be there covering the event and doing other fun things. One thing about UAC is that there are lot of presenters from many viewpoints. I've selected two sample classes to give you an idea of the different levels of work that are being done.
Let's start with a basic class by my old friend Rick Levine, editor of StarIQ:
Understanding the Planets: From Moon to Pluto.
Rick is excellent at pragmatic astrology with a touch of magic. He writes, "As astrologers we learn as much as much as we can about the signs. But the signs are just one part; they are brought to life by the planets as they move around the zodiac. This lecture covers the ten planets, their basic symbolism, and how they impact our lives. Whether you are a beginner or a more advanced student, there will be many useful tidbits for all in this general overview of the planets."
Nick Dagan Best is a popular teacher who brings a touch of stagecraft to his work, an amazing memory for detail and a knowledge of culture that rivals any well-rounded critic. One of his classes is called
Time Twins.
He asks, "What better way to refine the techniques and interpretive skills of personal development than to contrast two or more nativities that are very similar? Time Twins is an investigation of birth charts of famous people born within a week of each other, using transits and secondary progressions to determine distinctions between their relatively similar charts. Subjects include Miles Davis/Marilyn Monroe/Allen Ginsberg (Gemini 1926), Oscar Wilde/Arthur Rimbaud (Libra 1854), William Shatner/Leonard Nimoy (Aries 1931), Lenny Bruce/Margaret Thatcher (Libra 1925), Elizabeth Taylor/Johnny Cash (Pisces 1931) and others."
Note to UAC Presenters: If you're teaching a class you would like to see highlighted in this space, please reply to this edition. If you're going to be attending the conference and would like to assist Planet Waves covering the event or staying organized, please drop me a note as well. Thank you! --efc.

The Art of Astrological Storytelling with Eric Francis
Note to Potential Participants:
This workshop will be at UAC 2012, but I will be doing a test run in New York City at 1 pm on Monday, Feb. 27, 2012, hosted by Nightlight Astrology. Write to nightlightastrology@gmail.com for more information.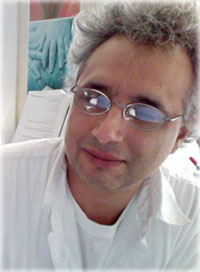 Eric Francis.
How do you write astrology in a way that others understand you? First you must understand the chart, then express it in ways that don't rely entirely on astrological references. Metaphors, descriptions of form, color and other sensory data, and most of all, a cohesive narrative will help you relate to your readers and clients. Eric Francis, founder and editor of Planet Waves, has been developing astrology content on the Internet since its nascent days. His articles present world events as personally relevant experiences, and reveal how and why readers can participate in seemingly global changes.
In this workshop he will cover how to write astrology for novices that also breaks new ground and makes sense to those advanced in the field. We will work on the details of description, of phrasing ideas in an understandable way, what you assume your reader knows, and how to tell when you have a good idea to work with. Eric's central idea is that the best way to 'market' your website is with excellent content.
If you're going to be at UAC, come a day early and catch this workshop on May 23. It's part of a full-day presentation being taught by Eric with Donna Woodwell.
Here is the official website
.
Eric Francis is an investigative reporter, photojournalist and essayist who has been a practicing astrologer since 1995. He's a specialist in new planetary discoveries. He has written for many magazines and newspapers in North America, Europe and Australia, as well as for Astrology.com, StarIQ.com, Rob Brezny's Televisionary Oracle and many other astrology websites. He's taught astrology in England, Canada and across the United States at many conferences and events.

Astrology Writing Class with Eric Francis at UAC
Here is some news. After I lobbied for years at various astrology conferences, the Association for Astrological Networking (AFAN) has signed on to sponsor a day of astrology writing and astrology 'marketing' at the United Astrology Conference in late May. I'll be co-teaching the day with Donna Woodwell. My part of the day will be teaching astrology writing; Donna's will be teaching various facets of marketing one's astrology business.
Basically, in my half of the day, I'm going to explain and demonstrate how to do the kind of astrology journalism that I present in Planet Waves and on our websites. I will get writers past the astro*psycho*babble that is so common to our profession, and into clear and cohesive story telling. We will cover how to apply the basics of journalism to presenting astrology, how to explain aspects in a cohesive way, and in general, how to write if you want to be understood by mortals.
This will be a pre-conference intensive, before the conference opens -- so you'll need to show up a day early; the class is Weds., May 23, 2012 -- and it will be in New Orleans. This class will be useful to ANY writers, not just astrology writers. The concepts are applicable to all forms of writing for a popular audience, whether you're a blogger, columnist or aspiring journalist. Donna's portion of the day will focus on website development, graphic communication and how to actually sell your business. This, too, is applicable to any form of a private practice, whether you're a massage therapist or professional astrologer. Here is the
official website for the class
. Please
write to me directly
if you're interested.

Even UAC Knows There Are Two Zodiacs

Remember that whole "your sign is wrong" hoax that put astrology in the mainstream media in early 2011, nearly shutting down the Planet Waves servers for a few days? Part of the answer to the confusion that ensued was that there are two main types of astrology. Western astrology, what we (usually) do at Planet Waves, aligns with the seasons; Vedic, or what is practiced in India, aligns with the constellations. Hence, you really do have two Sun signs, depending on which type of astrology you're using -- but there is much more to Vedic astrology than that. UAC 2012 (the United Astrology Conference, set for New Orleans the week after next) has scheduled a whole track of workshops devoted to Vedic astrology, designed to be accessible to Western astrologers. There are 18 sessions in all, covering topics such as: Vedic Astrology and Psychology (David Frawley), What is Your Dharma or Purpose in Life? (Bill Levacy), Unconventional Relationships (Bill Levacy), Vedic Medical Astrology (Suhas Kshirsagar), The Importance of Mars in Kaliyuga (Chakrapani Ullal), Intro to Vedic Palmistry (Juliana Swanson) and Jabbering Away in Sanskrit So You Sound Extra Spiritual (Eric Francis). You can read descriptions for all 18 sessions here.