Monday, Sept. 30, 2013 | View as Webpage
| Customer Service: Chelsea (206) 567-4455
You Can Have it All in 2014
Dear Friend and Reader:
When I started Planet Waves back in 1998, I didn't have any idea how it would work out blending photojournalism with astrology. It just seemed like the thing to do.
Now that the world is going through many, many rapid changes, nearly all of which are difficult to understand, are spiritually provocative and affect us directly, it's becoming clear that this was a useful invention. Astrology is the bridge between the inner and the outer, between the mundane world and what we go through as living, growing humans on our journey here.
Before arriving on the scene as an astrology writer, I had covered municipal government, liquor regulation and higher education. And I was becoming very well known for my environmental investigative reporting, especially about Monsanto. Adapting journalism to astrology was easy, interesting and lent itself to a new writing model -- the astrology news piece.
The beauty here is that astrology always points us inward. Inward means personally relevant. My articles became a way to express what I call the growth and awareness aspect of our relationship to the world, as well as a way to seek clarity on many of the most pressing spiritual and psychological questions of our day.
I learned that astrology, combined with clear writing, is an excellent way to describe the awakening and healing process that we're going through as individuals and as a society.
All those years ago, I could never have predicted that Planet Waves would become one of the only vehicles for expressing this, but I'm not surprised. I love that what we do works so well for so many people -- and allows me to remain true to my values.
Along the way, I developed ever-deeper ways to read charts to describe the inner landscape. My 12-sign astrology columns (formerly known as horoscopes) morphed into the annual readings that I prepare each January, and then into the 12 birth sign and rising sign readings that we do throughout the year.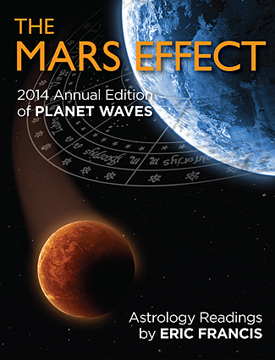 The 2014 annual will address Mars retrograde in Libra -- which will pass through the Uranus-Pluto square three times and shake up the world as we know it.
At Planet Waves, astrology really is where heaven meets Earth, where the 'within' meets the 'beyond' and where we can learn to think globally and act locally.
On one level, following Planet Waves is a form of therapy, and on another, it's a form of leadership training. It's a way to witness world events, and to begin to participate, without becoming overwhelmed. We offer meta-ideas that help you clarify your own thoughts and values.
Planet Waves keeps growing and improving. Today I'm here to tell you about a few new developments for 2014, and to introduce our All-Access Pass -- the "get everything" option. We figured out that many of our customers were indeed coming back week after week and purchasing everything new that I produced, so a few years ago we bundled it all up and offered it as an affordable package.
With the
2014 All-Access Pass
, you will extend your current subscription by one full year, receiving all of the Tuesday and Friday publications by email. You will receive access to the newest annual edition -- The Mars Effect -- covering all 12 signs and rising signs in audio and writing. You will also get the birthday readings, which cover the signs and rising signs in astrology and tarot; you will have access to any special projects we do, such as the spring report; plus you get access to our best reports and projects from the past.
You will have unlimited access to the Oracle and horoscope archive, an online tool for self-guidance and divination.
This year's All-Access Pass includes a few new things. One is that we're in the last stages of creating a 
members website and archive
 -- which will be offered first to our All-Access members. The site, now in testing phase, will contain a fully searchable archive of Tuesday and Friday mailings, including horoscopes, plus all of the birthday readings, and most of the new stuff we create.
The new site, with the working name Planet Waves One, will include retrievable individual login and passwords that give you access to many services, all set in a beautiful, easy-to-explore environment.
In addition, in 2013 we began experimenting with messages via SMS text. These are astrological promptings in real-time, which keep you posted about the current astrology as it happens. Our 2013 experiment was a success, and we are ready go full-strength with our text service.
We'll also be offering several open forums each year, by telephone conference and Skype, in which our All-Access members can participate.
All of this, and more, is available to our All-Access members. If you purchase now,
you will get it for the lowest price
-- $245. As the year draws to an end, we will gradually increase the price to $375.
The total value of the products and services is over $700.

Note, we only offer the All-Access Pass at the end of the calendar year
.
The All-Access option has been popular and our members have been very happy with it. We would like to invite you to receive the highest level of Planet Waves service. This is the place where you can have it all --
contained in the website
that I have dreamed of for a long time, and which you will love.
You may order now, or please call us if you have any questions. You can reach Chelsea at (877) 453-8265. Leave a message and she'll call you right back.
Thank you for your loving support, your business and for depending on our astrology products.
Lovingly,

e Wiki
|
Friends
|
Editors
Contact Us
Copyright © 2013 by Planet Waves, Inc. All Rights Reserved. Other copyrights may apply.
Some images used under Fair Use or Share Alike attribution.