Link to Official Statement Regarding "Me Too" Trolling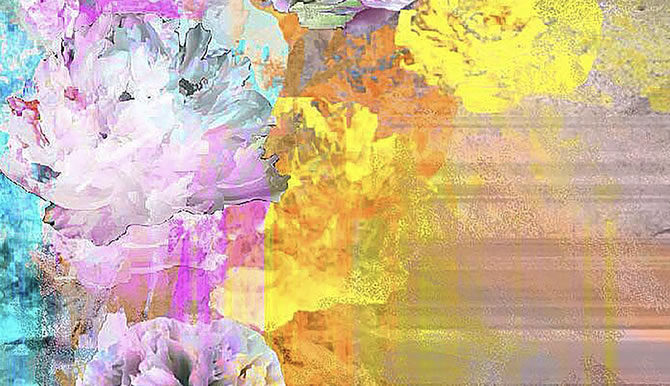 Illustration: "Peonies" by Christine Yates.
Note to Readers: On the morning of Thursday, July 26, I visited the office of Ulster Publishing, and spoke to the publisher, Geddy Sveikauskas. I have known Geddy for many years, and worked for him as a reporter from 1989-2000.
After many discussion points, he agreed to allow me a 1,200-word reply in all three newspapers, which carried "Bad Moon Rising," his approximately 8,000-word article series about my purported misdeeds. We shook hands on the deal.
We set a deadline of Monday morning, July 30. I wrote and edited the piece the night of Thursday, July 26, and Friday, July 27. It came out to 1,500 words, just a few column inches over the 1,200 he agreed to.
The usual limit on a letter to the editor in Ulster Publishing is about 250 to 300 words, though it varies. Still, not long enough to do much other than complain about parking meter enforcement.
A moment ago, I received the following email from him. My response to the "Bad Moon Rising" series follows immediately below. Once you've read the article, for a great laugh, come back and re-read the email.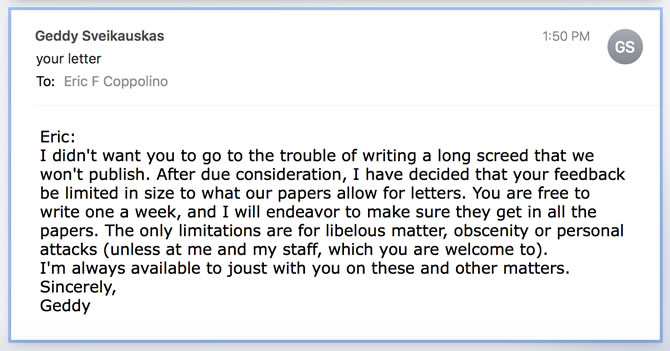 Fake Porn, Great Yellow Journalism, or Fraud?
By Eric Francis Coppolino
Posted on July 27, 2018
Over the past two weeks, the Ulster Publishing group of newspapers published a series of articles wherein various sources, mostly anonymous, have falsely accused me of sexual misconduct. That was not the story I was expecting from the Kingston Times, where the articles originated. I was expecting justice.
Earlier this year, I published an article, called "Take A Step Back," warning that under the current ethics of the "Me Too" movement, men could be removed from their jobs based merely on guilt by accusation — which is exactly what subsequently happened to me.
Lies and rumors spread on Facebook by a small group of vindictive and politically motivated women cost me four jobs.
Through the spring and early summer, I kept Kingston Times editor Dan Barton informed about events surrounding my dismissal from Radio Kingston, Omega Institute, and Chronogram. I informed him of my civil rights actions pending against two of the organizations for discrimination based on sex, hostile workplace and sexual orientation.
I kept him up to date about an inquiry, paid for by Chronogram, conducted by a former federal prosecutor and professional investigator of sexual misconduct. I provided Barton with the transcript and recording of my interview with the investigator, Ryan Poscablo.
We agreed that I would respond to on-the-record questions in writing.
Barton said that the article would be on the "de-platforming process," by which he meant the destruction, within weeks, of a freelance writing, broadcasting and teaching career that I had nurtured for 22 years. That was a done deal; my jobs were gone.
"De-platforming" also apparently included having my life turned upside down by accusations that, according to Chronogram publisher Jason Stern, had been proven false by a former federal prosecutor hired to investigate me, by the name of Ryan Poscablo. Stern seemed firm when he said to me on May 20, "The result of a very extensive investigation was nothing — was that the attorney said, no, there's nothing here — extensive investigation…that was Ryan's final word."
These events continue to impact my every relationship, my health, my sleep, my ability to eat, and my ability to work. Many nights, I am awake terrified, not understanding why all this was, or is, happening. Maybe they were being ironic calling me a predator.
Sex and relationships are an aspect of life where I practice the highest integrity and emphasis on truth. I subject my sexuality to documentation, reflection and review by teachers and a therapist. Much of my writing, broadcasting and teaching portfolio involves sexual matters, including consent. I live my life out of the closet. Suddenly my openness was being used against me.
This had all gone on for more than three months, when in the afternoon of Monday, July 16, I received a series of questions from the Kingston Times, and the request to respond to them "at your earliest convenience."
In journalism, that means we're taking a slower track, so there's not a rush. Otherwise, you tell your subject that you're on deadline and that you need a fast turn-around.
The questions included asking if I had once been confronted by a group of people in New Paltz in the late 1990s, and told to leave town (like in the Wild West). Others covered private emails or text messages exchanged with adults who had, presumably, given their consent to communicate by providing their contact information.
No bona fide journalistic questions were included, such as about the status of my employment discrimination cases, or what reasons organizations had given for releasing me from my contracts. There were many questions they could have asked about my work as a sex educator and author, including for The Journal of Bisexuality.
Instead, they were asking me about whether I had engaged an adult in a discussion seeking sexual consent.
This seemed utterly bizarre. I replied and told Barton that we needed to talk, and we set an appointment for Wednesday, just 48 hours later. One of his emails in the thread included a smiley emoticon, typed in text as :-)
When Barton arrived in my office, several facts emerged immediately. One was that the newspaper was considering me a "public figure," such as the president or a senator, who have a higher burden of proof in libel cases.
I am a private person, like you. Just because someone has attained some success and recognition, they're not automatically treated by the courts like the president of the United States, or Jerry Falwell.
Barton also said that the newspaper's publisher, Geddy Sveikauskas, was not concerned about litigation, meaning libel. That was frightening. To me, as a lifelong editor and publisher, that suggests, "We're not concerned about the truth." I worked for Geddy for 11 years as an award-winning investigative reporter, and in that era, we had extremely high objectivity and fact-checking standards.
In this business, we're supposed to take the documented truth seriously. This isn't just because one might get sued, but because we all know that damaged reputations are so hard to repair: some would say impossible. Contemporary media organizations (as opposed to those of the 19th century "Yellow Journalism" era) usually demand a level of impeccability from their reporters.
The goal of legitimate journalism is to get the story right.
Then came the kicker. The story had gone to press before I could respond to any questions.
I said to Barton, "I was told to submit responses at my earliest convenience, not, 'we're going to press on Wednesday'." My first impression was that this was a sick joke.

"That was not my unilateral decision," Barton said, meaning he was blaming Sveikauskas and possibly his writer, Jesse Smith, the only two other people involved. However, he is the editor.

"So you're saying you're sending this story to press without my comments, and I don't have time to comment?"

"Yeah, and between you and her [my assistant], and the dog, and God, I will say I was not comfortable personally with that solution, but, you know, I was not the only one making that decision on that."
What did he say? Solution?
And what was the rush?
My head was spinning.
I was outraged. Granting opportunity for a story subject to respond to allegations is THE cardinal rule of journalism. That doesn't merely mean seeking quotes. It means the writer actually understanding where the story subject is coming from.
Let's check the Washington Post code of ethics, as an example:
"People who will be shown in an adverse light in an article must be given a meaningful opportunity to defend themselves. This means making a good-faith effort to give the subject of allegations or criticism sufficient time and information to respond substantively. Whenever possible, the reporter should meet face-to-face with the subject in a sincere effort to understand his or her best arguments."
In this case, I can see where that would not have worked out so well for Jesse Smith's story.
When the newspapers came out, I was accused of just about every offense except for rape — or any form of actual sex with a woman. These included alleged stalking; battery; sniffing someone's hair; workplace sexual misconduct; masturbation; being mentally, verbally and psychologically abusive; dangling the promise of work in front of someone to get sex, and throwing that person out of my living space for refusing my alleged advances; hacking someone's private emails; and asking to pet a dog — which the article construed as a form of sexual harassment.
Did any fact-checker stop and ask how all of this could be true at once? Someone would have to be Weirdo Superman.
Nearly all of these claims had been made by anonymous women, and were not directly vetted by the newspaper. I had no chance to say whether I even knew them; nor was I offered any proof that they or their purported documents existed. The first article of a two-part series came in at 5,180 words and was distributed all the places I consider home: Kingston, New Paltz and Woodstock.
I live and work down the block from the Ulster Publishing offices and see its principals many times a week. Nobody had picked up the phone or knocked on my door before the article went to press.
Apart from countless outrageous claims easily disproven, I have space left for two examples (I was given 1,200 words to reply; I submitted 1,500; this internet edition is about 1,850 words). A "deposition" (not a police report) written on May 29 of this year by someone named Kathleen Griffin had accused me of allegedly stalking her for four years, though I had no idea who she was.
The Kingston Times article states that the sole claim that might have warranted any investigation (hair-sniffing) was not acted upon because the statute of limitations had expired, and that the rest of the claims were ignored because they amounted to nothing illegal. Yet the deposition was so inchoate, absurd and implausible, with no dates and times given, as to be obviously false and agenda-driven. One detective who reviewed the document told me that the deposition was considered "less than garbage."
A follow-up story, published in the Kingston Times on Thursday, July 26, featured an extensive interview with an anonymous person, who the Planet Waves organization now has identified. I have never met or even spoken to this individual, though she is well known to my company through her subscriber records and social media posts.
This subject rambled on about an endless litany of alleged transgressions, which were never vetted by the newspaper, and never run past me for validation. This is the problem with relying on unverified, uncorroborated reports of any kind, which are then published anonymously.
It's also why the story subject, in this case myself, must have the opportunity to respond. The first question must be, "Who is this person?"
Another element of the story claims that I gave an adult a poem, and that she claims the poem proves we had a consensual sexual encounter. Why is this even an issue? Yet neither the person involved, nor the newspaper, will produce the poem or the postmarked envelope in which it purportedly came. What is the secret? Why is "proof" being withheld? Assuming it even exists, what is the poem about, and how exactly does possession of a poem prove anything, besides just that?
Here is a clue: now that I know the title, I can tell you that the poem was written in May, as a tribute to Beltane. The poem is called "Returning Milk to the Mother," and it written in celebration of an event that happened six months before someone says that I met her. I may have sent it as a gift, but it's not about her, or anything that happened with her. The "mother" is the Earth herself. The poem is a devotional to the Goddess.
This all adds up to actual malice and reckless disregard for truth. Besides which, I think we could all benefit from reading some lovely nature poetry for some relief from this whole ridiculous, toxic scene. Poetry is beautiful, and would be pleasant and entertaining for your readers.
It would be polite to call all of this yellow journalism. The articles that appeared in Kingston Times, Woodstock Times and New Paltz Times are works of fraud. As with all fraud, any element that may be "true" is designed to camouflage and lend credence to what is malicious, false and fabricated. Plus, it's some of the worst writing in journalism history. But hey, you spelled my name right.
I demand that these articles be immediately retracted and withdrawn, and that I be given equal space anywhere they appeared, to tell my story in my own words.
Here in the age of "truthiness," we are looking to local newspapers, and the entire media corps, to stand up to its ethics, to have integrity and to do its job, and Ulster Publishing is failing the public in its mission. It has destroyed its own credibility and also detracted from the news business as a public trust.
And Geddy my old friend, you must get your writers to watch their smutty language.
My Weekly Responses to Ulster Publishing
Reader Comments on Kingston Times article, by Trish
---
Burlington, Vermont, Aug 2, 2018
Dear Susan:
My name is Eric Coppolino. I don't believe we've ever met.
You had a lot to say about me in this week's New Paltz Times. You insinuate and accuse me of many things that would constitute gross misconduct, indiscretion and being unfit to practice my profession — were they true. None of what you say is true. As in zero.
Yet what is most appalling is that you went to press with an article about a private individual but did not contact that person. You did not call or email me; you published what amounts to an ambush piece, written in a self-satisfied tone.
Giving a story subject opportunity to respond is one of the cardinal rules of journalism. Let's reference The Washington Post guideline for its writers on this issue:
"People who will be shown in an adverse light in an article must be given a meaningful opportunity to defend themselves. This means making a good-faith effort to give the subject of allegations or criticism sufficient time and information to respond substantively. Whenever possible, the reporter should meet face-to-face with the subject in a sincere effort to understand his or her best arguments."
Here is the policy from The New York Times:
"Rebuttals. Few writers need to be reminded that we seek and publish a response from anyone criticized in our pages. But when the criticism is serious, we have a special obligation to describe the scope of the accusation and let the subject respond in detail. No subject should be taken by surprise when the paper appears, or feel that there was no chance to respond."
Has it occurred to you that the whole story may be wrong? That it would not withstand 15 seconds of fact checking?
I have some news for you. You are nobody's judge and jury. In my opinion, as someone who does not call a story subject before going to press, you do not deserve to be in print.
You owe me a public apology.
Very truly yours,
Eric F. Coppolino


---

Burlington, VT, August 3, 2018
Dear Susan Slotnick:
In a series of recent text discussions, you admitted in writing to me that you did not feel any need to call me for comment before going to press with a recent column in the New Paltz Times about my alleged sexual misconduct. This is grossly irresponsible and evidence of your malice and your reckless disregard for truth.
You have admitted you relied entirely upon a fraudulent series of articles originating in the Kingston Times, which did not seek comment or clarification from me prior to going to press. (By the time I met with Dan Barton on Wednesday, July 18, the New Paltz Times was already at the printer.)
And you have admitted that the only two "accusers" you know are Lorna Tychostup and Julie Novack, instigators of this whole malicious incident. Neither of these women have personal knowledge of me, defined legally as being an eyewitness to an event, or someone who experienced an event personally.
Therefore, I demand a retraction of your Wednesday, Aug. 1 column in the New Paltz Times, wherein you accuse me of being unchaste, of "sexual opportunism," and of being unfit to carry out my profession. You have done so directly in my small community, marring my professional reputation, interfering with my business contracts, and defaming me and my business.
I demand that you report that in May, Chronogram retained outside counsel, Riley Safer Holmes and Cancila of New York City, to investigate me. The investigative team was led by Ryan Poscablo, a former federal prosecutor, who worked with an attorney and a paralegal.
In your retraction, I demand that you quote Jason Stern, the publisher of Chronogram, who is on record as saying on May 20, "There is nothing -- there's nothing criminal, there's nothing nonconsensual…the result of a very extensive investigation was nothing -- was that the attorney said, no, there's nothing here -- extensive investigation…that was Ryan's final word" [emphasis added]. This is of record and uncontested in my article The Nature of the Beast, which you have read.
I demand that you take responsibility for your words, and publish this retraction immediately in the upcoming edition of the New Paltz Times.
Yours, etc. s/ electronic transmission
ERIC FRANCIS COPPOLINO


---

Aug. 20. 2018
Dear Jesse,
I have found an error in your article "Bad Moon Rising" that calls for some fact checking.
Indented text below is from part one. This was never run past me. First, article states you reviewed a transcript provided by Hillary Harvey, who transcribed it from a recording she claims to have. Did you review the recording and check for veracity?
If you read my DHR reply to Radio Kingston/NoVo, you know that I have charged her with sexual harassment and detailed her conduct. That was not in the story (see "special animus" section).
Regarding the dinner party sequence, let's start with the year, the city and the street where the dinner allegedly took place, and the then-girlfriend's name. If there was a third person in the room, you have an obligation to corroborate your claims. (One question I have is, do you have anywhere in my vast portfolio of writing any suggestion that a woman does not have a right to sue for custody? The implication here is that I am not an advocate for women, which advocacy is the essence of my professional activity.)
Let's see the alleged photos and the email they came with. She says she has a documentation; that is data. Let's see the data.
When did this happen? She claims her child was one month old. What's the kid's week of birth? That will narrow the claimed event to within one week.
Second, was my then-girlfriend ever contacted? Was this claim corroborated? Let's see some notes, emails, or phone records on the contact with the then-girlfriend.
Does you know her name or where she lives?
Did the interview subject invite me and the then-girlfriend to go to the Sundance Film Festival with her director, and share a house with her, before or after the alleged dinner and invitation to a threesome?
Let's see her email resigning her position.
And are you serious? IMPLYING that someone wants to have sex? How is that even newsworthy? Implying? How did she demonstrate or prove that, except by her claim that I said I was in an open relationship, which I was not?

efc
Section of Text "Dinner Party" sequence
One who allowed a Harvey to share a transcript of her recording on the condition that her name not be used met Francis in 2007 when he offered her some editing work for Planet Waves. The woman, who was then 25 and a single mother to a newborn son, said that she had been doing the job for a few weeks when Francis invited her to his home to have her chart read and for dinner with him and his then-girlfriend.
During the reading, the woman recalled, Francis interpreted her chart in terms of sex, telling her that she should be more "sexually free and sexually open" and offered to work with her to help her become "more open and free and artistic like my chart said I was supposed to be." Meanwhile, the woman said, Francis explained how he and what he called his "girlfriend of choice" had an open relationship in a way that she interpreted as an invitation to a threesome.
"I really felt like he was implying that they wanted to have sex with me, which I feel anybody would have gathered from that conversation." Later during dinner she said Francis "railed on her" for going to court to get custody of her son from an ex-husband. Francis, she said, accused women of abusing the court system and blamed her for having a baby with a man who left her. Feeling insulted, the women said she beat a hasty retreat from the residence, vowing to work with Francis at a distance. The next day, the woman told Harvey, Francis sent a new batch of files, writing "I've got some new editing work for you." Inside the files were images of Francis masturbating onto mirrors. The woman said that she had been hired to edit Planet Waves and was shocked and disgusted to be sent images from Francis' personal erotic photography blog "Book of Blue."
"I opened up the email and I felt like somebody smacked me in the face. I felt really degraded," said the woman, who told Harvey she believed Francis sent the photos as a kind of retaliation for her refusal to have sex with him and his girlfriend. "This was supposed to be a good job that I could do from home…and at that point I just quit and I never spoke to him again."
-- from "Bad Moon Rising" By Jesse Smith, edited by Dan Barton
Link to Official Statement Regarding "Me Too" Trolling
Copyright © 2018 by Eric F. Coppolino and Planet Waves, Inc. All rights reserved per UCC 1-207
and other applicable laws. For inquiries please contact anatoly@planetwaves.net