New York, Oct. 4, 2016 | View as Webpage | Visit Our Boutique




Who's Demanding to See Hillary Clinton's Birth Certificate? Baffled Astrologers



A Wall Street Journal article | by Yogita Patel

There is one crucial detail Hillary Clinton hasn't divulged to the American people, and it's driving Michael O'Reilly bonkers.

Mr. O'Reilly of Bend, Ore., is an astrologer. He knows Donald Trump was born at 10:54 a.m. in Jamaica Hospital in Queens on June 14, 1946. From that, it's possible to divine that the GOP candidate "has a very strong Mars vibe going on," he says.

The red planet's position in Mr. Trump's natal chart -- the precise layout of the heavens at the moment of birth -- resonates with Americans fed up with Washington, says Mr. O'Reilly. Mars exudes the Roman war god's temperament, and Mr. Trump is "basically channeling that energy."

Mrs. Clinton was born Oct. 26, 1947, at Edgewater Hospital in Chicago, Ill., according to the Cook County Clerk. After that, astrologers must play gumshoe to get any closer. There's decent historical evidence for two times at either end of the day. The Clinton campaign declined to answer questions, ensuring the mystery will continue.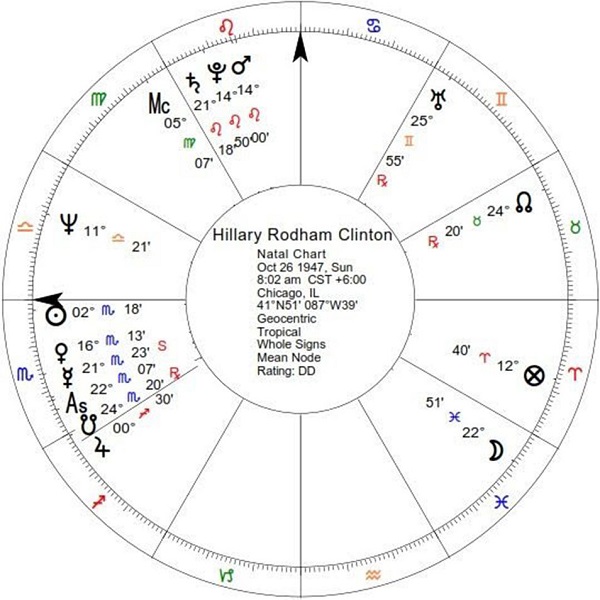 Hillary Clinton's natal chart, by Patrick Watson.

"The craft of forecasting is really impossible unless we have a birth time," says Mr. O'Reilly. "But the public demands it."

Astrologers agree candidates' birth charts are critical to understand their personalities, foresee how they may respond to adversities and perhaps forecast who will win.

Natal charts are usually circular -- looking roughly like a dart board -- inscribed with numbers, astrological symbols and lines representing the relationships of heavenly bodies. Even mere seconds matter.

At a political event in Concord, N.H., in the 1980s, New Hampshire astrologer Celeste Longacre said she approached Mrs. Clinton, who told her she was born at 8 p.m. The resulting evening chart, astrologers say, shows strong Gemini-Uranus influences, suggesting an erratic or unpredictable nature. Yet fast-forward the chart to 47 seconds after 8:00, and that could indicate a nurturing disposition.

New York astrologer Arlene Nimark got a different answer in 2003 at a Manhattan Barnes & Noble where the former first lady was signing her book "Living History." Others in line were asking "Are you going to run?" says Ms. Nimark.

When Ms. Nimark got to the front, she asked Mrs. Clinton for her birth time. "Her aura was so large, and she was laughing so hard," says Ms. Nimark, "and it just rolled off her tongue: '8 a.m.' "

That time jibes with a quote astrologers often attribute to Mrs. Clinton's mother, that her daughter was born "in time for breakfast."

The morning time astrologers often use for Mrs. Clinton -- 8:02, which a now-deceased seer once claimed to have confirmed, legend has it -- shows Mars in the sector that rules her career along with influences from Mercury, indicating a politically ambitious individual with a strong public presence and could also suggest she is scandal-prone. It would make her a double-Scorpio, indicating extra secretiveness.

To hedge her bets, Ms. Nimark also uses a 12-noon chart, a common practice when birth time isn't known. She expects Mrs. Clinton to prevail based on positive indicators in her charts and the planetary conditions on inauguration day.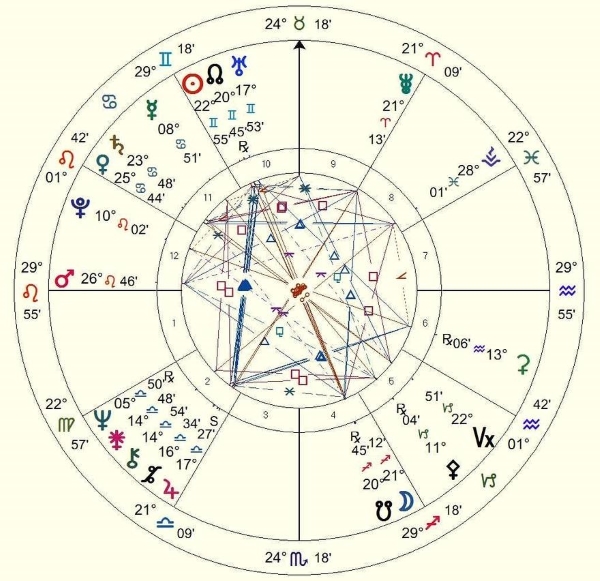 Donald Trump's chart, by Shelley Ackerman.

Many celestial soothsayers suspect she is deliberately withholding records to throw people off.

"She may herself not want to give out the exact time of birth," says Ms. Nimark. "There's always something a Scorpio is hiding. They play things close to the chest."

Mr. Trump divulged his birth certificate, including birth time, to ABC News in 2011 while demanding President Barack Obama produce his own, as part of Mr. Trump's campaign to sow doubt about the president's American status. A Trump-campaign spokeswoman didn't respond to inquiries.

Astrologers have been into politics for as long as politicians have been into astrology. In the 1980 presidential campaign, Nancy Reagan consulted astrologer Joan Quigley and passed advice to her husband's aides, Mrs. Reagan wrote in her 1989 memoir, "My Turn."

During the 1992 campaign, Shelley Ackerman, a New York astrologer, created Bill Clinton's natal chart, she says, after getting his birth time on a handwritten postcard from his mother. Ms. Ackerman saw the markings of a president and a period of change centered on growth in business.

She could see his outlook wasn't completely rosy, she says, and predicted back then that "he was going to run into some very rough waters in 1997." That year, former Pentagon worker Linda Tripp began secretly taping her conversations with Monica Lewinsky.

In 2012, Phoenix astrologer Patrick Watson predicted the re-election of Mr. Obama -- born 7:24 p.m. Aug. 4, 1961, according to his birth certificate posted on whitehouse.gov -- after noting his chart prominently featured positive vibes from Venus, known for charm and unification, and good-fortune planet Jupiter.

Those vibes were similar to patterns in his other periods of success, including his 2008 victory over Arizona Sen. John McCain -- born at 6:25 p.m. Aug. 29, 1936, according to an unverified birth document astrologers use. A McCain spokeswoman declined to comment.

Astropolitical prognosticators, armed with accurate birth charts, can go as awry as other political pundits. This March, Mr. O'Reilly forecast a brokered July GOP convention with the eventual nominee as House Speaker Paul Ryan (R., Wis.), born 2:37 a.m. on Jan. 29, 1970, according to an uncertified copy of his birth certificate astrologers use. A Ryan spokesman confirmed his birth date but couldn't verify the time.

That said, astrologers didn't need natal charts to know Election 2016 was destined for turmoil, says Arizona astrologer Raymond Merriman. Disorder was presaged by a celestial dance between Uranus, known for revolution and disruption of the status quo, and Pluto, associated with destruction, death and rebirth, says Mr. Merriman, president of the International Society for Astrological Research.

Whoever wins Nov. 8, Ms. Ackerman predicts early tumult for the next president, pointing to celestial alignments beginning around inauguration time. "The honeymoon," she says, "is over before it begins."





To unsubscribe,

click here

. To unsubscribe from all future Planet Waves emails,

please write to

cs@planetwaves.net Copyright © 2016 by Planet Waves, Inc. All Rights Reserved. Other copyrights may apply.
Some images used under Fair Use or Creative Commons attribution.