Tuesday, July 2, 2013 | View as Webpage
| Customer Service: Chelsea (206) 567-4455
Your Moonshine Horoscopes -- and the U.S. Birth Chart
Dear Friend and Reader:  
Today we have Genevieve Hathaway's
Moonshine Horoscopes for you here
. In this set she has interpreted the Cancer New Moon, which is on Monday, July 8.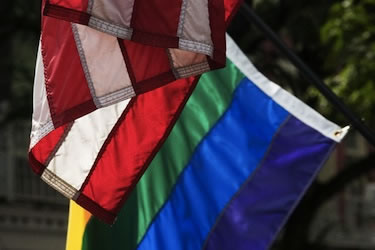 Freedom is the Freedom to Love. Gift from Eric to Dominick Vanacore; the flags are outside Dominick's Cafe. Photo by Eric.
Later this evening Eric will post this week's broadcast of
Planet Waves FM
. Tonight's installment features his take on the Supreme Court's rulings on same-sex marriage last week. Plus, in honor of Independence Day, he'll take an in-depth look at the Sibly chart -- one of the most often used natal charts for the U.S.  
In
today's Daily Astrology
post on the Planet Waves blog we have a post about Jupiter stirring up some emotional shadow material in Cancer, with the Sun's presence in the Uranus-Pluto square as the backdrop. And in yesterday's Daily Astrology,
Eric gave an overview
of this week's sky. Be sure also to check out Len Wallick's column, which posts to the blog at about noon EDT today. He has a curious tale to tell about the echoing Mercury retrogrades of 2013, 1967 and 1776 -- the birth year of the U.S.  
Publishing schedule reminder:
we will be publishing Eric's weekly horoscopes this Friday, but there will be no feature article or news briefs, so that the editorial team can enjoy the 4th of July holiday on Thursday. We'll be back with a full issue on Friday, July 12.

Yours & truly,



Amanda Painter
To unsubscribe,
click here
e Wiki
|
Friends
|
Editors
Contact Us
Copyright © 2013 by Planet Waves, Inc. All Rights Reserved. Other copyrights may apply.
Some images used under Fair Use or Share Alike attribution.