New York, May 21, 2014 | View as Webpage | Call Eric Francis (845) 797-3458
An Introduction and Welcome to Planet Waves FM
Dear Rocker:
We may have met at BSP Lounge in Kingston, or in Portland Airport or when you were busking in New York City. You may have written to me and sent your CD. You may be a friend of a friend, my first guitar teacher or my old teaching colleague. You may be my astrology client, a subscriber or my business manager's husband. You may be my girlfriend's other boyfriend, my boyfriend's other girlfriend or my tap dancing partner down in St. Louie.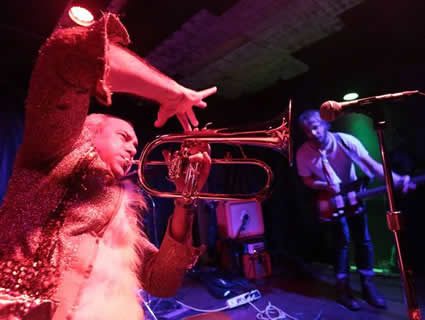 Mark Ferraro on the flugelhorn at BSP Lounge in Kingston. Photo by Eric Francis / Planet Waves FM.
One way or another, your CD ended up in my independent music collection, and I am here to say hello and tell you about
Planet Waves FM
.
I host a public affairs astrology program that has an indie music break. The subject mater can be anything from nuclear power to tantric sex to the astrology of the millennial generation.
Then we feature two or three songs per program (usually by one artist), highlight the artist and provide contact information to your website, Soundcloud or other promotional link.
The program is part of a large Internet community focused on astrology and personal growth, but which attracts many artists and musicians. Daniel Sternstein and I also co-host "Dan and Eric's Music Appreciation Hour," a program about music theory. We will soon have an Indie Music Hour, a whole program devoted to independent artists.
Take a look around
and see what we're doing.
Check out the current program
, featuring hip-hop artist Upgrade.
The way the project works, we feature and promote your work, and then you share the program with your fan base. We're always exploring new talent, and are interested in what you're doing now. If you would like to have your music featured on the program, please write to me at
studio@planetwaves.fm
.


And please share this letter with other musicians, and encourage them to get in touch
.
We are interested in what you're doing now, what you have coming up, and if you're going to be playing the New York area again any time soon.
Thank you and we're looking forward to working with you.
Pentatonic Love,

To unsubscribe,
click here
e Wiki
|
Friends
|
Editors
Contact Us
Copyright © 2014 by Planet Waves, Inc. All Rights Reserved. Other copyrights may apply.
Some images used under Fair Use or Share Alike attribution.