New York, Oct. 31, 2014 | View as Webpage | Customer Service: Chelsea (206) 567-4455




Your 2014-2015 Scorpio Birthday Reading By Eric Francis



Dear Scorpio: 

The sky is packed with planets in your sign right now -- can you feel it? Saturn, Venus, Pallas Athene and the Sun are all creating an unusual influence for those of us with strong Scorpio in our charts.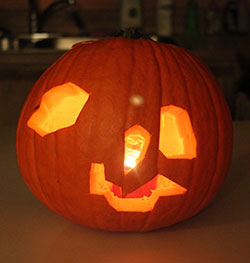 Jack-o'-lantern designed by Eli, my first son and favorite Scorpio.

All of that awesome, intense Scorpio energy is offering you a chance to resolve issues that have been weighing on your mind as well as opportunities for you to grow. And an in-depth astrology reading is one of the best tools you can have to help you make the most of this exceptional moment.

Right now, you can treat yourself to your 2014-2015  birthday reading right now at a great rate. It's still available for the pre-sale rate of only $29.95  (Eric should have it ready for you to listen to next week).  

In your reading, Eric talks about aspects of your  experience that you've been questioning, thinking about or trying to work out. Eric's approach is to use astrology to identify potentials, remove obstacles and to encourage you to think about your life from a different point of view. This is your chance to benefit from more than 20 years of experience Eric has gathered from working with clients -- at a fraction of the cost of a personal reading.

At Planet Waves, we offer the best rate to early purchasers. The price will gradually, topping off at $39.95 once it's published. So currently, it's available to you at a substantial savings.

There's one last thing I want to mention about the birthday reading. We now include a community discussion (scheduled within a couple of weeks of the reading publication date) where Eric talks about astrology and in particular, the astrology related to your sign. You'll be able to speak directly with Eric and hear from others experiencing similar astrology as you are.  

So go ahead and give yourself a Halloween treat that will last the whole year. Pre-order your Scorpio birthday reading now.

Wishing you a magical, joyful and happy Halloween! Thank you, as always, for supporting Planet Waves.

Yours,



Chelsea Bottinelli





To unsubscribe,

click here e Wiki

|

Friends

|

Editors Contact Us Copyright © 2014 by Planet Waves, Inc. All Rights Reserved. Other copyrights may apply.
Some images used under Fair Use or Share Alike attribution.