New York, Dec. 16, 2015 | View as Webpage | Join our Core Community
Vision Quest: A World of Mystery and Truth
"Very comprehensive, in a way that no other astrologers come even close to." -- Douglas Lantz
Dear Friend and Reader: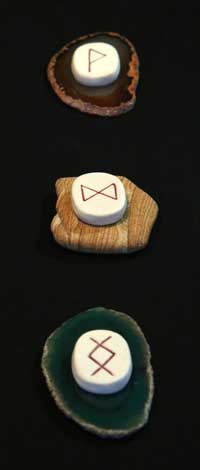 Sample of a rune reading. This was the first divination system I learned -- then came tarot.

Vision Quest is your 2016 annual reading from Planet Waves. For the first time ever, I am planning to have your written readings delivered before New Year's Eve. If you want to order, you can go directly to this link.

I will then do the audio portions in January, which will be delivered right after Mercury goes direct. If you sign on before publication, you get the pre-order price of $77 for all 12 written and recorded readings. Purchasing all 12 signs includes a rich collection of music being composed specifically for the project.

You may also pre-order individual signs here.

Many people who purchase one then go on to get many others (for their rising sign, Moon sign and the signs of their significant others) so it's really easier to get all 12 at the best possible price. One purchase is good for the whole household, however you define that.



What You Get With Each Reading



Readings cover the Sun signs and rising signs, and many people say their Moon sign as well. If you don't know your other signs, we will look them up for you. These readings address many areas of living but are intended to focus on several key messages or themes, with practical guidance and analysis.

You will get a different take on what many other astrologers have to say about the same aspects. 

Each sign gets approximately 12 hours of my research, writing and audio work. Carefully researched and impeccably edited, your readings build on 16 prior years of experience creating annual editions. All of those past editions will be available from within Vision Quest (at no extra cost), so you can study them as a book of your life.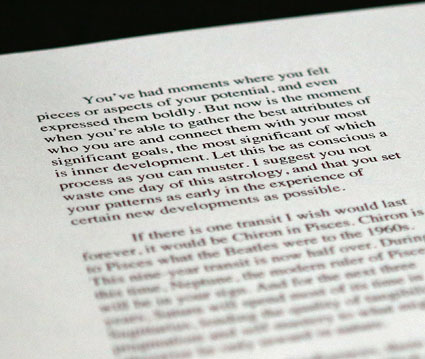 My written readings are book-chapter length, and book quality. Each is 12 pages, covering both obvious and subtle points of astrology, including minor planets.

Each sign includes:

Extended Written Readings. The written readings cover the most important astrology of 2016, and many of the subtle points. The readings are about 5,000 words or 12 pages, and look at your aspects carefully, presenting the information in human language.

Audio Presentations. Each about one hour, these are easy-to-follow vocal readings, which take an approach to your chart that's different from the written portion. The audio and written readings complement one another, and audio readings are approximately one hour. 

These recordings are designed for either active or passive listening. You don't have to listen like it's a college lecture -- they work just as well played in the background. You can listen while driving, play them on your bedroom player, or focus your attention and take notes. They are effective many ways.

Artifact or Rune Reading. This year I'm doing something I've wanted to do forever: bring in more primal forms of divination. These will be in recorded form, with visuals of the spread. I will include a high-resolution image that you can print and use as an altar piece.

Video Summary of the Year. As I gradually integrate video into my work, I'll tell the story of 2016 in a video presentation.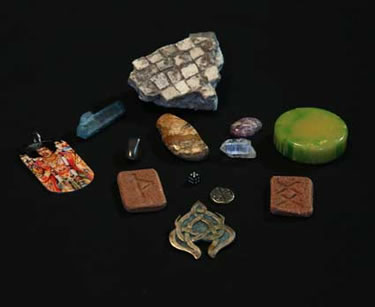 Example of an artifact reading, cast with sacred objects, some of which are thousands of years old. Some are a bit newer.

Vision Quest Music. Each sign includes one composition as its main theme, and then music for the rune reading. If you purchase all 12 signs, you get a bonus music download. This includes drum grooves, ambient pieces and meditation music, composed originally for this project by me and my talented collaborators Daniel Sternstein and Daniel Grimsland. We have about four hours' worth so far and will be sharing most of it with you.

Articles by Planet Waves readers and writers on the Vision Quest Experience. About 10 additional writers are sharing their experience of their personal quests and vision quests.

There is no other astrology presentation like this -- none so comprehensive, or artful, or soulful or easy to work with. They are designed to last you through the year as a source of guidance, ideas and inspiration.

Most of all these readings are affordable. Costing a small fraction what nearly all astrologers charge for a reading, you will find this to be a worthwhile investment -- informative and great fun.

Here is your link for all the signs and all the music. Here is your link for individual signs. I look forward to being your astrologer.

Lovingly, 


PS -- What My Clients Say
"It is extraordinarily refreshing to find an astrologer who looks at the positive side of aspects, particularly the oppositions and the squares. You rise above the trappings of the mundane, and reach into the spiritual realm. It is all encompassing. I thank you so much. You are an inspiration to read." -- Suzanne Schmidt

"Your annual readings are always thought-provoking, and I've been buying the all-12-signs version for several years now, out of interest." -- Water Tiger

"Right on mark; listened to Part 1, and on to the rest. Makes absolute sense to me in numerous ways! Excellent." -- Susan Marie

"This is scarily accurate. ... I believe I can offer something to others and help them on their personal journeys. It's been a bumpy ride, but stability beckons. Thank you for your insights." -- Mandi Bosworth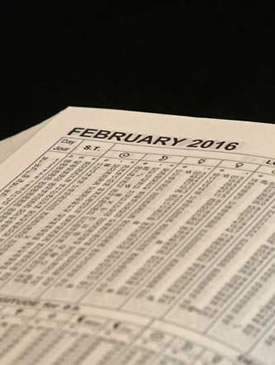 I read charts the old-fashioned way, often using a printed ephemeris -- a kind of lost text. Vision Quest is astrology done by hand and mind.

And This Came In Today

Hello, to all,

This is very unusual for me: to send a message to "strangers" that don't feel strange. I just want to say thank you, thank you, thank you! I have not been a member for that long, but lately your collaborative messages have been a blessing.

Many times I've felt alone or lost and just dealt. Now, with every article or podcast or tarot reading, I find an inspiration to be the spiritual light I've yearned to be. Life at this time seems frightening, but with people out there like ALL of you, we can do this.

Astrology with current events and a taste of the great predecessors (Robert Hand, my favorite)...what more does one need?? For what it's worth, thank you.

Sincerely, 
Kathleen Judd 





To unsubscribe,

click here

. To unsubscribe from all future Planet Waves emails,

please write to

cs@planetwaves.net e Wiki

|

Friends

|

Editors Contact Us Copyright © 2015 by Planet Waves, Inc. All Rights Reserved. Other copyrights may apply.
Some images used under Fair Use or Creative Commons attribution.