It is difficult to feel good these days; it's challenging to focus on your growth and self-care, or even to relax. We are pulled out of ourselves constantly, and often distracted from our core purposes. IN THESE TIMES, the Planet Waves autumn reading, will help.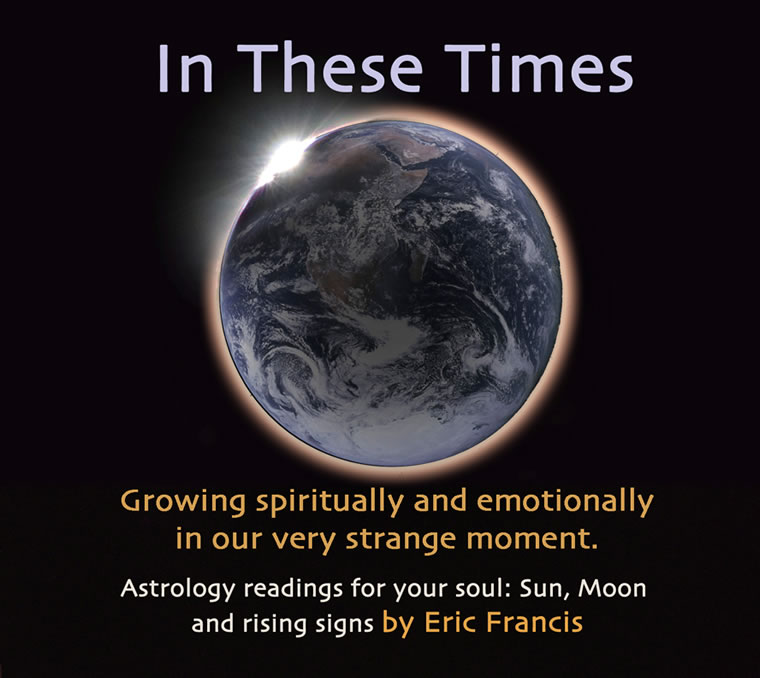 Dear Friend and Reader:
These days, it seems like the world is ripping at peace and sanity. Nothing seems stable or dependable.
Yet it's in times of the greatest change that the most progress is possible. We are alive in such a moment, and it may feel like you cannot get a grip. Yet using astrology consciously, you can point your awareness inward, align with yourself, and focus on the changes that you want to make.
IN THESE TIMES
is my 2019 reading in the "midyear" series (now called the autumn reading). Organized by sign, it consists of 12 astrology sessions that will help you see where the stress points are, and where you can direct your energy and resources for the results that you want to get.
One of those results is feeling deeper peace of mind, balance and a sense of influence over your affairs. Using the techniques of spiritual practice, therapy and astrological counseling, I will help you focus on yourself, your priorities and your needs.
For less than half the cost of one therapy session, you will have 12 extended meditations on your own growth and wellbeing.
The introductory offer for all 12 signs is $88
.
The final price will be $111 for all 12 and $44 for individual signs. Today, you can get all 12 signs for the price of two
.
These will be audio readings with custom music, and also an extended video introduction.
I have chosen to use audio for the personal readings because it's more introspective, calming and easier to both produce and listen to
.
Delivery is anticipated the first week of September — sooner if possible.
IN THESE TIMES readings will be yours to download or play on any device. They will be useful and have meaning years into the future. These readings are easy to follow and will include beautiful, new, original music by Vision Quest.
All who sign up will receive regular updates with progress reports, personal growth resources, and helpful prior readings.
IN THESE TIMES is included with the
Backstage Pass
and the
Galaxy Pass
. If you upgrade, it will come with your new membership. If you have one of those levels, please consider extending the reading as a gift to someone who needs it.
Thank you for being a Planet Waves customer, and for trusting me as your astrologer.
With love,

PS — You may place your order by phone, by calling (845) 481-5616. If someone does not answer we will call you back promptly, next day at the latest.
---
To unsubscribe,
click here
. To unsubscribe from all future Planet Waves emails, please write to
cs@planetwaves.net
Copyright © 2019 by Planet Waves, Inc. All Rights Reserved. Other copyrights may apply. Some images used under Fair Use or Creative Commons attribution.