New York, Feb. 14, 2014 | View as Webpage | Customer Service: Chelsea (206) 567-4455

Another Rocky Week for Republicans



After struggling to unite Republicans on a demand they could attach to a debt ceiling increase bill, House Majority Leader John Boehner fell back on allowing a clean resolution to pass with the minimum required number of Republicans voting for it. In doing so, he averted a replay of last fall's fiscal showdown, going against the wishes of his own caucus, and abandoning the so-called 'Boehner Rule' that any debt limit increase be tied to equal spending cuts. Far-right voices redoubled their calls for his head on a platter.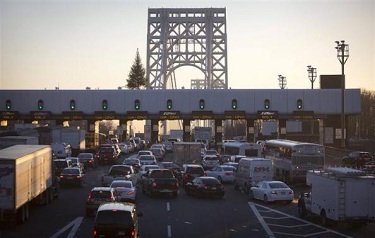 Traffic study or political revenge? Either way, not a good week to be a Republican. Photo by Carlo Allegri.

It was left to Texas Republican Senator Ted Cruz to filibuster the bill in the Senate. But there would be no Green Eggs and Ham served this time around. Minority leader Mitch McConnell (R-Kentucky) called for a cloture vote that ended the filibuster and allowed the Senate to pass the resolution 55-43, thereby giving Tea Partiers yet another villain to vilify.

Failure to pass a debt ceiling increase by the end of February could have put the U.S. in default, which most experts believe would wreak considerable havoc on financial markets both here and abroad. The nation will now be able to keep paying its bills through March 2015, and Tea Partiers -- and all Senate Republicans -- can continue to campaign on having opposed the increase.

Meanwhile in New Jersey, subpoenas continue to fly in Governor Chris Christie's "Bridgegate" scandal, without any huge result. Christie's been accused of closing lanes of the George Washington Bridge out of pique. New Jersey State Police records revealed that the governor was not, in fact, flying over the bridge during the closures, and it may yet turn out that the bridge lane closures were related to an ongoing traffic study and not to political revenge. Still, nearly 75% of voters in a NJ.com poll feel that Christie should resign his role as head of the national Republican Governors Association.

Christie is hoping the worst is over. Politicking in Illinois on Tuesday, eyeing the White House, he described former president George W. Bush as "underappreciated" and assured his audience at the Economic Club of Chicago that income inequality as a political issue would never get any real traction because greater income equality would lead to "mediocrity."

Another Republican with White House aspirations, Sen. Rand Paul of Kentucky, made news this week by teaming up with failed Virginia gubernatorial candidate Ken Cuccinelli to file a suit against the Obama administration over NSA spying. This news was quickly followed by the news that Cuccinelli's legal work on the lawsuit had been largely copied verbatim from work produced by lawyer Bruce Fein. It's not the first time Paul has been plagued by plagiarism issues.

Nagin Found Guilty of Corruption Charges

Former New Orleans mayor Ray Nagin was convicted in federal court Wednesday on 20 counts of bribery and fraud, after a trial during which he took the stand for two days and failed to convince the jury that he hadn't been directly involved in a series of situations in which he received money, free travel, cell service and other valuable considerations in exchange for fat city contracts and political favors.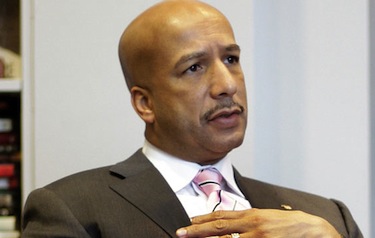 Who, me? Um, yes. New Orleans Mayor Ray Nagin during a 2008 interview. Photo by Alex Brandon.

The two-term mayor was first elected in 2002, having campaigned as a political outsider whose business experience made him the right man to clean up city politics. He emerged on the national stage in the aftermath of Hurricane Katrina in 2005, blasting the federal government's slow response to the crisis, but his own response -- delays in ordering evacuations and an exaggeration of how bad things in the city really were -- also drew heat.

Meanwhile, according to evidence at his trial, he had been padding his pockets with kickbacks since before the storm. He tried but failed to have the case against him dismissed on the grounds that it was part and parcel of the prosecutorial misconduct found to have occurred when U.S. attorneys went after cops for shooting civilians in Katrina's aftermath. Those convictions were overturned, but a court found that entirely different prosecutors were involved.

Nagin faces up to 20 years in prison at his sentencing in June. Till then, he's on home confinement in Dallas.




West Virginia's Chiron Return: Another Spill



Barely one month after a Jan. 9 chemical spill rendered the water supply toxic for more than 300,000 residents of West Virginia, a second toxic spill (this time of coal slurry) has poisoned another creek in the same county. Apparently this is what it looks like when a state has its Chiron return with Chiron in Pisces, the zodiac's 'ocean' -- although as usual, the leaders of industry (and by extension, government) seem to be slow to awaken to the truth of this healing crisis.
 
In this most recent spill, more than 100,000 gallons of coal slurry poured into Fields Creek Tuesday from a Patriot Coal processing facility in eastern Kanawha County, blackening at least six miles of the stream and making it into the larger Kanawha River. The company that manages the Kanawha Valley Water Treatment Plant claimed in a statement Tuesday that this leak would not affect the local water supply.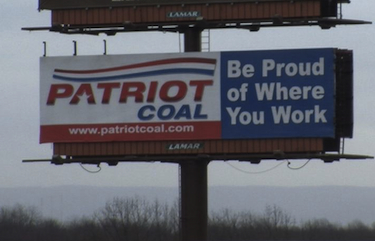 Surely there are better ways to show one's pride than by polluting where one works. Image: WDTV.

That is minimal comfort given the "significant environmental impact" of the coal slurry spill. And that is on top of the continued presence of a licorice-like smell -- the telltale sign of the previous chemical spill -- in the drinking water for area residents.
 
The local government may have lifted the ban on tap water use following last month's massive leak of the barely studied chemical MCHM into the Elk River, but more questions than answers persist in the minds of most residents. MCHM has barely been studied; plus it was revealed recently that a second chemical, propylene glycol phenyl ether (PPH), was also leaking at the same Freedom Industries storage facility in January.
 
Yes, that's right: Freedom Industries and now Patriot Coal. What's next, Liberty and Justice Fracking, Inc?
 
The so-called experts didn't even manage to lie effectively when trying to evade questions at a state congressional hearing Monday. Asked if the drinking water is safe, Dr. Letitia Tierney, commissioner of the state Bureau for Public Health, said, "That's in a way a difficult thing to say, because everybody has a different definition of safe."
 
Jeff McIntyre, president of West Virginia American Water, lamely claimed that the water treatment company is "in compliance with all the standards." Because, you know, they don't set safety standards -- they just follow them.
 
Other than West Virginia's Chiron return (which, incidentally, involves Eris -- the goddess of discord) what else in the state's chart resonates with this watershed of environmental crisis brought about by industry being allowed to run the political show?
 
One notable placement is West Virginia's natal Sun at 28+ Gemini. This sensitive degree has been prominent in the charts for 9/11 and the Banda Aceh earthquake and tsunami (the Moon was there for both events). In both of those events, there was a strong tie to suspect corporate behavior in the form of the oil business. West Virginia is not rich in oil, but it is economically dependent on oil's fossil-fuel cousin: coal.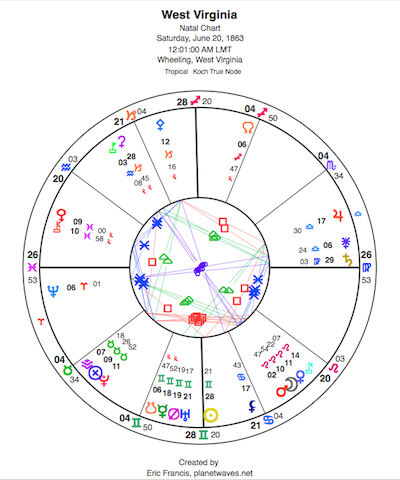 Natal chart for West Virginia, set for one minute past midnight in Wheeling, the first capital. The Sun is at the bottom of the chart in Gemini, and squares the chart's ascendant in late Pisces (the dark horizontal line on the left), showing a tense relationship between the state's government and its waterways. Chiron, conjunct Eris, is in the 12th above the horizon line; Neptune is below it in Aries, intercepted in the 1st. See glyph legend here.

28+ Gemini has been described in Planet Waves as both "the nuclear degree" and "the Atlantis degree," and it's this second title that feels most telling here: in allowing corporate interests to determine safety policy and curb the enforcement of regulations, West Virginia seems to have allowed industry to outpace its ability to protect the land and water upon which its communities depend.
 
As for how the Uranus-Pluto square is interacting with West Virginia's chart, symbols of government, lies and water are all under the continued pressure of the current astrology.

Transiting Pluto has been bulldozing early Capricorn (West Virginia's 10th house of power, government, corporations and reputation) for a couple years now. Pluto is also square West Virginia's Neptune (god of the oceans, illusions, lies) in Aries in the 1st house (identity, self), forcing change from within.
 
Uranus has been conjunct Neptune, too -- meaning that the 'unexpected' chemical spills and 'surprising' ineptitude with which government and industry officials have handled them are not truly surprising: leaders in this state have been lying to themselves for generations as if they thought this day would never come.
 
The question now is what can be done, and by whom. That's where the larger community of regular citizens comes in, using things like social media to inform each other, ask questions and persist in pushing for answers and real changes to how things are done in this state defined by its mountains and streams. With the transiting Sun, Nessus and Mercury now convening in Aquarius, the sign of groups and the Internet, the buck is practically begging us to stop it, together.




Remembering Three Legends



The world lost three remarkable pioneers this week: Stuart Hall, 82; Shirley Temple Black, 85; and Sid Caesar, 91. Each made an indelible mark on our culture and will remain icons in their own individual ways.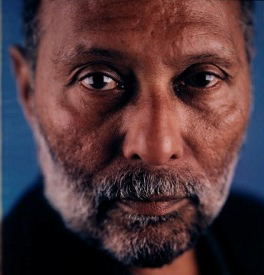 Stuart Hall. Photo by Dawoud Bey, 1998.

Born in Jamaica on Feb. 3, 1932, Stuart Hall grew up in the colonial West Indies, where the society's racial inequality profoundly affected him. This influenced his groundbreaking career in cultural studies and sociology after attending Oxford University on a Rhodes scholarship.

Hall was one of the founders of the New Left, a term used to describe the activists and theorists of the 1960s and 1970s who demanded reform on social and class roles. His studies examined the links between cultural identity, race and ethnicity. Hall said in an interview, "We always supposed, really, something would give us a definition of who we really were; our class position, or our national position, or our geographic origins, or where our grandparents came from. And I don't think any one thing, any longer, will tell us who we are."

Hall's Aquarius Sun is in exact conjunction with Mars, symbolizing a philosophical warrior fighting for equal rights. Aquarius is an intellectual air sign strongly attuned with individual freedom of expression. With his Sun and Mars working together for these strongly held values, he was a powerful figure for the ideals of democracy: brotherhood, fraternity and liberty.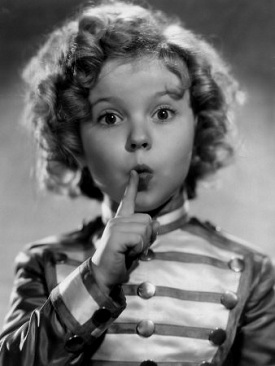 Shirley Temple in Poor Little Rich Girl, 1936.

Shirley Temple Black, born April 23, 1928, became a symbol of wholesome charm as a child star during the Depression, uplifting audiences throughout the 1930s. As Shirley Temple, she began her acting career at the age of three when spotted by a casting director in 1932. Within two years, she was signed with Fox Film Corporation and cast in Bright Eyes, in which she would sing her trademark song, "On the Good Ship Lollipop."

She retired from acting at 22 years old. After becoming active in the Republican Party, she was appointed ambassador to Ghana by Pres. Richard Nixon, beginning a 25-year career in politics and international relations. In 1973 Black was one of the first women ever to talk openly about her breast cancer diagnosis, announcing it to the world on radio, television and in the magazine McCall's.

Venus and Jupiter sit close together in Aries in Black's birth chart, indicating her ebullient and encouraging nature. Her charisma as a child star made her everyone's darling, and she epitomized joy for a world in pain. Black summed it up best, saying, "I class myself with Rin Tin Tin. People in the Depression wanted something to cheer them up, and they fell in love with a dog and a little girl."

Sid Caesar was born in Yonkers, New York, on Sep. 8, 1922. He is best known for his revolutionary 1950s comedy, Your Show of Shows, which paved the way for the sketch comedies of today. Caesar introduced character and situation-based comedy to the world, a major evolution from the slapstick style of his predecessors. He was a master of improvisation, and developed a talent for mimicking the sounds and cadences of foreign languages that he didn't speak.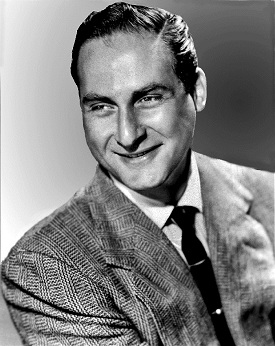 Sid Caesar, Publicity Photo, 1961.

Caesar got his start in World War II, when he began writing comedy for the Coast Guard Revue. During his monologue, in which he played multiple characters and made all the sound effects, he gained the attention of director Max Liebman, and began his career in show business. Caesar struggled with addiction later in life, but overcame this and worked regularly in television through the 1980s and 1990s, never losing sight of the importance of laughter. He once said, "In between goals is a thing called life that has to be lived and enjoyed -- and if you don't, you're a fool."

Caesar had a close Mercury-Saturn conjunction in his chart, which reflects the close attention to detail in his writing and acting. He was a moody and shy child who blossomed later in life as he developed his gifts -- something that often takes time when the stern teacher (Saturn) is aspecting the planet of thought and communication (Mercury). He had an uncanny way with words and physical expression, a proficiency that took discipline and mental acuity.





To unsubscribe,

click here e Wiki

|

Friends

|

Editors Contact Us Copyright © 2014 by Planet Waves, Inc. All Rights Reserved. Other copyrights may apply.
Some images used under Fair Use or Share Alike attribution.