New York, Dec. 20, 2016 | Pre-order 2017 Reading: All 12 Signs | Individual Signs




A Note From Your Astrologer



Dear Planet Waves Reader:

How are you doing there?

I know we're all feeling the pressure and the stress of uncertainty. What you're feeling is not coming from the news alone. The same cosmic forces, or perhaps timing factors, are acting on everyone and everything. This is not an easy time to keep your head together.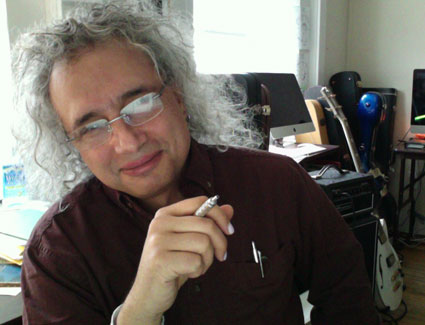 iMac selfie from today in my creative shop, Blue Studio.

It is, however, a deeply important time to keep your heart open and live from your soul.

I'm feeling the pressure in my own way, as someone who not only writes about politics but who translates and clarifies the news, with the assignment of taking it above the level of despair. Because I work for you, I don't have the luxury of denial.

Just about everyone has reached the saturation point with politics, especially in its current wholly toxic state.

The feeling of being violently pulled from your inner reality has been agonizing. The confrontation with shadow has been extremely challenging. Admitting that, we're all sitting here watching the world, wondering what's going to happen. And we all have lives to lead: things we want to do, growth to attend to, people to take care of.

The world may be going insane, though you don't have to.

It's taken me a while to work through the pain of the election process and what it means. Gradually I've gathered my energy, done some deep healing and focused my mind on your 2017 reading, called The Book of Your Life.

As I go deeper into the astrology, it's truly been a relief to focus on personal matters, filtering out the madness of the world. The transits we're experiencing are rich. On one level, we're being pelted with total chaos in the form of Uranus conjunct Eris. We are learning how to breathe and find ourselves at the bottom of the digital ocean.

On another level, we're being prepared for a whole new phase of astrology that begins with Saturn's ingress into Capricorn in late 2017. That's the get-serious moment we're heading toward.

We are now in a time of spiritual catharsis. Chiron moving through the last degrees of Pisces describes this. Pholus moving through late Sagittarius does as well. We have a little while to do that inner work, to make that connection to the cosmos, before we must embody the healing energy of Chiron fully when it reaches Aries in 2018.

My annual readings, now in their 19th year, describe these events and relate them to your personal experience. Given the world situation and how busy my team has been, I'm focusing on written readings.

Every sentence, every paragraph, every interpretation counts. I am writing directly to you, with some understanding of what you're facing individually and as part of a community.

We have two options for how to sign up: all 12 signs (highly recommended, for a more comprehensive view) and individual signs (each is a complete work in itself; it's recommended that you read your Sun, Moon and rising sign). We have a "one purchase per household" policy, which means that we welcome sharing the work with those you consider members of your family.

We will be delivering on the web and also on beautiful, printable PDFs, so you can handle The Book of Your Life as an aesthetically pleasing physical object.

Please sign up today. I'll have your readings to you at the earliest possible date. There is no rushing this work, though I'm well on the way to getting it done.

Thank you for trusting me as your astrologer.

Lovingly,



PS -- If you would prefer to order by phone, please call us and we'll help you. You can call (206) 567-4455 or (845) 481-5616. If you get voicemail and leave a message, we'll get back to you ASAP.