Astrology: An Answer to Chaos and Confusion.
Tap Your Potential. Prepare for the Future.
Dear Friend and Reader:
Every year, I prepare annual readings for my clients — readings based on the Sun sign and the ascendant, which provide the depth and insight of a personal consultation.
The astrology of the next 24 years will focus on Aquarius. This is the sign of doing things together, whether that happens voluntarily or by some externally imposed regulations. We are all here together. No person is an island. We rely upon one another.
The forthcoming annual editions will focus on Jupiter, Saturn and Pluto in Aquarius, as well as Uranus in Taurus and Chiron in Aries. You will learn everything you need to know to get your bearings. Whether you're curious, a serious astrology fan, or an astrology student,
you will find these readings helpful and motivating.
Astrology is an important tool to have access to now. Society and the lives of many people have never been more chaotic — and astrology responds to that, using a kind of spiritual chaos theory. As you know, I take a "creative self-mastery" approach to astrology. I am not here to give you the answers. I am here to help you figure them out.
The gift of astrology is its ability to help us see patterns: the patterns of the cosmos that describe the patterns of our lives
. I have developed a way of working that gives depth and relevance without the birth time. This is an evolution of the method mastered by
Linda Goodman
,
Jonathan Cainer
and
Patric Walker
— the incredible Solar House system.
You will love these readings!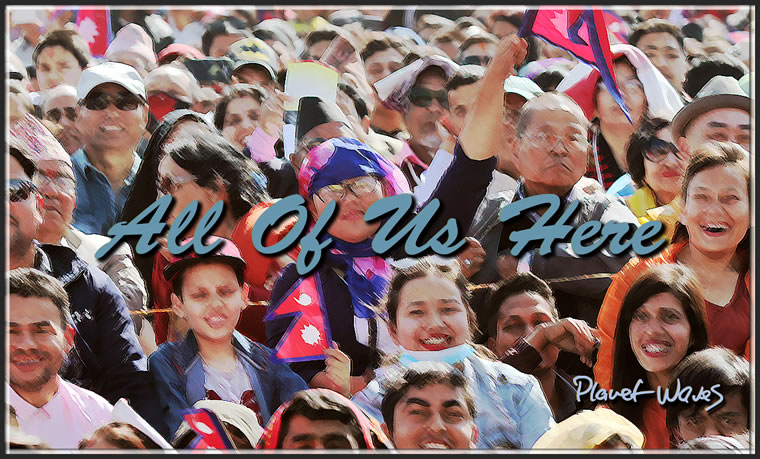 Two Annual Editions for 2021
This year I have two annual editions for you: one devoted to 2021, and another devoted to the phase 2021-2024, when Pluto enters Aquarius.
The first is called
ALL OF US HERE
. These will be extended audio readings that synchronize you with the astrology of the forthcoming year.
The second is called
AN AQUARIAN ERA
, which is a written reading. This studies the influence of Jupiter and Saturn as preparation for Pluto in Aquarius (2023-2044).
NOTE — AN AQUARIAN ERA was included with RESPECT. All RESPECT customers will receive AN AQUARIAN ERA
.
I am planning to deliver these by the end of the year, but I am scheduling myself to get them ready sooner. As you know from many years prior experience, I will do my best to deliver them in excellent condition and on time.
Both will have video supplements to introduce the material. All of my readings come with charts and resources — and access to many previous annual editions.
Readings come with original music by Vision Quest, our in-house ambient music ensemble.
Initial Purchase Offer: The Best Price Right Now!
For the next few days, we will be offering all 12 signs of
AN AQUARIAN ERA for $88
, and all 12 signs of
ALL OF US HERE for $88
. We are offering them separately. These purchases are one reading per household — that is, we encourage you to share with those who are close to you. I do my work to reach people, and I offer this rather liberal policy on that basis.
My least expensive personal consultation is $222 for half an hour, so this is a substantial discount. Note, these readings are not part of the Backstage Pass.
They are included with the Galaxy Pass
, now available at a reduced price.
Special Update: We are Using our New System for this Product
We are just moving into our new sales system. After a mostly successful beta test using the Scorpio reading, we will be offering these directly through the Word Press website. If you already have an account in the new system, please use that account. Old passwords from old products or memberships will not work.
If you are having difficulty, please try again — and if that is not working, email us at
cs@planetwaves.net
and we will assist you.
Thank you for your business and your trust
It is a privilege to do this work for you, and to collaborate with my incredible, talented, friendly, creative team. Thank you for making everything we do both possible and relevant.
With love,

PS — We will be a little busy to take too many orders by phone, but we can help. If you want to renew, revive or upgrade your membership, we can do that by phone. Please call (845) 481-5616.
---
To unsubscribe,
click here
. To unsubscribe from all future Planet Waves emails, please write to
cs@planetwaves.net
Copyright © 2020 by Planet Waves, Inc. All Rights Reserved. Other copyrights may apply. Some images used under Fair Use or Creative Commons attribution.