New York, Sept. 4, 2013 | View as Webpage | Customer Service: Chelsea (206) 567-4455
Introducing the 2014 All Access Pass
Dear Friend and Reader:
We are happy to offer once again one of our most popular products: the 
Planet Waves All Access Pass for 2014
. In recent years our product line has grown considerably, to include detailed readings for each of the signs that our readers have grown increasingly excited about. And we have a realtime SMS service that you will love. 
This year, we'll be asking our All-Access members to test out our brand new website. It should be ready soon, and we're excited to show you how beautiful and easy it will be to access all of your membership materials. The new site will give you access to everything in one convenient place. 
The All-Access Pass is for members who want access to everything we offer in a calendar year. The response from our All-Access subscribers has been overwhelmingly positive; my astrological services are designed to address the most personal experiences of astrology, and then guide you out to where your life intersects with your community and the larger world.
One price extends your membership to the weeklies by 12 full months, plus you get all Planet Waves products through December of 2014 as we journey through the next year.
Using one password for everything, which you choose yourself, you'll have easy access to every product, including birthday reports and special audio recordings, weekly email service, the annual edition, and whatever additional projects we create. It's a great discount on a year of our work.
We trust that this idea is a fun way to meet your needs, whether you use astrology for daily spiritual inspiration, therapeutic purposes or pragmatic decision-making. And it's truly a valuable resource for students of astrology.
With the All-Access Pass you'll receive:
-- Tuesday/Friday email editions of Planet Waves weekly content and horoscopes.
 Follow my weekly and monthly interpretations for a full year.
-- All sign birthday/ascendant audio for 2014.
 This is almost like getting a personal consultation for yourself and any loved ones whose astrology you track. Each audio report includes a fresh perspective on current transits and how they extend into the future, along with a special tarot reading for that sign. 
-- Our best-selling special reports and projects including extended audio and eBooks.
Past reports have included the Spring Relationship Reading and Mercury Retrograde reports; 2014 is sure to include exciting, as-yet-unimagined offerings as we navigate the year's adventures.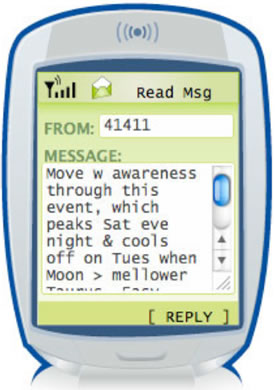 SMS service provides astrological information in real time to your mobile device, written by Eric.
-- Research/lookup service for astrology students.
We will assist you in researching any articles you need for your astrological studies through December 2014.
-- The 2014 annual edition, all 12 signs.
This book-length online publication includes written and audio segments, is accessible by password at any time, and always meets rave reviews by readers who refer to it throughout the year for its long-range, big-picture guidance. 
-- Subscription to my premium SMS service. 
Get astrology updates throughout the day sent directly to your mobile device. This is like having me whisper astrology information in your ear, just as you need it. This is available to those not subscribing to the All-Access Pass separately for $19.95 a month. 
-- Any other new products we come up with, that are offered between Jan. 1, 2014 and Dec. 31, 2014.
The All-Access Pass is like having a personal astrologer for a full year.
Or, think of this as a custom level of service. While we tend to be close to our clients, answering the phone and responding to emails, the All-Access Pass is a way of enhancing that relationship, designed for those who benefit the most from Planet Waves, whether as a spiritual seeker or an astrology student. Once you sign up, we will set up your custom login identity and keep you posted as soon as any new stuff becomes available.
Use this link to place your order.
This is over $900 worth of products and services for just $345. If you have questions, please give Chelsea a call at (877) 453-8265 within the U.S. and (206) 567-4455 from anywhere else in the world and she will be glad to help you. 
As always, thank you for doing your metaphysical shopping at Planet Waves. It's great to know that together, we're building a truly unique source of astrology wisdom in a time of profound change.
Lovingly,

To unsubscribe,
click here
e Wiki
|
Friends
|
Editors
Contact Us
Copyright © 2013 by Planet Waves, Inc. All Rights Reserved. Other copyrights may apply.
Some images used under Fair Use or Share Alike attribution.