New York, Oct. 13, 2015 | View as Webpage | Join our Core Community



Sandy Davis, vocalist and writer for Pecas, who performed at the O+ Festival in Kingston this past weekend, as did all of my musical guests on today's program.

Libra New Moon, the O+ Festival and a Crazy Retrograde Tale



Dear Friend and Reader:

In tonight's edition of Planet Waves FM, I look at the chart of the Libra New Moon, which you can find in Monday's article about the event, called You Are Human. I revisit my ideas about how robotics (that is, the Internet) is affecting our personal relationships and most of all, our ability to trust one another.

There's a lot of interesting astrology in that first segment, including comments on the current Libra stellium, Uranus in Aries and a bit about its conjunction to Eris in Aries.

In the second segment I talk about the O+ Festival, which happened this past week in Kingston. All three of today's musical artists performed at the festival -- Pecas, Sean Crimmins and Sondra Sun-Odeon.

In the third segment I tell a wild story from the Mercury storm, which involved plumbing the depths of the internet.

Lovingly,


What's Your Vision?

Getting Sorted



Dear Friend and Reader:
 
With Mercury finally in direct motion as of Friday and last night's Libra New Moon, hopefully you are beginning to feel things shake out and sort themselves. Eric covered the Libra New Moon in Monday's Astrology Diary, suggesting you "consider what you have to say to others and what you want from them. Resolve those issues one at a time, consciously."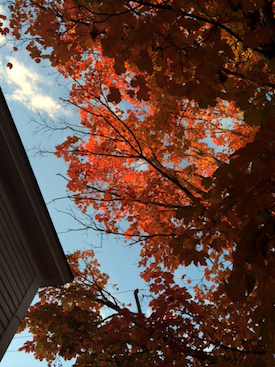 A very friendly Maple next to a theater in Brunswick, Maine. Photo by Amanda Painter.

Len Wallick looks at the clusters of planets in cardinal signs (initiative) and mutable signs (possibility) in his column today, and urges readers to consider giving possibility a chance. Sarah Taylor, in this week's tarot reading, asks: what happens when you own your experience fully and walk the path of your destiny -- and your heart -- without apology?
 
Judith Gayle notes that after three months of Saturn dinking around in the last degrees of Scorpio, the Lord of Karma is racing through Sagittarius, fanning fires; just when you thought the torpor of the American political process couldn't get worse, it did. Meanwhile, Fe Bongolan brings her political introspection to frame tonight's Democratic presidential debates, noting that the soul of the country is at stake now more than ever.
 
After five days in a small town helping souls to navigate past-life memories and the afterlife, Amanda Moreno describes this week finding herself in bustling New York City, and reminded what a privilege it is to hear the stories people carry beneath their surface.
 
Speaking of concealed stories: it's astonishing enough that most therapists are not well trained in addressing clients' sexuality; but for a long time, neither were couples' therapists. This week's sex-and-relationships article from The New York Times looks at a few couples' therapists who start with the question of sex, and considers why it has taken the field so long to get there.
 
Finally, when a guy in sales feels a little envious of his co-worker's glowing success yet also wants to get back together with her (they used to be lovers), what should he do? Last week Madame Zolonga suggested the 'easy does it' approach, as Venus finished up in Leo. Winning seasons don't come every day -- and renewed self-worth is something to celebrate. Look for Madame Z's latest column tomorrow at noon on the Planet Waves website.
   
I'll be back on the Planet Waves website Thursday at midnight EDT with your weekend astrological overview; until then, I wish you serendipitous solutions to any problems you may be facing.
 
Yours & truly,



Amanda Painter
 
P.S. The Libra Birthday Reading is available for instant access. You can also pre-order the Scorpio Birthday Reading now to get the best price. These readings make amazing gifts -- for yourself or for a friend.



Planet Waves (ISSN 1933-9135) is published each Tuesday and Thursday evening in Kingston, New York, by Planet Waves, Inc. Core community membership: $197/year. Editor and Publisher: Eric Francis Coppolino. Web Developer: Anatoly Ryzhenko. Office Manager: Lauren Gdovin. Astrology Editor: Amanda Painter. Astrology Fact Checker: Len Wallick. Copy Editor and Fact Checker: Jessica Keet. Client Services: Amy Elliott. Media Consultant: Andrew Marshall McLuhan. Research, Writing and Editing: In addition to those listed above, Planet Waves is produced by a team consisting of Fe Bongolan, Judith Gayle, Kelly Janes, Amanda Moreno, Carol van Strum, Len Wallick, Lizanne Webb and Chad Woodward.





To unsubscribe,

click here e Wiki

|

Friends

|

Editors Contact Us Copyright © 2015 by Planet Waves, Inc. All Rights Reserved. Other copyrights may apply. >>
Some images used under Fair Use or Creative Commons attribution.