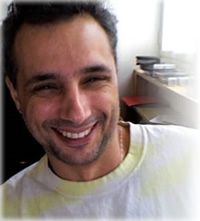 Eric Francis, Paris '05.
Dear Friend and Reader:
We don't have a monthly horoscope today. As I mentioned recently, the monthly schedules differ in part based on the magazine they originate in, and in part based on the number of Tuesdays in a month. There happen to be a lot of Tuesdays this month. And on the last of them, one week from today is a total solar eclipse in Cancer.
For the sake of doing clear astrology, I don't usually release the first monthly horoscope for the next month until the Sun is in its new sign, and that happens on Weds., July 22. I'll get back to you about how I plan to handle that scheduling.
I'm also getting the message to ease back on my creative output, so I'm
not
planning an edition of
Planet Waves Radio
tonight.
The sky is popping, however, and I've updated
Planet Waves Daily
with a new post, this one about the Sun and Mercury square Eris. I've also delved into some Gemini stuff, including how Mars will be aspecting the natal Nessus and/or Hylonome of many people in our reading audience. Please check there, and I will see you Friday with the regular edition.
Yours & truly,