Dear Friend and Reader:
Venus is now in Libra, just past a square to Pluto in Capricorn. The Virgo-Libra cusp is a busy place these days; Mercury recently ingressed Libra (ending its retrograde two weeks ago, and its echo phase Wednesday). Pallas Athene, an asteroid connected with law and justice, is currently quite happy in Libra, the sign of equanimity. Then at the end of the month, Saturn enters Libra for the first time since August 1983. Each time a planet moves into Libra, it opposes the Aries Point, the first degree of the zodiac (said properly, the first degree of the tropical zodiac).
We're also right upon the Libra New Moon, which I'll cover in a section at the end of this article. [
View chart here.
]
Libra is one of the home signs of Venus; it's said to rule that sign (and also Taurus). So you can truly say this is a 'good thing', but as good as it is, it's also made interesting by the aspect to Pluto and its presence opposite the
Aries Point
.
As I have said here many times, the Aries Point in any astrological equation tells us that the big world (out there) and the little world (one's private life) are intersecting.
Yesterday's conversation
about where individual relationships meet society's rules and expectations is a good for-instance, though the effect can get much larger. Yet the conscious attempt to reconcile where we actually fit into our culture is an excellent example of putting the Aries Point to work. What I'm suggesting here is that astrology is not something that happens to us; it's something we pick up like a dependable tool, and use for a purpose.
Venus square Pluto is a picture of one's internal experience of a relationship; of one's own relationship tendencies; and the role of erotic impulses in the quest for growth and personal evolution. The relational aspect comes from Venus in Libra; the societal attribute from Pluto in Capricorn. Pluto also brings in the concepts of growth and evolution. Venus and Pluto both bring in different aspects of sexuality, and add up to a lusty mix. Yet it manages to be something well beyond lust for its own sake; this is a drive to connect, and exploration of the motive to connect.
This is an aspect that feels meaningful, applicable and moreover, urgently calling for self-reflection. That square wants to start the conversation from the inside-out. It's pointing to that significant piece of a relationship that exists within our individual psyche. We tend to think of a relationship as this thing that two people have; but really it's two things that two people are having, with one thing assigned to each person.
Part of being a healthy relationship partner is being able to focus on both your experience and that of someone else. This would necessarily start with your own experience, and then embrace that of your partner. When we only focus on someone else and habitually forget our own needs, or act to our own detriment, that would be codependency. This aspect is saying start inside. Recognize how much of love, sexual attraction and obsession, acceptance, need, satisfaction, acceptance, guilt and fear are personal matters that we alone experience. Or said another way, the square is calling on us to call back our projections and take ownership of our experiences.
One last bit of astronomy. Venus is currently conjunct a fixed point; a galaxy called M87, which is parked in the first degree of Libra. The Aries Point is the place where the tropical zodiac begins, based on the position of the Sun, the day of the vernal equinox. There is no "thing" involved -- except if we consider M87, an enormous galaxy that takes up the first degree of Libra and is part of an important cluster of galaxies known as the Virgo Group. Something in the first degree of Libra has a direct relationship to the Aries Point -- an opposition, and I think that this galaxy may be a meaningful part of the ever-so-dependable effect that we see.
M87 is a particularly incredible galaxy due to a massive gas ejection.
Libra is intense and nobody really wonders why; few people notice. We think of it as the nice, laid-back sign of balance and things that work well aesthetically, but I describe Libras as the human blow torch. That flame, set to low, seems harmless and barely noticeable, but then when you turn the knob it jets out hot enough to burn through steel or compose the best rock music you've ever heard (Thom Yorke, for one wholesome example). Libra is conjunct M87 today and Pluto, occupying the first degree of Capricorn for the last time, is currently square M87.
This sounds like a conversation of people with something to say.
As of Saturday, Mars, now in Leo, enters the shadow phase of its upcoming retrograde. [Leo is on the Fixed Cross of the heavens, but event is obviously still newsworthy. And astrology students note, the midpoint of the Fixed Cross, that is to say, any fixed sign at 15 degrees, activates the Aries Point.]
The shadow phase is when a planet enters the degrees where it will soon be retrograde. The upcoming Mars retrograde takes place entirely in Leo, and goes from Dec. 20 (one day before the Capricorn solstice) to March 10. Mars leaves the degrees where it was retrograde on May 17. In all, Mars spends nearly eight months in Leo, bringing the first major burst of fiery energy to the sky since Pluto left Sagittarius.
There is more fiery energy to come. This spring arrives with some of the most spectacular astrology in many years -- in particular, the Jupiter-Uranus conjunction is on the Aries Point -- which will be the main theme of Cosmic Confidential, the 2010 annual edition of Planet Waves.
The New Moon in Libra is exact Sunday at 1:33 am ET; that is to say, overnight Saturday to Sunday in most time zones covered by our readership; Sunday morning at around dawn in the UK and Europe. This New Moon has some distinct properties, one of which is that it will be exactly square the lunar nodes (precise to less than one degree). This gives the New Moon an eclipse-like property, because it touches the nodes at a direct angle.
Whenever an important event occurs square the lunar nodes, we have a turning point in the story of our lives. It can be a change of direction; a reversal; a sense of a factor intervening with the 'normal' flow of events. This clearly represents an opportunity to create such changes in your life, all the better if you have determined that their purpose is to further your growth and evolutionary progress.
These changes may take up a focus in relationships, with so much significant activity currently in Libra. There may be a 'clear the decks for something better' kind of feeling.
This New Moon aligns precisely with several minor planets. For one thing, it's precisely conjunct the asteroid Urania -- that is, precise to one-tenth of a degree -- which is urging us to see the big picture and not get caught in the petty details. Urania's presence reminds us to focus on having a consistent method; a fair, rational approach; and to not sacrifice intuition in the process. Apropos of Libra necessary to look for the common ground between seemingly different or opposing things.
This weekend's Libra New Moon is exactly (to less than one degree) opposite a minor planet conjunction:
1992 QB1
and Achilles. I'm glad I checked this this: these are two minor planets with which I'm very familiar, having worked with them for a full decade. Both are subtle and a bit off the normal wavelength of awareness. Their conjunction is also square the lunar nodes and is thus showing up high on the list of priorities. Let's go in alphabetical order, numbered planet first.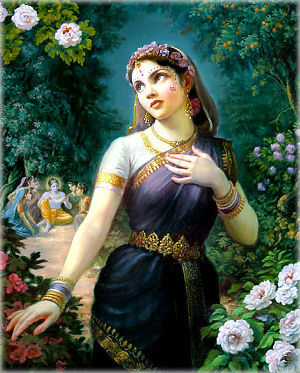 Srimati Radharani is the Supreme Goddess. She is most always seen with Lord Krishna.
1992 QB1 is a planet slightly past Pluto that confirmed the existence of the Kuiper Belt: an enormous band of planetoids and icy debris in the region of Pluto. It was the first planet discovered beyond Pluto, and it was spotted first on the Aries Point, to the degree, in 1992. It has not been named, though a whole class of planets has been named after her: the
Cubewanos
(Q-B-1-o's), which usually have orbits in range of 300 years (Pluto is about 250 years, so as mentioned, they're a little further out). I have contacted the co-discoverer, Jane X. Luu, and proposed the name
Radharani
, the consort of Lord Krishna.
I believe that this is a feminine archetype associated with people, predominantly women, who assist people at threshold moments: midwives who help us birth; hospice workers who help us die; orgasm coaches, who teach us how to let go more deeply; Tantrikas who introduce us to the sexual mysteries; and all teachers and guides who assist others in the process of crossing boundaries within themselves. Said another way, she represents anyone who takes a personal risk and gives from their souls to assist those who must cross a spiritual border. I have a word for them, which is
thresholders
, and I believe they come under the guidance of, and are significated by, this small planet.
1992 QB1 is similar in energy to Vesta, but less detached; more directly involved in the process. She does not have to address the paradox of the 'sacred prostitute who is also chaste' and is therefore not under a vow of celibacy in any form. To the contrary, her personal experience in all of these matters is what would make her a master (or at least adept) of the 8th house of death and transformation.
If we step outside the specific life contexts of what this planet is about, we can get some basic psychological descriptors. She takes on the experience of humanity personally; she resonates with what is inevitable for everyone; she possesses eclectic knowledge, like a Centaur planet; she offers herself totally in special circumstances when this is necessary, and in general as a life path.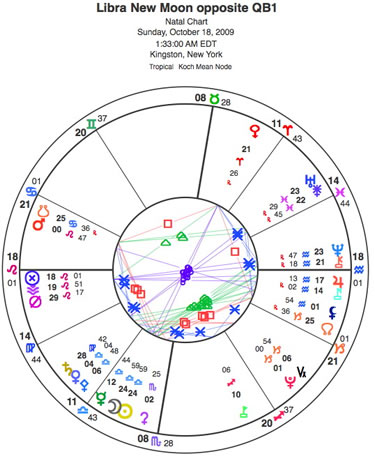 The Libra New Moon is shown in the lower left side of the chart, the glyphs for the Sun and Moon being obviously illustrated and occupying the same degree and minute. The New Moon is precisely opposite two minor planets that are not shown in this commercial astrology software, 1992 QB1 and Achilles. The New Moon is also fairly closely opposite Eris (red glyph, top right).
Next is Achilles, a special asteroid which to me represents
false lack of confidence in women
. Achilles can also represent cases or circumstances of false confidence. I have covered false confidence
in this blog post
. It also shows up prominently in the chart of
Cho Seung-Hui
. Let's stick to the more prevalent and I think more significant issue, false lack of confidence. This theme is one of the great issues of our day, and it deserves its own article. It's closely connected to the lack of self-esteem that is both endemic in our times and which is basically considered normal.
This false lack of confidence may be associated with an injury to curiosity (rampant, and usually created by 'education'); with the sense of not knowing enough; with being told one was inferior and/or held down; with a sense of inferiority incultrated in people specifically because they are female or gay; or many other factors. This is the Ph.D. who cannot get a job, perhaps in part because they thought the degree would give them something they didn't already have. It's the person with great musical talent who won't play a gig; anyone with a natural skill who won't use it because they don't feel up to it; and represents a diversity of other conditions where we feel that we're less than what we are, and hesitate, but where this is not supported by the facts. It is psychological in nature.
When you put the two archetypes together, we see a failure to assist one another in our transitions. We see situations where someone refuses to help, or fails to help, someone close to them make a transition that they need to make. This may be about jealousy, or a sense of being abandoned, or the refusal to step up to the challenges of growth themselves. The New Moon in Libra opposite this conjunction, precisely square the lunar nodes, is saying we need to step up to this challenge as the highest level of evolutionary imperative: we need to help one another cross those vital thresholds, grow, change and transform.
Yours & truly,


By Judith Gayle
|
Political Waves
There's a new game afoot that I suspect you've noticed and may even have developed some skill at playing. It's a kind of Cosmic
Where's Waldo?
, where we scan our headlines, our television screens, our neighbors' responses and our co-workers' attitudes for some hint of reality, some sense of spiritual aptitude. We've traveled a long summer's madness, trickled tears at the twists and turns that are pummeling our nation, battled our fears over the projections and losses and defaults; wondering if we're the only ones hunting a solution other than chaos. The shifting landscape of our game board has taken us into distressing, often surprising territory, but we trudge on, looking for that sparkle of awareness in the eyes that will tell us we've found like-mind. Our family members sometimes turn into one of those dim Not Waldo faces as we search feverishly for the lost ones; we mourn a bit, heart-shocked and disturbed, then move on in our quest. We're in search of our tribe.
Back in May, some big players in our game turned retrograde within a day of one another; Jupiter, Neptune and Chiron. They'd been traveling in a pack under the altruistic canopy of the Water Bearer, Aquarius; had been and will be again, into the new year. Jupiter has slowed and begun forward movement now; perhaps some of the zealotry, bloviating and excess will dissipate or, at minimum, we can begin to put it into perspective. As with any retro, we got a review period; and a particularly potent one. We've had a good, long look at the unenlightened and the unintelligent, who bellow louder than the many who gained insight into the Jupitarian concerns of ethical and moral social expression during this period. If Chiron requires us to re-wound, we've managed it; if it is also the path toward our healing, then I suggest we get on with it. Our nation is dis-eased in many ways, her fractured schisms symptomatic of her decline; and as with every such malady, it's our choice of remedy that makes all the difference.
You have no doubt heard that our president has received one of the most honored awards the world bestows: the Nobel Peace Prize. The Committee Chairman was very specific about the reason Obama unanimously beat out 200 other nominees, saying, "Only very rarely has a person to the same extent as Obama captured the world's attention and given its people hope for a better future. We are not awarding the prize for what may happen in the future, but for what he has done in the previous year. We would hope this will enhance what he is trying to do." The firestorm of opinion that greeted this remarkable accomplishment was stunning. When a respected
Washington Post
columnist writes that the award is "ridiculous, embarrassing," she is displaying a deep lack of vision into these changing times; when Glenn Beck says the prize should, instead, have gone to his Tea Baggers -- and later declares that the White House finally going after the Republican propaganda machine, FOX News, is comparable to Hitler's assault on the Jews -- then I suddenly feel the true impact of the words 'ridiculous' and 'embarrassing.' Neither of these people are Waldo. Dude, where's my tribe?



Coming Up in Daily Astrology and Adventure

Stonehenge
-- the Neolithic landmark on the English countryside that served as a sacred site, an observatory, an astrological calendar, a burial ground, and more -- continues to reveal secrets some 5,000 years after its construction.
ScienceDaily.com reports that British archaeologists with the
Stonehenge Riverside Project
have found evidence that
another stone circle
stood less than two miles away on the banks of the Avon River.
Today, all that is left of that second circle are nine depressions in the ground, but those plus other archaeological evidence (Stone Age tools, evidence of fires) lead scientists to believe that 25 standing stones once formed a circle more than 30 feet across on the site, surrounded by a
henge
, or a circular ditch with an external bank. They're calling it "Blue Stonehenge" because they believe the standing stones were bluestones mined from the
Preseli Mountains in Wales
, more than 150 miles away.
They also suspect that around 2500 BCE, Blue Stonehenge was dismantled and its stones incorporated into Stonehenge proper when it was rebuilt. Still, according to the article, Blue Stonehenge should be considered part of the overall Stonehenge complex and not a separate construct, since it stood at the end of the Avenue, a ceremonial way that led from Stonehenge to the Avon.
It all fits in with what the Stonehenge Project's members believe was a Neolithic community along the Avon, which included a village they discovered in 2005 and call Durrington Walls. That village, the scientists speculate, represented a "domain of the living" that was linked with a "domain of the dead" through the newly discovered circle and Stonehenge.
"It could be that Blue Stonehenge was where the dead began their final journey to Stonehenge," Sheffield University Professor Mike Parker Pearson, a co-director of the Project, was quoted in the article. "Not many people know that Stonehenge was Britain's largest burial ground at that time. Maybe the bluestone circle is where people were cremated before their ashes were buried at Stonehenge itself."
Stonehenge is part of a network of prehistoric monuments in the area. Also nearby is
Avebury Henge
, a double stone circle so large that it includes a small town. This is located about 32km south of Stonehenge.
Silbury Hill
, an ancient manmade mountain, is also in the area, and is part of the same network of monuments, all of which were likely to have related purposes. There are many theories as to their use, one of them astrological. Stonehenge may have been a war council chamber devoted to Mars, and Avebury Henge another kind of temple devoted to the Sun and the Moon. Even in modern times, Avebury's two circles are referred to as the Sun Circle and the Moon Circle. Silbury Hill, for its part, remains a mystery, and few artifacts have been found there.
The Stonehenge Project's other co-director, Professor Julian Thomas of the University of Manchester, seconded the significance of the find: "The implications of this discovery are immense. It is compelling evidence that this stretch of the River Avon was central to the religious lives of the people who built Stonehenge."

Hats off to the Hubble Space Telescope again for capturing yet another phenomenal image from our universe: The
collision of two galaxies
.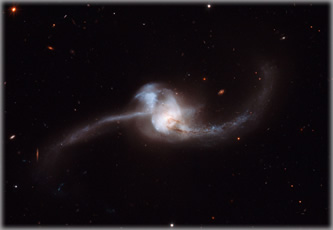 A recent NASA/ESA Hubble Space Telescope image captures what appears to be one very bright and bizarre galaxy, but is actually the result of a pair of spiral galaxies that resemble our own Milky Way smashing together at breakneck speeds.
What you see in that image, released by NASA on Oct. 13, is the end result of the collision of two galaxies the size of our own Milky Way, which has created a new astrological body called, in the romantic lingo of science, NGC 2623.
Or Arp 243. For short, we guess.
Despite the fact these two galaxies impacted one another at what a
NASA/European Space Agency article
calls "breakneck speeds," because of the interstellar distances involved this still was a very, very, very slow motion event to us. For one thing, it happened a long time ago, since it is 250 million light years away in the constellation Cancer.
So, what exactly is Hubble showing us? Some pretty mind-blowing stuff. The two galactic centers have now merged into one nucleus, according to NASA/ESA, bringing unimaginable energies to bear upon one another. Those energies created tidal forces that formed the two tails you can see streaming away from that nucleus -- tails composed of huge clouds of gas, nebula, and clusters of young stars created by the violence of the collision. In the lower arm alone, more than 100 star clusters have been identified.
Furthermore, deep within the nucleus the supermassive black holes that inhabit galactic centers are now sucking in matter and forming what scientists call an
accretion disc
. That releases torrents of energy, which in turn heats up the disc and makes it radiate lots of electromagnetic energy, which can be measured by astronomers.
It is, if you really stop to think about it, a phenomenally humbling concept. During this collision stars older and bigger than our Sun have doubtless been destroyed, entire planetary systems torn apart, new stars and worlds created -- all so far away that humanity will likely never reach it no matter how long we last, but visible to us if we look at the night sky with a powerful enough lens.

How cold was it in Colorado this past week? Too cold for baseball. The third playoff game between the Colorado Rockies and the Philadelphia Phillies was canceled last Saturday after a cold front moved through and snow and ice dusted the Rockies' stadium. The low of 17 degrees broke the 1905 record for that date, a report from
The Associated Press said
. That same day, black ice was blamed for a wreck on Interstate 25 in Colorado Springs that involved up to 50 cars.
Meanwhile, several days of steady (and occasionally heavy) rain have soaked parts of the southern US. Rising waters have caused flooding in low-lying areas, created major headaches for farmers, and the steady downpour all but shut down the rides and midway at the annual
Arkansas State Fair
on Tuesday, a day in which some parts of that state received 5 inches of rainfall before 2 pm. Another front system was due to arrive Wednesday night and soak the state again Thursday.
However, the rainfall in the south had nothing on the big storm (left over from last week's typhoon near Japan) that swept into the
San Francisco
area on Tuesday night. Described by the
San Francisco Chronicle
as a "storm unlike any other in the Bay Area in nearly half a century," it dumped up to 10 inches of rain in parts of the region, knocked out power to tens of thousands of people, and was blamed for hundreds of car accidents.
Meanwhile, two storms are working over the northeastern US in sequence. Wet snow will creep into the western and northern suburbs of Philadelphia and New York. Temperatures will be 10 to 30 degrees below average, ranging from the 20s in the north to the 40s in coastal Jersey and the Delmarva at night and mainly in the 30s and 40s during the day (a few 50s in Southern Virginia).
While such storms can be predicted, other major natural disasters can happen without warning. However, the October issue of
New Scientist
reports on a Japanese study that holds out hope of early warnings for at least one such event: volcanic eruptions. By monitoring cosmic radiation for
muons
, they hope to be able to detect the mass of material inside volcanoes and predict when there's a buildup of magma.
---
Do you receive Planet Waves by forward? Please sign up.
We are offering a few summer specials.

---


Weekly Horoscope for Friday, October 16, 2009, #788 - BY PRIYA KALE
For more astrology, horoscopes and information on private consultations please visit
www.priyakale.com/blog
. Please email
priya@priyakale.com
with comments and feedback on the horoscopes.
(March 20-April 19)
You've started a new cycle within your relationships, marking a crucial turning point toward your personal and professional destiny. A conversation you have this week with a friend or partner can be hugely informative, as well as fuel your expansive vision of the possibilities for the future. Recognize now there is a deeper fire growing within you to explore your creative as well as sexual potential. You are an Aries and with the planets aligned the way they are the sky is the limit when it comes to a heart's desire. If you can be bold and honest, you are more than likely to gather all the support you need from friends and benefactors alike who want to see you succeed. Let your actions be from the heart; be playful yet fair, so everybody wins.
(April 19- May 20)
You've scaled a mountain recently. Now you enter a phase of reaping the rewards for your efforts, to what can only be considered a labor of love. It may finally feel like you can see beyond the horizon with one close relationship, offering you a chance to deepen your intimacy. This may even bring fresh hope regarding a financial situation surrounding your home or family that has been unsettling you recently. This is freeing you to focus your energy where it matters. You've learnt a thing or two along your journey in your search for inner peace. Let these invaluable teachings guide you as you light the way for many that find hope in your message of truth.
(May 20- June 21)
You could find yourself flying high on wings of love this week. Or it could be a hugely creative idea whose time has come. You've already confronted your deepest fears regarding your own creative and sexual potential. Speak honestly and from the heart within a dialogue with an important partner. Also listen closely to what someone is saying to you; this can only open and expand your awareness to the possibilities beyond the horizon. Be innovative and creative. You are entering a phase of learning the art of heartfelt expression of your creativity as well as passion. It's time to leave the nest and follow that great hope in your being, that longs for connections that open up your world rather than tie you down.
(June 21- July 22)
Something is lighting a fire deep inside you, fueling your desire to live your life on your terms. If you can gather your courage, confidence and faith, you can have important conversations with the people closest to you so they know where you stand. Your passion is nothing to be ashamed of, neither are your needs for greater freedom of expression and I suggest you begin with self-acceptance. Those that love you will understand and support you, but for that you have to open up and speak your heart. This will go far in bringing you a greater understanding of the ground you stand on, so you can be free to venture beyond your limits daily, consciously and creatively.
(July 22- Aug. 23)
You make contact with your heart this week, asking you to be bold as you speak your truth. You are at the end of a long phase of examining your own self-worth, which may have in the past prevented you from expressing your true desires. Now you move into the next phase of learning the art of expressing your creative and sexual passion and individuality in these matters. There is at least one partnership that can open up to a new level of understanding as a process of this dialogue. Recognize your emotions are not something to be afraid of, so don't be shy. There are many who hang on to your message of hope -- it gives them wings and the precious gift of freedom and truth.
(Aug. 23- Sep. 22)
You are heading into brand-new territory starting now, marking the end and beginning of am important phase of your personal journey. You've learnt difficult lessons over the past two years that may have had you questioning your own integrity. In overcoming your self-doubts, you are learning important truths about what and which relationships give you the security you need to express yourself freely. This has little to do with your ego, yet has to do with your deepest values. You know well, it is in giving that you receive. Help others see this crucial interdependence we share. You have a greater message of self-acceptance, healing and wisdom you bring to all the lives you touch daily simply by your "being."
(Sep. 22 - Oct. 23)
It may feel like you are standing in a new world, only a babe in the woods. You are indeed moving into a new journey of rediscovery of your own being that will teach you through experience that you can only be true to yourself. If you can start with taking responsibility for yourself and your own feelings, it will be easier to speak this truth with others. This week brings an important conversation with a creative or romantic situation close to your heart that requires you to be bold, honest as well as keep your sense of humor. Be honest and willing to reach for your wildest desires, as you create the life you were born to experience, brick by brick, one imaginative step at a time.
(Oct. 23- Nov. 22)
You've had to overcome deep doubts about a financial or intimate relationship. Clear any lingering doubts you have this week regarding a domestic situation by being willing to speak them honestly with all parties concerned. No matter what you fear, this can go far in soothing your worried mind. Professionally you are coming into your own and are likely to have more opportunities coming your way to shine. But you well know what you are trying to manifest as your mission is so much bigger and greater than you. Be honest, humble yet bold as you move forward. The ghosts of the past need not continue to haunt you as they have. Listen to the soulful truth and growing hope in your world that wants to liberate you from the shackles you've gotten used to.
(Nov. 22 - Dec. 22)
After walking the razor's edge with a precarious financial or professional situation, this week should bring you your first taste of freedom. You are likely to be having important conversations with partners this week, marking the sign of times to come over the next couple of years. Over the coming months work on exploring your aspirations and creating consciously the kind of life you have always dreamed and hoped for. There is no need to fear judgment for your unique ideas; they hold a great big, beautiful message of hope. Your gift to this world is your ability to dare to dream, so be bold and honest as you share your vision. You can have the support you need, if you can find the courage to believe in yourself first.
(Dec. 22- Jan. 20)
An professional opportunity could come your way that can tangibly improve your position. You can stand to reap the tangible and financial rewards of this association. But be sure to know where your deepest values lie. What you are trying to build now requires nothing less than your deepest integrity and commitment to the collective lives you touch through your endeavor. Reach for honesty and openness within all your negotiations and there will be a way for everyone to come out on top. Don't be fooled by something shiny but ultimately shallow, and be bold enough to reach for a greater truth. The only thing that could limit your success now is your own fear of it and the changes you are making.
(Jan. 20- Feb. 19)
Expect to feel the passion rise within your closest relationships. You move toward a phase of greater understanding where everyone is free to speak their mind without the fear of judgment. Be fair and wise in all your conversations this week. An important opportunity can come your way turning your luck around within a situation you've been tempted to consider hopeless. You've been on an inward journey recently of finding your own truth. Have faith in your growing sense of expansiveness and idealism, and act with this awareness. Your enlightened perspective will be your greatest teacher and confidante over the coming phase of your journey. Remember the lessons of humility, but leave the past behind for higher truth coming to light.
(Feb. 19- March 20)
An important conversation you have this week with a partner is likely to open your relationship to a new level of understanding. If you listen carefully and speak honestly, this has a greater message for your psyche that can help you heal all your relationships -- the ones you have and the ones you haven't even formed yet. You are learning the power of truth to liberate. What someone is saying is awakening a deeper soul awareness within you about your role in shaping the collective psyche. This is a dialogue that can expand your consciousness and release your creative passion to heights untold. Now and in the coming phase of your life, no matter which way the winds blow -- anchor yourself to truth and let the rest blow over into the dust where it came from.