Wading Through the Weekend
By Amanda Painter
If you had to pick a watery metaphor for the general feel of your life this week, would you choose something like sitting in a Jacuzzi with the jets on; floating on a small, still pond in a dinghy; a leaf caught in a stream's eddy; a washing machine on the 'spin' cycle; or maybe a sailboat tacking from shore to shore on the breeze, as it takes an indirect route to its destination? None of the above, or maybe an alternating combination?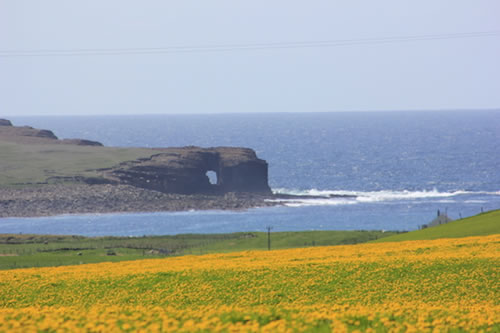 View of Bay of Skaill, Orkney, Scotland, from the Kristin Linklater Voice Center. Photo by Amanda Painter.
I ask because despite the focus on fire and air earlier this week with Tuesday's Sagittarius Full Moon opposite the Gemini Sun, there's an emphasis on the water signs as we head into the weekend.
This is coming in the form of a grand water trine: Venus in Cancer, Jupiter in Scorpio and Neptune in Pisces all in aspect to each other in the middle of their signs. A grand trine is a combination of three trine aspects connecting the three signs of any given element (in this case, water).
Although it makes a triangle shape on an astrology chart, the energy of a grand trine can often feel more 'circular', as the planets involved all feed each other in a continuous loop -- until one or more of the planets moves out of the aspect pattern. For this reason, despite all the energy it represents, sometimes a grand trine can feel a bit like getting caught in a whirlpool. It's not always easy to get traction with them -- though we don't always need traction in life. Sometimes it's okay to float a little.
Between that general characteristic and the particulars of the planets and signs involved, you might find it easier through the weekend if you scale-back any ambitious plans or goals. That does not mean abandoning them; rather, merely easing off the throttle -- and your expectations -- for a few days. Eric's
Monday Diary
this week mentioned holding off on major moves for a few days, and this seems to be one of the background reasons why that might work best.
You may notice your feelings carrying you along, no matter what you try to focus on and think about intellectually. With both the Sun and Mercury in Gemini, the ability to perceive more than one side of things might underscore any sense of vacillation. Yet, this could actually be enjoyable.
Read more...
Mysterious Twinning
By Amanda Painter
Gemini is the sign of the twins. It's said that everyone has a doppleganger somewhere in the world, though the similarity is only skin deep. Real biological twins are rare enough to be considered 'special', and present astrologers with a fascinating puzzle: even when they look almost exactly alike and the birth times only vary by a few short minutes, the personalities can be strikingly different.
Tyler Vigen's
Spurious Correlations
website takes the idea of "twinning" -- and of visual likeness not always corresponding to deeper similarities -- in a bizarre but fascinating direction. He's created graphs that show how completely unrelated trends can mirror each other -- such as the divorce rate in Maine and the per capita consumption of margarine. As Vigen explains on his website:
"
Spurious Correlations
was a project I put together as a fun way to look at correlations and to think about data. Empirical research is interesting, and I love to wonder about how variables work together. The charts on this site aren't meant to imply causation nor are they meant to create a distrust for research or even correlative data. Rather, I hope this project fosters interest in statistics and numerical research."
So don't worry: those twin lines correlating marriage rates in Kentucky with the rate of people falling out of a fishing boat and drowning have no necessary bearing on you, even if you
do
get married in Kentucky and like to fish. There's no cause-and-effect relationship, just a funky mathematical coincidence. Still a good idea to wear your personal flotation device when you're in a boat, though.
---
Delve Deeper: Get a Planet Waves Membership
---
Listen to Vision Quest on Live Stream
Planet Waves has an in-house music ensemble, called Vision Quest. We have a 38-hour loop of our music, which
you can listen to any time
. Included are finished pieces, rehearsals, live concerts, drum grooves, and spoken word recordings. I consider it a kind of musical divination. Click in randomly at different times of day and see what you discover.
---
Four Winds Almanac Now Includes Daily Horoscope
Planet Waves publishes a nifty daily astrology newsletter called the
Four Winds Report
. Designed as a fast read arriving early in the morning, we're now trying an experiment -- we're including the daily horoscope for everyone.
New York Post
.
I pack a lot of energy into each sign's 50-word write-up. Part of the value of astrology is the timing, and daily allows for precision, as well as chronicling a narrative day by day.
Your almanac also includes information about Mayan astrology (long count and short count dates), several formats of the current date (including Hebrew and Islamic), a daily birthday reading, and special discounts on products and services.
Best of all, we take no outside advertising
.
Sign up free here
.
Monthly Horoscopes and Publishing Schedule Notes
Your
extended monthly horoscopes for June
were published Thursday, May 24. We published your
extended monthly horoscopes for May
on Thursday, April 26.  Please note: we normally publish the extended monthly horoscope on the first Thursday after the Sun has entered a new sign.
Aries
(March 20-April 19) -- Avoid situations where power is involved. You're likely to respond emotionally, or overreact, so steer clear of transactions involving authority. Step outside, take a walk, leave early, hang up the phone, or whatever it takes. On Monday you will have much more clarity.
Taurus
(April 19-May 20) -- You may find yourself asking deep questions today, though guide yourself back from any dark thoughts. Your soul is calling you, though that usually has a light-hearted feeling, even if you are being challenged. There is a future; it includes you; and you will find your way there.
---
---
Gemini
(May 20-June 21) -- It is easy to express anger, and usually destructive. It is difficult to be honest about what you want, and usually productive to do so. You will have a choice today between what makes you angry and what you sincerely want. They are not the same thing. They have different feeling tones.
Cancer
(June 21-July 22) -- Keep it positive -- whatever it takes. Walk away from what you don't want, and directly to what you want, including who. The setup of your chart today and through the weekend is about patterns establishing themselves and taking hold. Therefore, do what you love and toss the rest.
Leo
(July 22-Aug. 23) -- Count on certain people for their dishonesty, and also for never quite owning up to it. That would make sense, wouldn't it? However, what you can count on is you being real. That is worth money, it's worth grief, it's worth an annoyance. Be real with you and take no BS from anyone else.
Virgo
(Aug. 23-Sep. 22) -- Take the slow, persistent approach to getting your message across, and also to establishing your authority. Your title and position mean little; what you know, and the bonds you share with others, are the source of your true power. Focus on the people who build your strength.
Libra
(Sep. 22-Oct. 23) -- In order to win, you must not be afraid to lose. I'm not an athlete so I don't know how the sports pros do it; however, from a spiritual standpoint, it's essential to make peace with all possibilities, and then focus on the one you want to happen the most -- and do it.
Scorpio
(Oct. 23-Nov. 22) -- Be gentle with your words today. You may be feeling some sense of betrayal or like you're just not appreciated; that is more likely to come from past associations than from current ones. So make sure you don't take out issues from the past on people you now love and depend on.
Sagittarius
(Nov. 22-Dec. 22) -- Don't get into any negativity where money is concerned. What looks like a big deal today will seem like nothing tomorrow; in fact, what appears problematic today will feel like an opportunity tomorrow. So have some fun, take a deep breath, and let the new day dawn.
Capricorn
(Dec. 22-Jan. 20) -- Today's Moon-Pluto conjunction may have you feeling as if you're all alone in the world. That is not true, though it may seem that way if your definition of 'the world' consists of one other person -- and it's likely that one person is much closer and more available than you think.
Aquarius
(Jan. 20-Feb. 19) -- Today's perfect aspect between Mars in your sign and Mercury in the most creative zone of your chart is saying that you have an excellent outlet for whatever you may be feeling. Don't let your anger or resentment eat away at you. Rather, do something brilliant and bold.
Pisces
(Feb. 19-March 20) -- The planets are now arranged in what's called a 'grand trine' aspect, which has a presence in all of the water signs. This is a moment to choose your exit from whatever it is that you don't want, and embark on an entirely new path. Let the old end, and allow the new to begin.
---