Dear Friend and Client:
Good morning in the States, afternoon in the UK and Europe.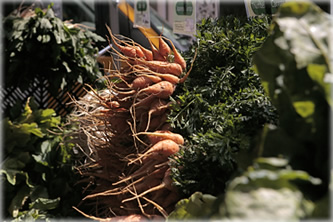 Harvest at the Kingston Farmers' Market. Photo by Eric Francis/Planet Waves.
There's not another monthly horoscope for the Libra phase, and I'm currently working on the new monthly horoscopes for November -- so I won't be writing anything extra today.
I've published three monthlies for Libra time already:
Planet Waves Monthly
(the original 'Planet Waves' horoscope),
Inner Space
and the
Alt Monthly
. These three horoscopes focus on the sign change of Saturn from Virgo to Libra on Oct. 29. I suggest you find out your ascendant if you don't know it, and work with that as well. Astrology is "all about the houses," as a great newspaper astrologer once said, and Saturn changing signs definitely qualifies.
In
yesterday's daily edition
, I talked about the station-direct of Jupiter (which was overnight) and Mercury exiting its shadow/echo phase (which it does Wednesday) and entering new territory. For our afternoon post yesterday, one of our writers attended President Obama's speech at the Human Rights Campaign in Washington, DC and has provided some excellent, unique coverage.
We're in that time of year when I'm preparing for the new annual edition, which I will announce shortly. As my friend and first spiritual study partner Scott Kalechstein used to say, it's important to get the word in before you get the word out. I am now in the 'getting the word in' phase, as I study the charts and movements of the planets through mid-2011 as the warmup for writing the annual.
During this time of year, I take every opportunity I can to do less rather than more. As I see it, my primary job is to stay balanced, healthy and focused to do the best possible work on the annual edition. The astrology of 2010 is certainly calling for that kind of care and attention.
We will see you Friday.
Yours & truly,