New York, February 13, 2018 | Read on Web | Please Visit Daily News Horoscope Area
Today is Tuesday, Feb. 13, 2018
Hebrew date is 28 Shevat 5778
Islamic date is 27 Jumada-I 1439
Mayan Tzolk'in Day is 12 Ajaw
Mayan Long Count is 13.0.5.4.0
Julian Day is 2458163
Today's Birthdays: John Louis Emil Dreyer (1852-1926), Emmett Jay Scott (1873–1957), Sarojini Naidu (1879-1949), Eleanor Farjeon (1881-1965), Grant Wood (1891-1942), Chuck Yeager (1923), Fay Ajzenberg-Selove (1926-2012), Ernst Fuchs (1930-2013), Kim Novak (1933), George Segal (1934), Oliver Reed (1938-1999), Peter Tork (1942), Elaine Pagels (1943), Stockard Channing (1944), King Floyd (1945-2006), Peter Gabriel (1950), Henry Rollins (1961), Freedom Williams (1966), Feist (1976), Mena Suvari (1979).
"No love-story has ever been told twice. I never heard any tale of lovers that did not seem to me as new as the world on its first morning."
-- Eleanor Farjeon
Moon Phase: Moon is in Waning Crescent phase and enters New phase on Feb. 15 at 1:05 pm PST / 4:05 pm EST (21:05:07 UTC).
Next New Moon (partial solar eclipse) is in Aquarius on Feb. 15 at 1:05 pm PST / 4:05 pm EST (21:05:07 UTC).
Next Full Moon is in Virgo on March 1-2 at 4:51 pm PST / 7:51 pm EST (00:51:15 UTC).
Moon Sign: Moon is in Capricorn and enters Aquarius at 7:11 am PST / 10:11 am EST (15:11:20 UTC).
Sun Degree: 25-26 Aquarius.
Planetary Stations and Sign Changes
Moon enters Aquarius at 7:11 am PST / 10:11 am EST (15:11:20 UTC).
Interesting Selected Aspects | Data by Serennu
-- Vesta square Neptune at 12:16 am PST / 3:16 am EST (08:15:48 UTC).
-- Mercury square Bienor at 3:39 am PST / 6:39 am EST (11:39:10 UTC).
-- Mercury square Jupiter at 2:39 pm PST / 5:39 pm EST (22:38:41 UTC).
-- Mercury square Ceto at 2:58 pm PST / 5:58 pm EST (22:57:34 UTC).
-- Sun sextile Uranus at 6:23 pm PST / 9:23 pm EST (02:22:47 Feb. 14 UTC).
Subscribe to Planet Waves -- sign up here | Visit Our Website at this link
If Your Birthday is Feb. 13
(The Day of Liveliness) | Aquarius Birthday Reading | All Other Signs
Take every opportunity to wrap up old business, and make room in your life for what you've never done before. New adventures are calling you; though past projects are calling for completion, and also, a clear head about what you've learned and what you've accomplished. Claim your victories and learn from your losses, and prepare to begin a whole new life.
Current Aquarius Weekly Horoscope

The bigger your plans, the more they may evoke your insecurities. This is typical even of high achievers, though you may want to gain some insight into the issue. Consider two possibilities: one is that you're confusing your potential success with your self-worth.

Read more...
Current Aquarius Monthly Horoscope

You don't need a conspiracy theory to understand your life. It's a fact that the elements of your existence have come together by design, most of which was based on your own intentions, choices and actions.

Read more...
Written in the Planets
The cosmos seems to be conspiring to help you free up some energy as we near the eclipse and Aquarius New Moon on Thursday. Mercury in Aquarius square Jupiter in Scorpio offers the ability to look at both the wide-angle view and the long-distance view as you make some plans for the future. Pay attention to details that don't fit your vision rather than ignoring them. The more you can flex to accommodate those bits, the more opportunity you create for yourself to open up new possibilities. The Aquarius Sun's sextile to Uranus in Aries offers some extra spark to your intuition, inventiveness and urge for freedom. At the very least, you can use this to rearrange your workspace and see how it shifts your perspective.

You can now get instant access to the first four signs of the 2018 Planet Waves annual, The Art of Becoming -- with more to follow. Order all 12 signs here to read your Sun, Moon and rising sign and those of loved ones, or choose your individual signs here.

Aries (March 20-April 19) -- One message from this week's eclipse of the Sun is that you must be more outspoken when you notice something going wrong in the world. You're the bold type, and you're actually not afraid to raise your voice. When you see injustice in any form, be the first to do something about it. Taurus (April 19-May 20) -- Always remember that informal leadership tends to be more influential than formal. That means popularity trumps rank. Knowing people and understanding something about them is more important than whether they report to you. Work with this, and you'll go far. Gemini (May 20-June 21) -- Be careful evaluating what information comes to you from others over the next few days, especially if it's in the form of a complaint. Rather than believe or disbelieve, take what people tell you and put it on hold for a while, awaiting further confirmation, or the lack thereof. Cancer (June 21-July 22) -- Eventually, people will figure out that "every man for himself" is no way to run an economy. But, like kids in kindergarten, we need to teach one another that it's appropriate to share. You're in a position to move resources in a direction where they're needed most. Please see what you can do. Leo (July 22-Aug. 23) -- You're in a position where you have to depend on others, though you must count on yourself first. You're the one and only person who must be ready and willing to get the result that you want. Once you're solid, others will respond to your drive and dedication. But you must take the lead. Virgo (Aug. 23-Sep. 22) -- Focus on collaboration and cooperation. As the unusual events of the next two days develop, that's what you will count on to get the job done. Not rank, not pecking order and certainly not pay grade: a sincere collective approach to the work. Know when to ask for help -- and who to ask.

Libra (Sep. 22-Oct. 23) -- As you let go of your insecurities, you'll find it easier to work with, and play with, other people. You may not like to admit how much your lack of confidence holds you back, though you'll be happy to acknowledge how gaining confidence puts you right into the game, which is where you belong.

Scorpio (Oct. 23-Nov. 22) -- One theme of this week's solar eclipse is about sizing up whose needs are more important -- yours, or the people you care about. You may not need to choose one over the other, though. As the old saying goes, what's good for the goose is good for the gander. There's plenty to go around. Sagittarius (Nov. 22-Dec. 22) -- Events over the next few days will help you clarify where your opinions and values stand in contrast to those of the people you know. Usually this goes unquestioned; people will do just about anything for approval. However, this is no longer working for you. Conformity is not an option. Capricorn (Dec. 22-Jan. 20) -- Prepare for some financial reorganization. Tax time is approaching, and you may decide that you need a whole new structure or system of managing your finances. Most people miss the benefits of professional bookkeeping and tax preparation, though you might find this profitable.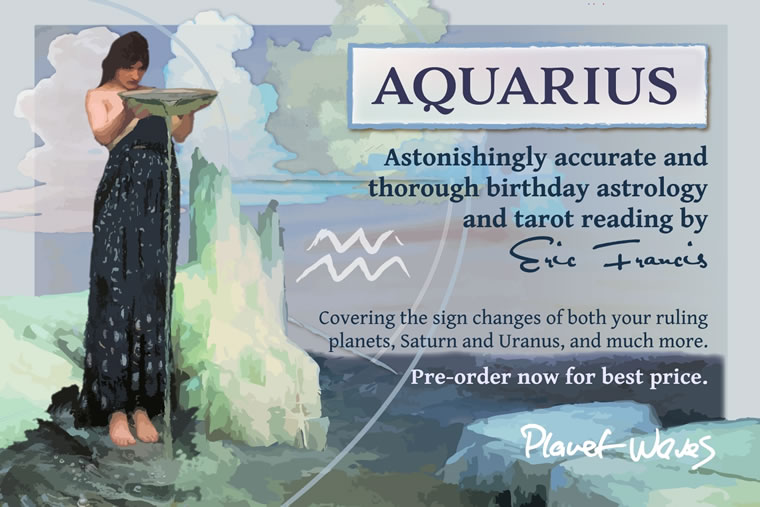 Aquarius Birthdays 2018:
The Perfect Reading for Your Evolving Aquarian Life
"My takeaway from the Aquarius reading is a sense of PEACE. You really do UNDERSTAND what Aquarians are going through these days (and yes, because you do understand and explain the issues I am going through so well). Yes: you are an honorary Aquarian." -- Eileen
Dear Reader with Aquarius Sun, Moon or Rising Sign:

When you look back on the last year (or listen to last year's Aquarius Birthday reading), what do you notice most? Is it the difficulties you've struggled to overcome; or the new and creative ways you've approached life on your own terms; or the way you've interacted with those around you?

Life as an Aquarius is in the process of shifting: we're between two eclipses that involve your sign; one of your ruling planets has changed signs (Saturn) and another one is gearing up to do so in May (Uranus). And Chiron is about to move into Aries, shifting the focus of your learning and healing agenda, and hopefully providing a little relief.

Both your inner experience and your outer reality are undergoing significant changes. Using his signature blend of astrological experience, therapy training, life coaching, and motivational speaking, Eric will cover these major changes to the sky (along with subtler points) in your upcoming 2018 Aquarius Birthday Reading.

You can still pre-order this reading for the lowest price we offer -- you get two segments of astrology audio (at least 30 minutes each) plus a tarot reading for the year. It will be the perfect complement to your Art of Becoming annual reading (if you've ordered that, too): an intensive audio meditation you can download and listen to anytime, anywhere.

Wishing you a happy birthday season, and dynamic use of these eclipses.

Yours & truly,



Amanda Painter

P.S. If you know and love an Aquarian, show them by giving the 2018 Aquarius Birthday Reading as a gift!

P.P.S. If you'd like to review your year and check Eric's accuracy as you head into The Eclipse Zone, please listen to last year's reading, as a gift from Planet Waves.
---
Aquarius (Jan. 20-Feb. 19) -- The Moon enters your sign today, in advance of Thursday's solar eclipse. This will take some pressure off, and help you feel like you're at least dealing with known variables rather than unknown ones. The message: wrap up old business. Finish what needs to be finished. You will find that relaxing. Pisces (Feb. 19-March 20) -- Many spiritual traditions say that the way to change your reality is to change your thoughts. Anyone who has tried this knows it's easier said than done -- though this week, you have a distinct advantage. You will be able to see the ideas you want to let go of, and have a mysterious power of erasure.

Monthly Horoscopes and Publishing Schedule Notes



Your extended monthly horoscopes for February were published on Thursday, Jan. 25. We published your extended monthly horoscopes for January on Thursday, Dec. 21. Please note: we normally publish the extended monthly horoscope on the first Friday after the Sun has entered a new sign.


---
---