New York, February 10, 2018 | Read on Web | Please Visit Daily News Horoscope Area
Today is Saturday, Feb. 10, 2018
Hebrew date is 25 Shevat 5778
Islamic date is 24 Jumada-I 1439
Mayan Tzolk'in Day is 9 kab'an
Mayan Long Count is 13.0.5.3.17
Julian Day is 2458160
Today's Birthdays: Charles Lamb (1775-1834), Agnes Mary Clerke (1842-1907), Edith Clarke (1883-1959), Boris Pasternak (1890-1960), Jimmy Durante (1893-1980), Bertolt Brecht (1898-1956), Stella Adler (1901-1992), Walter Houser Brattain (1902-1987), Leontyne Price (1927), Robert Wagner (1930), Roberta Flack (1937), Jimmy Merchant (1940), Frances Moore Lappe (1944), Peter Allen (1944-1992), Alexander Payne (1961), Laura Dern (1967), Vince Gilligan (1967), Elizabeth Banks (1974), Uzo Aduba (1981).
"Art is not a mirror held up to reality
but a hammer with which to shape it."
-- Bertolt Brecht
Moon Phase: Moon is in Last Quarter phase and enters Waning Crescent phase on Feb. 11 at 10:35 am PST / 1:35 pm EST (18:34:58 UTC).
Next New Moon is in Aquarius on Feb. 15 at 1:05 pm PST / 4:05 pm EST (21:05:07 UTC).
Next Full Moon is in Virgo on March 1-2 at 4:51 pm PST / 7:51 pm EST (00:51:15 UTC).
Moon Sign: Moon is in Sagittarius and enters Capricorn today at 6:21 pm PST / 9:21 pm EST (02:20:53 Feb.11 UTC).
Sun Degree: 22-23 Aquarius.
Planetary Stations and Sign Changes
Venus enters Pisces at 3:19 pm PST / 6:19 pm EST (23:19:26 UTC).
Moon enters Capricorn at 6:21 pm PST / 9:21 pm EST (02:20:53 UTC).
Interesting Selected Aspects | Data by Serennu
-- Sun square Bienor at 12:02 am PST / 3:02 am EST (08:02:23 UTC).
-- Mercury opposite Praamzius at 1:50 am PST / 4:50 am EST (09:49:34 UTC).
-- Sun square Jupiter at 3:21 pm PST / 6:21 pm EST (23:20:34 UTC).
-- Mars square Orcus at 5:24 pm PST / 8:24 pm EST (01:23:43 Feb. 11 UTC).
-- Sun square Ceto at 8:55 pm PST / 11:55 pm EST (04:54:35 UTC).
Subscribe to Planet Waves -- sign up here | Visit Our Website at this link
If Your Birthday is Feb. 10
(The Day of Acclaim) | Aquarius Birthday Reading | All Other Signs
Give yourself the freedom to say whatever you need to say. Establish a policy of being transparent, and courageous about speaking up. Bring an end to a long policy of reluctance to describe your point of view or personal truth. Being real might shake the tree, and you might not get all good reviews. But you'll learn how to get over fear of your own ideas.
Current Aquarius Weekly Horoscope

Planets are gathering in your sign, welcoming an eclipse of the Sun that takes place in about a week and a half. You have resources. You are moving energy. You are about to take a tremendous step in your growth and your maturity.

Read more...
Current Aquarius Monthly Horoscope

You don't need a conspiracy theory to understand your life. It's a fact that the elements of your existence have come together by design, most of which was based on your own intentions, choices and actions.

Read more...
Written in the Planets
With Venus entering Pisces almost simultaneously with the Aquarius Sun making a square to Jupiter in Scorpio, today's energy is looking useful for creative endeavors. You don't have to think of yourself as 'an artist' to make the most of this, however. Any activity that moves you toward a goal, opens up some space in your life, or shifts a pattern in any way can be seen as a 'creative' act. Keep the common good in mind, keep your actions above-board, and be willing to earn what you desire by applying some discipline. Tonight, let what is beautiful, soft, poetic or compassionate draw you closer.

Eric is busily working on The Art of Becoming, the 2018 Planet Waves Annual; and it's shaping up to be an exciting, information-packed edition. You can pre-order all 12 chapter-length signs here, or you may choose your individual signs here.

Aries (March 20-April 19) -- A partner or loved one may be experiencing a kind of growth that you don't necessarily understand, though you can still step back and give them the space to experience it. You can benefit from their discovery process, though only if you're positive and supportive toward them. Taurus (April 19-May 20) -- Venus, your ruling planet, changes signs tomorrow. It's currently right at the end of Aquarius, which describes you going through a kind of spiritual initiation. You're learning something through direct experience that is impossible to learn any other way. Whatever is happening, go through it consciously. Gemini (May 20-June 21) -- Even minor incidents could have disproportionate, far-reaching consequences, so make sure you move with awareness of your environment. Clarify any misunderstandings while they are small; and if texting or emailing gets weird, dial someone's number and talk it out, speaking as softly as possible. Cancer (June 21-July 22) -- Choices you make today will have far-reaching consequences, so you might want to dial back your enthusiasm. Work from clear priorities that you're not afraid to amend, re-order and rearrange. Make only those decisions you must make, and save the rest for when their due date is up. Leo (July 22-Aug. 23) -- You want your ideas to go far and wide, and sometimes you just have to trust that you're having an impact. That said, there is work to be done. You need the right blend if inspiration and perspiration if you want to establish yourself as a leader in your field. You can, if you make the investment. Virgo (Aug. 23-Sep. 22) -- When you feel strongly about something, it's difficult to be objective about it. Yet there's a situation in your life that's calling on you to take some distance, and a circumspect approach. True objectivity is nearly impossible to attain, but you can look at something from many different viewpoints.

Libra (Sep. 22-Oct. 23) -- There are times when too many cooks spoil the broth. Make sure you're the person who is signing off on the important decisions that affect your work or other aspects of your life. But before you do that, get some opinions, which you're free to accept or reject as you see fit.

Scorpio (Oct. 23-Nov. 22) -- Track your thoughts on the subject of 'what you must give up, to have what you want'. It's true that making gains comes with making sacrifices, like the musician who gives up banjo to focus on guitar. However, unusual aspects are calling for you to take your time making that assessment. Sagittarius (Nov. 22-Dec. 22) -- Take the widest possible view of the world today, as if you're looking from a high building, or using a wide-angle lens. This perspective will help you make sense of your reality, which is easy to lose track of when you only look at people and things that are right in front of you. Capricorn (Dec. 22-Jan. 20) -- Saturday is usually a party night; though, for you, tonight looks like an opportunity to get a week's worth of work done in an evening. So you might consider staying in, choosing the most meaningful or pressing task, and burning the midnight oil. You'll be amazed what you accomplish.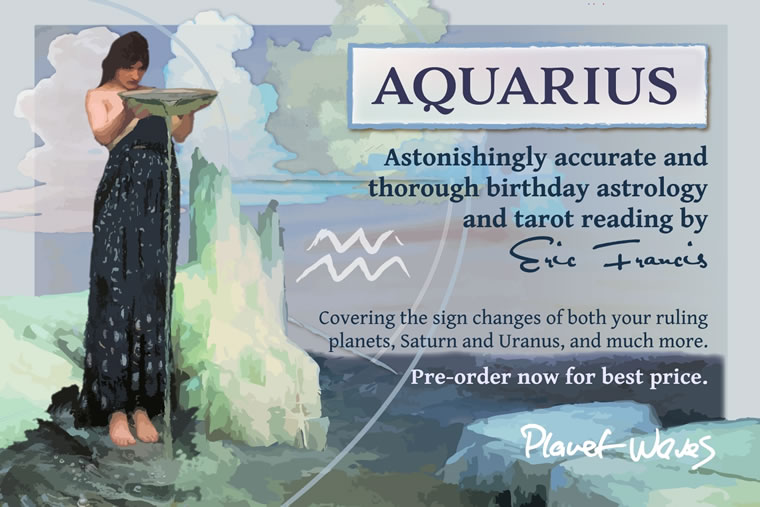 Aquarius Birthdays 2018:
The Perfect Reading for Your Evolving Aquarian Life
"My takeaway from the Aquarius reading is a sense of PEACE. You really do UNDERSTAND what Aquarians are going through these days (and yes, because you do understand and explain the issues I am going through so well). Yes: you are an honorary Aquarian." -- Eileen
Dear Reader with Aquarius Sun, Moon or Rising Sign:

When you look back on the last year (or listen to last year's Aquarius Birthday reading), what do you notice most? Is it the difficulties you've struggled to overcome; or the new and creative ways you've approached life on your own terms; or the way you've interacted with those around you?

Life as an Aquarius is in the process of shifting: we're between two eclipses that involve your sign; one of your ruling planets has changed signs (Saturn) and another one is gearing up to do so in May (Uranus). And Chiron is about to move into Aries, shifting the focus of your learning and healing agenda, and hopefully providing a little relief.

Both your inner experience and your outer reality are undergoing significant changes. Using his signature blend of astrological experience, therapy training, life coaching, and motivational speaking, Eric will cover these major changes to the sky (along with subtler points) in your upcoming 2018 Aquarius Birthday Reading.

You can still pre-order this reading for the lowest price we offer -- you get two segments of astrology audio (at least 30 minutes each) plus a tarot reading for the year. It will be the perfect complement to your Art of Becoming annual reading (if you've ordered that, too): an intensive audio meditation you can download and listen to anytime, anywhere.

Wishing you a happy birthday season, and dynamic use of these eclipses.

Yours & truly,



Amanda Painter

P.S. If you know and love an Aquarian, show them by giving the 2018 Aquarius Birthday Reading as a gift!

P.P.S. If you'd like to review your year and check Eric's accuracy as you head into The Eclipse Zone, please listen to last year's reading, as a gift from Planet Waves.
---
Aquarius (Jan. 20-Feb. 19) -- If you haven't gotten out of the house for a while, tonight would be an excellent opportunity. Just make sure you don't overspend your budget. The Moon surfing through Sagittarius could have you in a generous mood. Set some limits; a little goes a long way, and you make your own fun, anyway. Pisces (Feb. 19-March 20) -- Dream big dreams, and remember your purpose for being in the world. You don't need to conjure anything up: only to dial in the memory, knowing that it's for a purpose. There may be some obstacles in the way, though you'll soon have an opportunity to clear many of them.

Monthly Horoscopes and Publishing Schedule Notes



Your extended monthly horoscopes for February were published on Thursday, Jan. 25. We published your extended monthly horoscopes for January on Thursday, Dec. 21. Please note: we normally publish the extended monthly horoscope on the first Friday after the Sun has entered a new sign.


---
---