New York, January 31, 2018 | Read on Web | Please Visit Daily News Horoscope Area
Today is Tuesday, Jan. 31, 2018
Hebrew date is 15 Shevat 5778
Islamic date is 14 Jumada-I 1439
Mayan Tzolk'in Day is 12 Kimi
Mayan Long Count is 13.0.5.3.7
Julian Day is 2458150
Today's Birthdays: Franz Schubert (1797-1828), Theodore William Richards (1868-1928), Betty Parsons (1900-1982), Tallulah Bankhead (1902-1968), Thomas Merton (1915-1968), Alan Lomax (1915-2002), Jackie Robinson (1919-1972), Carol Channing (1921), Norman Mailer (1923-2007), Benjamin Hooks (1925-2010), Chuck Willis (1928-1958), Philip Glass (1937), Ken Wilber (1949), John Lydon [Johnny Rotten] (1956), Dexter Fletcher (1966), Minnie Driver (1970), Portia de Rossi (1973), Kerry Washington (1977), Justin Timberlake (1981).
"Both the old and new physics were dealing with shadow-symbols, but the new physics was forced to be aware of that fact - forced to be aware that it was dealing with shadows and illusions, not reality."
-- Ken Wilber
Moon Phase: Moon is in Waxing Gibbous phase and enters Full phase today at 5:27 am PST / 8:27 am EST (13:26:39 UTC).
Next New Moon is in Aquarius (Partial Solar Eclipse) on Feb. 15 at 1:05 pm PST / 4:05 pm EST (21:05:07 UTC).
Next Full Moon is in Virgo on March 1-2 at 4:51 pm PST / 7:51 pm EST (00:51:15 UTC).
Moon Sign: Moon is in Leo and enters Virgo on Feb. 1 at 11:13 am PST / 2:13 pm EST (19:12:49 UTC).
Sun Degree: 12-13 Aquarius.
Planetary Stations and Sign Changes
Mercury enters Aquarius at 5:39 am PST / 8:39 am EST (13:38:59 UTC).
Interesting Selected Aspects | Data by Serennu
-- Sun opposite Ceres at 4:51 am PST / 7:51 am EST (12:50:47 UTC).
-- Mercury square Rhadamanthus at 5:09 am PST / 8:09 am EST (13:08:36 UTC).
-- Sun square Mors-Somnus at 9:41 am PST / 12:41 pm EST (17:40:55 UTC).
-- Mercury opposite Varuna at 10:48 am PST / 1:48 pm EST (18:47:49 UTC).
-- Mars square Aphidas at 11:46 am PST / 2:46 pm EST (19:45:33 UTC).
Subscribe to Planet Waves -- sign up here | Visit Our Website at this link
If Your Birthday is Jan. 31
(The Day of Poetic Song) | Aquarius Birthday Reading | All Other Signs
An eclipse of the Moon on your birth anniversary says it's time to focus on what matters most, which will mean sorting out your priorities. Your relationships must go beyond your mother's example of what love and commitment are about, and it's necessary that you let go of the baggage she may have loaded you down with. You can do it if you want. Mercury changes signs today as well, firing up your creative ambitions, stoking you with ideas and inviting you to act on them. Choose friends who respect your independence, above all else.
Current Aquarius Weekly Horoscope

This week, there's a Full Moon eclipse in your opposite sign Leo. Think of this as a tune-up of your relationships, particularly on the emotional level. It might feel like a pressure release.

Read more...
Current Aquarius Monthly Horoscope

You don't need a conspiracy theory to understand your life. It's a fact that the elements of your existence have come together by design, most of which was based on your own intentions, choices and actions.

Read more...
Written in the Planets
With a total lunar eclipse making today's blue Leo super-Full-Moon extra special, how are you planning to ride the energy? Be on the lookout for ways you might be able to step into a responsibility you didn't think you were ready for, as well as how you feel called to feed and nurture yourself (and possibly others). The really wild thing about eclipses -- and what we do in the couple weeks between them -- is that the energetic signature accompanying what we do can ripple out and develop for months to come. So even though today is a Full Moon and not a New Moon, you might think of this whole two-week period as one of seeding. What do you wish to grow, and how can you touch on it today? (You can read more detailed coverage of the Full Moon and eclipse here.) Mercury entering Aquarius just a few minutes after this peak event may assist in opening your mind to new experiences, especially on an intuitive level or through friends.

Eric is busily working on The Art of Becoming, the 2018 Planet Waves Annual; and it's shaping up to be an exciting, information-packed edition. You can pre-order all 12 chapter-length signs here, or you may choose your individual signs here.

Aries (March 20-April 19) -- Today's total eclipse of the Moon in the most creative, playful and erotic angle of your chart is pushing you to have fun above all else. There are some kinds of fun you can have with others, and some that call for solitude and freedom from distraction. Sort out the difference.. Taurus (April 19-May 20) -- The message of today's eclipse of the Moon is to love your home, honor your personal spaces and, most of all, to make good use of your kitchen. The world is awash in pseudo-food and diluted nutrition. You need actual food that feeds your heart, your soul and your mind -- and only you can make it. Gemini (May 20-June 21) -- Ideas are nourishing; and if you're hungry, you might eat some. Today's eclipse of the Moon is suggesting you read more. Read, as in actual books, with words printed on the page. Your mind will experience this as food, and you will grow tall and develop strong bones. Cancer (June 21-July 22) -- This morning there's an eclipse of the Moon in the house of your chart associated with money, resources and self-esteem. What you must remember at all times is that you are good enough. You don't need to argue that point; you need to know it in your blood, bones and breath. Leo (July 22-Aug. 23) -- Today's eclipse of the Moon in your sign will call into focus emotional matters associated with your mother. What is your connection to her, and do you consider it healthy for you? Do you need more independence, and what exactly are the ties that bind? Give those questions a few months. Virgo (Aug. 23-Sep. 22) -- There are practical ways to address your fears and your concerns. You don't need to be mystified by them, or haunted. However, everything depends on your ability to communicate; and that, in turn, is about your ability to say yes and no: that is, managing to make basic decisions when you need to. Libra (Sep. 22-Oct. 23) -- These will be a remarkably creative and inventive few days. Try things you've never done, and do everything you can to meet new people, especially at random. Strike up conversations with people in elevators, while waiting in line, or with those you bump into on the street. You'll make some new friends. Scorpio (Oct. 23-Nov. 22) -- Anyone responsible for others, such as managing them or taking care of them, is aware how deep the struggles of existence go at this time. It sometimes seems that nobody is immune. It's important that you not take on too much. Do what you can; refer people to others when you can. Sagittarius (Nov. 22-Dec. 22) -- Your mind is in rare form right now. Focus inwardly on your thoughts and there's no problem you won't be able to solve. You can guide group discussions to positive outcomes, and tap into collective creativity. Do that today and this gift will stick with you for months or years. Capricorn (Dec. 22-Jan. 20) -- The more you know what you want, the greater your ability to manifest it. The slight issue with your otherwise amazing solar chart is that you might deny or overlook what you want the most, so be a little bold and brazen with yourself. Leave the idea of 'impossible' out of the discussion.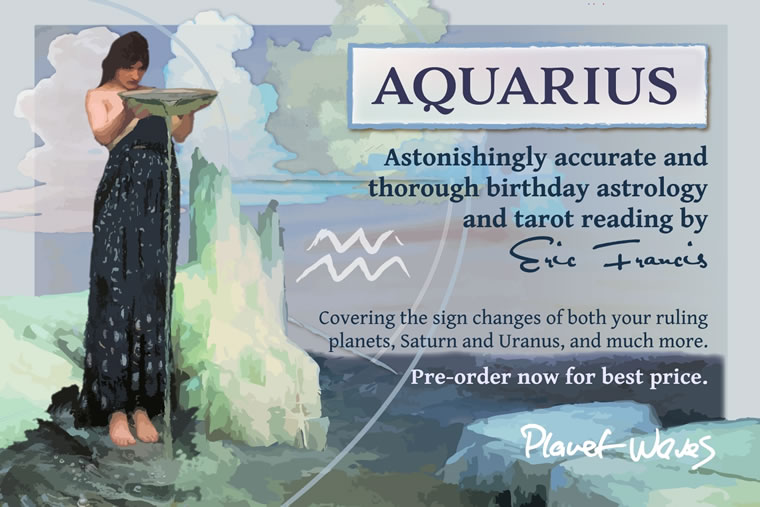 Aquarius Birthdays 2018:
Pointing Yourself in the Right Direction
"Thank you. I've been a fan for a few years and always feel nourished by every reading -- my own and others. This particular reading hit home and felt like a swoop of fresh air pointing me home. Thank you again."
-- Elaine Sonne
Dear Aquarius Sun or Aquarius Rising Reader:

Some of the most noteworthy astrological events of this year relate directly to your sign. Whether this is exciting to you or slightly intimidating, you can consider yourself fortunate: Eric will be covering the unique opportunities and challenges these events may bring you in his usual grounded, reassuring, inspiring and perspective-shifting way in your 2018 Aquarius Birthday Reading.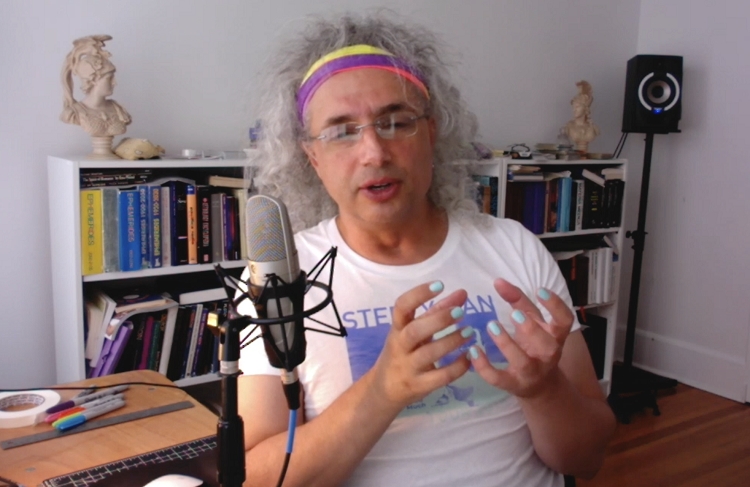 Eric Francis.

Among the events influencing your year are both of your ruling planets in new signs: Saturn entered Capricorn -- the 'hidden area' of your chart -- in December; and Uranus moves into fellow fixed sign Taurus in May.

As your inner landscape and outer environment take on a new flavor, Eric will be guiding through it all. Also of particular note: we're about to get the first of two eclipses involving your sign.

The Jan. 31 Leo Full Moon will oppose the Aquarius Sun for a lunar eclipse; then on Feb. 15, the Aquarius New Moon will also be a partial solar eclipse. Translation: your solar year is getting off to a potentially potent start, the effects of which will ripple out for months to come. Using his signature blend of astrological experience, therapy training, life coaching, and motivational speaking, Eric will cover these major changes to the sky (along with subtler points) in your upcoming reading.

When you pre-order your 2018 Aquarius Birthday Reading, you'll lock in the lowest price we offer on two segments of astrology (each at least 30 minutes long) plus a tarot reading for 2018. You can listen to this reading as many times as you like throughout the year -- to check your progress, or to receive a little extra encouragement, insight and empowerment to tackle whatever's come your way.

"I am listening to it again now, and there are so many more gems coming to me. Profound, deep and so thought provoking...inspired!"
-- Rhonda Benson
Please note that the price increases as Eric nears publication, and then increases again.

Yours & truly,



Amanda Painter

P.S. The 2018 Aquarius Birthday Reading is distinctly different from the Aquarius written reading available in the upcoming Art of Becoming annual project. It covers your key astrology in a different format and emphasis, capitalizing on Eric's more intuitive, improvisational skills. The Birthday Reading also makes a fantastic gift for a loved one!



---
Aquarius (Jan. 20-Feb. 19) -- Today's eclipse of the Moon in your opposite sign Leo is encouraging you to look behind the surface layers of a relationship. This might include business, family or personal. It's likely that something will be revealed; and if it is, know you can put that information to good use. Pisces (Feb. 19-March 20) -- Today's Full Moon eclipse in Leo is reminding you to take care of yourself. Pace yourself carefully, and make sure that (in the words of the ancients) "food is your medicine and medicine is your food." Get enough rest, and remember: work is precious, so save a little for tomorrow.

Monthly Horoscopes and Publishing Schedule Notes



Your extended monthly horoscopes for February were published on Thursday, Jan. 25. We published your extended monthly horoscopes for January on Thursday, Dec. 21. Please note: we normally publish the extended monthly horoscope on the first Friday after the Sun has entered a new sign.


---
---