New York, January 28, 2018 | Read on Web | Please Visit Daily News Horoscope Area
Today is Sunday, Jan. 28, 2018
Hebrew date is 12 Shevat 5778
Islamic date is 11 Jumada-I 1439
Mayan Tzolk'in Day is 9 K'an
Mayan Long Count is 13.0.5.3.4
Julian Day is 2458147
Today's Birthdays: Vladimir Solovyov (1853-1900), Colette (1873-1954), Alice Neel (1900-1984), Richmond Barthé (1901-1989), Jackson Pollock (1912-1956), Robert W. Holley (1922-1993), Hiroshi Teshigahara (1927-2001), Claes Oldenburg (1929), Edith M. Flanigen (1929), Alan Alda (1936), John Tavener (1944-2013), John Perkins (1945), Sam Phillips (1962), Mo Rocca (1969), Sarah McLachlan (1968), Rakim (1968), Rick Ross (1976), Elijah Wood (1981).
"There are no ordinary cats."
-- Colette
Moon Phase: Moon is in First Quarter phase and enters Waxing Gibbous phase today at 12:12 am PST / 3:12 am EST (08:12:14 UTC).
Next Full Moon is in Leo on Jan. 31 at 5:27 am PST / 8:27 am EST (13:26:39 UTC).
Corresponding New Moon is in Aquarius on Feb. 15 at 1:05 pm PST / 4:05 pm EST (21:05:07 UTC).
Moon Sign: Moon is in Gemini and enters Cancer today at 10:57 am PST / 1:57 pm EST (18:57:21 UTC).
Sun Degree: 9-10 Aquarius.
Planetary Stations and Sign Changes
Moon enters Cancer at 10:57 am PST / 1:57 pm EST (18:57:21 UTC).
Rhadamanthus stations retrograde at 5:41 pm PST / 8:41 pm EST (01:41:01 Jan. 29 UTC).
Interesting Selected Aspects | Data by Serennu
-- Mercury square Uranus at 11:08 pm Jan. 27 PST / 2:08 am EST (07:08:04 UTC).
-- Mercury sextile Chiron at 10:50 am PST / 1:50 pm EST (18:49:38 UTC).
-- Mercury trine Sedna at 12:08 pm PST / 3:08 pm EST (20:08:20 UTC).
-- Mercury square Haumea at 12:52 pm PST / 3:52 pm EST (20:52:28 UTC).
Subscribe to Planet Waves -- sign up here | Visit Our Website at this link
If Your Birthday is Jan. 28
(The Day of Outstanding Achievements) | Aquarius Birthday Reading | All Other Signs
Don't be surprised if things go your way. As David Byrne once said, "Watch out, you might get what you're after." If it turns out you don't, first ask if you really wanted that thing; if yes, then refine your approach. If no, promptly make a new goal and devote yourself to that. Be happy to remove an old goal from your list and replace it with a new one.
Current Aquarius Weekly Horoscope

The Sun and Venus are in your sign, and you're probably feeling a lot better than you have in weeks or even months. You know that positive changes are on the horizon; there's excitement in the air.

Read more...
Current Aquarius Monthly Horoscope

You don't need a conspiracy theory to understand your life. It's a fact that the elements of your existence have come together by design, most of which was based on your own intentions, choices and actions.

Read more...
Written in the Planets
With Mercury's square to Uranus today, you might get a sudden boost to your synapses, or perhaps even a eureka moment. Pay attention to your surroundings today and be on the watch for ideas; where possible, it might also be wise to keep a notepad handy. Don't automatically dismiss anything that comes through. There's a lunar eclipse approaching; around that point, any missing pieces of information should make themselves known. What you might consider ridiculous or impossible now could make much more sense in a few days' time.

Eric is busily working on The Art of Becoming, the 2018 Planet Waves Annual; and it's shaping up to be an exciting, information-packed edition. You can pre-order all 12 chapter-length signs here, or you may choose your individual signs here.

Aries (March 20-April 19) -- Push your luck if you want to have any. And you must count on yourself. Given the choice between two goals or desires, choose on the basis of what you want, rather than what you think is easiest, or the most likely to happen. You have advantages that you're not fully aware of. Taurus (April 19-May 20) -- You're probably figuring out that there's more to reality than you believe. Yet what you believe has a way of being real to you, so it's helpful to choose carefully. This week, you must believe in yourself, because you are among a very few people who can get the job done right. Gemini (May 20-June 21) -- Whatever you may feel today or this week, and whatever may happen, remember that there are two sides to look at. Considering other possibilities is a tool that will help you detach enough to use your rational mind. That will help you determine whether or not it's true. Cancer (June 21-July 22) -- With so many planets newly arrived in your relationship angle, you may feel your life is going out of control. You have both a gas pedal and a brake pedal. You can use either one; and in some instances, you can use both at once. Just remember that both are right where you can reach them. Leo (July 22-Aug. 23) -- If you clear space for what you want to do, you're more likely to do it. Clean out a physical space for whatever creative project you've got on your agenda, and make sure there's plenty of room to spare. If your intentions are amorous, clean your bedroom, change the sheets, and freshen it up. Virgo (Aug. 23-Sep. 22) -- Once you start to express an idea, you'll feel like you struck a well. Since you probably cannot work on it 24/7, put some structure around it, to make sure you have time to develop it at all. The same is true if a new love interest enters your life; make the time and space to have fun. Libra (Sep. 22-Oct. 23) -- Be cautious if you feel like you're building up internal pressure. Make sure you vent it in small bursts on a regular basis, rather than putting yourself in a position where you wait for a long time, and then blow a gasket. You cannot work this off at the gym. The emotional reality counts. Scorpio (Oct. 23-Nov. 22) -- Your drive to be totally honest seems to come and go and come again. Therefore, ride that wave when it's good and strong. Then, when you get to the shore, notice how you feel. Don't be discouraged by the vulnerability hangover -- that feeling of oh my god, I was real. Sagittarius (Nov. 22-Dec. 22) -- Mars in your sign will challenge you to go after what you want -- and it will also stir up your doubts. Acting on one's desires often spurs some insecurity, and one result is getting over your fears. It's not that easy to take the chance of trusting your desires, though it's worth the effort. Capricorn (Dec. 22-Jan. 20) -- You've just come through a round of experience that has pushed, pulled and stretched your mind in every possible direction. What did you learn? This definition might help: learning is discovering that something is possible. What is possible today that was impossible one week ago?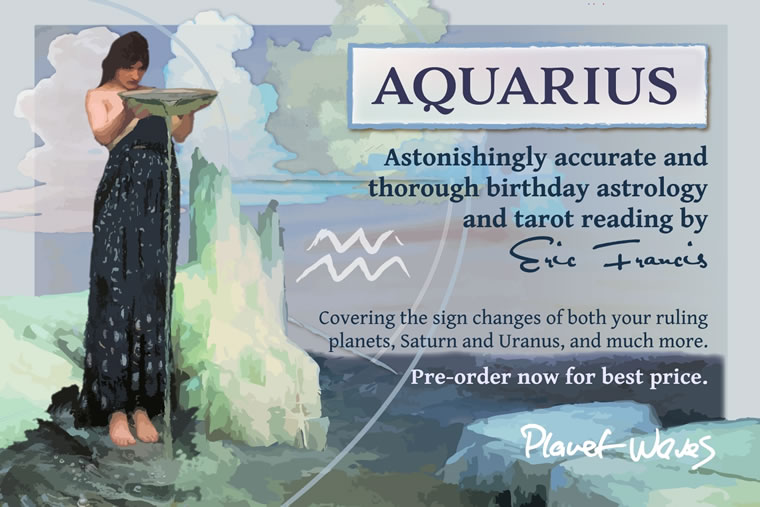 Aquarius Birthdays 2018:
Pointing Yourself in the Right Direction
"Thank you. I've been a fan for a few years and always feel nourished by every reading -- my own and others. This particular reading hit home and felt like a swoop of fresh air pointing me home. Thank you again."
-- Elaine Sonne
Dear Aquarius Sun or Aquarius Rising Reader:

Some of the most noteworthy astrological events of this year relate directly to your sign. Whether this is exciting to you or slightly intimidating, you can consider yourself fortunate: Eric will be covering the unique opportunities and challenges these events may bring you in his usual grounded, reassuring, inspiring and perspective-shifting way in your 2018 Aquarius Birthday Reading.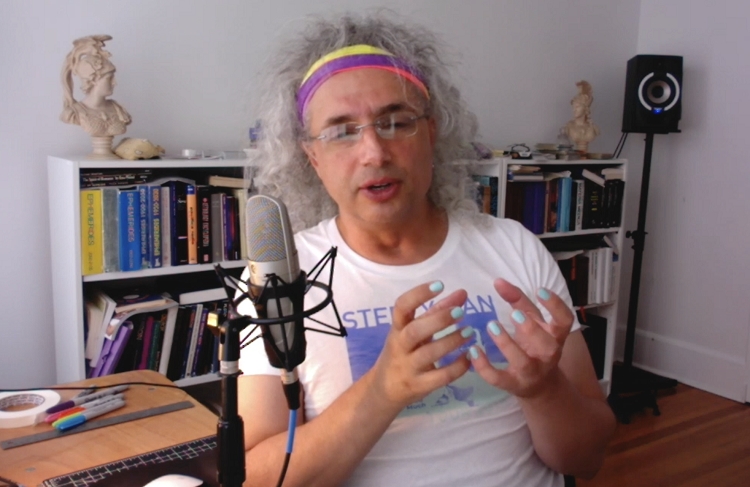 Eric Francis.

Among the events influencing your year are both of your ruling planets in new signs: Saturn entered Capricorn -- the 'hidden area' of your chart -- in December; and Uranus moves into fellow fixed sign Taurus in May.

As your inner landscape and outer environment take on a new flavor, Eric will be guiding through it all. Also of particular note: we'll soon get the first of two eclipses involving your sign.

The Jan. 31 Leo Full Moon will oppose the Aquarius Sun for a lunar eclipse; then on Feb. 15, the Aquarius New Moon will also be a partial solar eclipse. Translation: your solar year is getting off to a potentially potent start, the effects of which will ripple out for months to come. Using his signature blend of astrological experience, therapy training, life coaching, and motivational speaking, Eric will cover these major changes to the sky (along with subtler points) in your upcoming reading.

When you pre-order your 2018 Aquarius Birthday Reading, you'll lock in the lowest price we offer on two segments of astrology (each at least 30 minutes long) plus a tarot reading for 2018. You can listen to this reading as many times as you like throughout the year -- to check your progress, or to receive a little extra encouragement, insight and empowerment to tackle whatever's come your way.

"I am listening to it again now, and there are so many more gems coming to me. Profound, deep and so thought provoking...inspired!"
-- Rhonda Benson
Please note that the price increases as Eric nears publication, and then increases again.

Yours & truly,



Amanda Painter

P.S. The 2018 Aquarius Birthday Reading is distinctly different from the Aquarius written reading available in the upcoming Art of Becoming annual project. It covers your key astrology in a different format and emphasis, capitalizing on Eric's more intuitive, improvisational skills. The Birthday Reading also makes a fantastic gift for a loved one!



---
Aquarius (Jan. 20-Feb. 19) -- You may have some unusual experiences this week, as the Moon builds to a total eclipse in your opposite sign Leo. You're going to learn a lot about the people in your life, including some of the ones closest to you. They care about you more than you may know. Be generous with your gratitude. Pisces (Feb. 19-March 20) -- You must focus on what you do best, and what you want the most -- success or failure be damned. You are nothing if not devoted, and you can turn that to your own benefit. Because you are a Pisces, you tend instinctively to choose goals and actions that are loving and generous. Trust that.

Monthly Horoscopes and Publishing Schedule Notes



Your extended monthly horoscopes for February were published on Thursday, Jan. 25. We published your extended monthly horoscopes for January on Thursday, Dec. 21. Please note: we normally publish the extended monthly horoscope on the first Friday after the Sun has entered a new sign.


---
---