New York, January 24, 2018 | Read on Web | Please Visit Daily News Horoscope Area
Today is Wednesday, Jan. 24, 2018
Hebrew date is 8 Shevat 5778
Islamic date is 7 Jumada-I 1439
Mayan Tzolk'in Day is 5 Ajaw
Mayan Long Count is 13.0.5.3.0
Julian Day is 2458143
Today's Birthdays: Pierre Beaumarchais (1732-1799), Edith Wharton (1862-1937), Marguerite Durand (1864-1936), Arturo Alfonso Schomburg (1874-1938), Vicki Baum (1888-1960), Robert Motherwell (1915-1999), Ernest Borgnine (1917-2012), Jimmy Forrest (1920-1980), Maria Tallchief (1925-2013), Ruth Asawa (1926-2013), Aaron Neville (1941), Neil Diamond (1941), Michael Ontkean (1946), Michio Kaku (1947), Warren Zevon (1947-2003), John Belushi (1949-1982), Nastassja Kinski (1961), Beth Hart (1972), Ed Helms (1974), Daveed Diggs (1982).
"It is often stated that of all the theories proposed in this century, the silliest is quantum theory. In fact, some say that the only thing that quantum theory has going for it is that it is unquestionably correct."
-- Michio Kaku
Moon Phase: Moon is in Waxing Crescent phase and enters First Quarter phase today at 2:20 pm PST / 5:20 pm EST (22:20:17 UTC). Next Full Moon is in Leo on Jan. 31 at 5:27 am PST / 8:27 am EST (13:26:39 UTC). Corresponding New Moon is in Aquarius on Feb. 15 at 1:05 pm PST / 4:05 pm EST (21:05:07 UTC).
Moon Sign: Moon is in Aries and enters Taurus today at 5:39 am PST / 8:39 am EST (13:39:22 UTC).
Sun Degree: 5-6 Aquarius.
Planetary Stations and Sign Changes
Moon enters Taurus at 5:39 am PST / 8:39 am EST (13:39:22 UTC).
Interesting Selected Aspects | Data by Serennu
-- Sun square Pelion at 10:06 pm (Jan. 23) PST / 1:06 am EST (06:02:14 UTC).
-- Venus conjunct Crantor at 1:36 am PST / 4:36 am EST (09:36:19 UTC).
-- Sun square 1992 QB1 at 7:45 am PST / 10:45 am EST (15:44:30 UTC).
-- Mercury conjunct Pluto at 12:50 pm PST / 3:50 pm EST (20:49:48 UTC).
Subscribe to Planet Waves -- sign up here | Visit Our Website at this link
If Your Birthday is Jan. 24
(The Day of the Aloof Icon) | Aquarius Birthday Reading | All Other Signs
You may become obsessed with an idea, a need or a person, though if you do, try to relax and see the wider landscape of your existence. If you make a strategy to get that one thing, you'll miss many others. Let your sincerity lead the way, and strive to understand the difference between a desire and a need. That will help you prioritize.
Current Aquarius Weekly Horoscope

The Sun and Venus are in your sign, and you're probably feeling a lot better than you have in weeks or even months. You know that positive changes are on the horizon; there's excitement in the air.

Read more...
Current Aquarius Monthly Horoscope

The concept of an inner life is elusive to most people. By inner life, I mean the world that you contain, your conscious growth process, and your relationship to your past.

Read more...
Written in the Planets
As the Sun and Moon form a square today (lunar first quarter), the Sun makes a couple of interesting aspects to Vesta and 1992 QB1. It would seem there's potential to turn a corner or cross a threshold in some matter that's intellectual, physical and emotional. And the thing giving you traction to do so looks like some kind of sexual-spiritual fire, along with your devotion to keeping that fire burning brightly. If that feels a little too esoteric for your everyday purposes, tap into Mercury's conjunction to Pluto in Capricorn: use your mind to penetrate whatever captures your attention today. Just remember to look up once in a while so you don't get obsessed, and so you can take in how others are feeling.

Eric is busily working on The Art of Becoming, the 2018 Planet Waves Annual; and it's shaping up to be an exciting, information-packed edition. You can pre-order all 12 chapter-length signs here, or you may choose your individual signs here.

Aries (March 20-April 19) -- Even if you know the truth with total certainty, be cautious how you express it. Try to let others come to the same conclusion themselves. When you explain things, dial-back your intensity a little. Do your best to show rather than tell. Pictures and examples are more persuasive than arguments. Taurus (April 19-May 20) -- Put specific ideas to use. Skip the vague generalities and focus on making one tangible improvement at a time. Seek ideas from others and give them credit for making even a small contribution. No problem or situation is too difficult to bring to a productive and beneficial conclusion. Gemini (May 20-June 21) -- You're at a moment of clarity about an important business, financial or contractual issue. However, if you want to win this one, you will need to temper your emotions and work meticulously with a conscious strategy. Remember what you want. Focus your mind and make it happen. Cancer (June 21-July 22) -- If today's the day that some important decision must be made, listen to what others are saying. Let them provide you with the basic facts, the circumstances and the arguments you need to make your point. Offer them exactly what they say they want; it's likely what you want, too. Leo (July 22-Aug. 23) -- Typically, emotions are a better way to sell things than reason and rationality. However, if you want your point to be understood, you'll need to use a combination of both. Simply put, make sure your idea of sensibility feels good, and doesn't pull people too far out of their comfort zone. Virgo (Aug. 23-Sep. 22) -- You have all the information you need to guide things in the right direction. You are cautious and even conservative by nature. Nothing you're saying is outrageous, though it does have impact. Let others reveal how little they really know, and then let the facts speak for themselves. Libra (Sep. 22-Oct. 23) -- You possess a rare gift of confidence that few others even think is possible. Yet you know you've worked hard for your grounding and mental clarity. It probably pains you to see others so lost in their insecurities -- though the planets are finally offering some relief from that today. Scorpio (Oct. 23-Nov. 22) -- You may decide that something is absolutely, positively the right thing to do. Still, you must keep an open mind, and be alert to mistakes in your thinking. These will likely call for small corrections, and keeping a close eye on timing. Implement your plan one careful, thoughtful step at a time. Sagittarius (Nov. 22-Dec. 22) -- Financial goals cause problems if they violate who you really are. This involves the rare, elusive and usually misunderstood thing known as integrity. Consider what you want, and ask yourself if doing a lot more of it would serve you. That'll reveal whether it's a formula for success. Capricorn (Dec. 22-Jan. 20) -- Today you'll need to tackle the single most important task that comes up. It might be something you weren't expecting, and there may be an additional wrinkle or two to work out. Use this project as an opportunity to employ your abundant intelligence and organizational skills.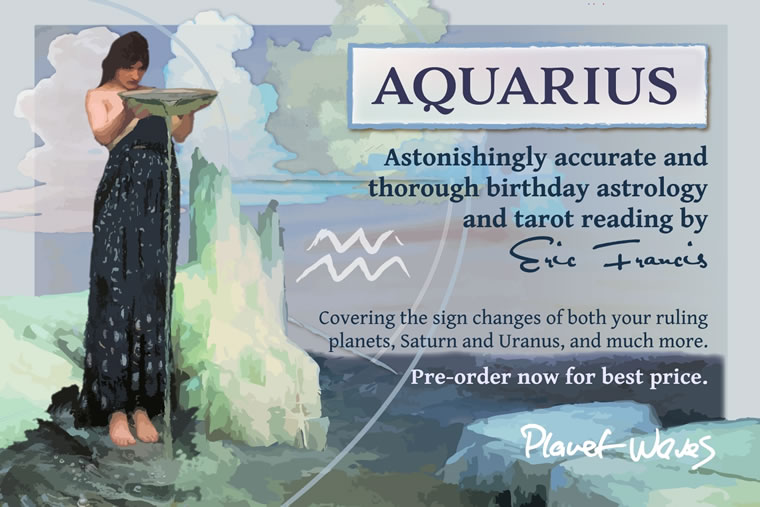 Aquarius Birthdays 2018:
Pointing Yourself in the Right Direction
"Thank you. I've been a fan for a few years and always feel nourished by every reading -- my own and others. This particular reading hit home and felt like a swoop of fresh air pointing me home. Thank you again."
-- Elaine Sonne
Dear Aquarius Sun or Aquarius Rising Reader:

Some of the most noteworthy astrological events of this year relate directly to your sign. Whether this is exciting to you or slightly intimidating, you can consider yourself fortunate: Eric will be covering the unique opportunities and challenges these events may bring you in his usual grounded, reassuring, inspiring and perspective-shifting way in your 2018 Aquarius Birthday Reading.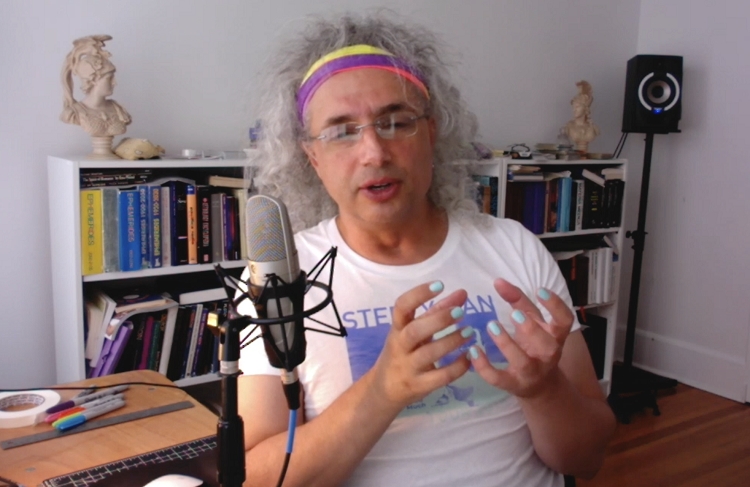 Eric Francis.

Among the events influencing your year are both of your ruling planets in new signs: Saturn entered Capricorn -- the 'hidden area' of your chart -- in December; and Uranus moves into fellow fixed sign Taurus in May.

As your inner landscape and outer environment take on a new flavor, Eric will be guiding through it all. Also of particular note: in just more than a week we get the first of two eclipses involving your sign.

The Jan. 31 Leo Full Moon will oppose the Aquarius Sun for a lunar eclipse; then on Feb. 15, the Aquarius New Moon will also be a partial solar eclipse. Translation: your solar year is getting off to a potentially potent start, the effects of which will ripple out for months to come. Using his signature blend of astrological experience, therapy training, life coaching, and motivational speaking, Eric will cover these major changes to the sky (along with subtler points) in your upcoming reading.

When you pre-order your 2018 Aquarius Birthday Reading, you'll lock in the lowest price we offer on two segments of astrology (each at least 30 minutes long) plus a tarot reading for 2018. You can listen to this reading as many times as you like throughout the year -- to check your progress, or to receive a little extra encouragement, insight and empowerment to tackle whatever's come your way.

"I am listening to it again now, and there are so many more gems coming to me. Profound, deep and so thought provoking...inspired!"
-- Rhonda Benson
Please note that the price increases as Eric nears publication, and then increases again.

Yours & truly,



Amanda Painter

P.S. The 2018 Aquarius Birthday Reading is distinctly different from the Aquarius written reading available in the upcoming Art of Becoming annual project. It covers your key astrology in a different format and emphasis, capitalizing on Eric's more intuitive, improvisational skills. The Birthday Reading also makes a fantastic gift for a loved one!



---
Aquarius (Jan. 20-Feb. 19) -- Your worst fear holds your greatest potential. It may take some trust to see how this is true, though the chances are, your deepest concern is that you somehow fail to accomplish something that's within reach, or that you let your own mind get in the way. Those things are pointing to something big. Pisces (Feb. 19-March 20) -- A rare alignment of planets all but assures that you will find a clear path forward. You've spent a lot of time cutting through the weeds, and you've become quite adept at handling your machete. Today, all you need to do is deftly handle your words, your feelings and your ideas.

Monthly Horoscopes and Publishing Schedule Notes



We published your extended monthly horoscopes for January on Thursday, Dec. 21. Your extended monthly horoscopes for December were published on Wednesday, Nov. 22. Please note: we normally publish the extended monthly horoscope on the first Friday after the Sun has entered a new sign.


---
---