New York, January 20, 2018 | Read on Web | Please Visit Daily News Horoscope Area
Today is Saturday, Jan. 20, 2018
Hebrew date is 4 Shevat 5778
Islamic date is 3 Jumada-I 1439
Mayan Tzolk'in Day is 1 k'ib'
Mayan Long Count is 13.0.5.2.16
Julian Day is 2458139
Today's Birthdays: Simon Marius (1573-1625), Eva Jessye (1895-1992), George Burns (1896-1996), Lead Belly (1888-1949), Joy Adamson (1910-1980), Juan Garcia Esquivel (1918-2002), Federico Fellini (1920-1993), DeForest Kelley (1920-1999), Ernesto Cardenal (1925), Patricia Neal (1926-2010), David Tudor (1926-1996), Buzz Aldrin (1930), David M. Lee (1931), Linda Moulton Howe (1942), David Lynch (1946), Bill Maher (1956), Apa Sherpa (1960), Heather Small (1965), Rainn Wilson (1966), Questlove (1971), Philippe Cousteau, Jr. (1980).
"Talking about dreams is like talking about movies, since the cinema uses the language of dreams; years can pass in a second, and you can hop from one place to another. It's a language made of image. And in the real cinema, every object and every light means something, as in a dream."
-- Frederico Fellini
Moon Phase: Moon is in New phase and enters Waxing Crescent phase tonight at 7:46 pm PST / 10:46 pm EST (03:45:42 Jan. 21 UTC).
Next Full Moon is in Leo on Jan. 31 at 5:27 am PST / 8:27 am EST (13:26:39 UTC).
Corresponding New Moon in Aquarius is on Feb. 15 at 1:05 pm PST / 4:05 pm EST (21:05:07 UTC).
Moon Sign: Moon is in Pisces and enters Aries on Jan. 21-22 at 10:27 pm PST / 1:27 am EST (06:26:57 UTC).
Sun Degree: 1-2 Aquarius.
Planetary Stations and Sign Changes
Mors-Somnus stations direct at 6:13 am PST / 9:13 am EST (14:12:59 UTC).
Pholus enters Capricorn at 4:11 pm PST / 7:11 pm EST (00:11:14 Jan. 21 UTC).
Interesting Selected Aspects | Data by Serennu
-- Eros conjunct Pluto at 8:22 am PST / 11:22 am EST (16:21:30 UTC).
-- Sun opposite Varuna at 8:26 am PST / 11:26 am EST (16:25:59 UTC).
-- Mercury quincunx Ceres at 7:00 pm PST / 10:00 pm EST (03:00:17 Jan. 21 UTC).
Subscribe to Planet Waves -- sign up here | Visit Our Website at this link
If Your Birthday is Jan. 20
(The Day of the Freewheeler) | Capricorn Birthday Reading | All Other Signs
Do you choose to live a closed and private life, or an open and transparent one? More lies in this decision than you may imagine. Thoughts, feelings and ideas increase by being offered to others. If you're a kind and loving person, you can surely afford to offer the spirit of your life to others. There is no conspiracy necessary, and nothing to hide.
Current Capricorn Weekly Horoscope

This week, a rare alignment between Jupiter in Scorpio and Pluto in your birth sign presents some unusual opportunity for success. You've had a taste of this the past week to 10 days, and you may already be on a roll.

Read more...
Current Capricorn Monthly Horoscope

Saturn's return to your birth sign describes a sense of completeness you have not felt for a very long time, if ever. Take a moment to collect yourself: a week or two of reflecting on your goals and preparing your mind.

Read more...
Written in the Planets
With Eros conjunct Pluto in Capricorn today, keep your feelers tuned to the substrata of your sexual energy. Are there any tremors, shifts or rumblings? Anything trying to push up to the surface? Even if you keep your discoveries private, the investigation could prove compelling. Overnight into tomorrow, centaur Pholus enters Capricorn. If anything has you feeling edgy or impatient today (a common quality when a planet's in the last degree of a sign), remember that small moves can really count for a lot with Pholus. No need to rush or push things.

Eric has got underway with The Art of Becoming, the 2018 Planet Waves Annual. You can still pre-order all 12 chapter-length signs here for just $99, or you may choose your individual signs here. On Thursday, Jan. 18, we will be increasing the price for all 12 signs to $111 -- so grab your copy soon to lock in the current price.

Aries (March 20-April 19) -- You may be feeling a bit clairvoyant, though make sure you verify your hunches before acting on them. You may have some great ideas, which you should definitely write down, and make sure they're still brilliant in the morning. Ideas are like hunches -- they require research and development. Taurus (April 19-May 20) -- The Sun has entered Aquarius, the angle of your chart associated with achievement and reputation. The more important theme is taking responsibility, which for you often translates to leadership. Not everyone can organize other people into a productive team. You have that skill in abundance. Gemini (May 20-June 21) -- Make sure you verify the claims of others before depending on them. There's an indication in today's Moon-Neptune conjunction cautioning you about a blind curve, foggy conditions or slick road surface. Therefore, slow down for a day or two, and be attentive for information that confirms or denies your hunch. Cancer (June 21-July 22) -- The emphasis of your chart is currently on group experiences rather than one-on-one. That means intimate, small-group spaces, where a real conversation can happen. Stay focused on there here and now and you will discover new ways of relating. This will be a refreshing change. Leo (July 22-Aug. 23) -- The Sun has joined Venus in the relationship angle of your solar chart, like a sunrise of love. This is not just a promise of the good things to come; it's a reminder how good your life really is. Emphasize the positive and reach out to others with your usual warmth and kindness. Virgo (Aug. 23-Sep. 22) -- The problem with this thing called work is that it's not especially creative. People are often threatened by any idea better than their own, or by anything new. The French originally thought the Eiffel Tower was ugly. You have interesting, even daring ideas. Work the crowd and build consensus. Libra (Sep. 22-Oct. 23) -- The Sun has entered your fellow air sign Aquarius, which always takes the pressure off you, and gives you a sense of your greater potential. You can afford to take some space and stretch out your mind, and your plans for the future. You'll also benefit from making some new friends. Scorpio (Oct. 23-Nov. 22) -- You have a rather spectacular imagination and unusual insight into human psychology. And for the foreseeable future, your chart is hinting strongly at you having the discipline to actually do something with your ideas. You really can, and you will surely love the feeling. Stretch, reach and create. Sagittarius (Nov. 22-Dec. 22) -- Plans for your professional development that may have seemed far-fetched only recently are now right within reach. You'll need to strip away anything that's slowing you down, and focus on the essence of what you do. You have many ideas, though one stands out as both financially and creatively viable.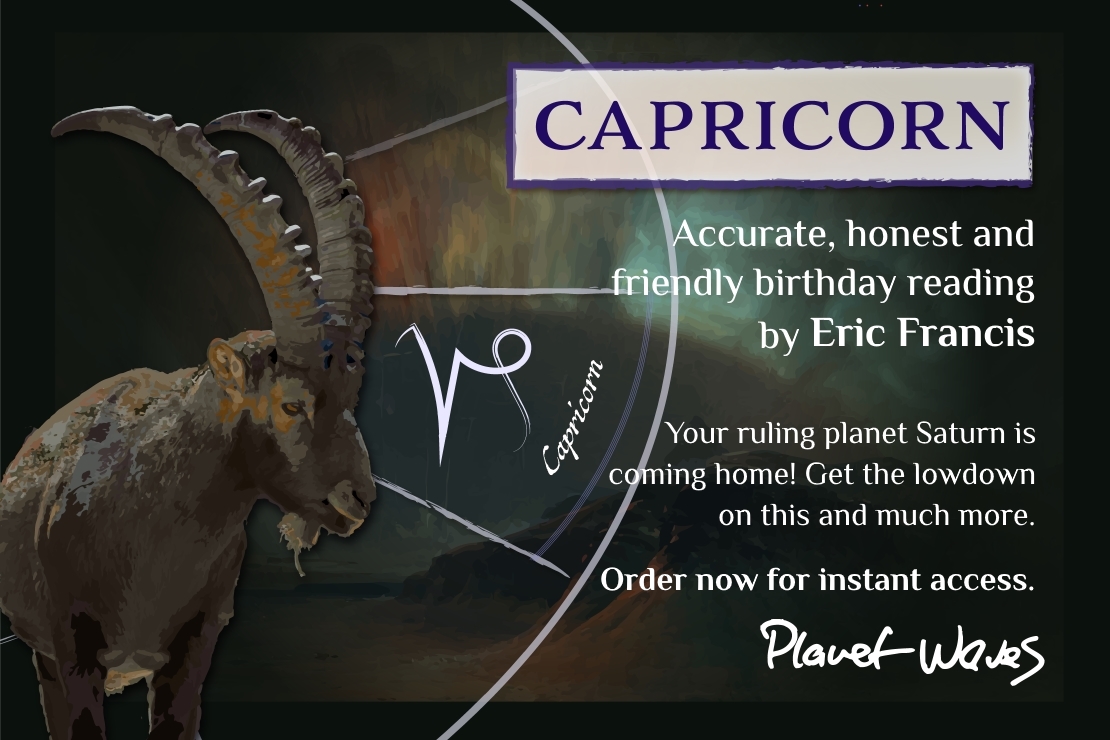 Capricorn Audio Birthday Reading is Ready!



Dear Friend and Reader:

Your Capricorn birthday reading is now published. It's about 70 minutes in length, in two sessions. This is your birthday audio -- an entirely different reading from The Art of Becoming, which will be ready in January.

You are living in extraordinary times, as a Capricorn or Cap rising. There's been nothing quite like this in your sign since the early 1990s, when the Uranus-Neptune connection passed through town. That was a while ago -- and what you're now working with is just as significant.

At the moment, the Sun, Venus, Saturn and Pluto are in your sign, which is building to a series of major events that peak in 2020. That may seem like a long way off, though time marches on. The presence of Saturn, the ruling planet of Capricorn, is a reminder to tend to your growth, shore up your foundations, and take your place in the world.

Saturn in your sign is helping to ground you in your real priorities.

In this reading, I focus on several key points of development, though none is as important as your relationship to your family, and your family history. For all you want to do in life, all the ways you want to succeed, and solidify your process of self-actualization: the family connection is essential.

This relates directly to your most intimate partnerships, because they're based on an emotional foundation that was laid in childhood. I provide specific information about how to work with these elements, and how to engage in productive self-therapy (it's not always so useful, but it can be).

Your reading includes access to last year's recording, plus your 2017 written reading (from The Book of Your Life), and a tarot reading that will arrive in about a month (maybe more, maybe less).

You can get instant access when you order the reading here for just $44. We will increase the price further when the Tarot section is published.

This reading is also included with the Backstage Pass. If you're not a BSP member, you can upgrade and extend your current subscription, and the Capricorn reading will be included.

Thank you for being a Planet Waves customer.

With love,


---

Capricorn (Dec. 22-Jan. 20) -- You have more in common with others than you may believe. Often at this stage of your life, you tend to feel like you're a lone wolf or the sole survivor. It's time to leave that thinking behind and find common ground with others. This must go deeper than opinions and the trends you like. Aquarius (Jan. 20-Feb. 19) -- It's high time you do something about your self-doubts. The time for that is when you're feeling them. What, exactly, are you concerned about? What challenges might you face that are somehow not up to your talent and your skill? Who ever tried to convince you of that? Happily, they were wrong. Pisces (Feb. 19-March 20) -- Your greatest asset is your sincerity, though you don't always use it. Part of why is that you doubt yourself when you don't have to. At the moment, you can proceed as if your misgivings are a kind of joke. You can afford to laugh at yourself for ever having doubted the power of your creativity.

Monthly Horoscopes and Publishing Schedule Notes



We published your extended monthly horoscopes for January on Thursday, Dec. 21. Your extended monthly horoscopes for December were published on Wednesday, Nov. 22. Please note: we normally publish the extended monthly horoscope on the first Friday after the Sun has entered a new sign.


---
---