New York, January 17, 2018 | Read on Web | Please Visit Daily News Horoscope Area
Today is Wednesday, Jan. 17, 2018
Hebrew date is 1 Shevat 5778
Islamic date is 30 Rabi'-II 1439
Mayan Tzolk'in Day is 11 B'en
Mayan Long Count is 13.0.5.2.13
Julian Day is 2458136
Today's Birthdays: Robert Fludd (1574-1637), Benjamin Franklin (1706-1790), Konstantin Stanislavski (1863-1938), Harry Price (1881-1948), Mack Sennett (1880-1960), Robert Maynard Hutchins (1899-1977), Peggy Gilbert (1905-2007), George Stigler (1911-1991), Betty White (1922), Eartha Kitt (1927-2008), James Earl Jones (1931), Shari Lewis (1933-1998), Muhammad Ali (1942-2016), Andy Kaufman (1949-1984), Anita Borg (1949-2003), Mick Taylor (1949), Jim Carrey (1962), Zooey Deschanel (1980).
"I don't know if you can set out to be 'a successful actor'. You can try to learn how to act, but it's a long process. I'm still learning, and I'm 83 years old. I've been at this for, what, 60 years? Almost 60 years and most of that time has been spent trying to learn how to do it."
-- James Earl Jones
Moon Phase: Moon is in New phase and enters Waxing Crescent phase on Jan. 20-21 at 7:46 pm PST / 10:46 pm EST (03:45:42 UTC).
Next Full Moon is in Leo on Jan. 31 at 5:27 am PST / 8:27 am EST (13:26:39 UTC).
Corresponding New Moon in Aquarius is on Feb. 15 at 1:05 pm PST / 4:05 pm EST (21:05:07 UTC).
Moon Sign: Moon is in Capricorn and enters Aquarius today at 12:32 am PST / 3:32 am EST (08:31:45 UTC).
Sun Degree: 28-29 Capricorn.
Planetary Stations and Sign Changes
Moon enters Aquarius at 12:32 am PST / 3:32 am EST (08:31:45 UTC).
Venus enters Aquarius at 5:44 pm PST / 8:44 pm EST (01:43:30 Jan. 18 UTC).
Interesting Selected Aspects | Data by Serennu
-- Venus square Pallas at 4:30 am PST / 7:30 am EST (12:29:45 UTC).
-- Mercury conjunct Hylonome at 5:45 am PST / 8:45 am EST (13:45:21 UTC).
-- Jupiter conjunct Deucalion at 12:31 pm PST / 3:31 pm EST (20:30:44 UTC).
-- Mars quincunx Uranus at 1:37 pm PST / 4:37 pm EST (21:37:10 UTC).
-- Mercury square Elatus at 4:37 pm PST / 7:37 pm EST (00:37:20 Jan. 18 UTC).
-- Venus square Rhadamanthus at 4:37 pm PST / 7:37 pm EST (00:37:26 Jan. 18 UTC).
Subscribe to Planet Waves -- sign up here | Visit Our Website at this link
If Your Birthday is Jan. 17
(The Day of the Heavyweight) | Capricorn Birthday Reading | All Other Signs
Remember that you're a passionate being. The "all business" reputation of Capricorn is a kind of ruse. You are driven by love, compassion and curiosity. These qualities are strengths and nothing less. They don't preclude being a clever strategist or a shrewd planner. Connecting with your deeper motive makes you all the more worthy of trust.
Current Capricorn Weekly Horoscope

This week, a rare alignment between Jupiter in Scorpio and Pluto in your birth sign presents some unusual opportunity for success. You've had a taste of this the past week to 10 days, and you may already be on a roll.

Read more...
Current Capricorn Monthly Horoscope

Saturn's return to your birth sign describes a sense of completeness you have not felt for a very long time, if ever. Take a moment to collect yourself: a week or two of reflecting on your goals and preparing your mind.

Read more...
Written in the Planets
With Venus in Capricorn square asteroid Pallas in Aries today, notice whether the theory and reality of your relationships are meshing. They might not be -- but that's no reason to panic. You can probably think of some ways to express how you feel, even if you do so conservatively, that will help you move closer to what you think is right for you. Having both Venus and Pallas in the last degree of their respective signs is a reminder that you don't need to overcompensate or act hastily to get results. Venus then enters Aquarius overnight. Bear in mind that "righteous, ethical and correct" are not the same as "loving and understanding." How are you expressing yourself along that spectrum?

Eric has got underway with The Art of Becoming, the 2018 Planet Waves Annual. You can still pre-order all 12 chapter-length signs here for just $99, or you may choose your individual signs here. On Thursday, Jan. 18, we will be increasing the price for all 12 signs to $111 -- so grab your copy soon to lock in the current price.

Aries (March 20-April 19) -- Success is always a conspiracy. It's never a solo expedition, and it's the social and collaborative efforts that you now get to emphasize. You still need to keep doing your Saturn work -- the gradual work of building your reputation, which you now get to do with every person you meet. Taurus (April 19-May 20) -- Check in with close colleagues and people whose wisdom you trust before making any significant moves at work. You may be on to something big, though a level of both confidence and confidentiality are important. Reveal your plans only to those who you know are committed to helping you. Gemini (May 20-June 21) -- Aspects that develop over the next few days will help you simplify your life, though push has come to shove on certain important decisions involving partnership and finance. Once you resolve these matters, you'll feel a lot better and remember what it means to be free. Don't delay. Cancer (June 21-July 22) -- The combination of Saturn and yesterday's New Moon in your relationship angle are confirming that you're in new territory where romance and partnership are concerned. However, be aware that these new conditions take time to manifest in tangible ways. You will attract the right people to you. Leo (July 22-Aug. 23) -- One of the challenges of your life is getting yourself onto a new level of existence. Social, economic, professional and spiritual: you're reaching for your potential, and gradually you're getting there. Over the next few days, you'll discover you made more progress than you think. Virgo (Aug. 23-Sep. 22) -- If you want to get anything done at work, you'll have to work with others. You have creative and even innovative ideas, though those always require careful stewardship, agreements and some deal making. You're good at that. Just make sure you make those promises you know you can keep. Libra (Sep. 22-Oct. 23) -- So far this year, the planets have done their part to keep you grounded, focused on necessities and skipping over your recreational options. As the weekend approaches, the emphasis shifts toward fun and pleasure. Leave your worries behind for a while. They're not as bad as you think. Scorpio (Oct. 23-Nov. 22) -- This is an unusual time in your life. You're making many discoveries about yourself that fall into the category, "I never would have guessed." You're figuring out not only that you're different, and not only that you like that fact, but that you simply must do something bold with it. Sagittarius (Nov. 22-Dec. 22) -- There's a mystical quality to Sagittarius that nobody can explain. Mystical means that you have direct contact with the 'great mysteries' of life. You know about it, though you don't always use it. Now, however, is the time. If you can see around corners, definitely look at what's there.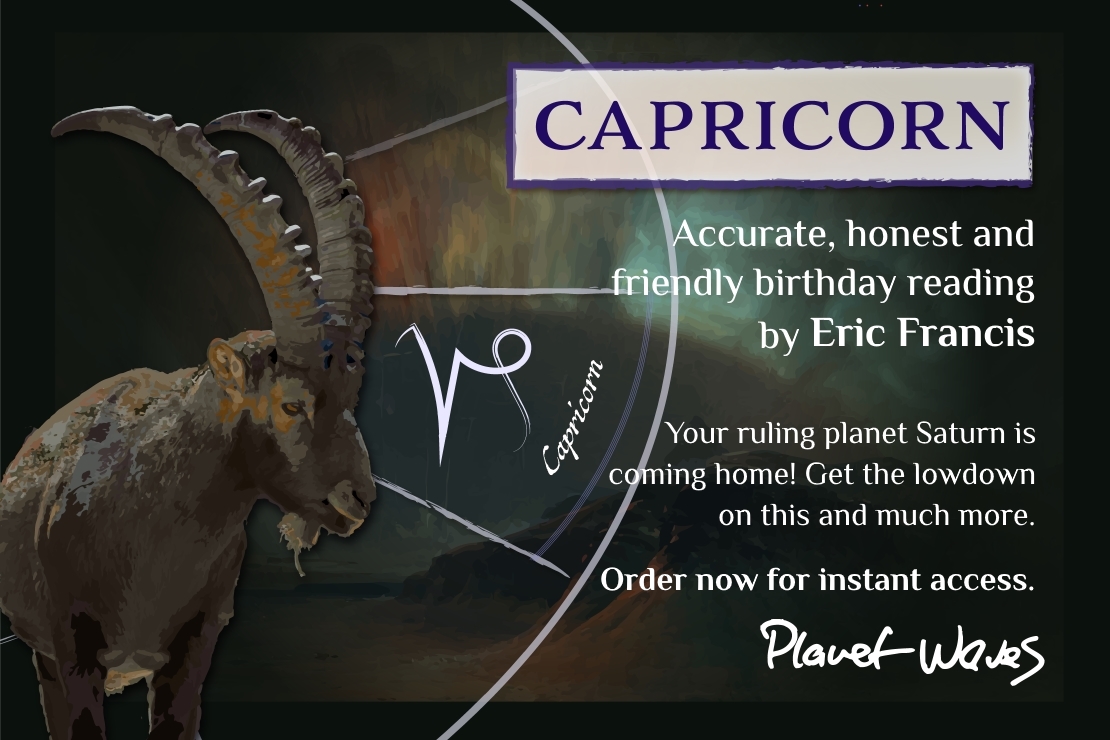 Capricorn Audio Birthday Reading is Ready!



Dear Friend and Reader:

Your Capricorn birthday reading is now published. It's about 70 minutes in length, in two sessions. This is your birthday audio -- an entirely different reading from The Art of Becoming, which will be ready in January.

You are living in extraordinary times, as a Capricorn or Cap rising. There's been nothing quite like this in your sign since the early 1990s, when the Uranus-Neptune connection passed through town. That was a while ago -- and what you're now working with is just as significant.

At the moment, the Sun, Venus, Saturn and Pluto are in your sign, which is building to a series of major events that peak in 2020. That may seem like a long way off, though time marches on. The presence of Saturn, the ruling planet of Capricorn, is a reminder to tend to your growth, shore up your foundations, and take your place in the world.

Saturn in your sign is helping to ground you in your real priorities.

In this reading, I focus on several key points of development, though none is as important as your relationship to your family, and your family history. For all you want to do in life, all the ways you want to succeed, and solidify your process of self-actualization: the family connection is essential.

This relates directly to your most intimate partnerships, because they're based on an emotional foundation that was laid in childhood. I provide specific information about how to work with these elements, and how to engage in productive self-therapy (it's not always so useful, but it can be).

Your reading includes access to last year's recording, plus your 2017 written reading (from The Book of Your Life), and a tarot reading that will arrive in about a month (maybe more, maybe less).

You can get instant access when you order the reading here for just $44. We will increase the price further when the Tarot section is published.

This reading is also included with the Backstage Pass. If you're not a BSP member, you can upgrade and extend your current subscription, and the Capricorn reading will be included.

Thank you for being a Planet Waves customer.

With love,


---

Capricorn (Dec. 22-Jan. 20) -- You're getting the message over and over again that you must take life more seriously. You know you have actual potential, and that you alone can make it real. Once you decide to do this -- I mean really decide -- suddenly taking daily action becomes the most obvious thing in the whole world. Aquarius (Jan. 20-Feb. 19) -- Breathe easy. Venus and the Sun enter your sign over the next couple of days; and when they do, you'll discover that your problems are not nearly as complicated as you think. You may even decide they were all in your imagination, or that they were not problems at all. In any event, opportunity awaits. Pisces (Feb. 19-March 20) -- You have deep desires that you don't usually express, and sometimes don't even admit to yourself. However, as Venus and the Sun enter the most sensitive and introspective angle of your chart, you'll feel better if you're real about what you want, what you need and how you feel.

Monthly Horoscopes and Publishing Schedule Notes



We published your extended monthly horoscopes for January on Thursday, Dec. 21. Your extended monthly horoscopes for December were published on Wednesday, Nov. 22. Please note: we normally publish the extended monthly horoscope on the first Friday after the Sun has entered a new sign.


---
---