New York, December 31, 2017 | Read on Web | Please Visit Daily News Horoscope Area
Today is Sunday, Dec. 31, 2017
Hebrew date is 13 Tevet 5778
Islamic date is 13 Rabi'-II 1439
Mayan Tzolk'in Day is 7 k'ib'
Mayan Long Count is 13.0.5.1.16
Julian Day is 2458119
Today's Birthdays: Jacques Cartier (1491-1557), Simon Forman (1552-1611), Giovanni Boldini (1842-1931), Elizabeth Arden (1878-1966), Henri Matisse (1869-1954), Jule Styne (1905-1994), Simon Wiesenthal (1908-2005), Jonah Jones (1909-2000), Odetta (1930-2008), Anthony Hopkins (1937), Andy Summers (1942), Ben Kingsley (1943), Connie Willis (1945), Donna Summer (1948-2012), Bebe Neuwirth (1958), Val Kilmer (1959), Nicholas Sparks (1965), Junot Diaz (1968), Psy (1977).
"The whole culture is telling you to hurry, while the art tells you to take your time. Always listen to the art."
-- Junot Diaz
Moon Phase: Moon is in Waxing Gibbous phase and enters Full phase on Jan. 1-2 at 6:24 pm PST / 9:24 pm EST (02:24:00 UTC).
Next Full Moon is in Cancer on Jan. 1-2 at 6:24 pm PST / 9:24 pm EST (02:24:00 UTC).
Corresponding New Moon in Capricorn is on Jan. 16-17 at 6:17 pm PST / 9:17 pm EST (02:17:09 UTC).
Moon Sign: Moon is in Gemini and enters Cancer on Jan. 1 at 12:10 am PST / 3:10 am EST (08:10:01 UTC).
Sun Degree: 10-11 Capricorn.

Planetary Stations and Sign Changes
No changes today.

Interesting Selected Aspects | Data by Serennu
-- Mercury trine Ceres at 2:52 am PST / 5:52 am EST (10:51:36 UTC).
-- Venus conjunct Hylonome at 6:02 am PST / 9:02 am EST (14:02:14 UTC).
-- Makemake square Orius at 6:19 am PST / 9:19 am EST (14:19:23 UTC).

Subscribe to Planet Waves -- sign up here | Visit Our Website at this link

If Your Birthday is Dec. 31
(The Day of Aesthetic Promotion) | Capricorn Birthday Reading | All Other Signs
You will need to adjust some of your life patterns this year, and you may find this easier than ever. This includes mental attitudes, exercise and diet habits, and balancing work and play. The planets are aligned in such a way that will remind you change is not just possible; it's within reach if you'll make the effort. And it will be worth meeting the challenge.

Written in the Planets
Today the Sun forms a grand trine with two minor planets: Echeclus (currently in Taurus) and Orcus (in Virgo). Rather aptly for the time of year, this pattern speaks to the effect of words in general and oaths in particular. Often, if we make a serious resolution, its power can change our lives in ways we might not foresee; it may also allow you to keep to your determined course when everything else seems to be against you. This kind of gravity is all but lost to our present culture in the permanent distraction of the internet. Should you wish to manifest it within your life, be sure to do it due honor by choosing your promises carefully.

New Features Added:

Understanding Key Life Transits of Saturn, Chiron and Uranus



Dear Friend and Reader:

The Art of Becoming is your 2018 annual reading. This is my 20th time at the rodeo! And that's a good thing, because to write about the transits of the coming year will take experience. If you're new to the discussion of this project, I've linked a letter in the last paragraph.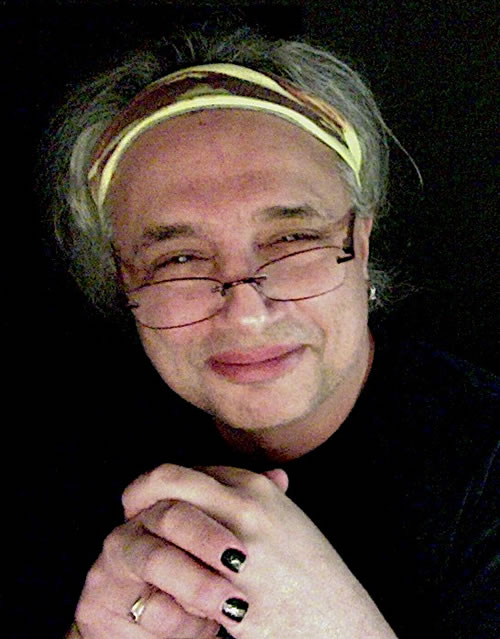 Eric Francis.

I've added three new features to The Art of Becoming, for those who pre-order all 12 signs: videos that cover Chiron in Aries, and Aries Chiron returns; Uranus in Taurus, and Uranus oppositions; and Saturn in Capricorn, including those two Saturn return groups (first and second). These cover many age groups and sub-generations.

These videos are included if you pre-order all 12 signs. Then they will be spun off as separate products. They will not be included with post-publication orders, or single-sign orders. Each will be offered separately for $37.37 each.

I've wanted to do transit readings like this for years! One distinction about my astrological career is that rather than predicting transits, I've been listening to my clients tell me the stories of their transits for more than two decades.

The current pre-order price is $99, which includes written readings for all 12 signs, plus the Saturn, Chiron and Uranus video presentations. Those will be published before the written readings, by the way.

Delivery is expected in January. That's the time estimate, based on 20 years' experience doing this project. If you're curious to read more about The Art of Becoming, here's a detailed letter describing how I do the readings and what they contain.

And if you have not read your 2017 reading, you may do so here at no charge.

Sign up today. The next price increase will be soon!

Thank you for trusting me as your astrologer, and for participating in Planet Waves.

With love,



Aries (March 20-April 19) -- Don't let anyone pressure you to change your mind. You're more than capable of doing that yourself, and you have all the information you need. The truth should be plainly obvious; though just to be sure, consider some of the other possibilities as well. Even if you're certain, keep an open mind. Taurus (April 19-May 20) -- You may feel like you're in a dilemma: should you follow your intuition, or just stick to the facts? Actually, chances are, the two don't conflict, and there's no need to rush your decision. You will learn more as the Moon reaches full phase over the next few days; additional facts shake out. Gemini (May 20-June 21) -- You're entitled to your own opinions about yourself. This is, however, territory where it's necessary to make actual decisions about just how and why the views of others are not valid. Keep in mind that things said to you a long time ago can still affect you today. Know it when you feel it. Cancer (June 21-July 22) -- You may have the feeling that something is bothering you. The Moon, associated with your sign, is moving through the most sensitive angle of your chart, which can stir up your anxieties. Keep a cool head. The planets are stacked up quite nicely in your favor at the moment. Leo (July 22-Aug. 23) -- You may be in possession of knowledge that puts you at a distinct advantage over others, particularly at work. However, it would be unwise to let on to that fact; there are matters of ethics to consider, and someone's reputation may be on the line. Proceed with care and caution. Virgo (Aug. 23-Sep. 22) -- You may have professional aspirations on your mind, as far as the New Year's resolution thing is concerned. Yet your deeper desire may be to connect with your creativity, attached to no special career ambition. Do what you're inspired to do, and your work-related goals will be easier to reach. Libra (Sep. 22-Oct. 23) -- Money is spiritual, if anything is. Consider that it's an expression of your time, effort, value -- and your power. You can take a much higher view of the subject than many other people do, and think of it as a way to facilitate life, help your family, feed your community and feed yourself. Scorpio (Oct. 23-Nov. 22) -- Rather than going with a hunch on an important financial matter, slow down and do some proper research. That means several hours' work spread over a few days, not a couple of quick swipes on your phone. Especially if you feel like there's some pressure to act swiftly, take your time. Sagittarius (Nov. 22-Dec. 22) -- If you get the chance to spend time with someone you like, don't put it off for another day. Take your opportunity right now. This may be a fleeting encounter, never to happen quite this way again. You of all people know that life is a bird on the wing. Prioritize what is unique in all the world.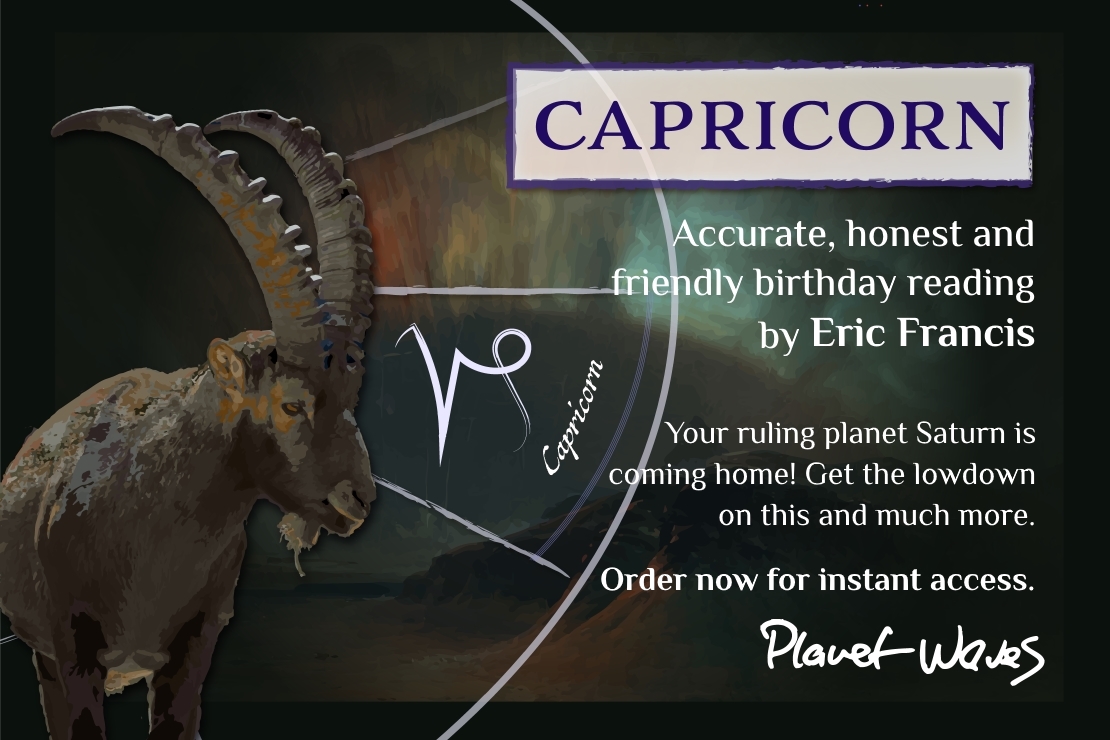 Capricorn Audio Birthday Reading is Ready!



Dear Friend and Reader:

Friday, I recorded your Capricorn birthday reading. It's about 70 minutes in length, in two sessions. This is your birthday audio -- an entirely different reading from The Art of Becoming, which will be ready in January.

You are living in extraordinary times, as a Capricorn or Cap rising. There's been nothing quite like this in your sign since the early 1990s, when the Uranus-Neptune connection passed through town. That was a while ago -- and what you're now working with is just as significant.

At the moment, the Sun, Venus, Saturn and Pluto are in your sign, which is building to a series of major events that peak in 2020. That may seem like a long way off, though time marches on. The presence of Saturn, the ruling planet of Capricorn, is a reminder to tend to your growth, shore up your foundations, and take your place in the world.

Saturn in your sign is helping ground you in your real priorities.

In this reading, I focus on several key points of development, though none is as important as your relationship to your family, and your family history. For all you want to do in life, all the ways you want to succeed, and solidify your process of self-actualization: the family connection is essential.

This relates directly to your most intimate partnerships, because they're based on an emotional foundation that was laid in childhood. I provide specific information about how to work with these elements, and how to engage in productive self-therapy (it's not always so useful, but it can be).

Your reading includes access to last year's recording, plus your 2017 written reading (from The Book of Your Life), and a tarot reading that will arrive in about a month (maybe more, maybe less).

I'm leaving the price at $33 till noon ET today, at which time it will increase to the post-publication price of $44 (a bargain either way).

This reading is also included with the Backstage Pass. If you're not a BSP member, you can upgrade and extend your current subscription, and the Capricorn reading will be included.

Thank you for being a Planet Waves customer.

With love,


---

Capricorn (Dec. 22-Jan. 20) -- If you find yourself fretting over work-related matters when you're not there, direct your energy into something more creative. The coming year will offer you many opportunities to come into your own on business-related projects. Rather than worry, be an inventor. Do your bit to change the world. Aquarius (Jan. 20-Feb. 19) -- Over the next 48 hours, the Full Moon will build to a peak. Notice what comes in with the tide. You may realize you were thinking and feeling things you hadn't noticed were even in your mind. You may be ready to make an important decision about your health and wellbeing. Pisces (Feb. 19-March 20) -- Remember the first thing you thought on awakening. Then, on this last day of 2017, take some time alone, and check in with yourself. You're at an important transition in your life, one that you may not recognize yet. Find that quiet space in your mind and listen. Information is waiting for you.

Monthly Horoscopes and Publishing Schedule Notes



We published your extended monthly horoscopes for January on Thursday, Dec. 21. Your extended monthly horoscopes for December were published on Wednesday, Nov. 22. Please note: we normally publish the extended monthly horoscope on the first Friday after the Sun has entered a new sign.


---
---