New York, December 8, 2017 | Read on Web | Please Visit Daily News Horoscope Area
Today is Friday, Dec. 8, 2017
Hebrew date is 20 Kislev 5778
Islamic date is 20 Rabi'-I 1439
Mayan Tzolk'in Day is 10 B'en
Mayan Long Count is 13.0.5.0.13
Julian Day is 2458096
Today's Birthdays: Horace (65-8 BC), Eli Whitney (1765-1825), Camille Claudel (1864-1943), Jean Sibelius (1865-1957), Diego Rivera (1886-1957), James Thurber (1894-1961), Sammy Davis, Jr. (1925-1990), Jerry Butler (1939), Jim Morrison (1943-1971), Greg Allman (1947-2017), James Tate (1943-2015), Nancy Myers (1949), Bill Bryson (1951), Norman Finkelstein (1953), Teri Hatcher (1964), Sinead O'Connor (1966), Nicki Minaj (1982).
"There are contradictory tendencies in American society. There's a huge range of activities that one can engage in that mark it as a quite free society. It's also true to say that the powers that be have so much control over how people think that there are fewer and fewer people who make use of the rights and information available to them."
-- Norman Finkelstein
---
Not Just Strangers in a Strange Land

Dear Friend and Reader:

I'm on horoscope-writing duty today, so I only have time for a brief hello -- though I want to check in and share a few thoughts. First, though, welcome or welcome back to the many people who are responding to our membership drive. If you're a new or returning subscriber -- thank you SO much for actively participating and getting the benefits of what we do.

I can't remember how many times I've used the term "the world spinning off its axis" to describe the news. A good few times, I've compared the front pages of newspapers to the made-up headlines in Robert A. Heinlein's Stranger in a Strange Land, which chronicle world events surrounding the main plot.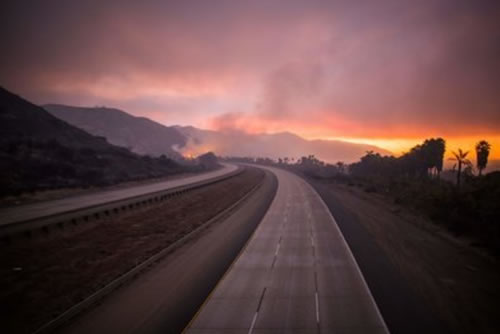 View southward in Los Angeles along the 101 freeway. Photo: AFP.

That's the one about a human raised on Mars (child of astronauts presumed long dead) returning to Earth and causing the biggest uproar in history. Yet the news this week tops them all. And things are only likely to get more (shall we say) impressive as the next few seasons and years unfold.

The central feature is the Saturn-Pluto conjunction in Capricorn, synonymous with the U.S. Pluto return. The New York Times quoted me recently as saying that "we are entering the biggest point of reckoning in American history since the Civil War."

Let's see -- Los Angeles is burning out of control, and not from riots, but from global warming, which many politicians pretend is not real. An accused child rapist seems likely to be seated as a U.S. senator. An admitted (and proud) sexual predator is the president of the United States.

A rogue nation has developed thermonuclear bombs, and the missiles to carry them. The president was slurring his speech so badly that people are questioning whether he was having a stroke. That was during an event calculated to do nothing other than stir hatred and divisiveness among Middle Eastern nations, which could lead to attacks on U.S. embassies.

Read more...
---
Moon Phase: Moon is in Disseminating (waning gibbous) phase and enters Last Quarter phase on Dec. 9-10 at 11:51 pm PST / 2:51 am EST (07:51:16 UTC).
Next New Moon in Sagittarius is on Dec. 17-18 at 10:30 pm PST / 1:30 am EST (06:30:20 UTC).
Next Full Moon is in Cancer on Jan. 1-2 at 6:24 pm PST / 9:24 pm EST (02:24:00 UTC).
Moon Sign: Moon is in Leo and enters Virgo today at 3:08 pm PST / 6:08 pm EST (23:08:28 UTC).
Sun Degree: 17-18 Sagittarius.

Planetary Stations and Sign Changes
Moon enters Virgo at 3:08 pm PST / 6:08 pm EST (23:08:28 UTC).

Interesting Selected Aspects | Data by Serennu
-- Mercury conjunct Galactic Center at 10:04 pm Dec. 7 PST / 1:04 am EST (06:04:26 UTC).
-- Mars conjunct Rhadamanthus at 3:08 am PST / 6:08 am EST (11:07:41 UTC).
-- Eros trine Eris at 7:09 am PST / 10:09 am EST (15:09:13 UTC).
-- Eros opposite Chaos at 10:03 am PST / 1:03 pm EST (18:02:38 UTC).
-- Vesta trine Neptune at 11:11 am PST / 2:11 pm EST (19:10:58 UTC).
-- Venus square Rhiphonos at 4:30 pm PST / 7:30 pm EST (00:29:56 Dec. 9 UTC).

Subscribe to Planet Waves -- sign up here | Visit Our Website at this link

If Your Birthday is Dec. 8
(The Day of Abandon) | Sagittarius Birthday Reading | All Other Signs
For years, you've had to exercise control over your life in a way that was just not natural to you. Over the coming seasons, this spell will be lifted, and you'll see the results of the discipline you've learned. You can take a more experimental approach, especially with ideas and with travel. Go three places you've never been, and notice what you learn.

Written in the Planets
How are you feeling today? Randy? Tuned in to a higher consciousness? A little, um, 'particular'? All of these states are possible, and you might find yourself shifting between them over the course of the day. Eros in Sagittarius in contact with Eris in Aries and Chaos in Gemini could be a reminder that if you're feeling inclined to get your freak on, sex begins in the mind. Late in the day, when the Moon moves into Virgo, you might feel want to focus on organizing something to avoid any urges to criticize. But the big-yet-subtle influence behind all of it is retrograde Mercury conjunct the Galactic Core. That's your reminder to listen to your subtle inner voice, to recognize unexpected insights when they come to you, and to take notes -- preferably in a form that you can refer to again in a few weeks.

New Features Added:

Understanding Key Life Transits of Saturn, Chiron and Uranus



Dear Friend and Reader:

The Art of Becoming is your 2018 annual reading. This is my 20th time at the rodeo! And that's a good thing, because to write about the transits of the coming year will take experience. If you're new to the discussion of this project, I've linked a letter in the last paragraph.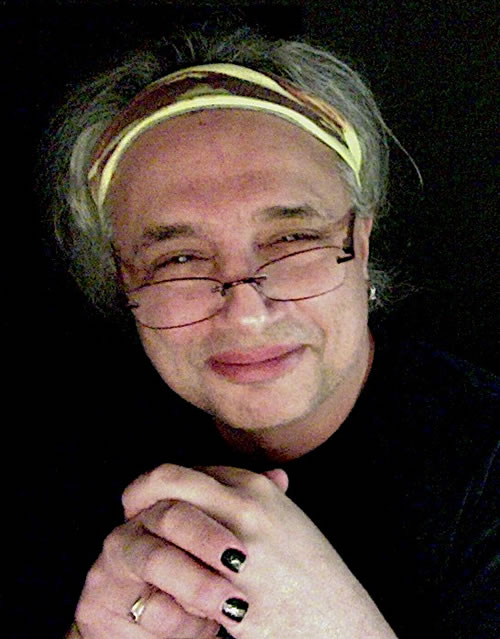 Eric Francis.

I've added three new features to The Art of Becoming, for those who pre-order all 12 signs: videos that cover Chiron in Aries, and Aries Chiron returns; Uranus in Taurus, and Uranus oppositions; and Saturn in Capricorn, including those two Saturn return groups (first and second). These cover many age groups and sub-generations.

These videos are included if you pre-order all 12 signs. Then they will be spun off as separate products. They will not be included with post-publication orders, or single-sign orders. Each will be offered separately for $37.37 each.

I've wanted to do transit readings like this for years! One distinction about my astrological career is that rather than predicting transits, I've been listening to my clients tell me the stories of their transits for more than two decades.

The current pre-order price is $99, which includes written readings for all 12 signs, plus the Saturn, Chiron and Uranus video presentations. Those will be published before the written readings, by the way.

Delivery is expected in January. That's the time estimate, based on 20 years' experience doing this project. If you're curious to read more about The Art of Becoming, here's a detailed letter describing how I do the readings and what they contain.

And if you have not read your 2017 reading, you may do so here at no charge.

Sign up today. The next price increase will be soon!

Thank you for trusting me as your astrologer, and for participating in Planet Waves.

With love,



Aries (March 20-April 19) -- There are two kinds of "being in the moment." One is not caring about what happens tomorrow. The other is being fully absorbed in your creative process, in love, or in the game of life. This second kind is what you have available now, in this somewhat chaotic but beautiful and interesting moment. Taurus (April 19-May 20) -- Be aware that a partner may be reorienting the emphasis of their life. By all pointers, they will have more inclination to focus on you. Meanwhile, you have your own shifts and changes going on, suggesting you need to keep the focus on yourself. These two things can work together. Gemini (May 20-June 21) -- You'll find it easy to take complex subjects and explain them in a few words, in ways that others understand. Once you shed light on a subject, it'll lose its dark and mysterious aspect and may even be revealed as elegant and harmless. Be descriptive. With words, 'tis better to show than to tell. Cancer (June 21-July 22) -- Don't be deceived by those who say that the only solution is complicated. Yet, to find the easy way through the maze, you might need to ponder the situation for a day or two, or sleep on it for a night or two. It will come with a burst of creativity that serves you many other ways. Leo (July 22-Aug. 23) -- You have many openings and opportunities, though you have to choose them, like getting off the subway at a certain station, or leaving a highway at a certain exit. This will involve making decisions: first about what you want, and then where to direct yourself. When in doubt, select randomly. Virgo (Aug. 23-Sep. 22) -- Rather than doubt yourself, suspend judgment. You don't need to be right or wrong; you just need to pay attention to what you're figuring out, and let the pieces come together. You will cross a lot of territory in the next two weeks; so pace yourself, keep an open mind, and take careful notes. Libra (Sep. 22-Oct. 23) -- Take the weekend to sort out your financial situation. Become familiar with where you're in the red, and where you're in the black, and set some goals for yourself. With finances, setting goals is important, though those must be based on an accurate picture of reality. Create that thoroughly and carefully. Scorpio (Oct. 23-Nov. 22) -- Mars is about to enter your sign, which will feel like the lights getting flipped on. That happens overnight. Until then, you may feel a little uneasy, nervous or even a bit paranoid. Don't let it get to you. Keep a handle on your doubts, and remember there are other sides of the story.

---



Sagittarius Astrology Reading by Eric Francis is Ready!



Dear Friend of Planet Waves:

This weekend, I completed the astrology portion of the Sagittarius reading. I wanted to make sure it was recorded before Mercury stationed retrograde in your sign, and before the Full Moon in your opposite sign.

We're in an astonishing moment globally, challenging though it is -- though, for Sagittarius, it's particularly amazing. Saturn is set to leave your sign. Mercury will be retrograde for the next three weeks, highlighting the Saturn-Pholus-Galactic Core conjunction.

This is rock-and-roll astrology, and I've done a reading to match the vibrant, growth-oriented and downright beautiful quality of your charts.

We have two astrology sessions for you right now. In the first, I describe the process of Saturn in Sagittarius, and what Mercury retrograde is suggesting you do, in preparation for Saturn's change of signs.

I also talk about why Sagittarius is an utterly unusual sign, containing two deep-space points that can serve as a direct connection to source. I also talk about the relationship of Chiron to Sagittarius, which describes how to harness this energy.

In the second section, I look forward: to the sign changes of Saturn, Chiron and Uranus, which take hold between now and your next birthday. These three sign changes take us beyond the Uranus square Pluto era (2011-2015) and into the next distinct phase of astrology -- a short but powerful one that will peak in 2020 (the Saturn conjunct Pluto era).

This is fresh, alive astrology that's easy to follow. I am at my best as a motivational speaker, wherein it's my role to make your own potential compelling to you.

You can get the reading at the current order price of $44. In a month or so, your tarot reading will follow along.

The reading includes many resources, such as articles relevant to your astrology that will provide helpful backstory, and your 2017 written reading from The Book of Your Life.

(Yes, we are over-delivering here, though the moment calls for it.)

Get instant access now!

With love, your friendly neighborhood astrologer --



P.S. If you've never listened to one of my audio readings, you're invited to check out last year's Sagittarius reading as a gift. It's a great way to review your last year during this Mercury retrograde phase, and prepare to make the most of your new reading.


---

Sagittarius (Nov. 22-Dec. 22) -- After Mars changes signs tomorrow, you may need a few days to yourself, to reflect and consider all that you've experienced. You're both a social person and someone deeply in need of your privacy. Make sure you honor both sides of your nature. Put your phone in airplane mode for a while. Capricorn (Dec. 22-Jan. 20) -- We live in dangerous times. Yet the presence of Pluto in your sign the past 10 years has prepared you for the state of constant change and instability that our current moment is delivering. Your true role is one of leadership, which will be confirmed by Saturn's imminent arrival in your sign. Aquarius (Jan. 20-Feb. 19) -- The world is learning a challenging lesson in ethics, which is a subject you take seriously. The first rule of ethics is that there must be one set of rules that apply equally, and evenly, to all of us. Therefore, any guideline that you apply to others, be certain to apply to yourself. Be that rare example. Pisces (Feb. 19-March 20) -- If you've been feeling stressed, starved for affection or needing some spiritual replenishment, Mars entering your fellow water sign Scorpio tomorrow will provide just what you need. Ease back on the throttle today, and coast just a little bit. Let yourself cool down. Make it an early night.

Monthly Horoscopes and Publishing Schedule Notes



We published your extended monthly horoscopes for December on Wednesday, Nov. 22. Your extended monthly horoscopes for November were published on Thursday, Oct. 26. Please note: we normally publish the extended monthly horoscope on the first Friday after the Sun has entered a new sign.


---
---