"Birth Trinity," 1983, needlework on mesh canvas,

by Judy Chicago

as part of her Birth Project.

What Are We Birthing?



Dear Friend and Reader:

If you feel like you're not entirely sure what just happened, hang in there. Today (Sunday) featured some pivotal astrology. But as the energy from these events settles or changes direction, you might find that your perspective shifts, or that insights come through in a new form.

We're in an unusual moment; and I say "moment" referring to the last year and a half or longer, as well as to today itself. Speaking in the short term, the Gemini Full Moon just peaked and Mercury just stationed retrograde.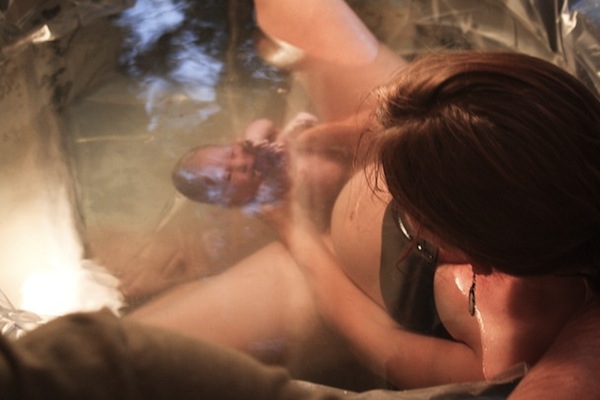 "A mother gives birth to her son. This photograph captured a momentous introduction of a mother and baby's first exchange. The baby is suspended in time, half way inside his mother and the world; being guided out by his mother's own hands." Photo and caption by Tara Garner, friend and doula of the mother / National Geographic Photo Contest.

Immediately this week, Mercury will retrace its slow path backwards through late Sagittarius, making the second of its three conjunctions with Saturn, centaur Pholus and the Galactic Core.

So on one level, you're being offered an immediate review and new level of introspection regarding anything that felt like a 'cosmic message' coming through. It might have had to do with taking a new level of authority over your life; you may simply be feeling that you're part of something much, much larger than you, and wondering how to embody your role in the grand scheme.

Speaking in the longer term, we're experiencing the latest waves in the fallout precipitated by Donald Trump's rise to the highest office in the U.S.: things such as burgeoning neo-Nazism; the FBI's investigation of Trump's associates for collusion with Russian agendas; the very real threat to Net Neutrality (that is, having an open-access internet -- which is arguably the linchpin of our current environment); the popping and apparent draining of the social boil that is sexual harassment and assault of women by men abusing their power.

Viewing those cultural events and others astrologically, the standout aspect representing them is the Uranus-Eris conjunction in Aries, still in full force. As you may recall, this is the 'expect the unexpected' aspect. Uranus-Eris is a symbol of much of the subversion, media chaos, identity chaos and seeming revolution we're experiencing on a daily basis.

And as Eric recently noticed, the dwarf planet Haumea is currently in Libra opposite Uranus-Eris. Haumea is a slow-moving planet, and was named after the matron goddess of Hawaii: the goddess of fertility and childbirth, with many children who sprang from various parts of her body. You might think of her as a kind of midwife.

If that's the case, what on Earth is she birthing right now? It's certainly possible to look around and assume that only terrible things are afoot. Yet perhaps that is shortsighted?

At the end of the play Scorched by Lebanese-Canadian playwright Wadji Mouawad, the character Nawal asks her two adult children, who were conceived in rape: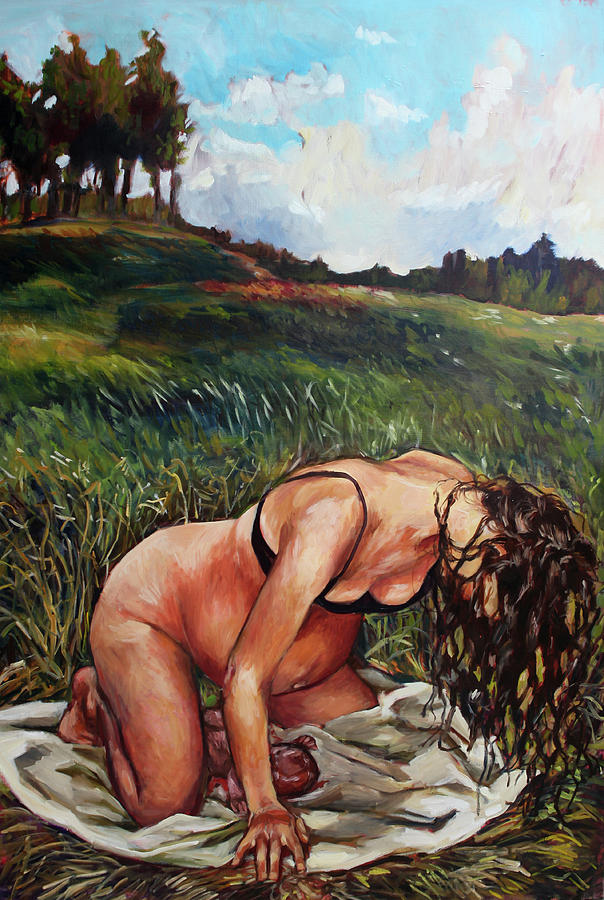 "She is a new creation, the old has gone, the new has come." She Is a New Creation, oil on canvas,

by Amanda Greavette

for her Birth Project series.

Where does your story begin?
At your birth?
Then it begins in horror.
At your father's birth?
Then it is a beautiful love story.

The play speaks not only of the repeating cycles of its characters, but of their breaking of the cycles to end a long silence, and to begin the complicated process of healing after discovering the full truth of their mother's life. It is this idea of breaking cycles of silence with a new action, a new conversation; of coming to a fuller understanding of the truth, and being willing to accept the responsibility of what it means to live with that truth, that is speaking loudly to me right now.

What had been for me, initially, an exhausting experience of reading each new set of allegations of sexual misconduct by powerful, famous men -- and the personal #metoo stories by women I know -- is strangely starting to feel very powerful and encouraging. Perhaps this is because I've been fortunate to read thoughts by those (both women and men, people I know personally and those I do not) who are taking the conversation into thoughtful, nuanced territory; territory that is aimed toward healing, empowerment, and inquiries into how we can do better.

I also received a thought-provoking message this week from a reader that said, "I've been thinking about this for a while. Eric said the chart of last year's presidential election suggested a female winner. I think he was correct even though Trump won. Women have been empowered ever since the election, rising up, exposing men who have wronged them. 2017, the year of the woman."

The bold question is: What if she is right? What if something good came of all of this? What positive outcomes could there be?

Given the cyclical or spiral nature of existence, it makes a certain sense. It also serves as a reminder that good is far more likely to come of all this if each of us takes an active hand, in small ways or large ways, to guide (or maybe push?) the spiral in that direction.

If you were midwifing this birth, what would you do? What are your ideas about the good that might emerge from our current moment of history? What do you see as steps -- or even one thing you can do -- to help it arrive and take its first, wailing breath?

We'd love to hear your ideas. Feel free to email Planet Waves at cs@planetwaves.net.

Yours & truly,



Amanda Painter
Planet Waves Astrology Editor
New Features Added:

Understanding Key Life Transits of Saturn, Chiron and Uranus



Dear Friend and Reader:

The Art of Becoming is your 2018 annual reading. This is my 20th time at the rodeo! And that's a good thing, because to write about the transits of the coming year will take experience. If you're new to the discussion of this project, I've linked a letter in the last paragraph.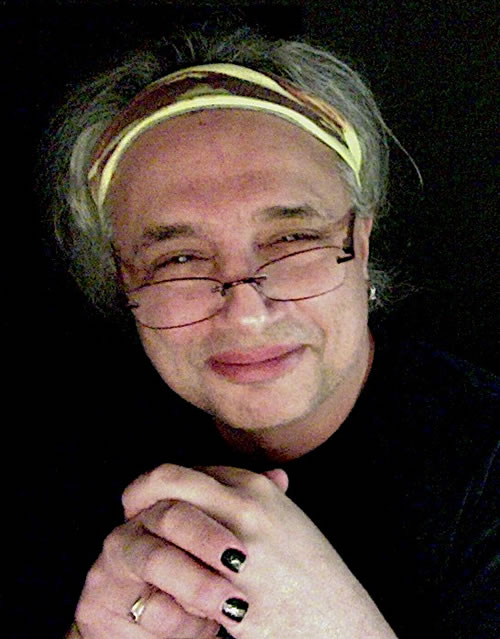 Eric Francis.

I've added three new features to The Art of Becoming, for those who pre-order all 12 signs: videos that cover Chiron in Aries, and Aries Chiron returns; Uranus in Taurus, and Uranus oppositions; and Saturn in Capricorn, including those two Saturn return groups (first and second). These cover many age groups and sub-generations.

Particularly regarding Chiron, the astrological profession for a while was starting to figure out this planet, which was discovered 40 years ago this month. Now astrologers seem to be forgetting or losing interest. I have not.

I have been a student of Chiron every day since early 1995, and will share what I have learned both from study, and from reading the Chiron transits of countless hundreds of clients.

These videos are included if you pre-order all 12 signs. Then they will be spun off as separate products. They will not be included with post-publication orders, or single-sign orders. Each will be offered separately for $37.37 each.

I've wanted to do transit readings like this for years! One distinction about my astrological career is that rather than predicting transits, I've been listening to my clients tell me the stories of their transits for more than two decades.

The current pre-order price is $99, which includes written readings for all 12 signs, plus the Saturn, Chiron and Uranus video presentations. Those will be published before the written readings, by the way.

Delivery is expected in January. That's the time estimate, based on 20 years' experience doing this project. If you're curious to read more about The Art of Becoming, here's a detailed letter describing how I do the readings and what they contain.

And if you have not read your 2017 reading, you may do so here at no charge.

Sign up today. The next price increase will be soon!

Thank you for trusting me as your astrologer, and for participating in Planet Waves.

With love,


Your Monthly Horoscopes and Publishing Schedule Notes



We published your extended monthly horoscopes for December on Wednesday, Nov. 22. Your extended monthly horoscopes for November were published on Thursday, Oct. 26. Please note: we normally publish the extended monthly horoscope on the first Friday after the Sun has entered a new sign. Aries (March 20-April 19) -- It may be difficult to articulate what's bothering you. Yet it's more difficult dealing with the consequences of not speaking up, which are both short-term and long-term. So do what you can to put your thoughts in some form that others can understand, which will also mean putting them into a form that you understand. Note that once you do that, you're responsible for what you know (and that, incidentally, is one of the main reasons people keep quiet). Though there are many possible ways to define the theme of what you've got on your mind -- such as emotional, relational or sexual -- the core issue would seem to be spiritual. What exactly does that mean? I would propose that involves your relationship to existence: that is, how you feel about your life, why you think you're here on Earth, and the most basic and elemental values you possess. For example, are people or things more important? What is more powerful and why: love, or jealousy? Taurus (April 19-May 20) -- You will need to keep your agreements flexible, and evaluate them frequently. This is different from the usual way of the world: rigid expectations, which are rarely thought about, and not grounded in reality. There's little you can take for granted right now, and if you don't make the mistake of doing so, you will be in much safer and more solid territory. The easiest way to run into trouble will be turning your back on your commitments, or shutting down communication (for whatever reason). If you stay open and available, you will discover that people are only too happy to help you and offer whatever support they can. It would be wise of you to return the favor, and keep the emotional energy moving; make sure everyone around you has what they need. Check in regularly, debunk all your assumptions, and keep the important issues right where you can see them. Gemini (May 20-June 21) -- What is your relationship to your sense of injury or to what you think of as your wounding? Is it something that you live with, something that you strive to heal, or something that drags you down? If you're suddenly experiencing any turbulence in your life, or if old issues have surfaced, these are the questions to ask yourself. Injuries have many possible uses. They can motivate people to become healers, whether or not they attend to their problems. They can serve as a means to keep others at a distance. They can be used as weapons. They can serve as agents of change. I suggest you take the latter approach. It's easy to use pain in ways that delay or derail progress. It is more difficult to connect yourself to your healing process and stick with it; not only until you get some results, but rather until it becomes a fixture of your identity and life purpose. Cancer (June 21-July 22) -- Focus on work, and keeping things going smoothly. Nip problems in the bud, before they grow larger. Then make sure you're keeping on schedule, and maintaining your core priorities. As part of this, it will be essential to take care of your health and wellbeing. That may mean, over the next week to three weeks, less emphasis on play and romantic activities, and more on making sure that the basics are covered. For example: an evening in and an early night, so you get a good start on things in the morning, may be much more important than going out. Eat real food, and drink actual water. Keep your work and food-preparation spaces tidy. Make sure you have clean laundry. Make sure the people closest to you understand what you're up to, and sidestep or avoid those who don't feel a need to cooperate. If you mind the small stuff, you'll keep a handle on the bigger things, and the minor points won't escalate or go out of control. Leo (July 22-Aug. 23) -- It's essential that you calculate the physical risks you take during the next few days to a week, and that you err on the side of caution. It's especially important that you play it safe wherever alcohol is concerned, and that you actually know and trust anyone you have sex with. Your chart is bubbling over with the potential for mistaken judgments. However, you can compensate for this by raising your awareness level and not letting anything impair your intelligence or power of observation. Do not let yourself be persuaded by people. Delay decisions if you feel pressured, particularly financial ones. Mercury retrograde just began today (Dec. 3), and it's developing in an especially sensitive angle of your chart: a crossroads where your business and professional lives intersect. It's not possible to say how much is on the line, though this is one of those rare instances when an abundance of caution in all matters, even seemingly minor ones, is appropriate. Virgo (Aug. 23-Sep. 22) -- If you're addressing family matters, don't be fooled into thinking that it's just about what people are saying and doing now. The origin you're seeking is likely to be somewhere in your great-grandparents' generation. This is not designed as an excuse to blame current circumstances on the past, but rather as a means of orienting yourself on a discernible cause, and identifying a functional solution. Recognize that people have been dealing with the same problems for eons, and that families in particular hand down emotional, genetic and karmic baggage. Then, the less conscious among us act out that material in various dramas, which seem to have neither end nor beginning. You might count who that serves: whose interests are protected, whose mental habits, whose alcohol abuse or inability to have some self-control. The important thing right now is that you concentrate your wits and on your commitment to growth, and not let yourself get dragged into what is not your issue. Libra (Sep. 22-Oct. 23) -- Mars in your sign is urging you to take a diplomatic approach to whatever you do. This is your usual style, though your chart is particularly assertive these days, and you're not in the mood to brook anyone's nonsense. However, you would be well advised to find a way to do that without ever going blow for blow. Things could easily get out of hand, and even a minor disagreement could enlarge into something disproportional. Therefore, back away rather than engage, and be particularly cautious of anyone under the influence of alcohol. Note that you have two main channels of thought you can subscribe to: one is chaotic and contentious, and the other is calm and easygoing. The difference will be like that between a thunderstorm and sunshine. Take note that many people are looking for a fight at the moment, not knowing where to direct their angst and hostility. You are often a people-pleaser, though this is not the time to give them what they're looking for. Scorpio (Oct. 23-Nov. 22) -- You need to do very little to have your life go well. The main thing you must do is stay out of your own way. Another way to say that is to feel good about yourself and who you are, despite the prevailing turmoil of the world. Thankfully, you don't need to feed at the trough like so many people you observe. You're also blessed in that you don't need people in quite the way that others do; you have the ability to hang out alone and keep your own company, which you most likely prefer to the company of those who are inappropriate or unfriendly. Use or develop that skill now, if you need to. As a general rule, notice how you feel about yourself when you're with someone else. If you start to dislike or distrust yourself, you're in the wrong company. There's one other point, which is to be careful with money, your possessions, your wallet, your keys and your phone. Keep your belongings close to you. Read any credit card slip (or anything else) that you sign.

---

Sagittarius Birthdays 2017-18:

Not What You Think: Your Personal Mercury Retrograde





Attention anyone with Sagittarius Sun or rising: Eric has recorded the two astrology segments of your reading, and they are now available for instant access.


Dear Friend and Reader:

I know what you're wondering: how can Mercury retrograde not be what you think, when Mercury is, in fact, the planet representing the mind? What I mean is this: Mercury retrograde phases have a bad rap for being nothing but trouble; but used well, they can be incredibly useful phases of time for review and deep introspection.

So, you might say that if you have your Sun or rising sign in Sagittarius, then Mercury stationing retrograde in your sign on Sunday really isn't about 'what' you think; it's about how you think.

The weeks between Dec. 3 and Dec. 22 could actually be incredibly useful for getting to the bottom of certain beliefs and thought patterns you have, among other things.

What does it mean to start your solar year with Mercury stationing retrograde in your sign? Eric walks you through this and all of the biggest astrological events of the next 12 months in your 2017-18 Sagittarius Birthday Reading; the astrology segments have recently been published.

With Saturn, Chiron and Uranus all changing signs soon, you'll find certain areas of your life changing in tone and emphasis. For example, what will it mean to have the planet of awareness and healing (Chiron) move into your house of play, creativity, adventurous risk, and sex for fun (Aries)?

Eric crafts these readings with the best of his life-coaching, cheerleading and problem-solving skills; the sensitivity of his therapy training; his uncanny knack to help you see challenges from a more empowering perspective; and with the kind of everyday, practical inspiration you can use immediately. You get some of the clearest, most nuanced and jargon-free personal astrology available on the internet.

Best of all, the two astrology segments (approximately 30 minutes each) and tarot reading that Eric records for you are completely different from the written Sagittarius reading that will be part of the 2018 annual edition. The Birthday Reading has a more jazz-like feeling, lending it to Eric's knack for uncanny, spontaneous insights and nuance -- and it's recorded with the Sun in your sign.

Order the 2017-18 Sagittarius Birthday Reading and get instant access to the astrology segments. The price will increase further once the Tarot reading is published.

Yours & truly,



Amanda Painter
Planet Waves Astrology Editor

P.S. If you know someone with a Sagittarius Sun or rising sign who's been having a rough time this year, consider giving them the 2017-18 Sagittarius Birthday Reading as a gift. We could all use a friendly cheerleader these days.


---

Sagittarius (Nov. 22-Dec. 22) -- Mercury is now retrograde in your sign, and this will be an unusually revealing, perhaps complex, week. For you, Mercury is the planet that represents both relationships and partners. Questions of attachment and commitment are likely to come to the surface. Discussions might verge on going out of control, and you would be well served to wait three or four days before engaging people on intense issues, or letting them engage you. You have a right to keep some distance, and you happen to have that skill as one born under your particular sign. Take the distance you need, gather information, and figure out where people are coming from. You may decide that certain individuals have a good point, and that others are being truly ridiculous. Within the sphere of your own life, you're the judge of that. You must be, because nobody can do it for you. One other thought: you might consider avoiding alcohol for a few days, and the people who use it. Capricorn (Dec. 22-Jan. 20) -- Over the next few weeks, you get an opportunity to sort out a diversity of personal matters prior to Saturn entering your sign. You may feel a need to make important decisions as a result of that, though I've developed what I call the "Saturn rule" in the course of my long astrological practice: Let Saturn make the first move, then respond. For you, this means delaying any action until Saturn has entered your sign on Dec. 19; then add a couple more days for solstice and Mercury stationing direct; and then a few more days for Mercury to come out of storm phase, right around New Year's Eve. This is a roundabout way of saying take your time, gather information, make decisions and give yourself a chance to revise them before putting them into action. A lot is about to change in your life, which in many ways means improve. But not if you rush matters, or make irreversible moves with incomplete information. Aquarius (Jan. 20-Feb. 19) -- You may have noticed the ease with which you can find yourself in the middle of utterly meaningless controversies. There's a little storm brewing around your ruling planet Saturn, and it's taking place in one of the most visible parts of your chart. Rather than go into hiding, I suggest you practice your mastery and learn how to handle yourself in public situations like a pro. Be mindful of all the misinformed weirdos scampering about, pretending to be experts in everything until they blow up the neighborhood. Keep calm, and make sure everything you say is put into language so clear that there's absolutely no mistaking your meaning or your intent. Stay focused on your purpose. You have made many gains the past few years of your life, and now the age is about to turn. Other priorities will soon take over, though it's important to preserve every last bit of what you've gained. Do so gently, intently, and mindfully. Pisces (Feb. 19-March 20) -- Stay on top of professional plans this week. Pay attention to communications: emails, phone messages, your social media accounts and the ones you forgot about. While there's seemingly some turbulence in the air, if you're a skilled pilot and remain alert, you'll be able to work with the movements and the changes. Therefore, it will help if you focus on what matters: what is timely, what's the most important, and what directly relates to your reputation. A minimalist approach through the end of the year would be fully appropriate. Complete your outstanding commitments. Check in with people and make sure you've fulfilled your obligations and responsibilities. Tie up the loose ends that may remain from the many projects of the past year, and ensure the quality is up to your standards before you affix your signature and professional seal. Note that your higher-ups have problems of their own. Don't add to them. Be impeccable.

---