New York, November 21, 2017 | Read on Web | Please Visit Daily News Horoscope Area
Today is Tuesday, Nov. 21, 2017
Hebrew date is 3 Kislev 5778
Islamic date is 3 Rabi-I 1439
Mayan Tzolk'in Day is 6 k'ib'
Mayan Long Count is 13.0.4.17.16
Julian Day is 2458079
Today's Birthdays: Voltaire (1694-1778), Francisco Tarrega (1852-1909), Rene Magritte (1898-1967), Isaac Bashevis Singer (1902-1991), Coleman Hawkins (1904-1969), Elizabeth George Speare (1908-1994), Eleanor Powell (1912-1982), Christopher Tolkien (1924), Beryl Bainbridge (1932-2010), Etta Zuber Falconer (1993-2002), Marlo Thomas (1937), Dr. John (1940), David Porter (1941), Harold Ramis (1944-2014), Goldie Hawn (1945), Bjork (1965), Carly Rae Jepsen (1985), Colleen Ballinger (1986).
"Usually when you see females in movies, they feel like they have these metallic structures around them; they are caged in by male energy."
-- Bjork
Moon Phase: Moon is in New phase and enters Waxing Crescent phase on Nov. 22 at 6:44 am PST / 9:44 am EST (14:44:10 UTC).
Next Full Moon is in Gemini on Dec. 3 at 7:47 am PST / 10:47 am EST (15:46:54 UTC).
Corresponding New Moon in Sagittarius is on Dec. 17-18 at 10:30 pm PST / 1:30 am EST (06:30:20 UTC).
Moon Sign: Moon is in Capricorn and enters Aquarius on Nov. 23 at 12:14 pm PST / 3:14 pm EST (20:14:10 UTC).
Sun Degree: 30 Scorpio-1 Sagittarius.
Planetary Stations and Sign Changes
Moon enters Capricorn at 11:14 pm Nov. 20 PST / 2:14 am EST (07:13:57 UTC).
Sun enters Sagittarius at 7:04 pm PST / 10:04 pm EST (03:04:33 Nov. 22 UTC).
Interesting Selected Aspects | Data by Serennu
-- Venus square Praamzius at 11:56 pm Nov. 20 PST / 2:56 am EST (07:56:08 UTC).
-- Venus sextile Pluto at 3:29 am PST / 6:29 am EST (11:29:06 UTC).
-- Venus conjunct Deucalion at 7:00 pm PST / 10:00 pm EST (03:00:20 Nov. 22 UTC).
Subscribe to Planet Waves -- sign up here | Visit Our Website at this link
If Your Birthday is Nov. 21
(The Day of Elegance) | Birthday Readings: Scorpio | Sagittarius | Others
You seem torn between accepting certain social norms and revolting against them. Society is in a time of upheaval. You can get away with more rebellion than you might otherwise, though remember: you want to be a rebel with a cause and with a clue. Not all traditions are bad. Some need to be updated. Above all, practice being open-minded.
Written in the Planets
With the Sun in the last degree of Scorpio (it enters Sagittarius tonight into Wednesday, depending on time zone), keep an eye on your edginess meter. Sometimes the Sun at the end of a sign can come with a sense of needing something to shift, but without the timing feeling quite right. Unless you're facing an actual, hard-and-fast deadline today, chances are any major decisions can wait a day, even if they feel 'urgent'. Instead, see if you can understand your emotions better. Venus in Scorpio is making a sexy sextile to Pluto in Capricorn. This bodes well for deepening any kind of friendship or even a group situation, with intimate relationships perhaps being a particular draw. Superficial just won't cut it today.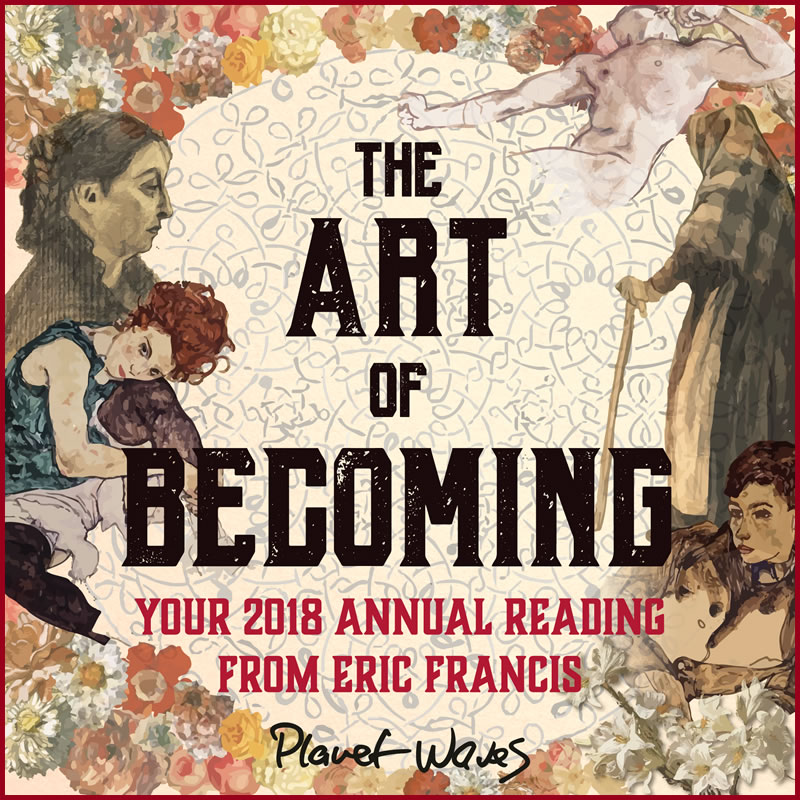 By any standards, 2018 will be a distinctive year astrologically. Get your essential guide to riding the waves of the next 12 months and beyond. Pre-order The Art of Becoming, the 2018 Planet Waves Annual by Eric Francis.

Aries (March 20-April 19) -- You may not feel like you've got everything you want out of a partnership or business situation, though that remains to be seen. You have made significant gains over the past month, and you will be happier if you take a moment to count your blessings and reflect on the benefits you have. Taurus (April 19-May 20) -- You may not understand where a certain relationship situation is going or how it's developing. But it's not all so distressing; you're in a transition that will work itself out rather quickly, and you'll soon find yourself in a clearer, brighter space, with fewer cares and concerns. Gemini (May 20-June 21) -- Let your desire be beautiful. Let it burn through all your ideas about what is right and wrong. Feel who you are, what you want and what you need, and let that be OK. Feel your desire to throw away or smash all those expectations it seems people have of you, and be yourself. Cancer (June 21-July 22) -- Partners may seem a little rebellious at the moment, though give them the space to be themselves, and appreciate their feisty approach to life. It will help if you don't take this personally, unless of course you want to get a little feisty yourself. There's a time and place for friendly rough play. Leo (July 22-Aug. 23) -- You may have a lot to get done before the holiday break (hopefully you get one); though, rather than labor, use your mind. You have plenty of it; you need to save time, and the best shortcut of all is a brilliant idea. You can accomplish two or three goals at once, and save time and effort. Virgo (Aug. 23-Sep. 22) -- Something may be brewing with relatives or living partners, and you would best be proactive. Tune in and see if you can figure out what's going on. In particular, check in with young people, including nieces and nephews; ask them what they're up to, and listen carefully. Libra (Sep. 22-Oct. 23) -- You have made substantial progress over the past month. Take a moment and size up what you've accomplished and how you've done it. Simply by being motivated, you've improved your financial situation, and you feel better about yourself. Keep your focus and don't take anything for granted.

Dear Friend of Planet Waves:

I recently did the astrology portions of the Scorpio reading. That reading is ready for instant access.

While I was working, I had a feeling I often get doing these readings: this is information I would want to know were I interested in astrology, if it was available. I would want to know about this, if only I had an astrologer I was fairly sure had a clue what was happening. [Listen to audio preview here.]

Over the next year or so, three critical planets will change signs: Saturn, Chiron and Uranus. (Chiron is often thought to be a morph of Saturn and Uranus, so that's pretty cool.) Saturn will ingress Capricorn at the end of the year, then next year, Chiron will enter Aries and Uranus will enter Taurus. Plus, several important minor planets will change signs.

What you get with my birthday (and annual) readings is astrology that's too complex to put into the horoscope column, but too personal to say much about in my articles. Using a very old technique called whole-sign houses, I am able to cast an actual chart and read that chart just like I would if you were sitting here.

For just $44, you get a reading that comes very close to a personal reading, containing much that a competent astrologer would say -- if they understood both the classical and modern astrology. This is the thing.

So much of what's happening now compels an understanding of contemporary developments in astrology. A minor planet that was discovered in 1999, and named a few weeks ago, fills in a missing piece of the puzzle in the current astrology. You can read about that here.

This reading, and my approach to by-sign readings, fills in a vast middle ground in astrology: we have horoscope columns (most of them irrelevant), we have blogs and newsletters (most of them speculative) and we have "prepared reports," drawn from a database by your birthdate, which if you were lucky were written fewer than 15 years ago.

The reading I'm offering now was done today, based on research I've been doing with my team all week and weekend -- and supported by my decades of work, writing, research and presenting in the astrology field.

I've included a graphic of the chart so you can see how sophisticated my approach is. In my presentation, though, I am speaking directly to you, in everyday language. You won't need a Ph.D. in astrology to understand this: you just need to be curious about yourself. You may appreciate the fact that I am direct and honest about relationships, sexuality and the social constructs that influence them -- a topic of vast importance today, and of interest to you. I cover much more than that, however.

You will love and benefit from this reading, or you may have your money back.

Here's how to get instant access.

with love,


---

Scorpio (Oct. 23-Nov. 22) -- You want to be independent, though you don't need to push that so hard. It's enough that you have your own approach to life, your own ideas, and some financial independence from others. If you need extra space, take it before you get irritated with anyone. You're entitled to some time alone. Sagittarius (Nov. 22-Dec. 22) -- You may feel like you have to break social norms, but really, you just need to remind yourself that you have the freedom to do what you want. Rather than staging a rebellion, use your sense of humor. You can just as easily laugh at what might make you angry. Laughter is a form of revolt. Capricorn (Dec. 22-Jan. 20) -- Mars making its way across the fame and reputation angle of your chart has you in an especially ambitious mode, though as you've recently discovered, you don't want to push things too hard. Take an even-handed approach and work with at least a medium-range plan. Slow and steady wins the race. Aquarius (Jan. 20-Feb. 19) -- The Sun's sign-change into Sagittarius will lighten up your outlook and open up your social prospects. You've been a little too focused on work lately. You're getting results, though for better efficiency, you need more recreational time. End work at a reasonable hour and get out among people. Pisces (Feb. 19-March 20) -- Important career matters continue to brew, though it's getting around time to make a concrete decision. That may be spurred by an idea, by some unusual success or by your feeling that things just need to change. Change is approaching, though you want to be the one making the decisions.

Monthly Horoscopes and Publishing Schedule Notes



Your extended monthly horoscopes for November were published on Thursday, Oct. 26. We published your extended monthly horoscopes for October on Thursday, Sept. 21. Please note: we normally publish the extended monthly horoscope on the first Friday after the Sun has entered a new sign.


---
---