New York, November 17, 2017 | Read on Web | Please Visit Daily News Horoscope Area
Today is Friday, Nov. 17, 2017
Hebrew date is 28 Cheshvan 5778
Islamic date is 28 Safar 1439
Mayan Tzolk'in Day is 2 Eb'
Mayan Long Count is 13.0.4.17.12
Julian Day is 2458075
Today's Birthdays: August Ferdinand Mobius (1790-1868), Grace Abbott (1878-1939), Lee Strasberg (1901-1982), Isamu Noguchi (1904-1988), Israel Regardie (1907-1985), Rock Hudson (1925-1985), Gordon Lightfoot (1938), Martin Scorsese (1942), Lauren Hutton (1943), Danny DeVito (1944), Rem Koolhaas (1944), Lorne Michaels (1944), Sammy Younge Jr. (1944-1966), Lesley Abdela (1945), East Bay Ray (1948), Yolanda King (1955-2007), RuPaul (1960), Jeff Buckley (1966-1997), Ronnie DeVoe (1967), Rebecca Walker (1969), Rachel McAdams (1978), Christopher Paolini (1983).
"My father had a magnificent dream, but it still is only a dream. It is easier to build monuments than make a better world. If we choose to honor him in words alone, it will be a grotesque farce."
-- Yolanda King
---
From Sexual Harassment to Sexual Revolution Dear Friend and Reader: When I went onto the Daily News website and saw a photo of Al Franken groping Leeann Tweeden, wearing a big grin on his face, first I felt disgusted, then I thought: the emotional plague. That's how Wilhelm Reich (1897-1957), a forgotten pioneer of psychiatry and psychology, described someone who, when shut down in early childhood, limps through life because his or her "natural, self-regulatory life manifestations have been suppressed." He described it as a plague. Bigger than an epidemic. Bigger than a pandemic. Out of control. Wide-scale enough to lead to the rise of fascism in the 1930s, and in the 21st century. People who are stricken with the emotional plague move through life as zombies, out of touch with their bodies and their environment. They rarely consider their potential, much less scratch the surface. When you look at people and wonder what the heck is wrong with them, or why they're so dense and out of it, it's probably the emotional plague. When you wonder why you cannot dial in your own passion, or wonder where your curiosity went, consider this possibility. If you are looking for meaning in your life, your work and your relationships, consider this possibility. Every day, we hear about the sordid past of another millionaire or power monger. Former Pres. George Bush (the elder) is a serial groper. According to a police report obtained by the Daily Mail, Sylvester Stallone forced a teenager to have sex with him and his bodyguard, threatening to "beat her head in." George Takei, Mr. Sulu from the original Star Trek, was recently outed, and gave the lame excuse of his "dirty grandpa routine." I recently placed an op-ed column in the Daily News describing a sexual assault I experienced at age 23. Until that time, I had not read about any men who had come forward saying they were sexually abused by men in employment situations, and it seemed due time that someone start that conversation. Read more...
---
Moon Phase: Moon is in Balsamic (waning crescent) phase and enters New phase on Nov. 18 at 3:42 am PST / 6:42 am EST (11:42:03 UTC).
Next New Moon is in Scorpio on Nov. 18 at 3:42 am PST / 6:42 am EST (11:42:03 UTC).
Next Full Moon is in Gemini on Dec. 3 at 7:47 am PST / 10:47 am EST (15:46:54 UTC).
Moon Sign: Moon is in Scorpio and enters Sagittarius on Nov. 18 at 10:59 am PST / 1:59 pm EST (18:58:56 UTC).
Sun Degree: 26-27 Scorpio.
Planetary Stations and Sign Changes
Psyche enters Scorpio at 11:11 pm Nov. 16 PST / 2:11 am EST (07:10:41 UTC).
Praamzius stations retrograde at 11:31 am PST / 2:31 pm EST (19:31:15 UTC).
Interesting Selected Aspects | Data by Serennu
-- Mercury sextile Mars at 6:24 am PST / 9:24 am EST (14:24:16 UTC).
-- Venus opposite Mors-Somnus at 8:40 am PST / 11:40 am EST (16:39:44 UTC), and Echeclus at 10:27 am PST / 1:27 pm EST (18:27:35 UTC).
-- Mercury opposite Asbolus at 4:08 pm PST / 7:08 pm EST (00:07:56 Nov. 18 UTC).
Subscribe to Planet Waves -- sign up here | Visit Our Website at this link
If Your Birthday is Nov. 17
(The Day of the Bridge) | Scorpio Birthday Reading | All Other Signs
The Beatles ended their career saying "the love you take is equal to the love you make." Your birthday chart is reminding you to be generous, both financially and emotionally. This will remind you how good your life is, and never to take for granted the happiness and the privileges that you have. Let your life be a shining example to others.
Written in the Planets
Today the asteroid Psyche joins asteroid Vesta in the first degree of Scorpio. If you feel plagued with doubts that humanity will ever heal its collective wounds around sexuality and sexual power, you're not alone. And while such healing might take longer than the average human being can conceive of intellectually, that does not mean it's not worth pursuing on the individual level (indeed, it may be essential). If Vesta serves as a reminder to devote yourself to going as deep as you need to (or are able to), Psyche is a reminder that if you can recognize the need to heal something within yourself, it is in fact possible. A sextile between Mercury in Sagittarius and Mars in Libra is energizing your ability to stand up for what you believe in -- especially any social justice cause that serves the highest good of humanity.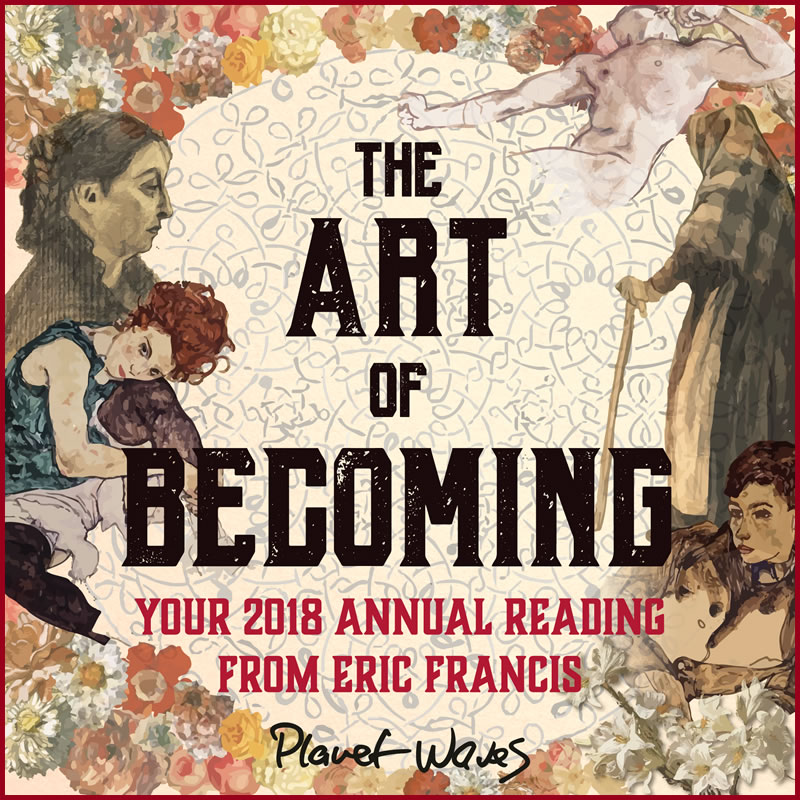 By any standards, 2018 will be a distinctive year astrologically. Get your essential guide to riding the waves of the next 12 months and beyond. Pre-order The Art of Becoming, the 2018 Planet Waves Annual by Eric Francis.

Aries (March 20-April 19) -- It's essential that you learn to receive what's offered to you. Many people say it's easier for them to love than it is to be loved; and if this in any way describes you, then it's time to confront this. You'll ease considerable tension if you learn how to receive graciously. Taurus (April 19-May 20) -- There are profound benefits to collaborating, to sharing responsibilities and to bringing the best of who you are to every situation. Holding back, doing the bare minimum, and exploiting every situation are all the rage -- though all of this goes directly against your most deeply held ethics. Gemini (May 20-June 21) -- There may be some tension building in a relationship, and it will be better if you're proactive and make a choice to work it out consciously. It would be too easy to let things slide and then find yourself in a difficult spot. Have the courage to initiate the conversations that you need to have. Cancer (June 21-July 22) -- Your daring and self-expressive natures are running at a peak right now, though you must take the first steps. You, personally, are the only one who can activate your potential, even if you seem to have help or inspiration. Have the courage to dive into your passion, whatever that may be. Leo (July 22-Aug. 23) -- If you're the go-out type, this would be a good night to stay in. If you're the stay-at-home type, this would be an excellent night to come out. You'll feel even better when you return, and you'll love your cozy space. More than anything, take a moment and feel good about your life and your world. Virgo (Aug. 23-Sep. 22) -- You have the best ideas, though ideas do not implement themselves. You must personally see to it that they are actually put into action, and then refined until they do their jobs well. This is one of the very most important forms of leadership in the world. Being intelligent demands responsibility. Libra (Sep. 22-Oct. 23) -- If you want something, put it in writing, and back that up with a spirited conversation when the opportunity arises. But the written bit is essential. You are persuasive in this mode; and there's the side-benefit that nobody can mince your words, or pretend you didn't say something.

Dear Friend of Planet Waves:

I recently did the astrology portions of the Scorpio reading. That reading is ready for instant access.

While I was working, I had a feeling I often get doing these readings: this is information I would want to know were I interested in astrology, if it was available. I would want to know about this, if only I had an astrologer I was fairly sure had a clue what was happening. [Listen to audio preview here.]

Over the next year or so, three critical planets will change signs: Saturn, Chiron and Uranus. (Chiron is often thought to be a morph of Saturn and Uranus, so that's pretty cool.) Saturn will ingress Capricorn at the end of the year, then next year, Chiron will enter Aries and Uranus will enter Taurus. Plus, several important minor planets will change signs.

What you get with my birthday (and annual) readings is astrology that's too complex to put into the horoscope column, but too personal to say much about in my articles. Using a very old technique called whole-sign houses, I am able to cast an actual chart and read that chart just like I would if you were sitting here.

For just $44, you get a reading that comes very close to a personal reading, containing much that a competent astrologer would say -- if they understood both the classical and modern astrology. This is the thing.

So much of what's happening now compels an understanding of contemporary developments in astrology. A minor planet that was discovered in 1999, and named a few weeks ago, fills in a missing piece of the puzzle in the current astrology. You can read about that here.

This reading, and my approach to by-sign readings, fills in a vast middle ground in astrology: we have horoscope columns (most of them irrelevant), we have blogs and newsletters (most of them speculative) and we have "prepared reports," drawn from a database by your birthdate, which if you were lucky were written fewer than 15 years ago.

The reading I'm offering now was done today, based on research I've been doing with my team all week and weekend -- and supported by my decades of work, writing, research and presenting in the astrology field.

I've included a graphic of the chart so you can see how sophisticated my approach is. In my presentation, though, I am speaking directly to you, in everyday language. You won't need a Ph.D. in astrology to understand this: you just need to be curious about yourself. You may appreciate the fact that I am direct and honest about relationships, sexuality and the social constructs that influence them -- a topic of vast importance today, and of interest to you. I cover much more than that, however.

You will love and benefit from this reading, or you may have your money back.

Here's how to get instant access.

with love,


---

Scorpio (Oct. 23-Nov. 22) -- What you are feeling is not a passing whim. You're just becoming more aware of what you've been feeling for a while. Now, you cannot deny it. The curtains have been opened and the Sun is shining into your mind. That's the right time to make a commitment or a decision. Sagittarius (Nov. 22-Dec. 22) -- If you could be granted one wish, what would it be? Think carefully, because your priorities matter. Would you choose love, or perfect health, or money? On what basis would you bump any of those priorities down to second or third place? Watch out: you might get what you're after. Capricorn (Dec. 22-Jan. 20) -- We as a society, and you as a person, are past the time of mincing your words or fearing offending people with reality. This takes courage, and much of that is about finding a place of peace and sanity in your heart. As a great poet once wrote, let us not talk falsely now. The hour is getting late. Aquarius (Jan. 20-Feb. 19) -- With your chart currently featuring a growing collection of planets in your house of reputation and success, it might be difficult to take a humble approach to what you're doing. Allow yourself just a little swagger, as long as it's friendly. Then be understated about yourself, and shower praise on others. Pisces (Feb. 19-March 20) -- Effort has its rewards. They may not come as soon as we want, or in exactly the same form. Yet they often arrive at the perfect time, and in ways better than we might have expected. As a Pisces, you are a visionary; though you need to dream much bigger, and act as if your dreams are real.

Monthly Horoscopes and Publishing Schedule Notes



Your extended monthly horoscopes for November were published on Thursday, Oct. 26. We published your extended monthly horoscopes for October on Thursday, Sept. 21. Please note: we normally publish the extended monthly horoscope on the first Friday after the Sun has entered a new sign.


---
---