New York, November 16, 2017 | Read on Web | Please Visit Daily News Horoscope Area
Today is Thursday, Nov. 16, 2017
Hebrew date is 27 Cheshvan 5778
Islamic date is 27 Safar 1439
Mayan Tzolk'in Day is 1 Chuwen
Mayan Long Count is 13.0.4.17.11
Julian Day is 2458074
Today's Birthdays: Jonas Hallgrimsson (1807-1845), W.C. Handy (1873-1958), George S. Kaufman (1889-1961), Joan Lindsay (1896-1984), Burgess Meredith (1907-1997), Ellen Albertini Dow (1913-2015), Chinua Achebe (1930-2013), Hubert Sumlin (1931-2011), Diana Krall (1964), Lisa Bonet (1967), Martha Plimpton (1970), Missi Pyle (1972), Maggie Gyllenhaal (1977), Iamsu! (1989).
"The world is like a Mask dancing. If you want to see it well, you do not stand in one place."
-- Chinua Achebe
Moon Phase: Moon is in Balsamic (waning crescent) phase and enters New phase on Nov. 18 at 3:42 am PST / 6:42 am EST (11:42:03 UTC).
Next New Moon is in Scorpio on Nov. 18 at 3:42 am PST / 6:42 am EST (11:42:03 UTC).
Next Full Moon is in Gemini on Dec. 3 at 7:47 am PST / 10:47 am EST (15:46:54 UTC).
Moon Sign: Moon is in Libra and enters Scorpio today at 12:18 am PST / 3:18 am EST (08:18:38 UTC).
Sun Degree: 25-26 Scorpio.
Planetary Stations and Sign Changes
Moon enters Scorpio at 12:18 am PST / 3:18 am EST (08:18:38 UTC).
Nessus stations direct at 8:16 pm PST / 11:16 pm EST (04:15:40 Nov. 17 UTC).
Interesting Selected Aspects | Data by Serennu
-- Venus trine Neptune at 7:20 am PST / 10:20 am EST (15:20:33 UTC).
-- Sun trine Chiron at 7:48 am PST / 10:48 am EST (15:48:08 UTC).
-- Mercury trine Ceres at 10:18 am PST / 1:18 pm EST (18:18:06 UTC).
Subscribe to Planet Waves -- sign up here | Visit Our Website at this link
If Your Birthday is Nov. 16
(The Day of the Boss) | Scorpio Birthday Reading | All Other Signs
Your life will tend to run in cycles this year, and you must make the most of those. A metaphor would be to plant when the growing season begins, and harvest at the end. These natural cycles are far removed from the thoughts of most, though you must be in harmony with your true nature, as you grow, change and become on a continuous basis.
Written in the Planets
The Moon isn't technically new until it reaches the Sun's position in the zodiac (that will happen on Saturday). However, today the Moon enters the relevant sign, Scorpio, and as it does so it forms a potent conjunction to Vesta, while the Sun trines Chiron. One effect of this might feel like the New Moon starting a little early, and quite palpably; you may find you have a pretty clear picture of where you wish to direct your energy over the ensuing month. There's no reason why you can't begin making plans or, at the very least, dreaming dreams.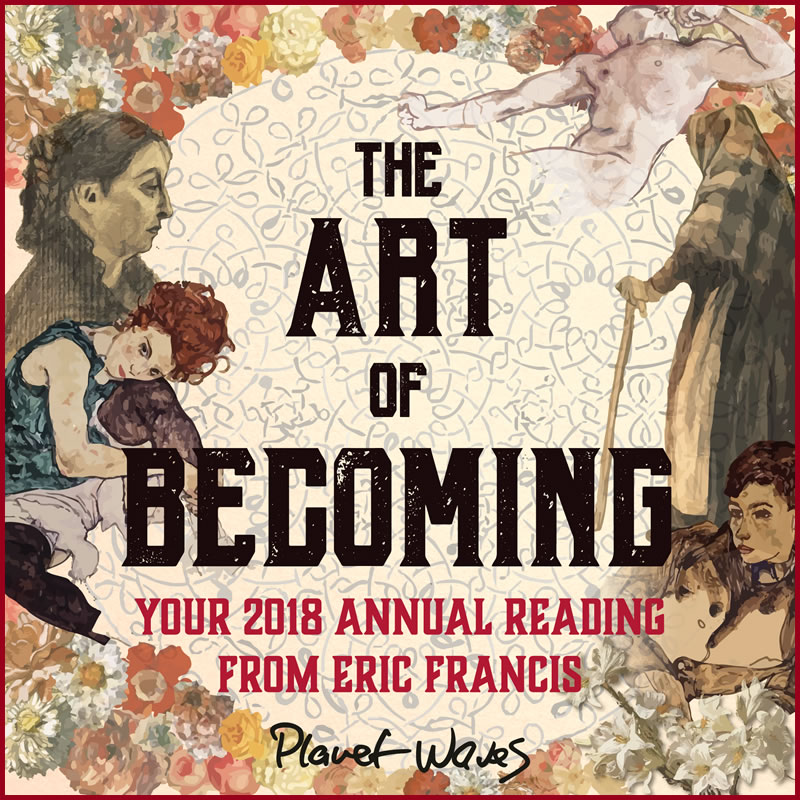 By any standards, 2018 will be a distinctive year astrologically. Get your essential guide to riding the waves of the next 12 months and beyond. Pre-order The Art of Becoming, the 2018 Planet Waves Annual by Eric Francis.

Aries (March 20-April 19) -- The thing about sex is that it's not like a little video where you click play, and then can fast-forward to the good parts. Wholesome physical sharing takes patience, trust and affection. Those things require a commitment of time and space. What happens at night does not happen overnight. Taurus (April 19-May 20) -- Tackle a financial issue directly, without worrying about the potential repercussions. Engage the conversation, and get the facts onto the table. Then you and whoever you're discussing this with can decide what to do about it. This will keep you well ahead of the curve. Gemini (May 20-June 21) -- Being close to others is good for you. Being vulnerable is healthy. You don't need to bob and weave to avoid intimate contact. Remember that most of what you encounter when you get close to another person is yourself. The more self-accepting you are, the easier that will be. Cancer (June 21-July 22) -- Your charts today and through the weekend are all about expressing yourself, whether you do this in the privacy of your workspace, with collaborators, or in some of the most passionate days and nights in recent memory. Get your work done. Some good times are about to roll. Leo (July 22-Aug. 23) -- You have to know your limits, specifically so you can exceed them. You need boundaries, so you can decide when you want to cross them. You need a container, so that you can do exactly, precisely what you want to do within your personal space. That's why you have it, and what it's for. Virgo (Aug. 23-Sep. 22) -- You know what is real, and therefore you can stay in touch with reality. Others may fantasize or wish their lives away; you need traction and momentum, and you can give yourself that today. Spend your precious time concerning yourself with what really matters -- that and that alone. Libra (Sep. 22-Oct. 23) -- Whatever a professional situation calls for, you can provide it. You can be confident of that, and eventually you will learn this is one of your greatest assets. You have resources, which means a blend of knowledge, ethics, willingness and the motivation to do an excellent job. Count on that.

Dear Friend of Planet Waves:

I recently did the astrology portions of the Scorpio reading. That reading is ready for instant access.

While I was working, I had a feeling I often get doing these readings: this is information I would want to know were I interested in astrology, if it was available. I would want to know about this, if only I had an astrologer I was fairly sure had a clue what was happening. [Listen to audio preview here.]

Over the next year or so, three critical planets will change signs: Saturn, Chiron and Uranus. (Chiron is often thought to be a morph of Saturn and Uranus, so that's pretty cool.) Saturn will ingress Capricorn at the end of the year, then next year, Chiron will enter Aries and Uranus will enter Taurus. Plus, several important minor planets will change signs.

What you get with my birthday (and annual) readings is astrology that's too complex to put into the horoscope column, but too personal to say much about in my articles. Using a very old technique called whole-sign houses, I am able to cast an actual chart and read that chart just like I would if you were sitting here.

For just $44, you get a reading that comes very close to a personal reading, containing much that a competent astrologer would say -- if they understood both the classical and modern astrology. This is the thing.

So much of what's happening now compels an understanding of contemporary developments in astrology. A minor planet that was discovered in 1999, and named a few weeks ago, fills in a missing piece of the puzzle in the current astrology. You can read about that here.

This reading, and my approach to by-sign readings, fills in a vast middle ground in astrology: we have horoscope columns (most of them irrelevant), we have blogs and newsletters (most of them speculative) and we have "prepared reports," drawn from a database by your birthdate, which if you were lucky were written fewer than 15 years ago.

The reading I'm offering now was done today, based on research I've been doing with my team all week and weekend -- and supported by my decades of work, writing, research and presenting in the astrology field.

I've included a graphic of the chart so you can see how sophisticated my approach is. In my presentation, though, I am speaking directly to you, in everyday language. You won't need a Ph.D. in astrology to understand this: you just need to be curious about yourself. You may appreciate the fact that I am direct and honest about relationships, sexuality and the social constructs that influence them -- a topic of vast importance today, and of interest to you. I cover much more than that, however.

You will love and benefit from this reading, or you may have your money back.

Here's how to get instant access.

with love,


---

Scorpio (Oct. 23-Nov. 22) -- Success is not about what you've accomplished, your skills or your connections. Your success is about who you are as a person. It's difficult to remember this when you see people displaying all kinds of flashy skills, or using money or politics to their advantage. It's all a ruse. We live in the human world. Sagittarius (Nov. 22-Dec. 22) -- You have your own ideas about life, and it doesn't matter what anyone else thinks. You know what's true for you. At a certain point, though, it will really make a difference what other people think, so you would be wise to study that carefully and have a fully informed viewpoint. Capricorn (Dec. 22-Jan. 20) -- You have considerable authority to say exactly what needs to be said. Yet the key to getting a positive effect will be setting aside any anger or resentment, and coming from a clear place of love. You don't need to provoke people with negative emotions. Your beauty will get far better results. Aquarius (Jan. 20-Feb. 19) -- Offer yourself to the world at full strength. Show anyone who might care what you can actually do, skipping over the introductory speech. Be generous with your gifts and strive to offer the very best of your skill and intelligence. Don't judge your performance. Rather, listen carefully for feedback. Pisces (Feb. 19-March 20) -- It's time to push and exceed your previous beliefs about yourself. Go three steps better than you thought you could accomplish. Treat every task like it's the most important audition of your life. Remember that you exist within your own ideas of what is possible. Therefore, set the highest standards.

Monthly Horoscopes and Publishing Schedule Notes



Your extended monthly horoscopes for November were published on Thursday, Oct. 26. We published your extended monthly horoscopes for October on Thursday, Sept. 21. Please note: we normally publish the extended monthly horoscope on the first Friday after the Sun has entered a new sign.


---
---