New York, November 15, 2017 | Read on Web | Please Visit Daily News Horoscope Area
Today is Wednesday, Nov. 15, 2017
Hebrew date is 26 Cheshvan 5778
Islamic date is 26 Safar 1439
Mayan Tzolk'in Day is 13 Ok
Mayan Long Count is 13.0.4.17.10
Julian Day is 2458073
Today's Birthdays: William Herschel (1738-1822), Sara Josephine Baker (1873-1945), Marianne Moore (1887-1972), Georgia O'Keeffe (1887-1986), Aneurin Bevan (1897-1960), Nita Barrow (1916-1995), Petula Clark (1932), Gloria Foster (1933-2001), Little Willie John (1937-1968), Yaphet Kotto (1937), Roberto Cavalli (1940), Sam Waterston (1940), Anni-Frid Lyngstad (1945), Beverly D'Angelo (1951), Alexander O'Neal (1953), Jonny Lee Miller (1972), Shailene Woodley (1991).
"The unexplainable thing in nature that makes me feel the world is big far beyond my understanding -- to understand maybe by trying to put it into form. To find the feeling of infinity on the horizon line or just over the next hill."
-- Georgia O'Keeffe
Moon Phase: Moon is in Balsamic (waning crescent) phase and enters New phase on Nov. 18 at 3:42 am PST / 6:42 am EST (11:42:03 UTC).
Next New Moon is in Scorpio on Nov. 18 at 3:42 am PST / 6:42 am EST (11:42:03 UTC).
Next Full Moon is in Gemini on Dec. 3 at 7:47 am PST / 10:47 am EST (15:46:54 UTC).
Moon Sign: Moon is in Libra and enters Scorpio on Nov. 16 at 12:18 am PST / 3:18 am EST (08:18:38 UTC).
Sun Degree: 24-25 Scorpio.
Planetary Stations and Sign Changes
Pallas enters Aries (retrograde) at 7:01 pm PST / 10:01 pm EST (03:00:57 Nov. 16 UTC).
Vesta enters Scorpio at 8:13 pm PST / 11:13 pm EST (04:12:58 Nov. 16 UTC).
Interesting Selected Aspects | Data by Serennu
-- Mars sextile Ceres at 4:24 am PST / 7:24 am EST (12:24:21 UTC).
-- Mercury conjunct Great Attractor at 3:26 pm PST / 6:26 pm EST (23:26:19 UTC).
-- Jupiter square Okyrhoe at 4:49 pm PST / 8:49 pm EST (00:49:20 Nov. 16 UTC).
-- Sun opposite Bienor at 7:29 pm PST / 10:29 pm EST (03:28:53 Nov. 16 UTC).
-- Pallas opposite Vesta at 7:47 pm PST / 10:47 pm EST (03:47:07 Nov. 16 UTC).
Subscribe to Planet Waves -- sign up here | Visit Our Website at this link
If Your Birthday is Nov. 15
(The Day of Encounter) | Scorpio Birthday Reading | All Other Signs
Be alert to when you think you must give something up. You probably don't need to; that's just a belief. Yet you must cultivate devotion. Your life is about what you offer yourself to with a whole heart. That means more than romantic partners: it means what you do every day, and the choices you make about who and what you serve.
Written in the Planets
Venus, the planet of love, is making an aspect to Neptune this week that's perfect for daydreaming, compassion and inner creativity. Meanwhile, Mars is making an aspect to Pluto this week that could enable you to make needed changes in your environment, yet is also prone to power struggles with others. This combination suggests that when you move from the world of imagination into the realm of action this week, bring all of your awareness to the transition. This astrology is affecting everyone around you. But if you're the one reading this, then you enjoy a little extra responsibility to use what you know. Mercury conjunct the Great Attractor today might grant a level of immunity when making potentially polarizing statements. Even so, you'll want to weigh carefully the necessity and potential benefits of speaking your mind.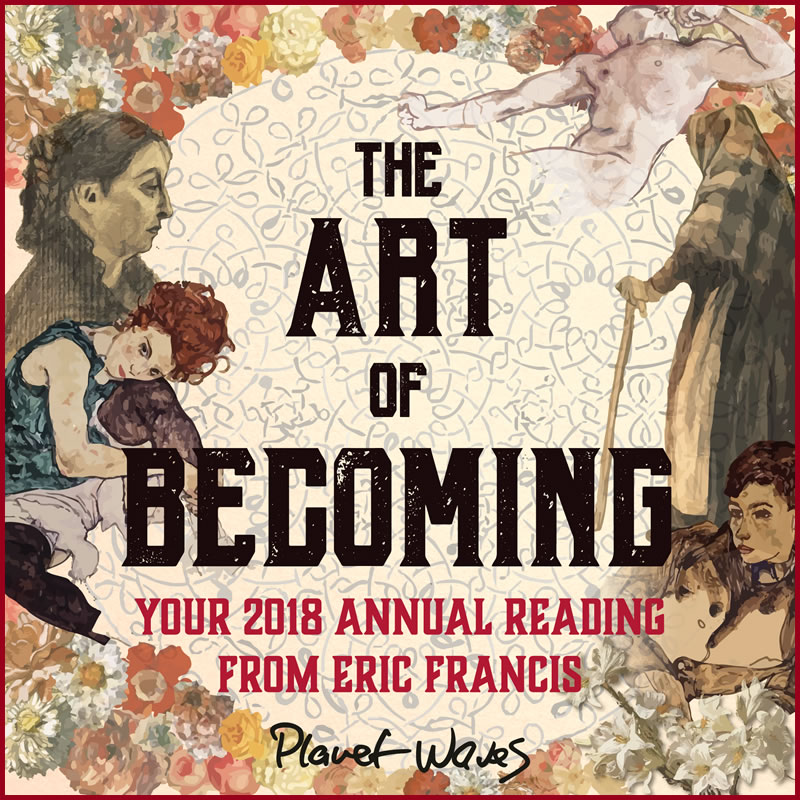 By any standards, 2018 will be a distinctive year astrologically. Get your essential guide to riding the waves of the next 12 months and beyond. Pre-order The Art of Becoming, the 2018 Planet Waves Annual by Eric Francis.

Aries (March 20-April 19) -- Commitment should not be a big deal. It's not the kind of thing that should require any special motivation; it speaks for itself, and provides its own energy. The questions you are facing in a relationship refer to whether there are authentic feelings of devotion. Don't be afraid to ask honestly. Taurus (April 19-May 20) -- Focus on taking care of yourself, and then take care of the people closest to you. Take care of groceries and laundry, then make a few phone calls to people you care about. Find out if there is some way you can help, even if just to lend an ear for a few minutes. The world will be a better place. Gemini (May 20-June 21) -- You may need to devote yourself to a creative project or work-related task; and for now, this will take priority over a relationship. This is not being a workaholic. It's about being devoted to what you do and what you must create. You will circle back around to personal intimacy. That is inevitable. Cancer (June 21-July 22) -- As one born under the sign of the Crab, you need your personal space. At minimum you should have a room of your own. You might have to make do with any extended opportunity to be alone, even if for a few hours. That would serve you well today and tonight. Leo (July 22-Aug. 23) -- Life is not all about feeling secure. Sometimes you have to use the sense of safety that you've gained, and deliberately take a risk of some kind. You might want to say something you wouldn't ordinarily say, or express yourself creatively even if you don't know whether you can carry it off. Virgo (Aug. 23-Sep. 22) -- It's true that you're sometimes called to make sacrifices for what you want, though is that really necessary in your current situation? Or is it a belief that's based on guilt and other self-defeating conditioning? As a Virgo, you must learn one thing: how to be your own best friend. Libra (Sep. 22-Oct. 23) -- Keep your focus on financial priorities, and don't be so willing to write checks or make concessions. People think anyone with a little extra cash is Jay-Z. You are a person of modest means, and it's essential that everyone do their part and make their appropriate contribution -- especially close partners.

Dear Friend of Planet Waves:

Sunday, on the eve of Venus conjunct Jupiter, I did the astrology portions of the Scorpio reading. That reading is ready for instant access.

While I was working, I had a feeling I often get doing these readings: this is information I would want to know were I interested in astrology, if it was available. I would want to know about this, if only I had an astrologer I was fairly sure had a clue what was happening. [Listen to audio preview here.]

Over the next year or so, three critical planets will change signs: Saturn, Chiron and Uranus. (Chiron is often thought to be a morph of Saturn and Uranus, so that's pretty cool.) Saturn will ingress Capricorn at the end of the year, then next year, Chiron will enter Aries and Uranus will enter Taurus. Plus, several important minor planets will change signs.

What you get with my birthday (and annual) readings is astrology that's too complex to put into the horoscope column, but too personal to say much about in my articles. Using a very old technique called whole-sign houses, I am able to cast an actual chart and read that chart just like I would if you were sitting here.

For just $44, you get a reading that comes very close to a personal reading, containing much that a competent astrologer would say -- if they understood both the classical and modern astrology. This is the thing.

So much of what's happening now compels an understanding of contemporary developments in astrology. A minor planet that was discovered in 1999, and named a few weeks ago, fills in a missing piece of the puzzle in the current astrology. You can read about that here.

This reading, and my approach to by-sign readings, fills in a vast middle ground in astrology: we have horoscope columns (most of them irrelevant), we have blogs and newsletters (most of them speculative) and we have "prepared reports," drawn from a database by your birthdate, which if you were lucky were written fewer than 15 years ago.

The reading I'm offering now was done today, based on research I've been doing with my team all week and weekend -- and supported by my decades of work, writing, research and presenting in the astrology field.

I've included a graphic of the chart so you can see how sophisticated my approach is. In my presentation, though, I am speaking directly to you, in everyday language. You won't need a Ph.D. in astrology to understand this: you just need to be curious about yourself. You may appreciate the fact that I am direct and honest about relationships, sexuality and the social constructs that influence them -- a topic of vast importance today, and of interest to you. I cover much more than that, however.

You will love and benefit from this reading, or you may have your money back.

Here's how to get instant access.

with love,


---

Scorpio (Oct. 23-Nov. 22) -- You have every possible advantage going for you at the moment, so take this grand opportunity to solve some problems. Get a grip on whatever drains your energy and put a stop to it. Then, with that benefit of economy, choose two cherished goals and make them happen in record time. Sagittarius (Nov. 22-Dec. 22) -- You have an unusual power at the moment, which is partly about the ability to go deep stealth; and second, you can pretty much say and do what you want, and nobody can touch you. Now, what will you do with that power? You can be a force for truth and justice. Bring it on. Capricorn (Dec. 22-Jan. 20) -- Events over the next few weeks will prove to be informative in a way you were not expecting and therefore could not prepare for. Yet you know you've been approaching this moment all of your life. Transcend your immediate physical needs and focus your mind on the widest perspective you can. Aquarius (Jan. 20-Feb. 19) -- Do not confuse red carpet moments, stunning encores and glamorous interviews with the effort that it took successful people to get there. You have the talent, the resources and anything else you might need. Now, let yourself be guided to work as hard as you must to get the result that you want. Pisces (Feb. 19-March 20) -- Sometimes, no matter what consultants, experts or partners may say, you must make your own decision. The purpose of getting guidance is not to have your thoughts or ideas overruled; the purpose is to compel you to make an honest assessment of your situation. Make sure you do that much.

Monthly Horoscopes and Publishing Schedule Notes



Your extended monthly horoscopes for November were published on Thursday, Oct. 26. We published your extended monthly horoscopes for October on Thursday, Sept. 21. Please note: we normally publish the extended monthly horoscope on the first Friday after the Sun has entered a new sign.


---
---