New York, November 14, 2017 | Read on Web | Please Visit Daily News Horoscope Area
Today is Tuesday, Nov. 14, 2017
Hebrew date is 25 Cheshvan 5778
Islamic date is 25 Safar 1439
Mayan Tzolk'in Day is 12 Muluk
Mayan Long Count is 13.0.4.17.9
Julian Day is 2458072
Today's Birthdays: Fanny Mendelssohn (1805-1847), Claude Monet (1840-1926), Madeleine Lemoyne Ellicott (1856-1945), Frederick Banting (1891-1941), Louise Brooks (1906-1985), Astrid Lindgren (1907-2002), Sherwood Schwartz (1916-2011), Veronica Lake (1922-1973), Buckwheat Zydeco (1947-2016), Maggie Roswell (1952), Yanni (1954), Paul McGann (1959), Joseph "Rev. Run" Simmons (1964), Josh Duhamel (1972), Travis Barker (1975), Obie Trice (1977), Vanessa Bayer (1981), Russell Tovey (1981).
"I climb up, go down again, then climb up once more; between all my studies, as a relaxation I explore every footpath, always curious to see something new."
-- Claude Monet
Moon Phase: Moon is in Last Quarter phase and enters Balsamic (waning crescent) phase on Nov. 14 at 5:12 am PST / 8:12 am EST (13:11:58 UTC).
Next New Moon is in Scorpio on Nov. 18 at 3:42 am PST / 6:42 am EST (11:42:03 UTC).
Next Full Moon is in Gemini on Dec. 3 at 7:47 am PST / 10:47 am EST (15:46:54 UTC).
Moon Sign: Moon is in Libra and enters Scorpio on Nov. 16 at 12:18 am PST / 3:18 am EST (08:18:38 UTC).
Sun Degree: 23-24 Scorpio.
Planetary Stations and Sign Changes
Mercury enters shadow phase at 5:50 pm PST / 8:50 pm EST (01:50:17 Nov. 15 UTC).
Interesting Selected Aspects | Data by Serennu
-- Mercury square Teharonhiawako at 2:19 am PST / 5:19 am EST (10:18:49 UTC).
-- Mercury opposite Altjira 2:19 am PST / 5:19 am EST (10:19:09 UTC).
-- Venus sesquiquadrate Chiron at 5:41 pm PST / 8:41 pm EST (01:40:54 Nov. 15 UTC).
Subscribe to Planet Waves -- sign up here | Visit Our Website at this link
If Your Birthday is Nov. 14
(The Day of the Investigator) | Scorpio Birthday Reading | All Other Signs
Understanding your own motives is the key to your happiness. What exactly drives you? What do you want? What do you need? Once you're clear about these things, you'll be able to follow them, or make any necessary adjustments. Yet you must not live in any form of denial, or treat yourself like a cryptic puzzle. This will take some mental discipline.
Written in the Planets
Today Mercury enters its pre-retrograde shadow phase in Sagittarius. This is not a reason to panic; but it is a reminder to begin tying up any loose ends you may have -- particularly in terms of things like finances, major purchases and contracts. With Mercury in the sign of big-picture thinking, it's also a reminder to be especially intentional when it comes to the details. Mercury will not station retrograde until Dec. 3. Use the next couple weeks to back up your computer and tend to car maintenance or other repairs you've been meaning to get around to.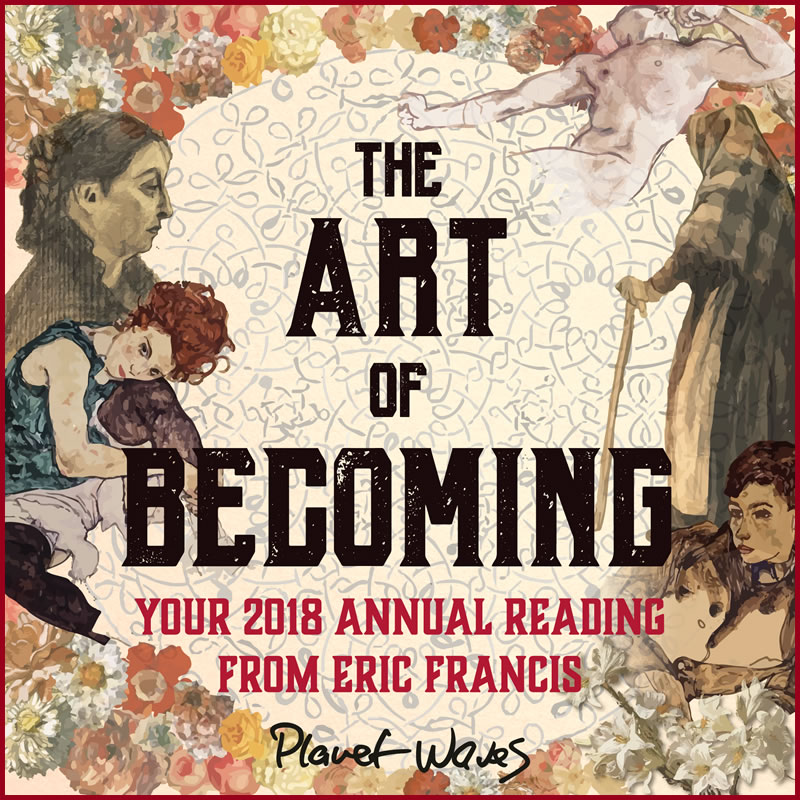 By any standards, 2018 will be a distinctive year astrologically. Get your essential guide to riding the waves of the next 12 months and beyond. Pre-order The Art of Becoming, the 2018 Planet Waves Annual by Eric Francis.

Aries (March 20-April 19) -- A relationship matter needs a good airing out; it will help if you take responsibility for your part in the situation. You could too easily blame others, and then wonder why you didn't get a result. Start the discussion by owning up to your choices and how you feel about them. Taurus (April 19-May 20) -- There is a difference between love and attachment. Jealousy is not a sign of devotion; it's about something else. If you can be flexible with someone, and let your feelings flow, and hold space for them to be who they truly are: that is a sign of respect, devotion and the essence of love. Gemini (May 20-June 21) -- You may finally have a clue what's going on with an intimate partner or collaborator. It now may make more sense why they felt they had to confuse matters, or conceal something important. Give them a pass this time, though make sure it does not become a habit. Cancer (June 21-July 22) -- Don't let anyone or anything shake your confidence. That includes things said to you by anyone, whether close to you or not; and it includes family and household matters. You are a sensitive person, and must avoid taking things personally. Dust yourself off, and face the future with an open heart. Leo (July 22-Aug. 23) -- Be gentle with partners today and tonight. Temper your words. They have more impact than you may think, because you have more impact than you know. People care about how you feel; start from that premise, and move directly to demonstrating that you care about how they feel. Virgo (Aug. 23-Sep. 22) -- If you attend to a financial matter, everything else will make more sense. You will feel less like a victim and more powerful in your relationships, whether work or personal. You have the power to work this out, and right now you have the motivation. Don't let anyone or anything stop you. Libra (Sep. 22-Oct. 23) -- If you feel angry or annoyed about anything, be sure to let that motivate you to make changes. Don't wait until you calm down and decide what to do then. You know what you need to do, and what you want to do. Think of this as a matter of demonstrating your self-respect.

Dear Friend of Planet Waves:

Today, on the eve of Venus conjunct Jupiter, I did the astrology portions of the Scorpio reading. That reading is ready for instant access.

While I was working this afternoon, I had a feeling I often get doing these readings: this is information I would want to know were I interested in astrology, if it was available. I would want to know about this, if only I had an astrologer I was fairly sure had a clue what was happening. [Listen to audio preview here.]

Over the next year or so, three critical planets will change signs: Saturn, Chiron and Uranus. (Chiron is often thought to be a morph of Saturn and Uranus, so that's pretty cool.) Saturn will ingress Capricorn at the end of the year, then next year, Chiron will enter Aries and Uranus will enter Taurus. Plus, several important minor planets will change signs.

What you get with my birthday (and annual) readings is astrology that's too complex to put into the horoscope column, but too personal to say much about in my articles. Using a very old technique called whole-sign houses, I am able to cast an actual chart and read that chart just like I would if you were sitting here.

For just $44, you get a reading that comes very close to a personal reading, containing much that a competent astrologer would say -- if they understood both the classical and modern astrology. This is the thing.

So much of what's happening now compels an understanding of contemporary developments in astrology. A minor planet that was discovered in 1999, and named a few weeks ago, fills in a missing piece of the puzzle in the current astrology. You can read about that here.

This reading, and my approach to by-sign readings, fills in a vast middle ground in astrology: we have horoscope columns (most of them irrelevant), we have blogs and newsletters (most of them speculative) and we have "prepared reports," drawn from a database by your birthdate, which if you were lucky were written fewer than 15 years ago.

The reading I'm offering now was done today, based on research I've been doing with my team all week and weekend -- and supported by my decades of work, writing, research and presenting in the astrology field.

I've included a graphic of the chart so you can see how sophisticated my approach is. In my presentation, though, I am speaking directly to you, in everyday language. You won't need a Ph.D. in astrology to understand this: you just need to be curious about yourself. You may appreciate the fact that I am direct and honest about relationships, sexuality and the social constructs that influence them -- a topic of vast importance today, and of interest to you. I cover much more than that, however.

You will love and benefit from this reading, or you may have your money back.

Here's how to get instant access.

with love,


---

Scorpio (Oct. 23-Nov. 22) -- You must resolve not to be haunted by your fears, or by any ghosts of the past. In order to do that, you need to face those specters directly, and tell them that it's time to move on. In the process, you will remember who you are, gradually, hour by hour and day by day. That is what it takes. Sagittarius (Nov. 22-Dec. 22) -- You've made an important decision, though it will take time to manifest. Therefore, you must take a long view. And it would be wise of you to put your energy into tying up the many loose ends of the past that you know it's time you move on from, so that you can begin your new life. Capricorn (Dec. 22-Jan. 20) -- You make the decisions that run your life. If you're considerate, you inquire what impact your choices might have on others, and you do your best to minimize any harm, and maximize the benefits on the people closest to you. But nobody dictates your choices. Nobody makes you do anything. Aquarius (Jan. 20-Feb. 19) -- Focus on a specific long-range goal, by which I mean a goal you've had for a long time. Concentrate your efforts and reach for that one thing, for now. Use your newfound stature and recognition to make a difficult thing possible. Accomplishing this will give you a boost in your confidence. Pisces (Feb. 19-March 20) -- Take this opportunity to negotiate a fair deal for yourself. You are getting a clue on the true nature of your worth, in terms that are financial, practical and creative. Understand what you can do that nobody else can do or come close to. If nothing comes to mind immediately, get busy making something.

Monthly Horoscopes and Publishing Schedule Notes



Your extended monthly horoscopes for November were published on Thursday, Oct. 26. We published your extended monthly horoscopes for October on Thursday, Sept. 21. Please note: we normally publish the extended monthly horoscope on the first Friday after the Sun has entered a new sign.


---
---