New York, November 13, 2017 | Read on Web | Please Visit Daily News Horoscope Area
Today is Monday, Nov. 13, 2017
Hebrew date is 24 Cheshvan 5778
Islamic date is 24 Safar 1439
Mayan Tzolk'in Day is 11 Lamat
Mayan Long Count is 13.0.4.17.8
Julian Day is 2458071
Today's Birthdays: Dorothea Erxleben (1715-1762), Robert Louis Stevenson (1850-1894), Helene Stocker (1869-1943), Max Dehn (1878-1952), Eva Zeisel (1906-2011), Jean Seberg (1938-1979), Amory Lovins (1947), Joe Mantegna (1947), Frances Conroy (1953), Whoopi Goldberg (1955), Caroline Goodall (1959), Jimmy Kimmel (1967), Ayaan Hirsi Ali (1969), Gerard Butler (1969), Monique Coleman (1980).
"Tolerance of intolerance is cowardice."
-- Ayaan Hirsi Ali
---
Venus, Jupiter, and a Finnish Love and Fertility Goddess

Dear Friend and Reader:

We're heading into another unusual week; no shortage of those lately, though the next few days have some special distinctions. These are the last days before the Scorpio New Moon, exact at 6:42 am EST on Saturday, Nov. 18. But that's not what has our attention: an alignment on Monday morning does.

As you know, Jupiter is newly in Scorpio, having arrived in early October. It'll be there into November 2018. Jupiter takes about one year to cover a sign. Jupiter in Scorpio is the first of many upcoming sign changes of slower-moving planets, which we introduced in the article that accompanied the monthly horoscope.

Monday brings one of the first major events of the Jupiter in Scorpio era: Venus and Jupiter will make a conjunction: they will be in the same little slice of the sky.

Though both are visible planets, they're too close to the Sun to see; though it would be a beautiful sight, if you could. When you witness a nearby planet align with a more distant planet, you get a sense of perspective and scale of our solar system that's visual (therefore physical) rather than conceptual. For now, we'll need to use our imaginations.

Jupiter entering Scorpio has put a magnifying glass to the issue of sexuality; so far, mostly in the form of misconduct. Jupiter magnifies whatever it touches. Scorpio is the core sign of sex; from ancient astrology it represents the genitals; it describes the sex-mortality-DNA nexus; it represents the ultimate depth of emotional desire. It's also potentially sex as a manifestation of power -- and of commerce.

Nine months ago, on Jan. 21, we had a whole lot of women show up to protests around the country, speaking out against our nascent, pussy-grabbing president. Millions wore pink kitty-cat-ear hats, chanting slogans. Happening one day after the inauguration, this was a powerful statement.

Today we are having a bloodbath, and it ain't menstrual blood. The list of male celebrities whose heads have rolled this year is impressive, ranging from those at the very top of Fox News to many previously well-respected entertainers. Yet it wasn't until Jupiter entered Scorpio one month ago that the story picked up momentum, with Harvey Weinstein moving from his role of executive producer to top star. Now it's a full-on social movement.

Read more...
---
Moon Phase: Moon is in Last Quarter phase and enters Balsamic (waning crescent) phase on Nov. 14 at 5:12 am PST / 8:12 am EST (13:11:58 UTC).
Next New Moon is in Scorpio on Nov. 18 at 3:42 am PST / 6:42 am EST (11:42:03 UTC).
Next Full Moon is in Gemini on Dec. 3 at 7:47 am PST / 10:47 am EST (15:46:54 UTC).
Moon Sign: Moon is in Virgo and enters Libra today at 3:26 pm PST / 6:26 pm EST (23:26:15 UTC).
Sun Degree: 22-23 Scorpio.
Planetary Stations and Sign Changes
Moon enters Libra at 3:26 pm PST / 6:26 pm EST (23:26:15 UTC).
Interesting Selected Aspects | Data by Serennu
-- Venus conjunct Jupiter at 12:15 am PST / 3:15 am EST (08:15:26 UTC).
-- Venus square Okyrhoe at 9:10 am PST / 12:10 pm EST (17:10:16 UTC).
-- Mercury square Neptune at 2:47 pm PST / 5:47 pm EST (22:47:26 UTC).
-- Vesta conjunct Rhadamanthus at 3:14 pm PST / 6:14 pm EST (23:13:48 UTC).
-- Sun square Sila-Nunam at 3:22 pm PST / 6:22 pm EST (23:22:07 UTC).
Subscribe to Planet Waves -- sign up here | Visit Our Website at this link
If Your Birthday is Nov. 13
(The Day of the Commentator) | Scorpio Birthday Reading | All Other Signs
Today's stunning Venus-Jupiter conjunction says that many gifts are coming your way; but you must be open in heart, mind and spirit to receive them. While your birthday chart shows the potential for significant material prosperity, the real benefits life is offering are emotional and connected deeply to your personal development. Make yourself available.
Written in the Planets
Venus conjunct Jupiter in Scorpio represents a chance to draw out and express your passion, in whatever cause. There's a lack of warmth in our culture just now; and real enthusiasm and excitement are desperately needed, both in relating to one another and in creative expression. That starts with you. What do you truly care about? Where do you feel able to shine, and to be authentically yourself? Which topics make you voracious for greater knowledge? Give some time to this today. If it means you're required to stand out or rebel a little, so much the better. That's how walls (not to mention ceilings) get broken through.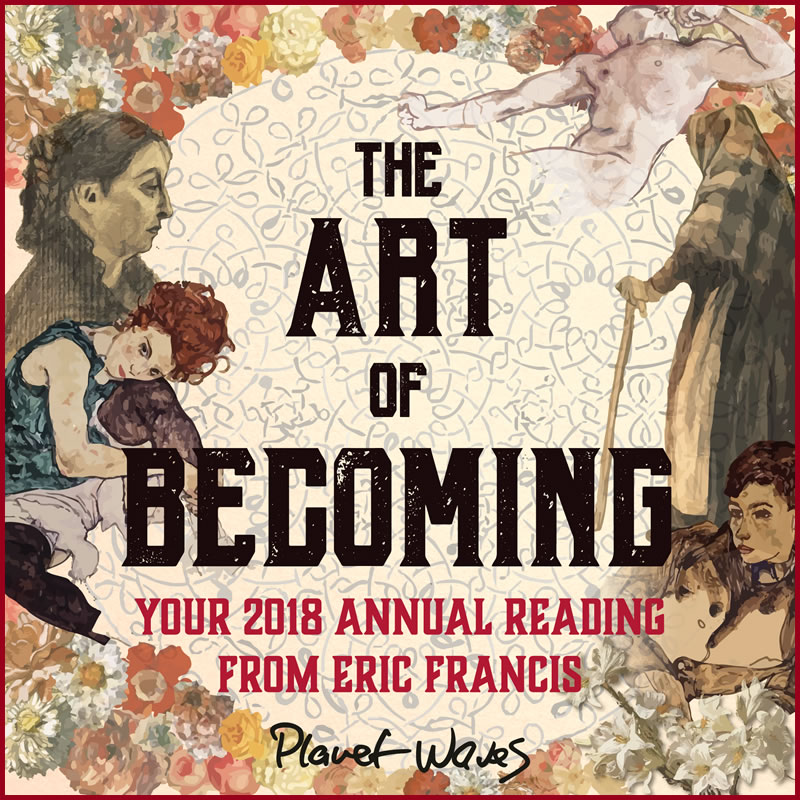 By any standards, 2018 will be a distinctive year astrologically. Get your essential guide to riding the waves of the next 12 months and beyond. Pre-order The Art of Becoming, the 2018 Planet Waves Annual by Eric Francis.

Aries (March 20-April 19) -- Truly beautiful things can happen to you, and some will come into your life through the graces of another person. However, it's time to take seriously this whole matter of nobody being your property, and you being the property of nobody else. To work, this must be a day-to-day quest. Taurus (April 19-May 20) -- Relationships are sacred to you. You're the one who hangs in there through thick and thin, sometimes to your detriment. And when you don't you're likely to regret it. Honor this right now. There is indeed a truly important relationship in your life, and it deserves your full attention. Gemini (May 20-June 21) -- Mercury, the planet associated with your sign (and with Virgo) is now making a tense angle to Neptune. This is associated with difficulty discerning what is true, and also a tendency to be less than sincere. You must, however, be discerning, and err on the side of silence rather than dishonesty. Cancer (June 21-July 22) -- There are rewards for sincerity, especially when it comes to what moves you on the deepest level. It's true that our society is not guiding people into themselves. Yet you are at this time being drawn to ask real questions, and to express what you might never, ever say. Seize the moment. Leo (July 22-Aug. 23) -- You know you have it good, though you need to be more willing to take some risks. Don't gamble the house or your whole bank account. Set aside a portion of what you have for the purpose of taking a modest financial risk in a new project. If it's worthwhile, you'll know pretty soon. Virgo (Aug. 23-Sep. 22) -- You may feel vulnerable and as if you cannot protect yourself from the thoughts or actions of another person, but is that true? Check whether you're responding from some very early conditioning, and remind yourself of two things: the past is over, and you're a grown adult who can handle your affairs. Libra (Sep. 22-Oct. 23) -- Something is bothering you but you cannot tell what it is. Don't guess; be patient with yourself and see if you can figure it out. It may involve feeling like you haven't accomplished enough professionally. Except for one thing: you're actually making progress now, so don't waste your time.

---


Dear Friend of Planet Waves:

Today, on the eve of Venus conjunct Jupiter, I did the astrology portions of the Scorpio reading. That reading is ready for instant access.

While I was working this afternoon, I had a feeling I often get doing these readings: this is information I would want to know were I interested in astrology, if it was available. I would want to know about this, if only I had an astrologer I was fairly sure had a clue what was happening. [Listen to audio preview here.]

Over the next year or so, three critical planets will change signs: Saturn, Chiron and Uranus. (Chiron is often thought to be a morph of Saturn and Uranus, so that's pretty cool.) Saturn will ingress Capricorn at the end of the year, then next year, Chiron will enter Aries and Uranus will enter Taurus. Plus, several important minor planets will change signs.

What you get with my birthday (and annual) readings is astrology that's too complex to put into the horoscope column, but too personal to say much about in my articles. Using a very old technique called whole-sign houses, I am able to cast an actual chart and read that chart just like I would if you were sitting here.

For just $44, you get a reading that comes very close to a personal reading, containing much that a competent astrologer would say -- if they understood both the classical and modern astrology. This is the thing.

So much of what's happening now compels an understanding of contemporary developments in astrology. A minor planet that was discovered in 1999, and named a few weeks ago, fills in a missing piece of the puzzle in the current astrology. You can read about that here.

This reading, and my approach to by-sign readings, fills in a vast middle ground in astrology: we have horoscope columns (most of them irrelevant), we have blogs and newsletters (most of them speculative) and we have "prepared reports," drawn from a database by your birthdate, which if you were lucky were written fewer than 15 years ago.

The reading I'm offering now was done today, based on research I've been doing with my team all week and weekend -- and supported by my decades of work, writing, research and presenting in the astrology field.

I've included a graphic of the chart so you can see how sophisticated my approach is. In my presentation, though, I am speaking directly to you, in everyday language. You won't need a Ph.D. in astrology to understand this: you just need to be curious about yourself. You may appreciate the fact that I am direct and honest about relationships, sexuality and the social constructs that influence them -- a topic of vast importance today, and of interest to you. I cover much more than that, however.

You will love and benefit from this reading, or you may have your money back.

Here's how to get instant access.

with love,


---

Scorpio (Oct. 23-Nov. 22) -- Today's magnificent conjunction of Venus and Jupiter in your sign is a reminder of how good your life can be, if you allow it to be so. However, it's now time to let go of the challenges and disappointments that life presented you over the past couple of years, and embrace the beauty of who you are. Sagittarius (Nov. 22-Dec. 22) -- You know your own potential. You can pursue that; you can wish for it to manifest; or you can strive to understand yourself. Nothing of any real meaning or lasting value is possible without genuine self-awareness and self-acceptance. Focus on that and you'll get real results, and feel better. Capricorn (Dec. 22-Jan. 20) -- Try going through the next few days without using the words boyfriend, girlfriend, husband or wife. Take them out of your language, and notice what you must do in order to fill in the missing concepts. This is a process of taking total responsibility for your actions and choices. Aquarius (Jan. 20-Feb. 19) -- Set your sights high, and set your emotional sensitivity higher. One of the ways that people get ahead in life is to step over others, or step on them. You must be eminently fair in all that you do, and with everyone you relate to. Great things are happening. Be the very best person you can be. Pisces (Feb. 19-March 20) -- It can be difficult to understand that there are no actual limits to your success, though you'll benefit from working with that idea consciously. Look for the blocks you place on yourself, and get them out of the way. Consider the many ways you've already accomplished what you previously considered impossible.

Monthly Horoscopes and Publishing Schedule Notes



Your extended monthly horoscopes for November were published on Thursday, Oct. 26. We published your extended monthly horoscopes for October on Thursday, Sept. 21. Please note: we normally publish the extended monthly horoscope on the first Friday after the Sun has entered a new sign.


---
---