New York, November 10, 2017 | Read on Web | Please Visit Daily News Horoscope Area
Today is Friday, Nov. 10, 2017
Hebrew date is 21 Cheshvan 5778
Islamic date is 21 Safar 1439
Mayan Tzolk'in Day is 8 Chikchan
Mayan Long Count is 13.0.4.17.5
Julian Day is 2458068
Today's Birthdays: Ninon de l'Enclos (1620-1705), Granville Sharp (1735-1813), Jacob Epstein (1880-1959), Zofia Nalkowska (1884-1954), Claude Rains (1889-1967), Johnny Marks (1909-1985), Louis le Brocquy (1916-2012), Richard Burton (1925-1984), Ennio Morricone (1928), James Hood (1942-2013), Tim Rice (1944), Glen Buxton (1947-1997), Ann Reinking (1949), Roland Emmerich (1955), Sinbad (1956), Deborah Cameron (1958), Neil Gaiman (1960), Hugh Bonneville (1963), Tracy Morgan (1968), Ellen Pompeo (1969), Warren G (1970), Walton Goggins (1971), Brittany Murphy (1977-2009), Eve (1978), Kiernan Shipka (1999).
"Everybody has a secret world inside of them. All of the people of the world, I mean everybody. No matter how dull and boring they are on the outside, inside them they've all got unimaginable, magnificent, wonderful, stupid, amazing worlds. Not just one world. Hundreds of them. Thousands maybe."
-- Neil Gaiman
---
In Search of (and Creating) Positive Momentum Dear Friend and Reader: I wrote today's column on Wednesday aware of a curious mix of emotions, and maybe you can relate: buoyed by some of this week's Election Day results; numbed and exhausted by news of yet another preventable mass shooting here in the U.S. But let's consider some of Tuesday's good news for a moment, since it represents a direct response to everything that has unfolded in the wake of You-Know-Who's election to the Presidency one year ago: Democratic candidates for governor in both New Jersey and Virginia beat out their Republican rivals (remember Chris Christie?), and Dems also won control of the Virginia General Assembly, in a direct backlash to the Trump Effect. And New York City's progressive mayor, who'd campaigned for Bernie Sanders -- Bill de Blasio -- handily won a second term.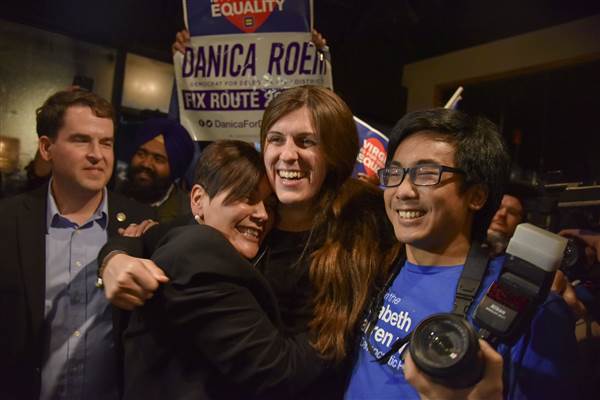 Danica Roem, center, is greeted by supporters as she prepares to give her victory speech on Tuesday. Roem is the first openly transgender state legislator to be seated in U.S. history. Although she discussed her gender identity, her core platform issues included jobs, schools and traffic congestion. Photo by Jahi Chikwendiu / The Washington Post.

Mainers defied the state's bully of a governor to overwhelmingly approve expanding Medicare for low-income adults (of course, Gov. LePage now says he won't enact the will of the people). And in Philadelphia, civil rights lawyer Larry Krasner -- a longtime opponent of capital punishment who opposes police stop-and-frisk policies, and who has represented protesters with Black Lives Matter, ACT UP, Occupy Philadelphia and other progressive groups -- has been elected District Attorney of the City of Brotherly Love. Eric's attorney, Julian Schreibman, won his race for a seat in the 3rd Judicial District Supreme Court in New York in a predominantly Republican area. If you've been aware of Eric's conflict with the city of Kingston regarding the alleged bite his dachshund, Jonah Kelly Francis, gave to a city fire inspector, you know Schreibman is the honest, caring lawyer who kept Jonah's record clean. But perhaps the most striking upset of all came in one of Virginia's races for a House of Delegates seat: Democrat Danica Roem is set to become the nation's first openly transgender state lawmaker. Not only that, but she beat 73-year-old 13-term incumbent Republican Bob Marshall, who has repeatedly called himself Virginia's "chief homophobe," and who wrote an unsuccessful "bathroom bill" that would have prohibited transgender people from using public restrooms matching their gender identity. Read more...
---
Moon Phase: Moon is in Disseminating (waning gibbous) phase and enters Last Quarter phase today at 12:36 pm PST / 3:36 pm EST (20:36:19 UTC).
Next New Moon is in Scorpio on Nov. 18 at 3:42 am PST / 6:42 am EST (11:42:03 UTC).
Next Full Moon is in Gemini on Dec. 3 at 7:47 am PST / 10:47 am EST (15:46:54 UTC).
Moon Sign: Moon is in Leo and enters Virgo on Nov. 11 at 8:41 am PST / 11:41 am EST (16:41:14 UTC).
Sun Degree: 18-19 Scorpio.
Planetary Stations and Sign Changes
No changes today.
Interesting Selected Aspects | Data by Serennu
-- Sun conjunct Deucalion at 10:38 pm Nov. 9 PST / 1:38 am EST (06:38:04 UTC).
-- Vesta sextile Galactic Core at 4:14 am PST / 7:14 am EST (12:13:43 UTC), and Pholus at 12:41 pm PST / 3:41 pm EST (20:41:35 UTC).
-- Venus square Crantor at 2:03 pm PST / 5:03 pm EST (22:03:06 UTC).
-- Venus trine Nessus at 2:27 pm PST / 5:27 pm EST (22:27:19 UTC).
Subscribe to Planet Waves -- sign up here | Visit Our Website at this link
If Your Birthday is Nov. 10
(The Day of Metamorphosis) | Scorpio Birthday Reading | All Other Signs
Take the controls of your life and do whatever you can to guide yourself in the right direction. This will involve slowing down and making every decision consciously. Where you see no options, or ones you don't like, it's essential that you look carefully for other possible choices. This will not happen automatically, though powerful forces are guiding you.
Written in the Planets
With today's last quarter Moon, see if you can turn the corner on some project that peaked a week ago. This is the 'home stretch' of the current lunar cycle, and planets gathered in Scorpio are urging you to take the process deep. With a trine today between Venus in Scorpio and Nessus in Pisces, you might find particular support in addressing or resolving some matter of patterning in a relationship (especially a sexual relationship). Notice what feels like it's old and could stand to be cut from your life to make way for better, healthier forms of relating.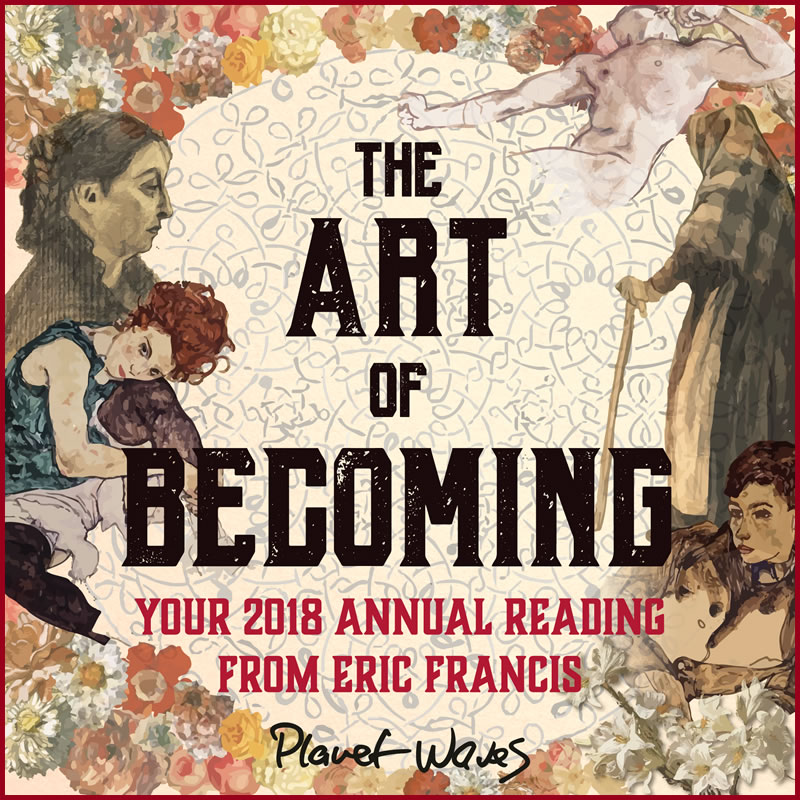 By any standards, 2018 will be a distinctive year astrologically. Get your essential guide to riding the waves of the next 12 months and beyond. Pre-order The Art of Becoming, the 2018 Planet Waves Annual by Eric Francis.

Aries (March 20-April 19) -- You seem to be facing an important decision involving a relationship where emotional bonding and money are both factors. You cannot consider one without taking account of the other. Emotions must not outweigh the facts and figures. You know what's right, and must honor that. Taurus (April 19-May 20) -- You have a way of making the people you care about into a personal religion, complete with devotion, a sense of duty and spiritual aspiration. Yet it would seem that you really need passion, friendship and a shared sense of purpose. If you take it a little lighter, the light will shine brighter. Gemini (May 20-June 21) -- Today you may decide you have power over an issue that's impacting your health and wellbeing. Over the next 24 hours it may become obvious that you have to make a decision to act in your own best interests. Yet you'll need to work to maintain this commitment -- and it'll be worth it. Cancer (June 21-July 22) -- While there's no end to the big deal made about sex, few will admit its profound importance in their lives. You would be wise to do that today, as you are approaching a turning point. This isn't about identity; it's about who you are as a person, in your full creative power. Leo (July 22-Aug. 23) -- Your work is not separate from you, and that's the message of your planets today. Whatever you do, throw yourself into it. Do something that changes the world for the better, and let that experience teach you about yourself. Some compelling need or desire is driving you. Go with it. Virgo (Aug. 23-Sep. 22) -- There are some things you've been wanting to do that you have not spoken much about. Now might be a good time to describe what you want to experience and inquire if anyone is interested in making it happen with you. If not, don't be afraid to fly solo. This is about you and your journey. Libra (Sep. 22-Oct. 23) -- Over the next two days you'll have some important decisions to make about your finances, though that's a kind of ruse. The real choices will be about your self-worth, which is not up for negotiation. You must decide wholeheartedly that you belong on this planet and that you have a job to do.

---
Scorpio Birthdays 2017-18
The Help You Need To Make the Most of Your Incredible Year
"Your work has always offered me food for thought, options to consider and clarity when needed. Thank you very much for what you do and how you present it."
-- Victoria Bouet
Dear Scorpio Friend and Reader:

It seems that every day, there's a new tragedy to grapple with. If you're at all sensitive, life can feel overwhelming on an almost-daily basis. Yet you have deeper reserves than you might think; your passion is a powerful tool for transformation -- and this year, you have some extra-special help in your sign.

and which kicked off your solar year with a potential-filled conjunction with the Scorpio Sun. You also have company in the form of Eric Francis and your 2017-18 Birthday Reading.

The key to using Jupiter's blessings well is to use them consciously, with full intention and actual action. As you do, you'll pave the way for making the most of the other major planetary sign changes coming up: Saturn leaving Sagittarius for Capricorn; Uranus entering your relationship sign, Taurus; and Chiron leaving Pisces for Aries (a Mars-ruled sign, like yours).

As your environment shifts, you'll need to adjust how you interact with it. Whether that means channeling your energy and emotions into your relationships, your home, your creative risk-taking or some other facet of life, you'll want to do so as productively and with as little wasted effort as possible. And you can.

Eric designs these readings to combine the best of his motivational life-coaching skills; the best of his therapy training; and the most down-to-Earth, practical, jargon-free astrological insights you'll find anywhere on the internet. This means the 2017-18 Scorpio Birthday Reading makes the perfect gift for your Scorpio Sun, Moon or rising sign loved ones.

You'll get two segments of astrology, a tarot reading for the year, and an extended description of your sign. Best of all, you can listen as many times as you'd like -- whenever you need a pick-me-up or some new insights throughout the year.

"The Scorpio reading described my life right now and was much needed! Thank you!"
-- Columba Genubath
How will you use the blessings of Jupiter in your sign this year, Scorpio?

Yours & truly,



Amanda Painter

P.S. If you'd like to secure your full reading at the lowest possible price of $33, you'll want to pre-order the 2017-18 Scorpio Birthday Reading here. And you'll want to do it soon: the price will increase as publication nears, and then will increase again upon publication of the full reading.


---

Scorpio (Oct. 23-Nov. 22) -- You can draw inspiration from seemingly negative things. The places where you need to heal and get clear with yourself hold concentrated pockets of energy. When you are conscious enough and brave enough to open them up and see what's there, you set that energy free. Do not hesitate. Sagittarius (Nov. 22-Dec. 22) -- Today's aspects are reminding you of how much you want to do that you haven't done yet. There are places you want to go, and people you want to meet. You won't do all of this at once, though you can do one thing at a time. That will start with a decision you make today. Capricorn (Dec. 22-Jan. 20) -- Feed your hunger for justice. That means the right thing happening, especially for people who are at a disadvantage of some kind. You have some strong notions of commitment, and this is included among them. But this must go beyond being an ideal or a dream. It's time to take action. Aquarius (Jan. 20-Feb. 19) -- You must guard your reputation; but not so much that you don't use it. You've worked your way into a position of influence, whether at work, with your family or among your friends. You will have an opportunity to advocate for someone today, which also represents an important turning point for you. Pisces (Feb. 19-March 20) -- You don't need to worry about what people think about you, because most people don't think. At this stage, you get to set your own agenda and, in many ways, set your own rules. Then you get to explain what it all means. As a Pisces you are a master of illusions; the thing is, this is real.

Monthly Horoscopes and Publishing Schedule Notes



Your extended monthly horoscopes for November were published on Thursday, Oct. 26. We published your extended monthly horoscopes for October on Thursday, Sept. 21. Please note: we normally publish the extended monthly horoscope on the first Friday after the Sun has entered a new sign.


---
---