New York, November 9, 2017 | Read on Web | Please Visit Daily News Horoscope Area
Today is Thursday, Nov. 9, 2017
Hebrew date is 20 Cheshvan 5778
Islamic date is 20 Safar 1439
Mayan Tzolk'in Day is 7 K'an
Mayan Long Count is 13.0.4.17.4
Julian Day is 2458067
Today's Birthdays: Elijah Parish Lovejoy (1802-1837), Louisa E. Rhine (1891-1983), Paulene Myers (1913-1996), Hedy Lamarr (1914-2000), Dorothy Dandridge (1922-1965), Elizabeth Hawley (1923), James Schuyler (1923-1991), Anne Sexton (1928-1974), Carl Sagan (1934-1996), Mary Travers (1936-2009), Tom Fogerty (1941-1990), Robert Duncan McNeill (1964), Sandra Denton (1969), Brad "Scarface" Jordan (1970), Nick Lachey (1973), Delta Goodrem (1984).
"A woman who writes feels too much,
those trances and portents!
As if cycles and children and islands
weren't enough; as if mourners and gossips
and vegetables were never enough.
She thinks she can warm the stars.
A writer is essentially a spy.
Dear love, I am that girl."
-- Anne Sexton
Moon Phase: Moon is in Disseminating (waning gibbous) phase and enters Last Quarter phase on Nov. 10 at 12:36 pm PST / 3:36 pm EST (20:36:19 UTC).
Next New Moon is in Scorpio on Nov. 18 at 3:42 am PST / 6:42 am EST (11:42:03 UTC).
Next Full Moon is in Gemini on Dec. 3 at 7:47 am PST / 10:47 am EST (15:46:54 UTC).
Moon Sign: Moon is in Cancer and enters Leo today at 4:29 am PST / 7:29 am EST (12:29:01 UTC).
Sun Degree: 17-18 Scorpio.
Planetary Stations and Sign Changes
Moon enters Leo at 4:29 am PST / 7:29 am EST (12:29:01 UTC).
Interesting Selected Aspects | Data by Serennu
-- Ceres square Echeclus at 10:10 pm Nov. 8 PST / 1:10 am EST (06:10:24 UTC).
-- Sun sextile Pluto at 4:12 am PST / 7:12 am EST (12:12:02 UTC).
-- Sun square Praamzius at 5:55 am PST / 8:55 am EST (13:55:25 UTC).
-- Venus conjunct Typhon at 7:21 am PST / 10:21 am EST (15:21:26 UTC).
Subscribe to Planet Waves -- sign up here | Visit Our Website at this link
If Your Birthday is Nov. 9
(The Day of Earthly Temptation) | Scorpio Birthday Reading | All Other Signs
Learning how to receive what others are offering you will help you grow, and will facilitate your success. Receiving requires vulnerability, and you would be well served to end your standoff with being open to others. You'll know you're succeeding when you consciously have to go beyond whatever fears come up, and trust others enough to nourish you.
Written in the Planets
The Sun making a sextile to Pluto is ideal astrology for moving anything that feels stuck. This might include, for example, a habit or routine that's outgrown its usefulness. You may, from time to time, be surprised by how quickly you evolve or change on certain matters. In this there is little to fear and much to celebrate. You're free to rise above conventions or superstition or fear of the unknown, and step into a whole new adventure.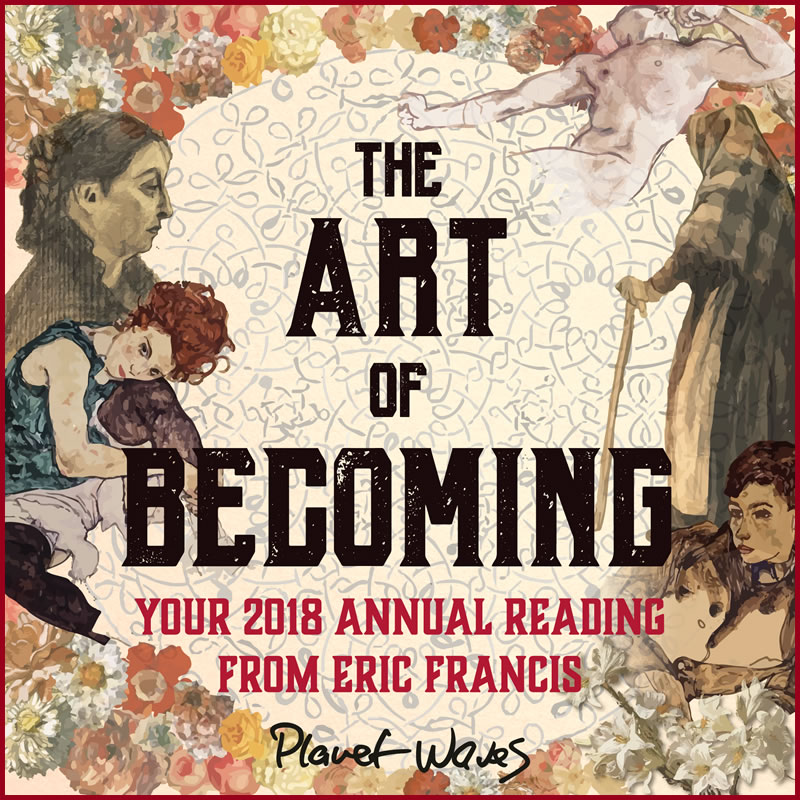 By any standards, 2018 will be a distinctive year astrologically. Get your essential guide to riding the waves of the next 12 months and beyond. Pre-order The Art of Becoming, the 2018 Planet Waves Annual by Eric Francis.

Aries (March 20-April 19) -- You must be willing to assert yourself, to get what you want. Rather than sitting around waiting for good things to come to you, make it a project. Know your own desires and set about the artful craft of bringing them into your life. This will teach you the power of your own creativity. Taurus (April 19-May 20) -- If you have emotional needs, be open about them with close partners and loved ones. The key to doing this is refusing to feel guilty. You might also substitute 'need' with 'want' and see how you sound when you make the statement. The people who care about you will be responsive. Gemini (May 20-June 21) -- You can be free of the past, if you want to. Yet, to have that privilege, you must understand your past and how you relate to it. For many people what happened long ago means more than what is happening right now. This is not a key to happiness, and there is a way through the maze. Cancer (June 21-July 22) -- You are in an excellent position to improve your income. This might come through a personal business, or through negotiating a raise. Remember that as far as bosses and clients are concerned, what matters most is what you can do in the future, not what you did in the past. Leo (July 22-Aug. 23) -- The Moon burst into your sign this morning, and you may be wondering whether you're on top of the world or about to fall off. The thing is, you always feel better close to the edge, and you always keep your grip. Some bold adventure is waiting for you today. Don't hold back. Virgo (Aug. 23-Sep. 22) -- All weekend, your ruling planet Mercury will be making a square to Neptune, which will offer you a sense of security and wellbeing. At the same time, an intimate relationship may go to a new depth. Just make sure that you can swim well enough to hang out at the deep end of the pool. Libra (Sep. 22-Oct. 23) -- You may be pushing to attain a financial goal that finally seems to be in reach, though that will take care of itself. You must continue to take care of yourself, so that you keep your momentum and flow from one project to the next. Just take a slower pace and work with long-range goals.

---
Scorpio Birthdays 2017-18
The Help You Need To Make the Most of Your Incredible Year
"Your work has always offered me food for thought, options to consider and clarity when needed. Thank you very much for what you do and how you present it."
-- Victoria Bouet
Dear Scorpio Friend and Reader:

It seems that every day, there's a new tragedy to grapple with. If you're at all sensitive, life can feel overwhelming on an almost-daily basis. Yet you have deeper reserves than you might think; your passion is a powerful tool for transformation -- and this year, you have some extra-special help in your sign.

and which kicked off your solar year with a potential-filled conjunction with the Scorpio Sun. You also have company in the form of Eric Francis and your 2017-18 Birthday Reading.

The key to using Jupiter's blessings well is to use them consciously, with full intention and actual action. As you do, you'll pave the way for making the most of the other major planetary sign changes coming up: Saturn leaving Sagittarius for Capricorn; Uranus entering your relationship sign, Taurus; and Chiron leaving Pisces for Aries (a Mars-ruled sign, like yours).

As your environment shifts, you'll need to adjust how you interact with it. Whether that means channeling your energy and emotions into your relationships, your home, your creative risk-taking or some other facet of life, you'll want to do so as productively and with as little wasted effort as possible. And you can.

Eric designs these readings to combine the best of his motivational life-coaching skills; the best of his therapy training; and the most down-to-Earth, practical, jargon-free astrological insights you'll find anywhere on the internet. This means the 2017-18 Scorpio Birthday Reading makes the perfect gift for your Scorpio Sun, Moon or rising sign loved ones.

You'll get two segments of astrology, a tarot reading for the year, and an extended description of your sign. Best of all, you can listen as many times as you'd like -- whenever you need a pick-me-up or some new insights throughout the year.

"The Scorpio reading described my life right now and was much needed! Thank you!"
-- Columba Genubath
How will you use the blessings of Jupiter in your sign this year, Scorpio?

Yours & truly,



Amanda Painter

P.S. If you'd like to secure your full reading at the lowest possible price of $33, you'll want to pre-order the 2017-18 Scorpio Birthday Reading here. And you'll want to do it soon: the price will increase as publication nears, and then will increase again upon publication of the full reading.


---

Scorpio (Oct. 23-Nov. 22) -- One thing you must learn how to overcome is petty insecurity. You need to coast over it like a ship moves through the waves. Today you'll have the choice whether to doubt yourself, or affirm yourself. Once you figure out that this is a decision, it will be obvious what to do. Sagittarius (Nov. 22-Dec. 22) -- You may be feeling a little overexposed, whether it's excessive time on social media, your face on realtor ads all over the neighborhood or your PR team working overtime. You might want to take a few hours off from the internet today, and spend some time in a café with a book and your diary. Capricorn (Dec. 22-Jan. 20) -- You've probably figured out that there's a problem with the "one size fits all" relationship model. You need the custom edition, with specific agreements that allow both you and your partners to live the lives you want. Just one thing stands in the way, which is jealousy. This, you can outgrow. Aquarius (Jan. 20-Feb. 19) -- Most of your good luck will come through others today -- people willing to help, people who offer a kind word, or someone with an idea that you might want to dismiss at first. Be kind and open-minded with everyone. Listen carefully to people even if you don't think they make much sense. Pisces (Feb. 19-March 20) -- Do not be content with yesterday's dreams. Rather, push yourself to imagine what's possible, and to have the moxie to dare to try making it happen. Everything that happens in the world does so because someone wants it to be that way. It's your turn to step up to the challenge.

Monthly Horoscopes and Publishing Schedule Notes



Your extended monthly horoscopes for November were published on Thursday, Oct. 26. We published your extended monthly horoscopes for October on Thursday, Sept. 21. Please note: we normally publish the extended monthly horoscope on the first Friday after the Sun has entered a new sign.


---
---