New York, November 4, 2017 | Read on Web | Please Visit Daily News Horoscope Area
Today is Saturday, Nov. 4, 2017
Hebrew date is 15 Cheshvan 5778
Islamic date is 15 Safar 1439
Mayan Tzolk'in Day is 2 Kawak
Mayan Long Count is 13.0.4.16.19
Julian Day is 2458062
Today's Birthdays: Will Rogers (1879-1935), Alton Adams (1889-1987), Stanley Cortez (1908-1997), Evelyn Bryan Johnson (1909-2012), Dixie Lee (1911-1952), Walter Cronkite (1916-2009), Martin Balsam (1919-1996), Mary Sherman Morgan (1921-2004), Doris Roberts (1925-2016), Shakuntala Devi (1929-2013), Charles Frazier (1950), James Honeyman-Scott (1956-1982), Kathy Griffin (1960), Sean Combs (1969), Matthew McConaughey (1969), Gregory Porter (1971).
"For how many thousands of years now have we humans been what we insist on calling 'civilized'? And yet, in total contradiction, we also persist in the savage belief that we must occasionally, at least, settle our arguments by killing one another."
-- Walter Cronkite
Moon Phase: Moon is in Full phase and enters Disseminating (waning gibbous) phase on Nov. 7 at 3:07 am PST / 6:07 am EST (11:06:44 UTC).
Next New Moon is in Scorpio on Nov. 18 at 3:42 am PST / 6:42 am EST (11:42:03 UTC).
Next Full Moon is in Gemini on Dec. 3 at 7:47 am PST / 10:47 am EST (15:46:54 UTC).
Moon Sign: Moon is in Taurus and enters Gemini on Nov. 5 at 2:26 am PST / 5:56 am EST (10:25:57 UTC).
Sun Degree: 12-13 Scorpio.
Planetary Stations and Sign Changes
No changes today.
Interesting Selected Aspects | Data by Serennu
-- Venus opposite Uranus at 10:02 pm Nov. 3 PDT / 1:02 am EDT (05:02:19 UTC).
-- Jupiter opposite 1992 QB1 at 12:34 pm PDT / 3:34 pm EDT (19:33:53 UTC).
-- Sun square Ceres at 3:31 pm PDT / 6:31 pm EDT (22:31:10 UTC).
-- Mars square Amycus at 6:29 pm PDT / 9:29 pm EDT (01:29:28 Nov. 5 UTC).
-- Venus sextile Pholus at 8:53 pm PDT / 11:53 pm EDT (03:52:41 Nov. 5 UTC).
Subscribe to Planet Waves -- sign up here | Visit Our Website at this link
If Your Birthday is Nov. 4
(The Day of the Provocateur) | Scorpio Birthday Reading | All Other Signs
The Full Moon on your birth anniversary will help you see in the dark. What you might have missed, what might have been lost in the shadows, will be visible. This includes how you really feel about a relationship that has been difficult to make sense of. Real feelings are involved. You have an invitation to go deeper, though that's one of several options.
Written in the Planets
It's possible that by the time you read this, the Taurus Full Moon's intense -- and seemingly entrenched -- energy is already easing off. That might come as a huge relief. Even so, make a note about what you've learned in recent days, particularly about things like: your needs when they butt up against the values of others; what you reveal and what you don't; what you hold on to, especially emotionally; sexual power dynamics; and the subtle ways in which your body and emotions inform each other. With any interpersonal stalemate finally finding some wiggle room, there are specific places you can look for the solution or compromise you've been needing. Start with what's new, unusual or a break from routine -- especially in relationships. You need to feel genuinely nourished in that regard. Know that when you do, you'll naturally nourish others without any sense of depletion. So go ahead and take the lead on that -- compassionately, and perhaps even playfully.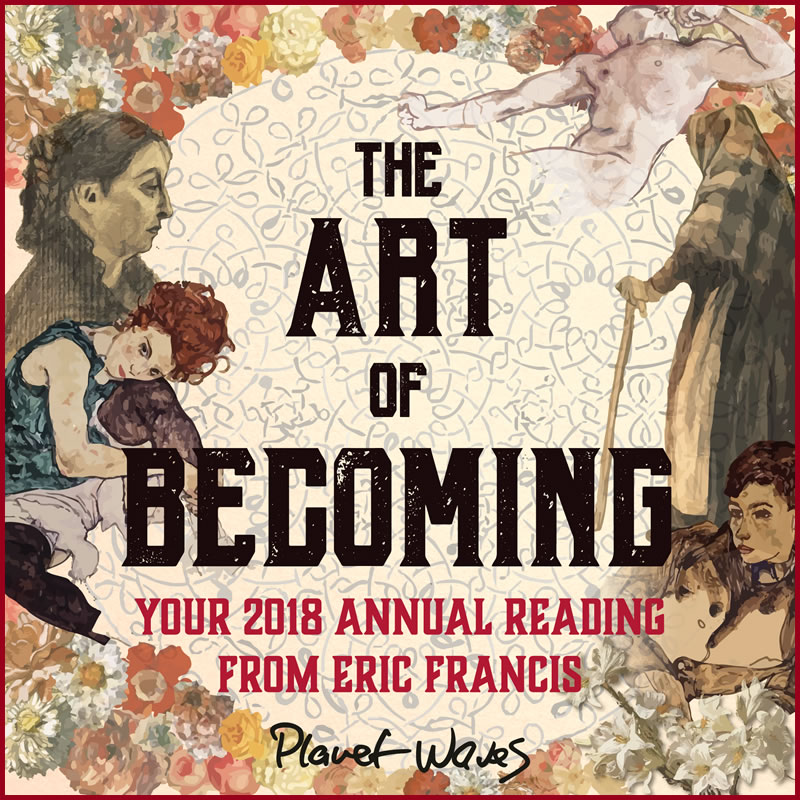 By any standards, 2018 will be a distinctive year astrologically. Get your essential guide to riding the waves of the next 12 months and beyond. Pre-order The Art of Becoming, the 2018 Planet Waves Annual by Eric Francis.

Aries (March 20-April 19) -- Today's Full Moon in the angle of your chart associated with money, resources and -- most significantly – self-esteem, is a reminder of how much you have going for you. You have everything you need, though you must remember to please yourself before you set out to please anyone else. Taurus (April 19-May 20) -- A light is shining on you that's reminding you of many personal qualities you may have forgotten. Your sign is famous for its perfectionism, and yet the downside to this is that as you work to improve yourself, you often overlook many beautiful attributes you possess. Today, you will remember. Gemini (May 20-June 21) -- Resist the temptation to turn on a dime, or make any snap decisions. Pause, muster up all your maturity, and start asking real questions. Once you do, you'll see you're not working with full information, and then you'll see the sense in having as much knowledge as you can before taking action. Cancer (June 21-July 22) -- Your solar chart is describing this as one of the most creative and expressive moments in a long time. Take advantage of the opportunities you have. Dive into your most artistic self and do some daring work. Show people what you've created recently. This is a rock star moment. Leo (July 22-Aug. 23) -- Today's Full Moon takes place in the work and reputation angle of your solar chart. You have earned what you have; don't let anyone persuade you otherwise. Yet a reputation, like any investment, must be maintained and cared for. Don't take your achievements for granted. They are worth too much. Virgo (Aug. 23-Sep. 22) -- Ultimately, it's not money that counts: it's how you feel about yourself. It's not how successful you are that matters; it's how you gained that success. You are a person of impeccable conscience and ethics. You live to do the right thing. Make sure you maintain that policy today. Libra (Sep. 22-Oct. 23) -- Be cautious making promises, or accepting the promises of others. Rather, deal in cash, or direct trade. The world is too dependent on hope and credit these days, and you're craving something solid. You have that something, and you must associate only with others who do as well.

---
Scorpio Birthdays 2017-18
Sensing Behind the Veil: Your Guide into a Big Year
"Your passion, deep care and love always shine through; and you have the gift of all great teachers, of making one feel that one is being personally addressed, respected and taken care of."
-- Liz Glanville
Dear Scorpio Friend and Reader:

Here we are in that time when the veil between this world and unseen realms is said to be thinnest. I know many people, including several Scorpios, who revel in the sensations of this season. Yet tuning in takes conscious intention; it asks you to make time and psychic space for subtler forms of connection than what modern life generally facilitates.

That's one of the beauties of your 2017-18 Scorpio Birthday Reading: it's the ideal tool to help you tune in -- to yourself, to the astrology, to your soul's purpose in this world, and to your connection to the subtler realms.

Your solar year is beginning with astonishing potential, thanks to Jupiter's presence. And while Jupiter is not exactly 'subtle', it still asks you to make conscious contact with its energy -- Eric will guide you in how to make the most of it.

With Saturn, Uranus and Chiron changing signs, your environment will be shifting -- yet another great reason to focus your bandwidth and deepen your awareness.

In particular, Uranus entering your opposite sign and 'relationship house' -- Taurus -- could bring some surprises over the next few years. Listening to your birthday reading will help you get oriented on the inherent creative potential, and to channel your energy and emotion in deeply productive ways.

Your reading will include two astrology segments of at least 30 minutes each, plus a tarot reading using the Voyager Tarot by James Wanless (you also get an extended description of your sign). Recorded in pro-quality audio, you can listen as many times as you like.

And, you'll want to: Eric creates these readings to combine the best of his motivational life-coaching skills; the best of his therapy training; and the most down-to-Earth, practical, jargon-free astrological insights you'll find anywhere on the internet.
"A devoted follower of your work since 2008, and a supporting member now for more than a year, I feel your readings are spot on so I keep coming back."
-- Lesley (Scorpio x 3)
If you'd like to secure your full reading at the lowest possible price of $33, you'll want to pre-order the 2017-18 Scorpio Birthday Reading here. And you'll want to do it soon: the price will increase as publication nears, and then will increase again upon publication of the full reading.

Yours & truly,



Amanda Painter

P.S. If you know and love anyone with a Scorpio Sun, Moon or rising sign, the 2017-18 Scorpio Birthday Reading makes an incredible gift.


---

Scorpio (Oct. 23-Nov. 22) -- Mercury has been in your sign for a few weeks, and it's about to move on to Sagittarius. This has been an eventful phase, though you may have forgotten half of what you learned. It's time for a review. What came to your awareness around Oct. 17? What else have you learned since then? Sagittarius (Nov. 22-Dec. 22) -- You are finally learning how to prevent your emotions from running your life. You'll never read an astrology book or description of your sign that admits just how emotionally oriented you are, though you know it's true. And you are, at present, in an important moment of gaining maturity. Capricorn (Dec. 22-Jan. 20) -- Today's Full Moon offers a beautiful wake-up call on the level of seeing an unusual rainbow, or meeting someone whose worldview changes your approach to life. You have a rare moment to feel all the colors you contain, or to see an unusual reflection of yourself that shifts your whole reality. Aquarius (Jan. 20-Feb. 19) -- Today's Full Moon may shake your confidence and stir up your doubts -- but you can also take that same energy and burn it as fuel. You might think it's odd that the same thing that can push your insecurities can also push your strength, though that's what it means to be a ninja. Pisces (Feb. 19-March 20) -- Saturn square Chiron, a rare and powerful aspect relating to Pisces, is encouraging you to be disciplined about your work, and to maintain your schedule. Avoid problems before they manifest; you have the foresight to predict what they might be. You must be a leader, of yourself first and foremost.

Monthly Horoscopes and Publishing Schedule Notes



Your extended monthly horoscopes for November were published on Thursday, Oct. 26. We published your extended monthly horoscopes for October on Thursday, Sept. 21. Please note: we normally publish the extended monthly horoscope on the first Friday after the Sun has entered a new sign.

---
---