New York, November 2, 2017 | Read on Web | Please Visit Daily News Horoscope Area
Today is Thursday, Nov. 2, 2017
Hebrew date is 13 Cheshvan 5778
Islamic date is 13 Safar 1439
Mayan Tzolk'in Day is 13 kab'an
Mayan Long Count is 13.0.4.16.17
Julian Day is 2458060
Today's Birthdays: Jean-Baptiste-Simeon Chardin (1699-1779), George Boole (1815-1864), Alice Brady (1892-1939), Burt Lancaster (1913-1994), Ann Rutherford (1917-2012), Steve Ditko (1927), Shere Hite (1942), Patrice Chereau (1944-2013), Keith Emerson (1944-2016), Lois McMaster Bujold (1949), Maxine Nightingale (1952), k.d. lang (1961), Lauren Velez (1964), David Schwimmer (1966), Kurt Elling (1967), Chris Walla (1975), Kamaro Brown (1980).
"You cannot decree women to be sexually free when they are not economically free."
-- Shere Hite
Moon Phase: Moon is in Waxing Gibbous phase and enters Full phase on Nov. 3-4 at 10:23 pm PDT / 1:23 am EDT (05:22:49 UTC).
Next Full Moon is in Taurus on Nov. 3-4 at 10:23 pm PDT / 1:23 am EDT (05:22:49 UTC).
Corresponding New Moon in Scorpio is on Nov. 18 at 3:42 am PST / 6:42 am EST (11:42:03 UTC).
Moon Sign: Moon is in Aries and enters Taurus on Nov. 3 at 2:46 am PDT / 5:46 am EDT (09:46:02 UTC).
Sun Degree: 10-11 Scorpio.
Planetary Stations and Sign Changes
No changes today.
Interesting Selected Aspects | Data by Serennu
-- Mercury opposite Bienor at 10:18 pm Nov. 1 PDT / 1:18 am EDT (05:18:06 UTC).
-- Mercury trine Chiron at 11:37 pm Nov. 1 PDT / 2:37 am EDT (06:36:58 UTC).
-- Venus square Cyllarus at midnight PDT / 3:00 am EDT (06:59:42 UTC).
-- Sun sextile Chariklo at 4:20 am PDT / 7:20 am EDT (11:20:20 UTC).
-- Vesta opposite Eris at 12:24 pm PDT / 3:24 pm EDT (19:23:43 UTC).
-- Saturn square Chiron at 2:56 pm PDT / 5:56 pm EDT (21:56:12 UTC).
Subscribe to Planet Waves -- sign up here | Visit Our Website at this link
If Your Birthday is Nov. 2
(The Day of Transformation) | Scorpio Birthday Reading | All Other Signs
You must be realistic about what you're willing to offer to partners. You don't need to prove your affection to anyone. Yet at the same time you may be willing to make sacrifices for the sake of a partner's happiness, or for the greater good. Seek companions who are equally generous, and who are able to see their best interests as an extension of yours.
Written in the Planets
Since late last year, Saturn has been in an on-off square with Chiron: an aspect that speaks of learning to stand in one's own authority. Today the square happens for the final time before both change signs and Saturn begins to creep ahead. In the past 12 months or so, in what ways have you claimed your independence -- whether from parents, or parent-like figures around you? Letting go of strictures that may have been imposed on you from an early age is no easy task; nor is thinking for yourself in an age when conformity is fashionable. Yet in reality, you are the only one who can truly determine what is right for you.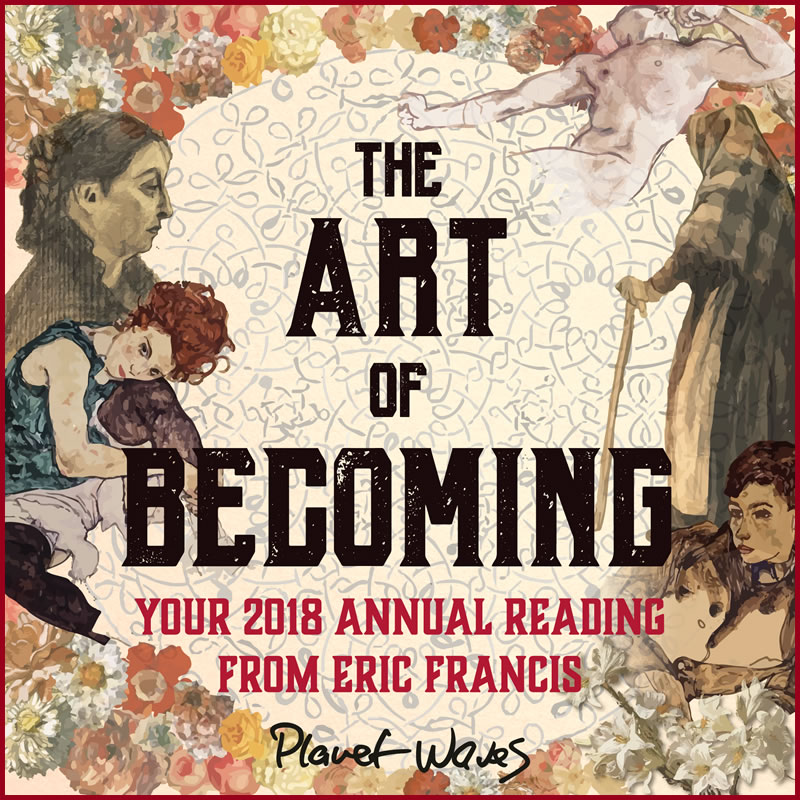 By any standards, 2018 will be a distinctive year astrologically. Get your essential guide to riding the waves of the next 12 months and beyond. Pre-order The Art of Becoming, the 2018 Planet Waves Annual by Eric Francis.

Aries (March 20-April 19) -- Maintain your cool today. There are many surprise elements that may manifest, though how you respond must be predictably level-headed. That will be easier if you are mindful and if you recognize that over-reacting doesn't get you anywhere. As the old saying goes, keep calm and carry on. Taurus (April 19-May 20) -- If you want to feel strong, stable and useful, do good work. Don't just do your job and go home. Make sure you're doing the very best you can do, and then go the extra mile. Devotion feels good to you, much better than that sticking point of holding back or clinging to what's yours. Gemini (May 20-June 21) -- Keep your most important plans to yourself. You may be tempted to tell the world, though it's essential that you keep your energy concentrated and focused inwardly. If you're feeling a craving to do something public, start a discussion about something fun or provocative, unrelated to you. Cancer (June 21-July 22) -- If you're the ambitious kind of Cancerian, today will be an exciting day in your professional life. A surprise or unexpected or unusual event could put you into the spotlight. If you're less ambitious, do what you can to get along with higher-ups. This is a great time to excel, rather than to rebel. Leo (July 22-Aug. 23) -- Keep an open mind and be ready to change your plans. Let in new ideas, which will be especially appealing if you notice how excellent those ideas are. You know that the future can be different from, and considerably better than, the past. Different means change, so welcome it warmly. Virgo (Aug. 23-Sep. 22) -- You may discover today that what you have is worth much more than you recognize. That might apply to a talent, a physical object or an idea. Today's developments could represent a change of plans or a shakeup of some kind, which you must work to your best advantage. Libra (Sep. 22-Oct. 23) -- Make room for the opinions of others. You don't need to agree or disagree. You don't need to even have an opinion of your own. You just need to stand guard over their right to have a perspective, no matter how ridiculous or intelligent. Then, resume whatever you were doing. Scorpio (Oct. 23-Nov. 22) -- A conversation you have today will likely change your views on an important issue. This matter was up for a full re-evaluation anyway, and you'll be happier if you go through the process willingly. You need to update your files and your point of view, and now is the perfect time. Sagittarius (Nov. 22-Dec. 22) -- You'll be at your most brilliant if you err on the side of having fun rather than getting things done. By all means show up at work on time and take care of important deadlines . However, you'll tap into your deepest genius by taking a light-hearted approach to what seems most difficult. Capricorn (Dec. 22-Jan. 20) -- There are times when you have to compromise, or make what seems like a sacrifice. Be careful with that. Yet you may also discover that what you seemingly must give up is something you don't really need and don't even want, and that letting go of it benefits others. Aquarius (Jan. 20-Feb. 19) -- You will seem to discover something today that appears radical or stunning. Actually, this is something you already knew, and have factored into your plans. Think carefully and you'll see how you were already three steps ahead of yourself -- well, actually, you're a good few more. Pisces (Feb. 19-March 20) -- Be bold about conjuring up wild plans, and cautious about putting them into effect. Give your mind a long leash, or none at all, so that you don't stifle all the good ideas that come out along the way. Something that seems utterly outrageous will be practical and effective. Evaluate every idea carefully.

Monthly Horoscopes and Publishing Schedule Notes



Your extended monthly horoscopes for November are published below in this issue. We published your extended monthly horoscopes for October on Thursday, Sept. 21. Please note: we normally publish the extended monthly horoscope on the first Friday after the Sun has entered a new sign.

---
---