New York, October 31, 2017 | Read on Web | Please Visit Daily News Horoscope Area
Today is Tuesday, Oct. 31, 2017
Hebrew date is 11 Cheshvan 5778
Islamic date is 11 Safar 1439
Mayan Tzolk'in Day is 11 Men
Mayan Long Count is 13.0.4.16.15
Julian Day is 2458058
Today's Birthdays: John Keats (1795-1821), Juliette Gordon Low (1860-1927), Natalie Clifford Barney (1876-1972), Julia Peterkin (1880-1961), Ethel Waters (1896-1977), Muriel Duckworth (1908-2009), Barbara Bel Geddes (1922-2005), Michael Collins (astronaut; 1930), Dan Rather (1931), Michael Landon (1936-1991), Ali Farka Toure (1939-2006), David Ogden Stiers (1942), Stephen Rea (1946), John Candy (1950-1994), Bernard Edwards (1952-1996), Peter Jackson (1961), Larry Mullen Jr. (1961), Johnny Marr (1963), Ad-Rock (1966), Piper Perabo (1976).
"War is the greatest destroyer of human life, the greatest polluter, the greatest creator of refugees, the greatest cause of starvation and illness. We all have to care -- not just for our own little circle, but for the universe."
-- Muriel Duckworth
Moon Phase: Moon is in First Quarter phase and enters Waxing Gibbous phase today at 12:16 pm PDT / 3:16 pm EDT (19:16:05 UTC).
Next Full Moon is in Taurus on Nov. 3-4 at 10:23 pm PDT / 1:23 am EDT (05:22:49 UTC).
Corresponding New Moon in Scorpio is on Nov. 18 at 3:42 am PST / 6:42 am EST (11:42:03 UTC).
Moon Sign: Moon is in Pisces and enters Aries tonight at 11:42 pm PDT / 2:42 am Nov. 1 EDT (06:42:31 UTC).
Sun Degree: 8-9 Scorpio.
Planetary Stations and Sign Changes
No changes today.
Interesting Selected Aspects | Data by Serennu
-- Mercury square Sila-Nunam at 9:34 pm Oct. 30 PDT / 12:34 pm EDT (04:34:04 UTC).
-- Mars square Hylonome at 12:01 am PDT / 3:01 am EDT (07:01:37 UTC).
-- Sun sextile Amycus at 4:13 am PDT / 7:13 am EDT (11:12:46 UTC), and Rhiphonos at 5:24 am PDT / 8:24 am EDT (12:24:36 UTC).
Subscribe to Planet Waves -- sign up here | Visit Our Website at this link
If Your Birthday is Oct. 31
(The Day of Attentiveness) | Scorpio Birthday Reading | All Other Signs
You seem to be craving direct experience: reality rather than virtual reality; creating rather than consuming; the physical event rather than the fantasy. Only actual participation will satisfy you, though you must keep in mind that there's both the perception of risk, and actual risk, involved. That's OK. It's dangerous sitting around wishing you could do more.
Written in the Planets
Your feelings are powerful right now, and you can sense how they relate to old patterns. Not only is the veil between worlds thin presently, in looking through it, you can trace the lineage of some kind of emotional or sexual hand-me-down whose time is up. Yet there's some concrete, real-life wisdom currently available to you, too. That comes via the asteroid Pallas, retrograde in Taurus; it's making an opposition to Jupiter in Scorpio. Both Pallas and Jupiter are in harmony with centaur Nessus in Pisces ('the buck stops here'). Notice what another person is reflecting back to you today. It looks like they're modeling the strategy you need; or perhaps you're the confidante with a healing vibe they've been looking for. Or vice versa. Either way, work the emotional-physical axis to get furthest today.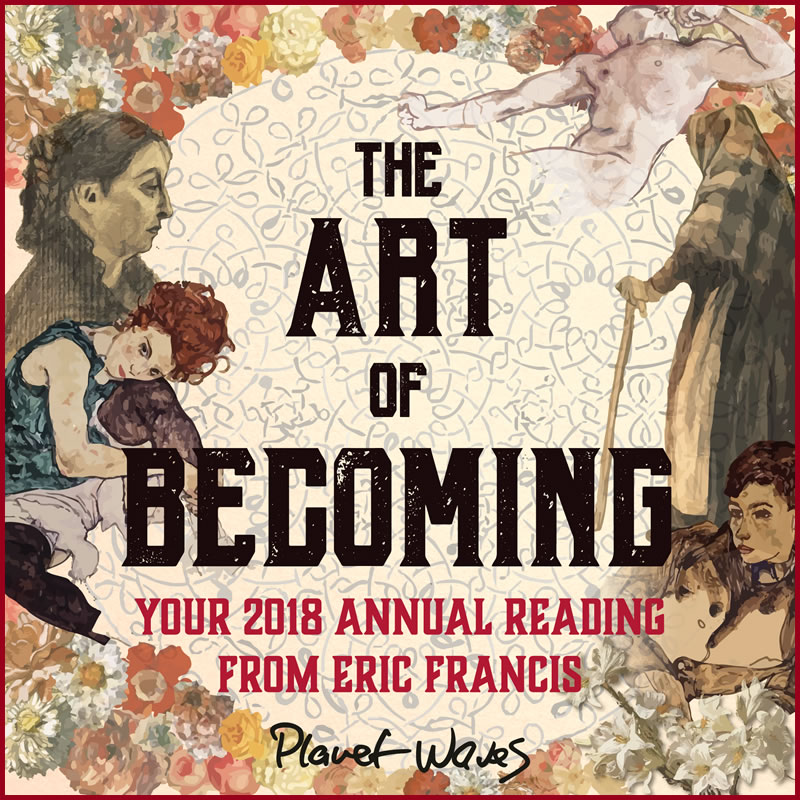 By any standards, 2018 will be a distinctive year astrologically. Get your essential guide to riding the waves of the next 12 months and beyond. Pre-order The Art of Becoming, the 2018 Planet Waves Annual by Eric Francis.

Aries (March 20-April 19) -- Once you tune into your inner reality, there's no going back. You can pretend, but that's not the same as the real thing. What you discover today may provide the basis for many years of learning. Take careful notes in your diary, or write yourself a letter that you open next April. Taurus (April 19-May 20) -- To the extent that people are struggling, you understand why -- and you may be called upon to serve as a sounding board today. This might happen in a group situation where it's off-topic: at lunch, in an office meeting, or hanging out socially with friends. Be grateful if you can be supportive. Gemini (May 20-June 21) -- Everyone has the power to heal, especially if they set that as their purpose. Yet this ability is not coming from you; it's coming through you. It's important that you recognize this, so you can get out of the way and be of maximum service. When you see a problem, go within and ask for help. Cancer (June 21-July 22) -- Every now and then, it's good to ask yourself why you exist. And if you ask sincerely, sometimes life will give you a surprising answer. And sometimes you'll get an even deeper question, which would be even more precious. Let your mind go to deep places. Your choices will follow close behind. Leo (July 22-Aug. 23) -- You have unusual empathy for the struggles of others, though it's vital that you not make them your own. Listen to what others are going through and be supportive. Yet you'll be more helpful if you don't make their burdens your problem. Just your open ear and loving feedback will be helpful. Virgo (Aug. 23-Sep. 22) -- The true art of brilliant writing is editing. This will apply to many facets of your life, though especially to what you are conveying in words. If in written format, revise until the reader has to do no work. If in spoken format, rethink and rehearse until the words flow from your lips. Libra (Sep. 22-Oct. 23) -- You may need to slow down and take better care of yourself. One secret to wellbeing for Libra is understanding the close relationship between your emotional state and your physical health. One or two early nights, wholesome food and plenty of water will do you a world of good. Scorpio (Oct. 23-Nov. 22) -- You can let your erotic imagination run wild. You'll be surprised what you conjure up. Imagine a terrace high above the sea, with white tiles and warm sunshine. Or a seedy jazz club on the West Side, on a foggy, wet night. You don't know a single person in the room. Sagittarius (Nov. 22-Dec. 22) -- Address a family or household matter that needs to stop before it goes too far. Certain others seem obsessed with their sense of injury and entitlement. First, make sure that this is not you, and let your strong sense of identity guide you. Then, set any necessary limits, and stick to them. Capricorn (Dec. 22-Jan. 20) -- You will be making some important decisions over the weekend. There are those times when you must think of yourself alone. Then there are times when you must consider the impacts of your choices on others, and now is one of them. You can make decisions that work for everyone. Aquarius (Jan. 20-Feb. 19) -- Most people are accustomed to just about everyone saying something other than what they mean, and meaning something other than what they say. You can be a refreshing change and use your words to convey your feelings accurately. Be gentle, and perhaps understated, though abundantly clear. Pisces (Feb. 19-March 20) -- Take a slightly detached view, and in any situation you encounter, ask how you may be of service. You may get an answer; you may not get an answer; in any event, you get to respond how you want to respond. This is excellent practice for hearing, and trusting, your inner guidance.

Monthly Horoscopes and Publishing Schedule Notes



Your extended monthly horoscopes for November are published below in this issue. We published your extended monthly horoscopes for October on Thursday, Sept. 21. Please note: we normally publish the extended monthly horoscope on the first Friday after the Sun has entered a new sign.

---
---