New York, October 21, 2017 | Read on Web | Please Visit Daily News Horoscope Area
Today is Saturday, Oct. 21, 2017
Hebrew date is 1 Cheshvan 5778
Islamic date is 1 Safar 1439
Mayan Tzolk'in Day is 1 Chikchan
Mayan Long Count is 13.0.4.16.5
Julian Day is 2458048
Today's Birthdays: Samuel Taylor Coleridge (1772-1834), Edna Purviance (1895-1958), Dizzy Gillespie (1917-1993), Ingrid van Houten-Groeneveld (1921-2015), Ursula Le Guin (1929), Bobby Few (1935), Steve Cropper (1941), Lux Interior (1946-2009), Carrie Fisher (1956-2016), Ken Watanabe (1959), Jon Carin (1964), Andrew Scott (1976), Amber Rose (1983).
"The imagination...that reconciling and mediatory power, which incorporating the reason in images of the sense and organizing (as it were) the flux of the senses by the permanence and self-circling energies of the reason, gives birth to a system of symbols, harmonious in themselves, and consubstantial with the truths of which they are the conductors."
-- Samuel Taylor Coleridge
Moon Phase: Moon is in New phase and enters Waxing Crescent phase on Oct. 23 at 12:01 pm PDT / 3:01 pm EDT (19:00:41 UTC).
Next Full Moon is in Taurus on Nov. 2-3 at 2:46 am PDT / 5:46 am EDT (09:46:02 UTC).
Corresponding New Moon in Scorpio is on Nov. 18 at 3:42 am PST / 6:42 am EST (11:42:03 UTC).
Moon Sign: Moon is in Scorpio and enters Sagittarius on Oct. 22 at 4:56 am PDT / 7:56 am EDT (11:56:35 UTC).
Sun Degree: 28-29 Libra.
Planetary Stations and Sign Changes
No changes today.
Interesting Selected Aspects | Data by Serennu
-- Mercury opposite Pelion at 11:48 pm Oct. 20 PDT / 2:48 am EDT (06:48:17 UTC).
-- Sun conjunct Rhadamanthus at 4:07 am PDT / 7:07 am EDT (11:07:14 UTC).
-- Mercury square Thereus at 6:14 am PDT / 9:14 am EDT (13:14:08 UTC), and Okyrhoe at 11:14 am PDT / 2:14 pm EDT (18:13:42 UTC).
-- Venus sextile Ceres at 6:48 am PDT / 9:48 am EDT (13:48:21 UTC).
-- Vesta square Pluto at 12:14 pm PDT / 3:14 pm EDT (19:13:58 UTC).
Subscribe to Planet Waves -- sign up here | Visit Our Website at this link
If Your Birthday is Oct. 21
(The Day of Singularity) | Libra Birthday Reading | All Other Signs
To be happy in this world, it's essential to address the whole matter of fear. That's not easy, because there seems to be so much to be afraid of. Yet you are bigger than anything you might worry about; and as you know, anxiety is merely frustrated creative energy. Relief from fear comes when you find the appropriate ways to express yourself. There are many.
Written in the Planets
Is it time to show your devotion in a new way? Are your traditional methods not quite getting the job done? Has the meaning of "devotion" -- especially in relationships, and even more so in culturally "unorthodox" or "taboo" relationships -- felt like it's straining to be expressed more vitally? Today the asteroid Vesta in Libra makes a square to Pluto in Capricorn. Note that since squares generally indicate internally felt tension, this astrology could be pointing you toward your relationship with yourself. It also could carry some serious sexual heat given the planets involved. When was the last time you stoked your own fire as an act of self-honoring?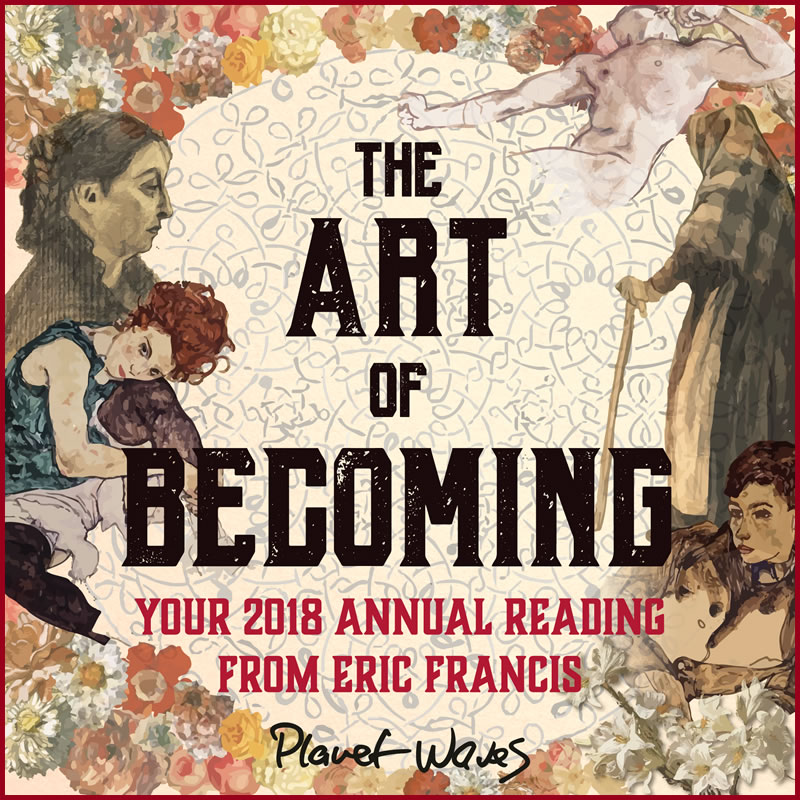 Introducing the 20th Annual Edition of Planet Waves Growth Is Inevitable. Becoming Is an Art Form. Dear Friend of Planet Waves: Here's the thing: Life goes on. No matter how crazy the world is, we who are alive must keep on living. And that means we must keep growing and becoming. The more chaotic the world becomes, the more we need a tool that can help us spot the patterns in the chaos -- and that would be astrology. I have long considered astrology just one resource among many potentially useful ones, though with each passing day, the gift of pattern recognition, and how these patterns relate to our lives, is a service that astrology is uniquely suited to provide.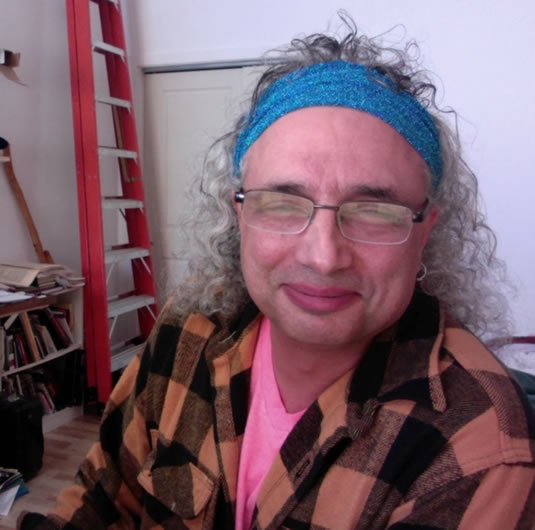 Me, at my music desk in The Place of the Way, my new studio.

I have begun preparing THE ART OF BECOMING, the 20th annual edition of Planet Waves. This letter will tell you more about the project, which, if all goes reasonably well, will be delivered during the month of January. Brief note on pricing policy: we offer the best price for those who purchase sooner. The lowest price point will hold through late Saturday night EDT, and increase in $11 increments till we reach the final pre-order price. My annual readings provide not only insight but spiritual and psychological leverage. I am not here to predict the future, but rather to help you design your future. The project began as an extended January monthly horoscope; it's now more like an astrological novel, written with the pacing and detail of well-crafted fiction writing. My focus is on love and work: your relationship to yourself, followed by your relationship to others; your professional activities, financial matters and tapping your creativity. In the end, I consider myself a motivational presenter. I see my job as helping you get excited about your own potential, and describing the specific ways you can manifest your desires into reality. In the next section, I will describe some of the transits I'll be writing about in THE ART OF BECOMING. I present these events in human language, using technical terms only as necessary -- and explaining everything as I go. As a journalist, I write to be understood. This is astrology written for humans, in human language, using concrete examples and images. Read more...

Aries (March 20-April 19) -- Let out the old energy so that the new energy can enter. If something or someone has run its course, do the brave thing and don't hold on. You don't need to cast anyone off; rather, you do what is right for you, and they do what is right for them. You will be amazed how well this works. Taurus (April 19-May 20) -- Today's astrology emphasizes how a peaceful living space can support harmony at work or in the art studio, and vice versa. Having somewhere you can truly relax and be yourself is essential. Experiment with where you place furniture and other objects, and go for easy flow and a light feeling. Gemini (May 20-June 21) -- If there's some security issue that you know needs taking care of, now is the time. That might mean changing your passwords, collecting the key from someone who has moved out, or making sure valuables are safely stored. Follow your hunch and take modest, sensible precautions. Cancer (June 21-July 22) -- Your chart is still expressing itself in rare, magnificent ways, though today the theme of healing is added to celebration and creativity. The whole healing thing works best when it's devoted to every person, every activity, and every thought or feeling that upsets you. Then, proceed with love and passion. Leo (July 22-Aug. 23) -- A rather unusual door is open for you, which means that you can invite unusual experiences into your life. I'm talking about the kind that you really want, but might opt out of because you would need just a little more courage. Well, be bold, open your heart and say yes to what you want. Virgo (Aug. 23-Sep. 22) -- One of your most vital lessons of this lifetime is loyalty. You must vow never to turn on someone you consider a friend, nor to betray their secrets. And if there is someone in your life who rises to the level of a devoted partner or servant, take every opportunity to express your gratitude. Libra (Sep. 22-Oct. 23) -- Mars is getting ready to enter your sign, which may have you feeling a little panicky. Slow down and think calmly. Is there anything you have to take care of? Anything past due? Any promise that you must keep? Go behind the current epidemic of paranoia, and be practical. Scorpio (Oct. 23-Nov. 22) -- With your ruling planet Mars about to change signs, and so many other factors working in your favor, it's time to make some decisions about the changes you want in your life. You've already figured most of this out. Now it's merely a matter of timing and having the gumption to take action. Sagittarius (Nov. 22-Dec. 22) -- Use your instincts and your intuition. They are two different things. Your instincts will guide you away from danger, and your intuition will guide you toward what is helpful and nourishing. You may experience some strong emotions, but that's distinct from spiritual guidance. Capricorn (Dec. 22-Jan. 20) -- Check whether any hesitation you may be feeling is really the anxiety of someone else -- such as the lingering fear of a parent or grandparent. Most of the karma we drag around comes from those people, and the first step in letting it go is being aware of what's happening. Aquarius (Jan. 20-Feb. 19) -- For quite a while, the theme of your chart has been about focusing your mind, gathering information and figuring out what to do about it. By Monday morning, however, you will need to be ready with a basic, streamlined plan of action with three basic steps. Figure them out this weekend. Pisces (Feb. 19-March 20) -- In case you missed the memo, this is a reminder that for Pisces, your true religion is sex. This is more fulfilling when it includes such concepts as respect, kindness, and honoring the core of creation. Yet this, too, is natural for you. When in doubt, remember how you were called into the world.

Monthly Horoscopes and Publishing Schedule Notes



We published your extended monthly horoscopes for October on Thursday, Sept. 21. Your extended monthly horoscopes for September were published on Thursday, Aug. 24. Your Moonshine Horoscopes for the Aquarius Full Moon were published on Thursday, Aug. 3. Please note: we normally publish the extended monthly horoscope on the first Friday after the Sun has entered a new sign.

---
---