New York, October 2, 2017 | Read on Web | Please Visit Daily News Horoscope Area
Today is Monday, Oct. 2, 2017
Hebrew date is 12 Tishrei 5778
Islamic date is 11 Muharram 1439
Mayan Tzolk'in Day is 8 Kimi
Mayan Long Count is 13.0.4.15.6
Julian Day is 2458029
Today's Birthdays: Elizabeth Montagu (1718-1800), Nat Turner (1800-1831), Mahatma Gandhi (1869-1948), Bud Abbott (1897-1974), Graham Greene (1904-1991), Moses Gunn (1929-1993), Don McLean (1945), Annie Leibovitz (1949), Sting (1951), Lorraine Bracco (1954), Kelly Ripa (1970), Proof (1973-2006), Camilla Belle (1986).
"An error does not become truth by reason of multiplied propagation, nor does truth become error because nobody sees it. Truth stands, even if there be no public support. It is self-sustained."
-- Mahatma Gandhi
---
Mirrors of Awareness: Conjunction and Opposition Dear Friend and Reader: Last week's astrology was dominated by three unusual oppositions, or 180-degree meetings, between the planets -- Mercury opposite Chiron, Mars opposite Neptune and Jupiter opposite Uranus. And, suitably, it was quite a week of contention and controversy; though lately that hardly seems to let up for a moment. If you had any breakthroughs, or made any important discoveries, remember them well, so they don't get lost in the swirl of your life.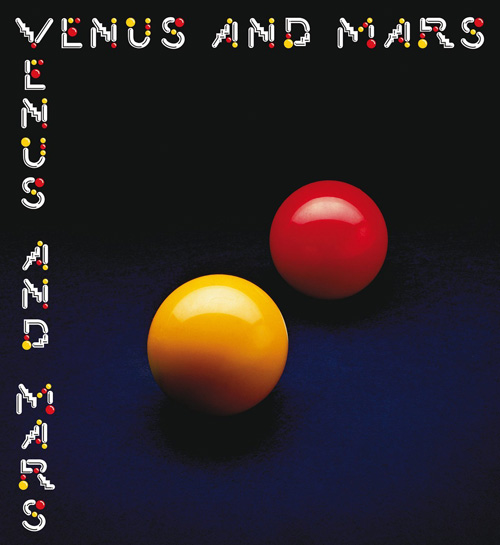 Venus and Mars as billiard balls, shown in a conjunction on the cover of Paul McCartney & Wings' 1975 album. The cover art is by Hipgnosis, which did many of the album covers of that era, including Obscured by Clouds, Dark Side of the Moon and Animals by Pink Floyd.

Here's a complete list

.

This week, we have an unusual synchronicity of an opposition -- the Full Moon -- combined with a relatively rare conjunction of Venus and Mars. Of the two, the Full Moon, which takes place in Aries, is the one you're most likely to notice directly; for example, as heightened emotion, unusual dream activity, or wanting to push things to a head. Full Moons distinguish between the energies of the signs involved, in this case Aries and Libra. They pull the picture into high contrast. Conjunctions guide us to blend, morph and merge the energies involved; in this case Mars, which rules Aries, and Venus, which rules Libra. The two events are related by their astrological symbols, and by the fact that they happen within two hours of one another, on Thursday afternoon Eastern time. When you see that kind of synch, it's a reminder to pay attention. The Full Moon is a rare moment of connection to the natural world that's available even for people living in cities. There's something primal about the Full Moon, something evocative of ancient memory and patterns of behavior: hunting, for example. Read more...
---
Moon Phase: Moon is in Waxing Gibbous phase and enters Full phase on Oct. 5 at 11:40 am PDT / 2:40 pm EDT (18:40:02 UTC).
Next Full Moon is in Aries on Oct. 5 at 11:40 am PDT / 2:40 pm EDT (18:40:02 UTC).
Corresponding New Moon in Libra is on Oct. 19 at 12:12 pm PDT / 3:12 pm EDT (19:11:58 UTC).
Moon Sign: Moon is in Aquarius and enters Pisces today at 7:26 am PDT / 10:26 am EDT (14:26:10 UTC).
Sun Degree: 10-11 Libra.
Planetary Stations and Sign Changes
Moon enters Pisces at 7:26 am PDT / 10:26 am EDT (14:26:10 UTC).
Interesting Selected Aspects | Data by Serennu
-- Sun square Chariklo at 11:15 pm Oct. 1 PDT / 2:15 am EDT (06:15:16 UTC).
-- Mercury square Hylonome at 8:35 am PDT / 11:35 am EDT (15:35:01 UTC).
-- Mercury conjunct Elatus at 2:12 pm PDT / 5:12 pm EDT (21:12:03 UTC).
Subscribe to Planet Waves -- sign up here | Visit Our Website at this link
If Your Birthday is Oct. 2
(The Day of Verbal Acuity) | Libra Birthday Reading | All Other Signs
Devote yourself to your intimate relationships, with all your heart and soul. This includes more than just your romantic or primary partnerships, though those are included. Devotion means going deeper than immediate gratification, self-serving values, or some great promise for the future. It's about tapping into the continuous, steady property of love that's available in every moment.
Written in the Planets
Today the Sun and Mercury (both in early Libra) form squares to two centaur planets (both in early Capricorn) known for their somewhat contrasting attitudes to relationships. Much of astrology has a tendency to bring up the issue of our relationship with ourselves; including our inner polarity that we project onto interactions with others. The trend of self-marriage, or sologamy, has been in the news lately too. All this is suggesting that we can each be a whole person, without reference to anyone else. Whatever your partnership status, celebrate yourself today.

Aries (March 20-April 19) -- It may take you a couple of days to get your bearings this week, though you'll save time if you focus on the purpose of each of your relationships and collaborations. If you run into any static, consider that you've given someone the wrong assignment, then tidy that up. Taurus (April 19-May 20) -- This continues to be a bold and creative time in your life, and it's no fleeting affair. You are learning how to take things to another level, in art, in love and in service. It may seem like a challenge to balance these things out, until you remember that they are all the same thing. Gemini (May 20-June 21) -- There are benefits to spiritual practice. You will reap those benefits today, whether you're a longtime seeker or you finally decide that now is the time to turn your energy within yourself and seek peace of mind. The light of spirit is the light of love. There's no doom or gloom, only beauty. Cancer (June 21-July 22) -- Your sign is ruled by the goddess Luna, which is heading for a spectacular event later this week -- Wednesday's Aries Full Moon. This takes place in the career and reputation angle of your chart, which is saying to focus this aspect of your life well. Do your very best work and stay visible. Leo (July 22-Aug. 23) -- Your attention will be pulled to important matters of partnership over the next few days. It will be helpful if you distinguish the facts from your emotional responses to them. If you can do that, you'll be able to understand the viewpoint of someone you care about, and respond appropriately. Virgo (Aug. 23-Sep. 22) -- Venus and Mars in your birth sign are approaching a conjunction, exact on Wednesday.  This brings things together for you just as the Full Moon hints that they might be pulled apart. The thing to keep together is yourself. Center your life within yourself, and keep at arm's length any drama. Libra (Sep. 22-Oct. 23) -- You may feel that your good luck is running out, though no such thing is true. Also, good fortune is rarely the result of random chance. There are many other factors, particularly your own tenacity, and your commitment to integrity. Keep working those angles and the best will be yet to come. Scorpio (Oct. 23-Nov. 22) -- Pay careful attention to how you manage your public image, and what's really going on inside you. It's sometimes necessary to project one thing even if you feel another, but for you it's essential that you know the difference and never believe your own press release. Stay honest with yourself. Sagittarius (Nov. 22-Dec. 22) -- Your ruling planet Jupiter is getting ready to change signs, and this may be coming with the feeling that you have to prepare for some big change. To that end, follow what your intuition is telling you. That's to say: get your suitcase ready to travel even if you don't know where you might be going. Capricorn (Dec. 22-Jan. 20) -- You're under exceptionally strong aspects where work, reputation and career are concerned. Yet you may feel like you have to give something up in order to get what you want. That may be true, though do you really need the thing you're supposedly being asked to sacrifice? Aquarius (Jan. 20-Feb. 19) -- What really matters to you? Every time you consider this question, you may get a different answer. The question, then, becomes: what do they all have in common? That will provide you with all the information you need to know as to whether you're acting in accord with your own values. Pisces (Feb. 19-March 20) -- The Moon in your sign for the next three days will have you feeling sensitive to the point of being clairvoyant. Yet you must not confuse your perceptions with any form of absolute truth, or act merely on a hunch. Take your time, keep your senses on, and let the facts percolate in gradually.

Monthly Horoscopes and Publishing Schedule Notes



We published your extended monthly horoscopes for October on Thursday, Sept. 21. Your extended monthly horoscopes for September were published on Thursday, Aug. 24. Your Moonshine Horoscopes for the Aquarius Full Moon were published on Thursday, Aug. 3. Please note: we normally publish the extended monthly horoscope on the first Friday after the Sun has entered a new sign.

---
---